Campers, the moment you've been waiting for is finally here: Camp Bisco released its lineup for 2019 featuring Bassnectar, ODESZA, The Disco Biscuits, and more! 
---
Since making my way to Camp Bisco for my first time ever last year, this mountaintop festival has remained one of my favorite festivals of all time. Equipped with a waterpark, zip line, and a beautiful multi-stage setup, campers will make their way home to Montage Mountain in Scranton, PA on July 18-20.
As if the scenic location and amenities weren't enough, Camp Bisco just dropped an incredibly stacked lineup for its 2019 edition. Featuring headliners The Disco Biscuits, Bassnectar, Tipper, ODESZA, STS9, and Umphrey's McGee, this year's Bisco will pack a powerful punch. We're happy to see Camp Bisco remains true to its trend of having an equally stacked undercard featuring talented artists like Space Jesus, WHIPPED CREAM, Ganja White Night, and 1788-L.
Though being renowned as one of the "headier" festivals, Camp Bisco continues to appeal to multiple different styles of music. Fans of jam bands will surely enjoy SIX sets from resident band The Disco Biscuits along with performances from SunSquabi. Bassheads, don't worry: the mountain will satisfy your hunger for some wubs with Herobust, Rusko, and Bleep Bloop. Additionally, attendees will be able to get down to sets from Yultron, Walker & Royce, Mr. Bill, and more.
Alumni passes and early bird passes have already sold out, but 3-day GA advance passes will go on sale beginning Friday, March 8 at 12 pm. Starting out at $199.50 for festival pass only and $249.50 with camping, these tickets are bound to fly fast with such an impeccable lineup. Get your tickets via CampBisco.com before it's too late!
Camp Bisco 2019 Lineup: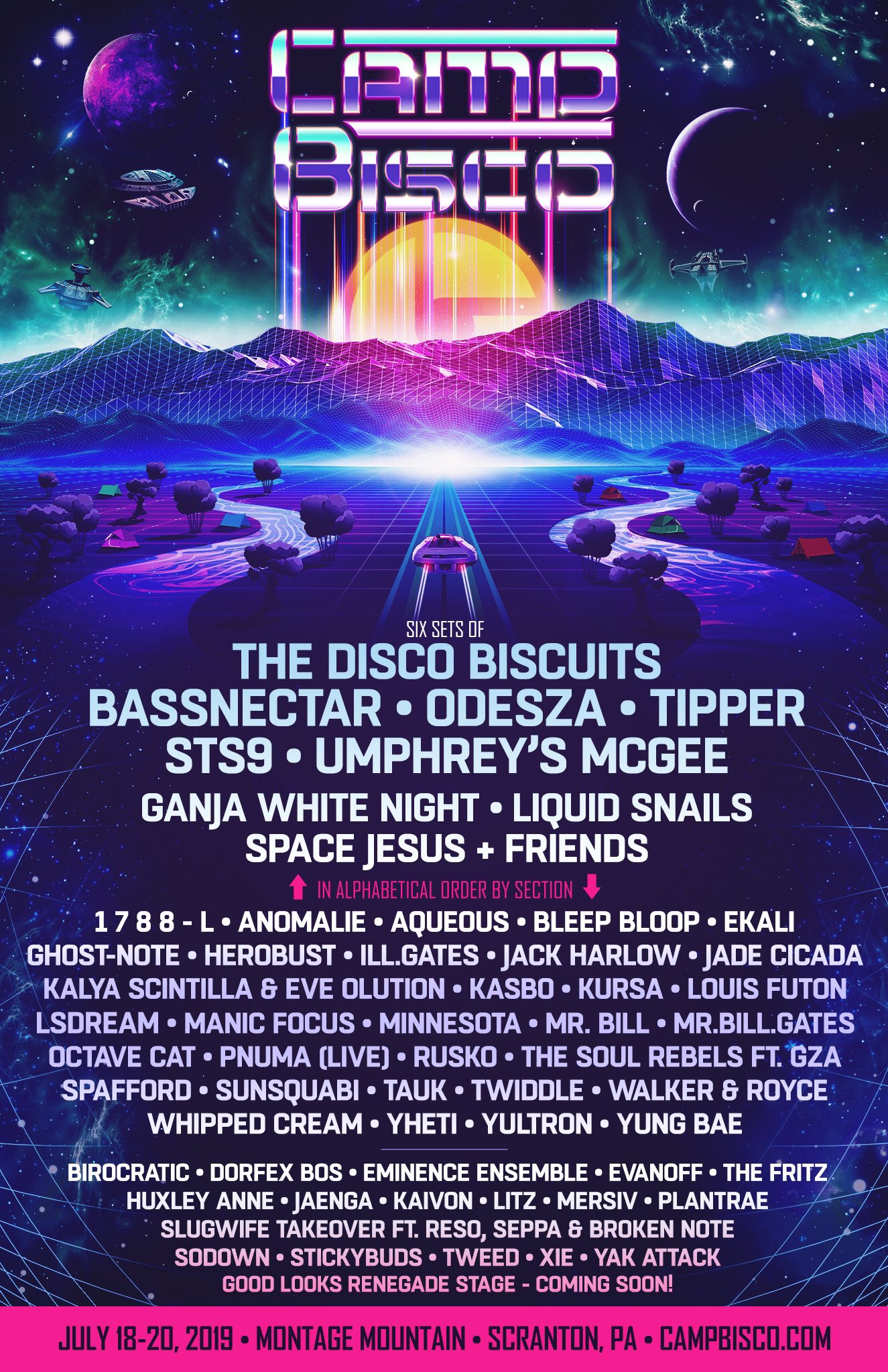 ---
Camp Bisco 2019 Lineup By Artist:
The Disco Biscuits (Six Sets!)
Bassnectar
ODESZA
Tipper
STS9
Umphrey's McGee
Ganja White Night
Liquid Snails
Space Jesus + Friends
1788-L
Anomalie
Aqueous
Bleep Bloop
Ekali
Ghost-Note
Herobust
ill.Gates
Jack Harlow
Jade Cicada
Kalya Scintilla & Eve Olution
Kasbo
Kursa
Louis Futon
LSDream
Manic Focus
Minnesota
Mr. Bill
Mr.Bill.Gates
Octave Cat
Pnuma (Live)
Rusko
The Soul Rebels ft. GZA
Spafford
SunSquabi
Tauk
Twiddle
Walker & Royce
WHIPPED CREAM
Yheti
Yultron
Yung Bae
Birocratic
Dorfex Bos
Eminence Ensemble
Evanoff
The Fritz
Huxley Anne
Jaenga
Kaivon
Litz
Mersiv
Plantrae
Slugwife Takeover ft. Reso, Seppa, & Broken Note
SoDown
Stickybuds
Tweed
Xie
Yak Attack
+ Good Looks Renegade Stage Coming Soon!
---
Follow Camp Bisco on Social Media: