Jaenga looks back on four years of the Jaenga Bus, signing with Deadbeats, and more during a crazy weekend at Electric Forest!
---
Coming off the release of his debut EP Toulambi, which came out last year on Deadbeats, Jaenga has begun to truly rise through the ranks of the scene. With other tracks on Deadbeats as well, this former full-time cinematographer is just getting started with releasing music in what is sure to be a long and decorated career.
If you attended Electric Forest this year, you most likely came across the Jaenga Bus in the RV section of camping. Parked near the South Box Office behind the EVOL Chicago bus, Jaenga hosted a party with a variety of DJs from different genres until the sun rose all weekend long. In addition to hosting his own renegade stage, he played a massive set at Tripolee on Saturday evening of the festival. After EF, Jaenga and his bus were off to Colorado for an appearance at Deadrocks with Zeds Dead.
Those lucky enough to catch one of Jaenga's sets will know that he brings an awesome mix of old school dubstep, drum n bass, and new dubstep, all with his signature grimy sound. Toulambi is a phenomenal EP that touches a variety of genres, proving that Jaenga is a versatile bass producer who will stick out in a crowded field. With more unreleased music on the way, Jaenga is someone all dubstep and bass fans should be paying attention to.
Take a listen to Jaenga's debut EP Toulambi below, and read on to learn more about his renegade stage, favorite artists, future releases, and more!
Stream Jaenga – Toulambi EP on Spotify:
---
Thanks for taking the time to chat with us today, Jaenga!
Not a problem at all! Thank you for coming through.
So, it's Sunday afternoon of Electric Forest and I'm sure you've made some amazing memories over the last few days. How was your set at Tripolee, and how would you describe the Electric Forest vibe and experience?
Electric Forest is just incredibly vibrant. The creativity here is on another level! I think the Forest is inspiring in that artists come from all over the world to put their art installations in. It really helps to fuel the positivity and the family vibe we feel here. By far one of my favorite festivals… actually, my favorite festival. My first time here was in 2012.
With the art installations, would you say it's up there with something like Burning Man?
Out of every festival I've been to, Forest has the most similar traits to Burning Man. It really has that feeling where whatever you give, you take. It involves the Golden Rule. People here give love and receive love, and gift and be gifted.
I do feel like Forest is very special. Things like karma come into play here; it's a place with a very unique energy.
We were talking about how we always feel the idea of manifestation – which is real – happens faster in places like this. Whatever you need, it will come to you if you put it out there and talk to people. It's amazing. You'll run into friends that you haven't seen in a long time, or meet new friends that you feel like you've known from past lifetimes.
We're currently talking on the Jaenga Bus, your re-purposed school bus on which you've hosted afterparty sets. How crazy have these nights been? Any secret pop-up sets or ones that really stood out?
This has been the best year the Jaenga Bus has ever had! The support and love it's been receiving is on another level. I've never quite experienced it to this degree. All the artists playing have been incredibly awesome and we all feel a sense of shared gratitude for this experience. 
That's what this is all about! Bringing up the smaller artists in the scene who don't get enough attention. It gives them a place to have a light shine on them for a night, and gain some new fans. And having headliners play allows that crowd to fill in to see the big names and also see the smaller artists that are coming up.
Tell us a bit about how the Jaenga Bus became a reality. How and when did the idea start?
The idea started because I just wasn't getting the time of day as a musician in the industry. I decided that it wasn't really the money or playing on big stages that I was after. It was more about connecting with people. The whole movement wasn't about numbers or social media. It was just about getting a school bus, packing it with a bunch of my friends, and traveling the country. And just meeting people and playing shows, and whatever else! It's been such a gratifying feeling. We've been doing it for about four years now.
What are some of your favorite adventures taken on this bus? Which festivals has it seen so far, and what lies ahead for the rest of the summer?
In the last four years, it's been all around the country. It's been to festivals like Sonic Bloom, Dancefestopia, and Camp Bisco. One of the most notable adventures was absolutely Sonic Bloom. It was the first time we ever took this thing on the road. It broke down multiple times and it wasn't even finished. It was just really, really DIY rigged. We were winging it the whole time!
After Forest, you're off to Red Rocks to perform at Deadrocks later this week. You'll also be at Camp Bisco later this summer. Given that you're just getting started with releasing music, what style of music do your sets usually consist of, and who are some of your favorite artists to play out?
Some of my favorite artists to play out recently have been Dion Timmer and Conrank. I'd say my sets are mostly a mix of old school and new school dubstep with drum n bass.
Your debut EP Toulambi was released on Deadbeats last year. The tracks are amazing and have dubstep, trap, and drum n bass influences. For our readers who are unfamiliar, how would you describe the vibe of your music?
I think I really try to hone in on whatever I'm going through at that specific time. It's almost like my diary but in sonic form. There's no words or lyrics to a lot of it, but it's just a feeling that I'm capturing and trying to put down into a record.
I really like "Gravity" and "Monsters", two of the dubstep heavy tracks on the EP. I hear a lot of old school dubstep influences, and I think the tracks capture the special vibe from that 2008-2012 era while maintaining a modern production style. When making those tracks, did you have that old school dubstep sound in mind? 
I think it was just something I had been hungry for the last few years! I wanted to play these tracks out that I couldn't find. So, I decided I would just make them. That's probably the easiest way to get them in your set!
There's also "Toulambi Tribe," which is a future bassy trap banger, and "Never Gonna", a drum n bass slapper. What was the inspiration behind branching out to different genres on those tracks?
I think it was more so to stay out of a box. A lot of producers feel like they get pigeonholed into heavy dubstep or are just known for making a certain genre. I don't think producers should be limited to genres. If you're a producer, you most likely have a style that will translate into any genre you make.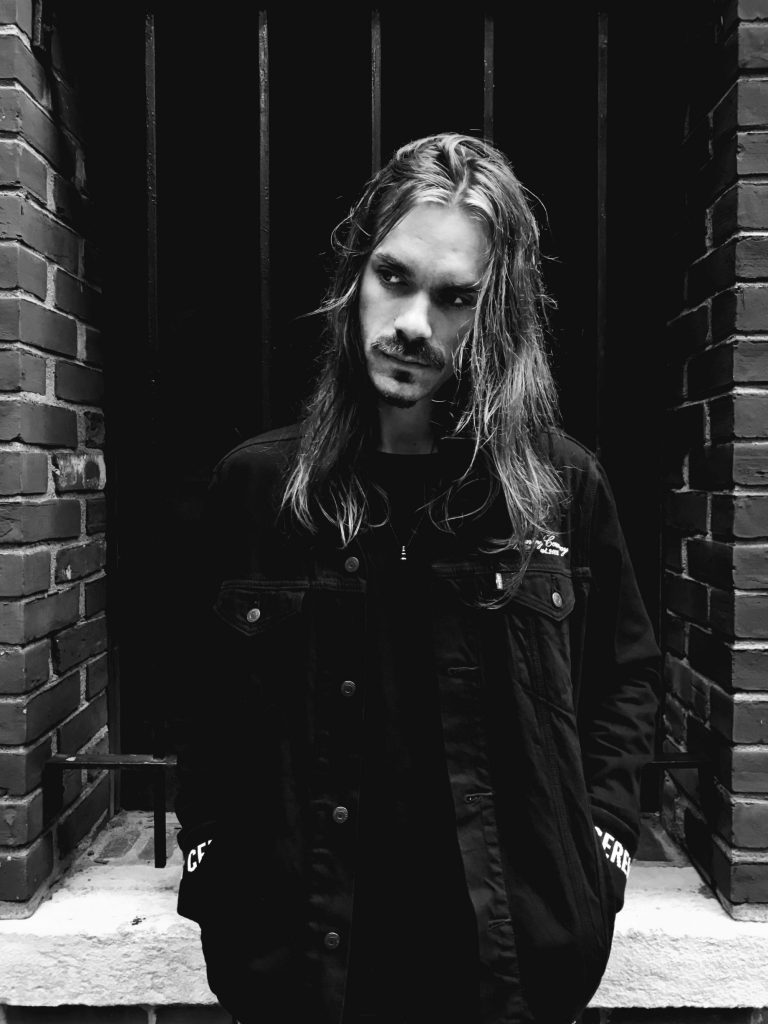 I read in another interview that you've directed music videos for massive labels like Ultra Music and Monstercat. Was this your start in the music industry? When did you decide to make the full jump into music production?
Most people don't realize that I was a director and cinematographer for years before getting into a music career. I was touring with musicians like Lorde, Mt. Eden, and a lot of EDM acts. I would travel with them and film their performances. As you mentioned, I was also directing videos. Eventually, I opened a film studio in Manhattan as a way to keep me off the road so I could focus more on music and film. It was this year that I really chose to make the leap completely and totally flip the chapter to the next journey.
With an EP and other tracks with the label, you clearly have a great relationship with Deadbeats. How did that start, and what has their support meant to you?
Their support means the world to me. I wish I could even put it into words how much it truly means. They first gave me a shot when I was having trouble getting some records out, but it wasn't until I released the Toulambi album (it was nine tracks at first) that I really got love from the industry. When I heard Deadbeats was interested, there was no question. I've been listening to Zeds Dead since I first got into electronic music, so it was a no brainer.
What lies ahead for Jaenga? Is there another EP on the way? Maybe with those unreleased tracks?
Yeah! There'll be a new EP coming out in the next few months, alongside some new music videos. I'm just gonna keep putting music out, man. Keep seeing where the journey takes me.
What's a funny story about this bus or your travels that you can share with our readers?
I'd have to say when I was at a festival way out in New Jersey. Some festival in the woods, a real grassroots event. There was a huge storm and the bus almost sank into the lake that we were parked next to. It was absolute chaos. It was like two in the morning. I rallied up like twenty kids – everyone was drunk and totally dysfunctional – but we managed to somehow pack up all the sound gear and the wires. We somehow did a flawless job and then just dipped. We probably got out of there like 30 minutes before my bus sank into the lake.
Have you played a lot of parties like that? Some crazy raves in the woods?
That was the first few years of this, man. A lot of parties! I was throwing stuff up in Canada, under bridges, warehouse districts…I started partnering with festivals as the years went on, but at the end of the day, this is a renegade bus and it has been for a long time!
Anything else you'd like to share with the readers and fans?
If you wanna do something…and someone's not gonna give you the opportunity to do it, it's okay. Still, do it anyways! You don't always need permission to do those things. Whatever it is you wanna do, get a bunch of friends together and make it happen. If you can't get on a label, make your own label. If you can't get on a stage, build your own stage! Just make it happen.
---
Connect with Jaenga on Social Media:
Facebook | Twitter | Instagram | SoundCloud