We are going absolutely bonkers over the array of games and activities that will bring us some extra fun under the sun at Dirtybird Campout West 2019!
---
With the initial artists on the lineup secured, including incredible talents like Christian Martin, Shiba San, Justin Jay, and Sage Armstrong, it is now time to turn our attention to the games and activities that make Dirtybird Campout West an event unlike any other on the planet. Every year we are brought back to our childhood, as we are immersed in a world where summer camp nostalgia reigns supreme. Of course, as adults, we know just how to add a little bit of edge to the fun, culminating in a competitive adventure full of laughter, good vibes, and outlandish experiences.
This year, the Dirtybird team has pulled out all the stops to ensure that every moment is filled with opportunities to jump in on the action alongside Counselor Claude and our favorite Dirtybird artists, inspiring our athletic and creative juices to flow while we mix and mingle with the flock. Of course, we have the classic Campout mainstays including Costume Boat Racing, Water Balloon Toss, Archery, and my personal favorite to watch, the Soccer events.
And there is much to be said about the new additions for this year's event as the Wheelbarrow Race, Red Light/Green Light, and Double Dutch will have everyone dying of hilarity as the chaos unfolds! But, if you are the type looking for something a little more laid back to pique your fancy, why not check out Craftopia and design something spectacular with the Tie Dye, Totem Crafting, or Crochet programs!
From the venue to the campgrounds there is so much to discover. With that being said, I feel that it is important to note that while the music calls us home to the Modesto Reservoir Campgrounds, it is the social team building experience that links us all together. So, when you arrive, make sure to grab your colored bandanna (for the tournaments) at Games HQ and plot out some time in your schedule to ensure that you are part of the crazy shenanigans!
Check out the full list of activities below, read about our experience last year, and let us know what you're most excited for in the comments!
---
Dirtybird Campout West 2019 Activity Lineup (partial list):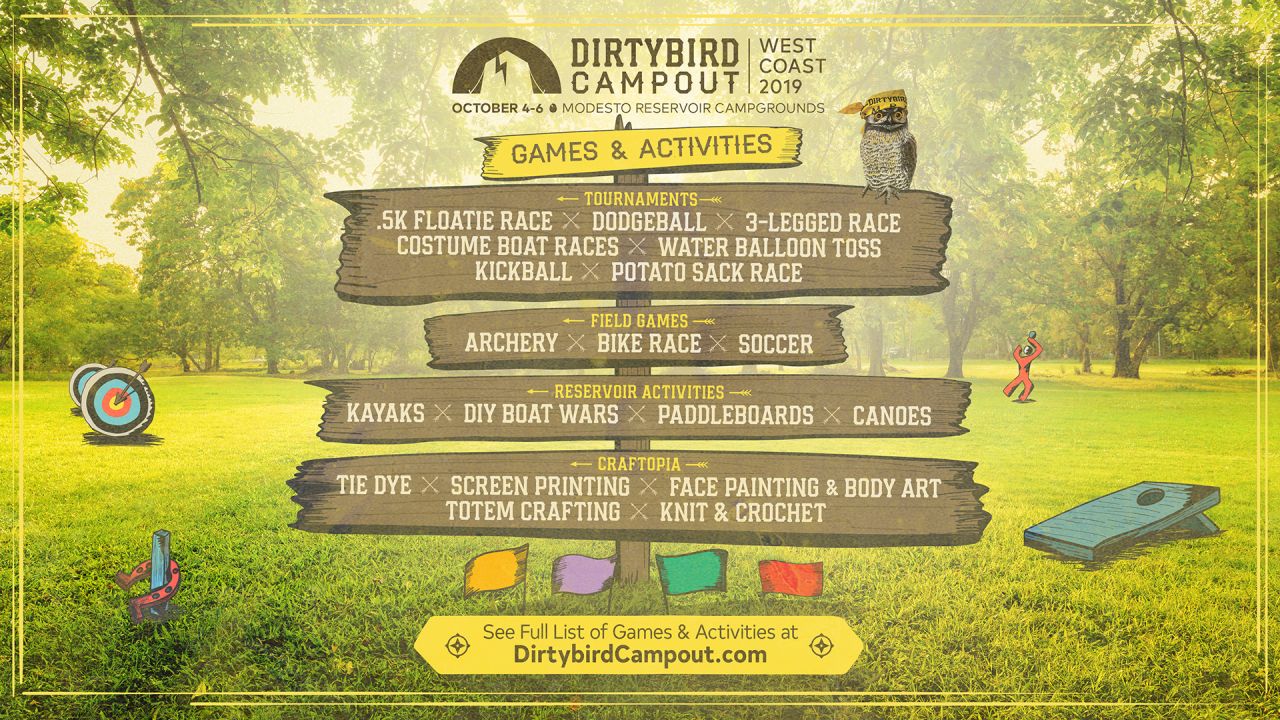 ---
Dirtybird Campout West 2019 Activities by Category (Full List):
New for 2019:
DIY Boat Wars

Push 'N Pop

Wheelbarrow Race

Red Light Green Light

Obstacle Course

Double Dutch

Freeze tag
Tournaments:
Dodgeball

Potato Sack Races

Tug-of-War

Water Balloon Toss

3-Legged Races

Kickball

.5 K Floatie Races

Hyphy Hoopin (Hula Hoop Contest)

Iron Bird

Scavenger Hunt

Costume Boat Races
Games HQ Pick Up Field Games:
Archery

Bocci Ball

Cornhole

Volleyball

Horseshoes

Ping Pong

Jump Rope

Soccer
Reservoir Activities:
Kayaks
DIY Boat Wars
Paddleboards
Canoes
Craftopia (Arts and Crafts):
Screenprinting

Tie Dye Workshop

Totem Workshop

Knit & Crochet

Face Painting & Body Art

Friendship Bracelets
Check out dirtybirdcampout.com for more details!
---
Peacock Program Reminder:
Did you love what The Fungineers delivered at last year's event and do you think you have what it takes to bring your project to DBC? Then, by all means, let them hear about it! Arts and crafts, performance arts, theme camps, installations, live murals /painting, interactive experiences, activism initiatives, and unique games and activities are all great examples of what the team is looking for.
All creative submissions will be reviewed by the Campout Creative team and the ones that stand out the most will be considered for Peacock Program Honoree status. These Honorees will receive tickets, placement, and hands-on support from the Campout Creative liaisons in order to bring your concept to life at this year's event. To be considered for the Peacock Program you must be 21 years of age by October 1, 2019. There is only a short time left to submit! Complete the application here. Deadline for submission is July 1, 2019.
---
Connect with Dirtybird Campout on Social Media:
Website | Facebook | Twitter | Instagram | SoundCloud