Dirtybird Campout West enters its sophomore year at the Modesto Reservoir Campgrounds and has unveiled a lineup full of artists you won't want to miss!
---
Things are about to get weird in all the right ways as Dirtybird Campout West has announced a refreshing lineup for their 2019 edition at the Modesto Reservoir Campgrounds! On October 4-6, prepare to get your thrills from the rumble of the bass at the Bass Lodge and from the delightful groove at the Birdhouse as you become fully enveloped by the unique energy and inclusive atmosphere that only the Dirtybird brand can provide.
Kicking things off with an incredible early arrival party featuring Tiga B2B Mathew Dear things will only get sweeter for this year's edition as they're packing a heavy hitting lineup full of amazing names. If the Bass Lodge is your pleasure, Dirtybird Campout has invited fan favorites like Justin Jay, Sage Armstrong, Wyatt Marshall, and The Librarian to drop the filthy beats. But, what really caught our eye is the inclusion of an epic B2B between Barclay Crenshaw and EPROM, as well as gifting us with the unique and incredible musical character of Deep Sky Objects and Amp Fiddler!
If you are planning on meeting your flock over at the Birdhouse, hold on to your hats because you are going to be blown to an alternate dimension by the musical stylings of Ardalan, Steve Darko, and Worthy, while German Brigante, Nastia, and Westend, shake things up for a house music extravaganza like never before! And primed to take dance floor revelers to the next level of insanity, DJ Glen will go head to head with Bruno Furlan, to get the party rocking at full tilt!
Related: Check out Carlos' favorite things about last years Campout and then take a peek at some of the incredible improvements for Dirtybird Campout West 2019!
You can check out the full lineup below, but, don't forget that the lineup is just one small piece of the puzzle. Dirtybird Campout West offers a plethora of camp activities, interactive shows and so much more. And who knows, you may even get to meet your favorite DJ as they get in on all of the shenanigans alongside the flock!
With one hell of a lineup, you would be a fool to sleep on this event and tickets are on sale now! Head over to Eventbrite to grab yours before it's too late!
---
Dirtybird Campout West 2019 Lineup: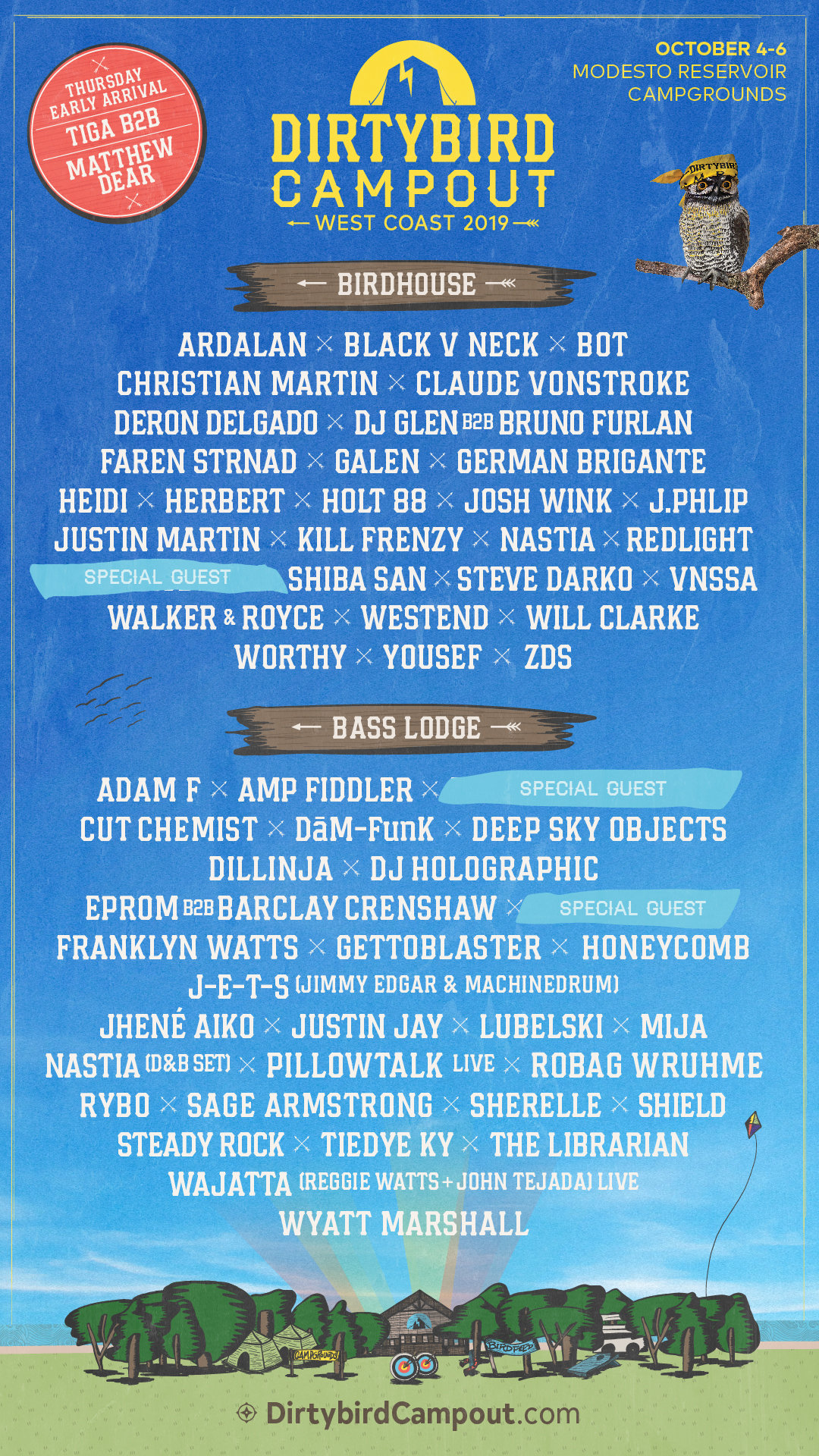 ---
Dirtybird Campout West 2019 – Lineup By Stage:
The Birdhouse
Ardalan
Black V Neck
BOT
Christian Martin
Claude VonStroke
Deron Delgado
DJ Glen B2B Bruno Furlan
Faren Strnad
Galen
German Brigante
Heidi
Herbert
Holt 88
Josh Wink
J.Phlip
Justin Martin
Kill Frenzy
Nastia
Redlight
Shiba San
Steve Darko
VNNSA
Walker & Royce
Westend
Will Clarke
Worthy
Yousef
ZDS
The Bass Lodge
Adam F
Amp Fiddler
Cut Chemist
Dam Funk
Deep Sky Objects
Dillinja
DJ Holographic
EPROM b2b Barclay Crenshaw
Franklin Watts
Gettoblaster
Honeycomb
J-E-T-S (Jimmy Edgar & Machinedrum)
Jhene Aiko
Justin Jay
Lubelski
Mija
Nastia (D&B set)
Pillowtalk (Live)
Robag Wruhme
Rybo
Sage Armstrong
Sherelle
Shield
Steady Rock
Tiedye Ky
The Librarian
Wajatta (Reggie Watts & John Tejada) (Live)
Wyatt Marshall
Lineup Update: Recently added Special Guests:
Eric B. & Rakim (Bass Lodge)
Paul Woolford (Birdhouse)
Special Request (Bass Lodge)
Sacha Robotti (Birdhouse)
Bob Moses (Club Set) (Bass Lodge)
---
Connect with Dirtybird Campout on Social Media:
Website | Facebook | Twitter | Instagram | SoundCloud