Built with both athletes and festival attendees in mind, the RaveRunner Anti-Theft Hydration Pack by GenZ is a fantastic addition on your journey throughout festival season.
---
A few months into festival season, my social media feeds have been dominated by fellow attendees who had their belongings stolen at events like Coachella or others looking for tips to prevent it from occurring. Hoping to provide some quality info to protect my friends in the future, I began to hunt for some solutions to this issue that has become a plague on the scene. That was when I discovered the RaveRunner, an anti-theft hydration pack by GenZ that hopes to solve the problems festival-goers face.
It was just last year that GenZ Founder Ryan Lange set off on a mission to create the perfect hydration bag. Bringing festival fanatics who are also active runners and extreme sports enthusiasts together, they worked to pinpoint the most important features needed to achieve their goal. Focusing on anti-theft material, quick bladder refills, and customization, after multiple designs they finally hit their stride and the RaveRunner was born.
Want a RaveRunner of your own? Enter our contest for your chance to win one!
After a solid campaign on Kickstarter and an anticipated shipping date ahead of EDC Las Vegas, I knew that there would be no better place to stress test the hydration pack than under the electric sky. Wanting to make sure that it would be delivered on time and that they could make my custom skin, I messaged the GenZ team on Facebook and quickly received answers to all of the questions before heading to their website to place my order.
Navigating the site was a breeze as I added some different features like the EL Wire and Underglow upgrades. From there, I needed to put the finishing touch on my bag and the skin customization tool was quick and painless to use as I was easily able to upload the image I wanted to get printed. Just a few clicks later and the countdown timer began as I was racing the clock to get my RaveRunner.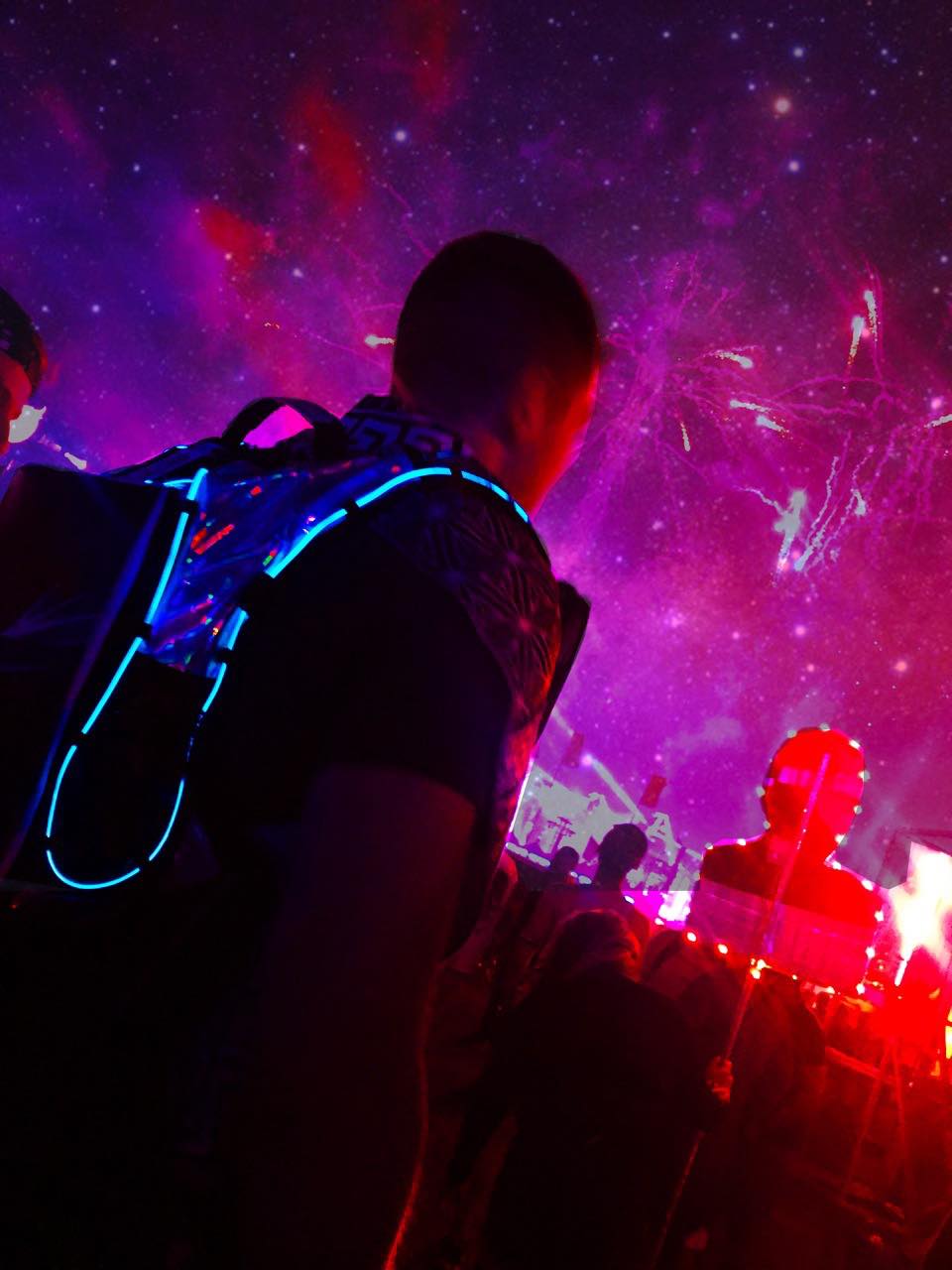 Arriving just in the nick of time for EDC Las Vegas, the moment I got my hands on the RaveRunner itself I was excited to get it into action immediately.
The first things I noticed about the pack were the quality of materials used and the "feel" of the pack. Overall, the RaveRunner felt very sturdy in my hands and it was clear that high quality materials were used in manufacturing with no defects. Mine also arrived preloaded with all of the EL Wire and Underglow add-ons that I ordered, which was a nice touch that saved me some time ahead of my adventure to EDCLV.
The custom-printed skin was the next thing that caught my eye. The EDM Identity logo was crisp and clear, and the colors were all accurate, as well. Something that was pretty apparent was that the black background I used didn't bleed all the way to the edge of the skin. This wasn't a huge deal to me as it was simply cosmetic, but perhaps a modification could be made to the customization tool to make sure that those purchasing are aware of this issue with darker backgrounds.
Throwing the pack on, I quickly came to realize just how comfortable I was wearing the RaveRunner. This was a common theme throughout my experience with the bag as well, as the wider shoulder fit my frame to provide more support and create a pleasant experience. The GenZ Team could probably put a bit more padding into the pack overall, but I didn't have any discomfort while wearing it throughout the festival.
Next up was diving deeper into the pack to check out the different features that the RaveRunner offers.
When wearing the RaveRunner, the only zipper that is visible is the one attaching the custom skin to the pack. Behind that is a small external pocket that could hold small items you wouldn't mind potentially being taken from you. This proved to be very useful throughout the weekend at EDCLV as I could throw a pack of gum and chapstick into the pocket and never have to take the full bag off to grab those essentials.
Speaking of pockets, can I just say how impressed I was with the amount of internal storage space there was in the RaveRunner? Regardless of how full the water bladder was inside the bag, the main compartment always felt spacious and was able to fit everything I needed for the night. If the bladder was empty I could even fit a DSLR with a standard lens attachment into the pack and not worry about it not fitting.
Something else that stood out was that my Galaxy S8+ with a case on fit perfectly into the phone pocket on both shoulders. It was snug enough to dance with it in and not worry about it flinging out into the crowd to get stomped on. I also enjoyed having a smaller secondary pocket that could easily hold my cash, cards, and wallet while also keeping it away from potential thieves.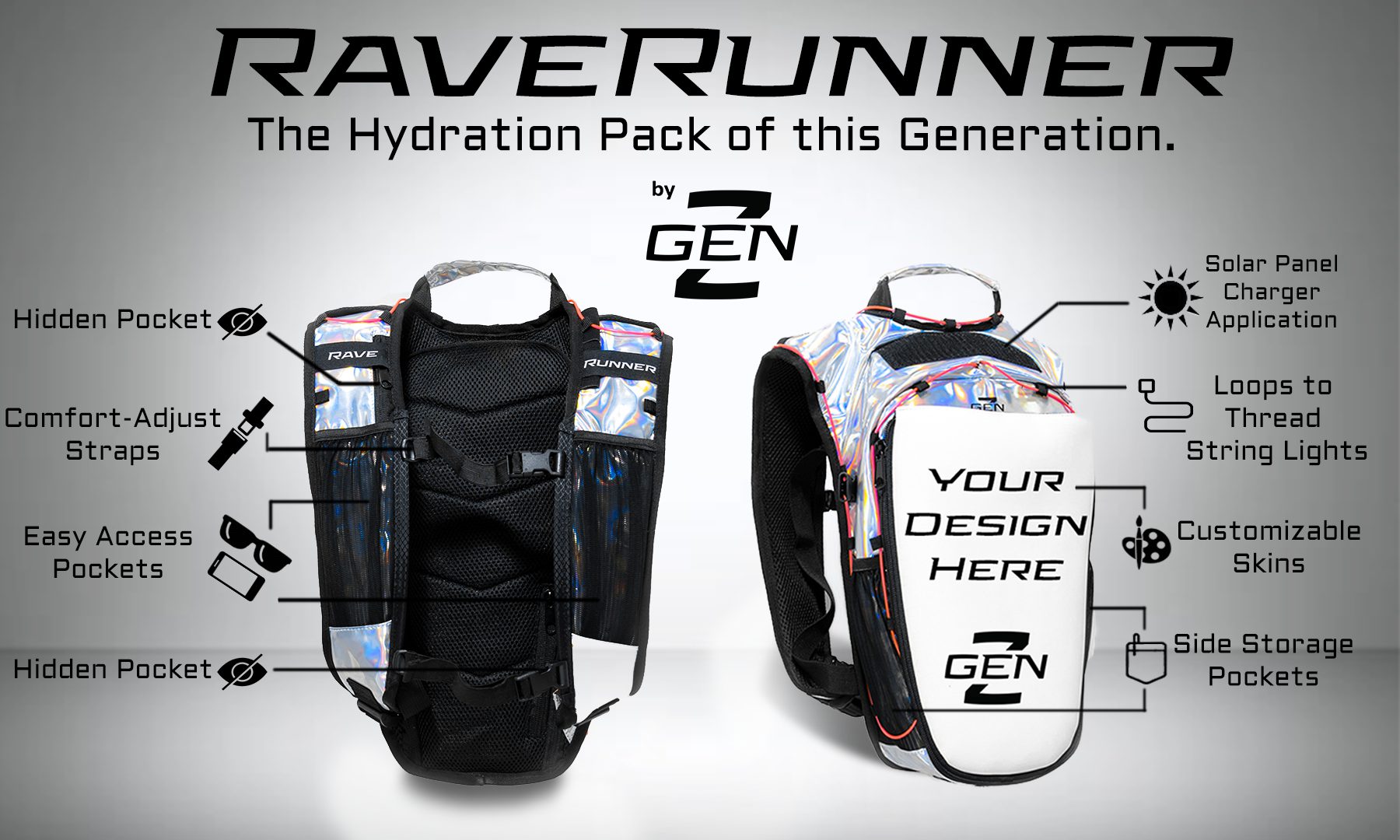 Filling the water bladder on the RaveRunner was an absolute breeze.
Considering that this is an anti-theft hydration bag, the process of refilling the water bladder and holding water should be something it excels at, and it definitely hit all its marks. Without opening a single pocket or taking the RaveRunner off, I was able to unscrew the top of the bladder, fill it up with water, and screw it back on.
There were no leaks or problems with the hydration bag and due to the larger internal pocket, they were able to squeeze in a much larger bladder which was greatly appreciated. Although the temperatures at EDCLV this year were chilly, that doesn't change the fact that you need to stay hydrated at the festival and the increased bladder allowed me to stay at stages longer. My only suggestion would be to add a clip to the shoulder for the hose so it doesn't flop around as much while dancing.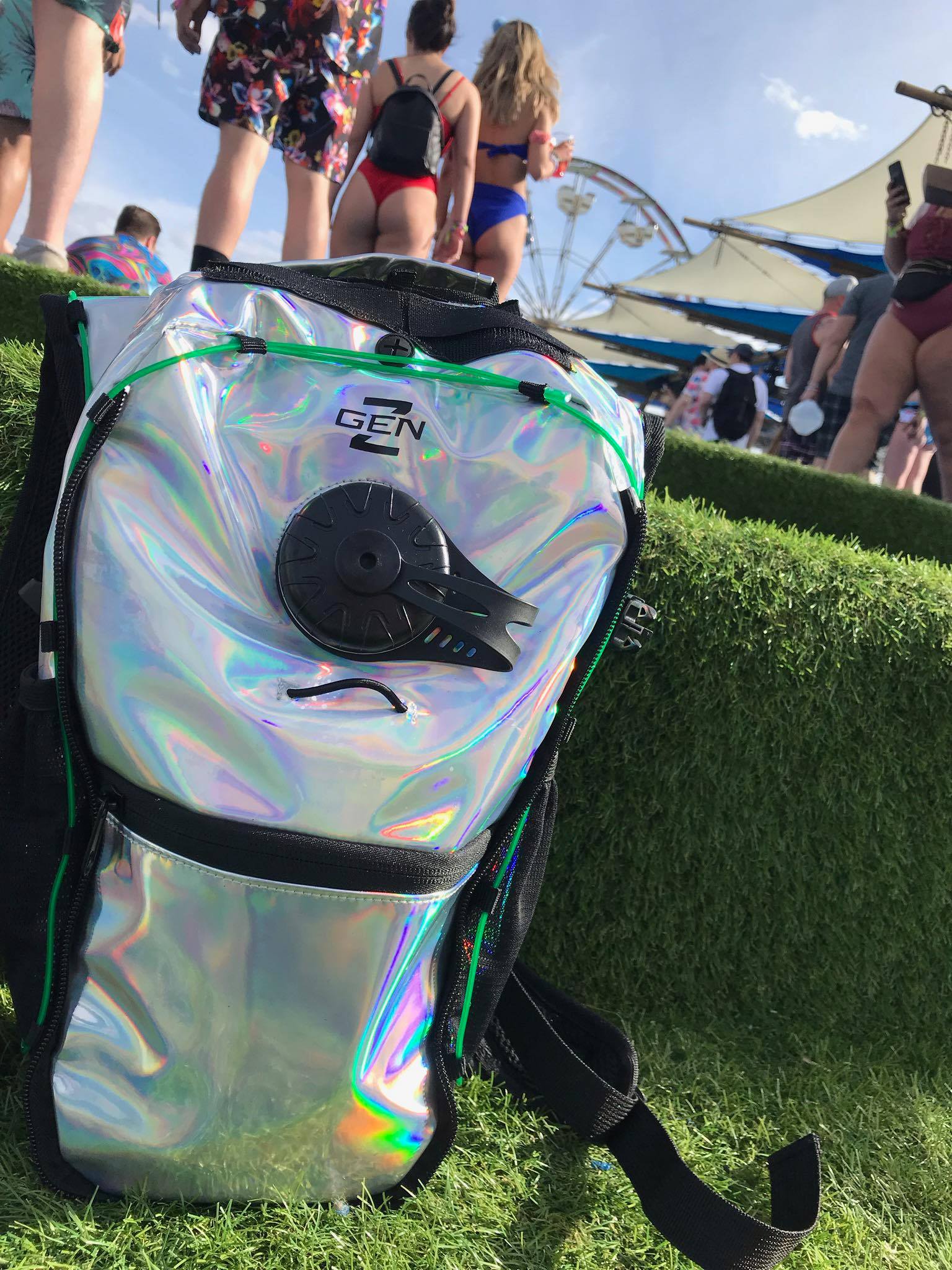 Overall, the RaveRunner didn't just meet my expectations, it exceeded them.
Unlike other years at EDCLV, I found myself in the thick of crowds more often than not but never once while rocking the RaveRunner did I feel as if the items inside weren't secure. Additionally, my friends had a hard time losing me as I was lit up with EL Wire and my own little dance party following me wherever I went with the Underglow in full effect.
With a base model running $70 and plenty of customization options available, I feel that the RaveRunner is one of the best possible solutions to your hydration needs this festival season. It definitely holds its own and even surpasses competitors in the anti-theft space, like Lunchbox, and completely blows the traditional CamelBak or Vibedration bags out of the water.
If you're looking for a bag that will offer you plenty of safe storage space, a customized look, and comfortable experience, I recommend adding a RaveRunner to your collection this season!
Want to own a RaveRunner of your own? Head over to their website and order one today! 
---
Connect with RaveRunner on Social Media: