Don't miss a single set or get held up by trying to find parking. Here's everything you need to know ahead of Second Sky Music Festival!
---
We are just a week away from the debut edition of Porter Robinson's Second Sky Music Festival. The highly anticipated event started out as a single day but quickly grew into a two-day event. Taking place at Middle Harbor Shoreline Park, the festival will play host to many of our favorite artists including G Jones, Madeon, and even a surprise guest on Sunday.
Each day will open with an hour and a half long set from Virtual Self. The placement of Virtual Self has praised by many as it helps to ensure that attendance for opening acts will be high. Every artist on the lineup adds something unique and at times contrasting to each other, which is how Porter wanted this festival to be experienced.
Be sure to arrive early and remember that there is no official parking on site. Also, don't forget to bring some extra cash to support the Robinson Malawi Fund!
Second Sky Music Festival 2019 Essential Info:
Dates: June 15-16, 2019
Hours: 12pm – 10pm
Venue Address: 2777 Middle Harbor Rd, Oakland, CA 94607
Tickets: Limited GA and VIP Passes Remain via their website!
Facebook Event Page: RSVP HERE
Acceptable Forms of Identification for Entry
A valid government-issued photo ID is required for entry.
---
Second Sky Music Festival 2019 Set Times: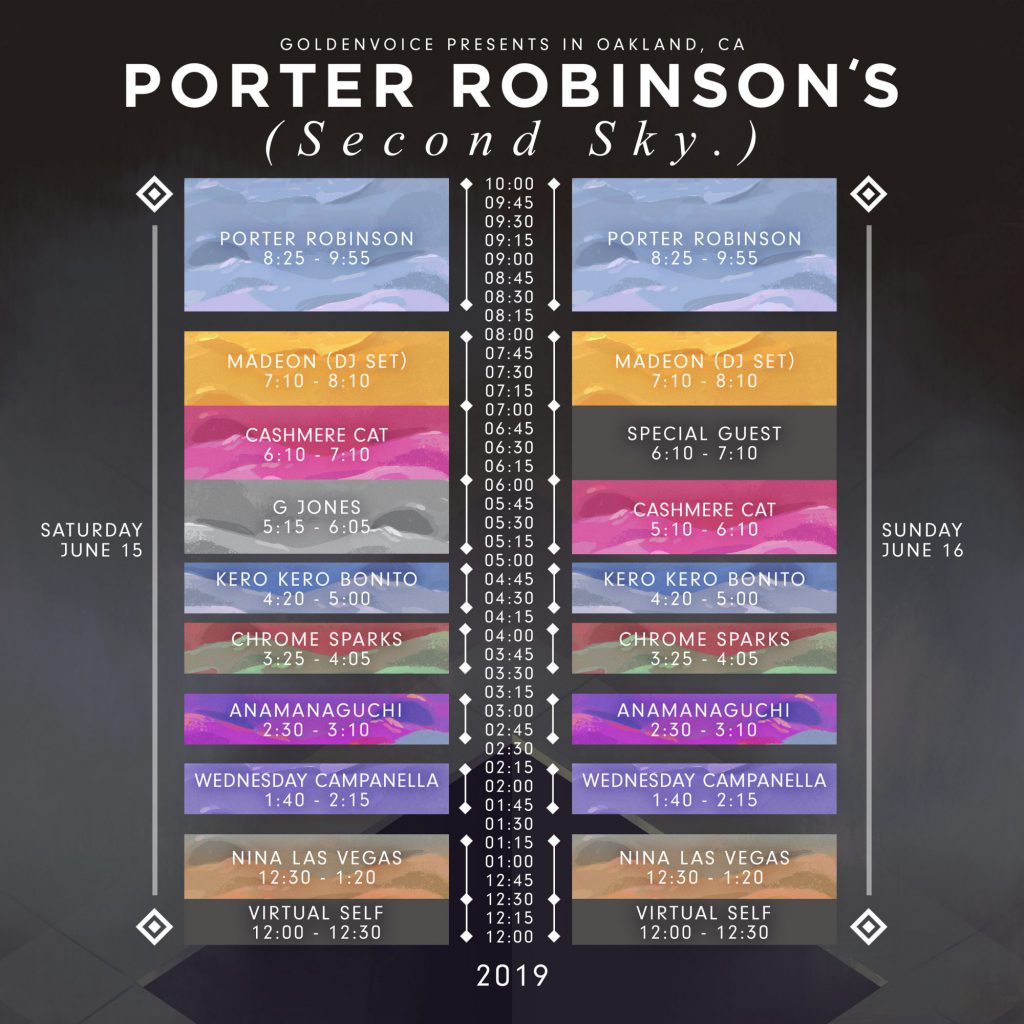 ---
Second Sky Music Festival 2019 Map: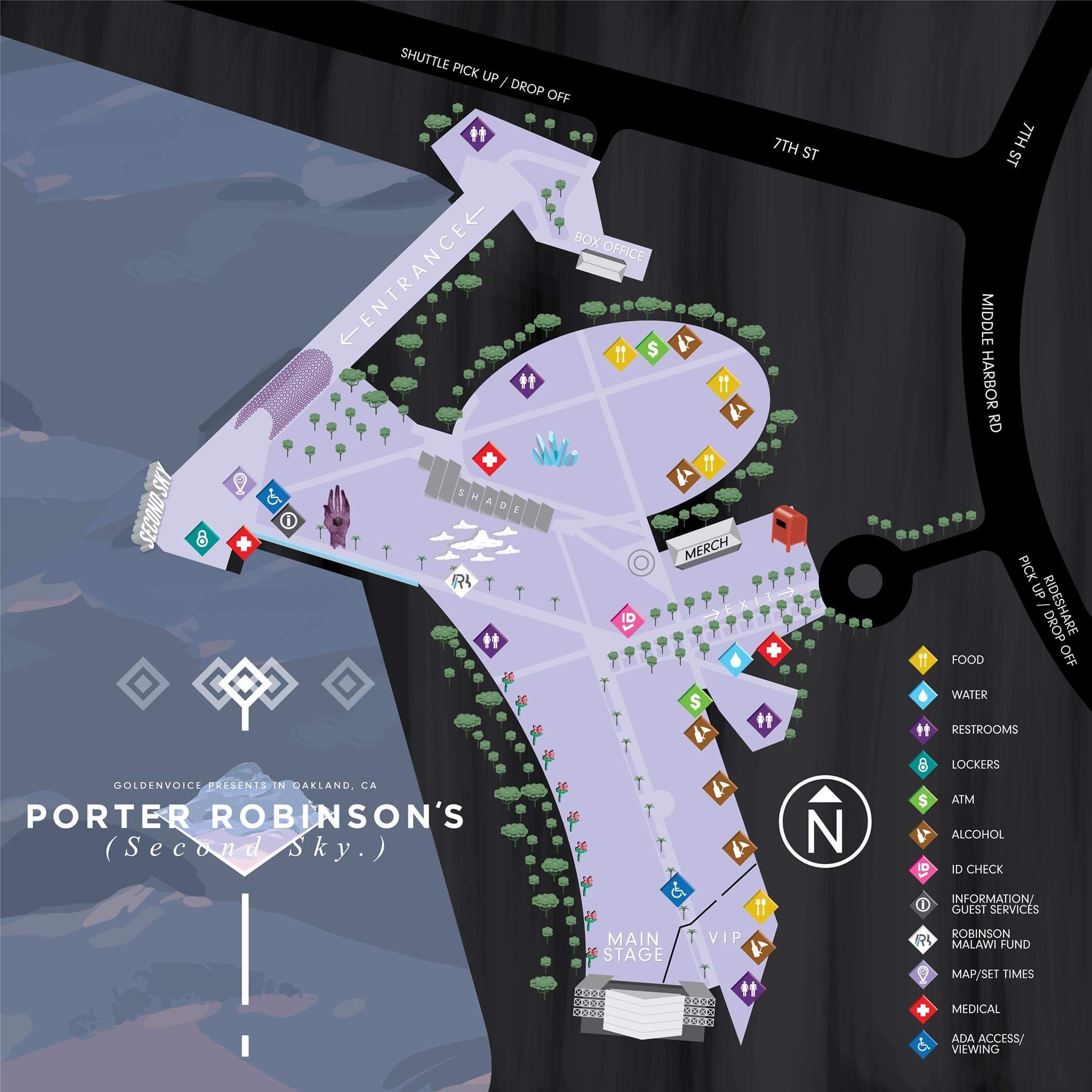 ---
Second Sky Music Festival Parking Information:
THERE IS NO DESIGNATED FESTIVAL PARKING AND THERE IS NO PARKING ON SITE. ALL PARKING IS AT YOUR OWN DISCRETION.
There are only 2 ways to get to the Second Sky Music Festival Site:
Via Free Shuttle from the West Oakland BART Station, which is free for all ticket purchasers. All you need to ride the free shuttle is your ticket. Shuttles will run continuously from the West Oakland BART Station to the event site from 11am-9pm daily. The last shuttle from the event site back to the BART station leaves at 11:45pm.
Via Ride Share, which will drop you off at our designated on-site location. Only rideshare vehicles with official decals and credentials will have access to a drop off area on site. Make sure to enter "MIDDLE HARBOR SHORELINE PARK" as your destination.
Friends/Family pick-up/drop off location is at the West Oakland BART Station. The free shuttle service from West Oakland BART will bring you to the festival entrance.
ADA Parking:
ADA vehicles will need a verified ADA placard, permit, or license plate to enter the event site. The person to whom the placard or plate is issued to must be present in the vehicle, as a driver or passenger. This will be verified by law enforcement upon entry.
---
Second Sky Music Festival 2019 Do's & Don'ts:
Prohibited Items
Audio Recording Devices
Balloons, Balls, Inflatable Balls, Frisbees
Bicycles
Body Armor
Bota Bags
Caution Tape/Rope
Chains/Chain Wallets
Chairs
Coolers
Masks
Custom Signs
Drugs or Drug Paraphernalia
Drones, Remote Control Aircraft, Toys or Cars
Fireworks/Explosives/Flammable Liquids
Flags
Golf Carts, Dune Buggies, Electronic/Motorized Scooters
Hover Boards, Segway's, Self-Balance Wheels
Large Misters
Laser Pointers
LED Gloves, Hula Hoops or Glow Sticks
Musical Instruments
Outside Food or Beverage
Pets
Professional Cameras/Video Cameras
Selfie Sticks
Skateboards/Helmets
Spray Paint or Markers
Squirt Guns
Tents
Umbrellas (beach, rain, etc.)
Vape/E-Cig Liquid Refills
Weapons of any Kind (Includes Guns, Ammo, Pocket Knives, Pepper Spray, etc.)
Wagons or Wheeled Carts
Permitted Items
Backpacks (medium)
Binoculars
Blankets or Beach Towels
Cigarettes (unopened)
Chapstick
Dancing Shoes
Digital Cameras (NO detachable Lens)
Disposable Cameras
Ear Plugs
Empty reusable water bottles (no glass) & Camelbaks (64 oz. or less)
Fanny Packs
Film Cameras (NO Detachable Lens)
GoPro's (NO Poles/Extenders)
Gum
Hats
Inhalers
Lighters
Make-up
Polaroid Cameras
Rechargeable Batteries (Mophies)
Single Compartment Purses
Small Bags (20″x20″ or less)
Sun Block (Non-aerosol)
Vapes/E-Cigs
Walkie-Talkies
---
Reminder To Mind Your Belongings:
Unfortunately, many people have reported pickpockets, bag slashings, and theft of wallets, smartphones, purses and other valuables during this festival season. While this small number of bad apples in the bunch doesn't define an entire crowd, there are opportunistic people who come to these events to take advantage of unsuspecting partygoers and it's important to be mindful of your valuables while at Second Sky Music Festival.
Looking for tips to keep your belongings safe? Check our post highlighting some ideas!
---
---
Connect with Porter Robinson:
Website | Facebook | Twitter | Instagram | SoundCloud
Connect with Second Sky Music Festival on Social Media: