On July 6, Bassrush and Basscon will be going toe-to-toe at Project Z 2019 with sets from Adventure Club, FuntCase, Frontliner, Kutski, and more!
---
Just last month Bassrush and Basscon set aside their differences and came together under the electric sky with stunning takeovers at the bassPOD and wasteLAND stages during this year's edition of EDC Las Vegas. Now, the two brands are back to battling once again and rallying their biggest fans as Project Z grows nearer on the horizon.
Set to take over the NOS Events Center on July 6, Project Z will pit the heavy bass styles that fall under the Bassrush banner against the harder styles of dance music that Basscon proudly represents. Today, the two sides of the scene drafted their teams and it's already looking to be a knockdown, drag-out battle that you surely won't want to miss.
On Team Bassrush are renowned artists like Adventure Club, FuntCase, Calyx & Teebee, Liquid Stranger, Midnight Tyrannosaurus, and Borgore among others. Team Basscon is also dropping some of the best in hard dance with sets from Wasted Penguinz, Kutski, DJ The Prophet, and classics sets from legends Frontliner and Tuneboy as well. You also won't want to sleep on the b2b set from Gammer and k?d that is sure to be a genre-bending experience like none other.
Tickets for Project Z 2019 are available now and will surely be moving quick. RSVP to the event on Facebook for updates, grab your tickets now via Frontgate, and let us know which side you'll be joining in the battle in the comments below!
---
Project Z 2019 Lineup: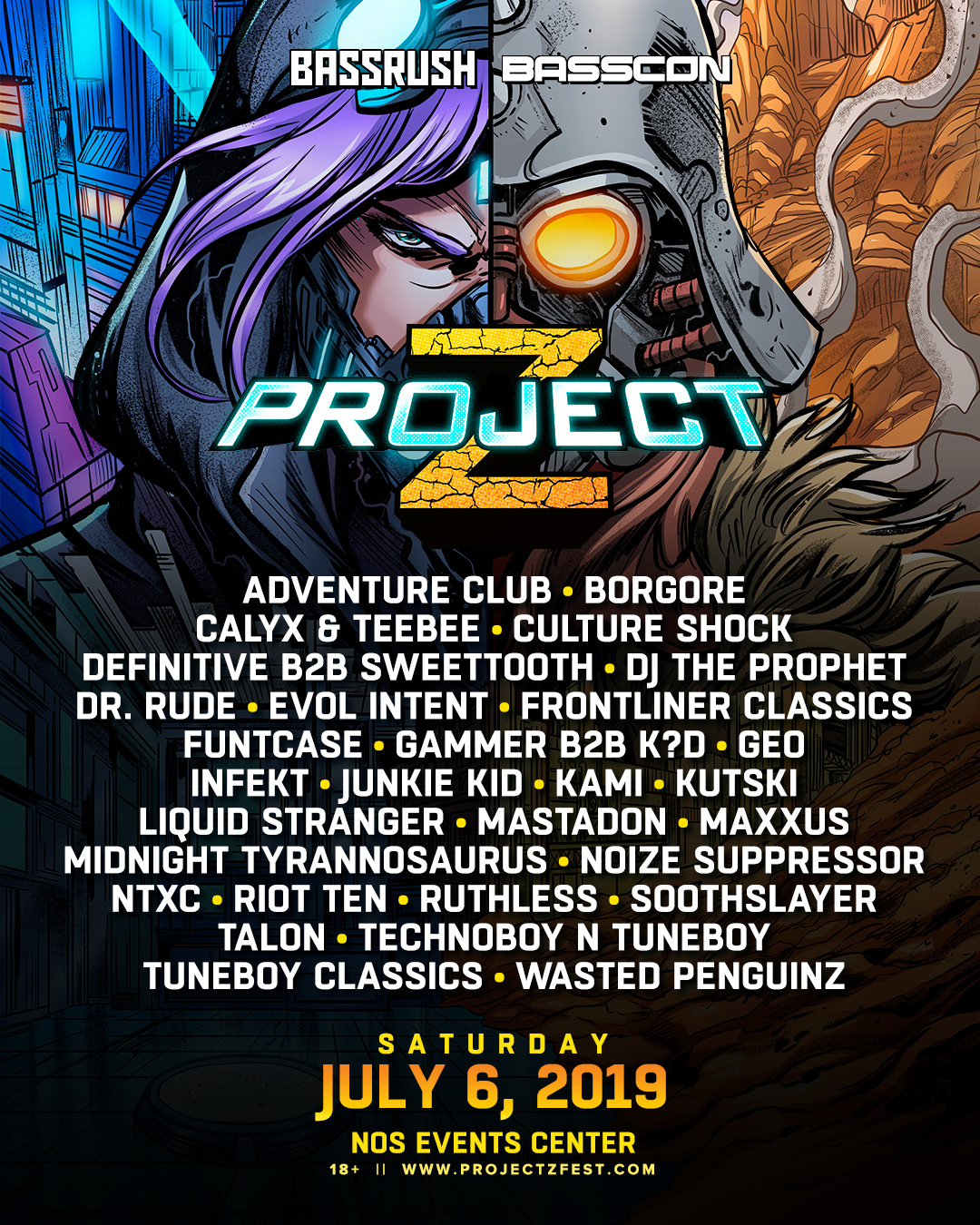 ---
Project Z 2019 – Lineup By Artist:
Adventure Club
Borgore
Calyx & Teebee
Culture Shock
Definitive b2b Sweettooth
DJ The Prophet
Dr. Rude
Evol Intent
Frontliner Classics
FuntCase
Gammer b2b k?d
Geo
Infekt
Junkie Kid
Kami
Kutski
Liquid Stranger
Mastadon
Maxxus
Midnight Tyrannosaurus
Noize Suppressor
NTXC
Riot Ten
Ruthless
Soothslayer
Talon
Technoboy N Tuneboy
Tuneboy Classics
Wasted Penguinz
---
Connect with Project Z on Social Media: