Nocturnal Wonderland is quickly approaching, so we've compiled our favorite outfits to wear at the festival this year!
---
North America's longest-running dance music festival, Nocturnal Wonderland, is set to return to Glen Helen Amphitheater on September 16-17. This beloved event draws creatures of the night from near and far to Southern California for a weekend full of music, dancing, art, camping, and more to ensure a whimsical experience in this nocturnal playground. With the 28th edition of the festival right around the corner, this year is set to be one you will not want to miss.
Boasting a stellar lineup full of some of the scene's most heavy hitters and rising acts, there will surely be no shortage of music throughout the weekend, with sounds for everyone to enjoy. Bass music behemoths such as Subtronics, Riot Ten, Wooli, and Black Tiger Sex Machine are set to take the stage, and fans can also look forward to shuffling to the likes of AC Slater, VNSSA, Joshwa, and Biscits, among others.
With any festival approaching also comes the time to decide what you will wear to the show. If you haven't decided on any looks yet, fear not because we've compiled a list of some of our favorite fits to wear to Nocturnal Wonderland this year. From psychedelic prints to fiery getups, celestial vibes, and more, keep on reading for our top picks.
Five Fierce Looks for Nocturnal Wonderland 2023
---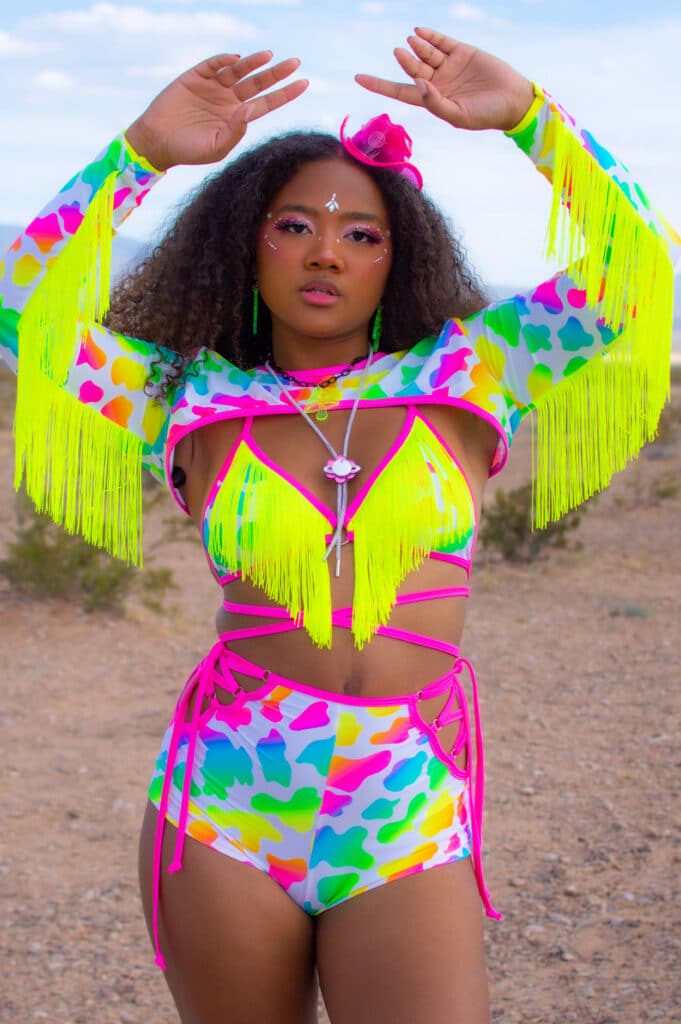 Neon Dreams
With their new Vaca Galactica collection, Rolita Couture proves you can still rock neon at any show. Call upon your inner animal by rocking these florescent cow-print designs. We're gleaming over this Stardust Fringe Shrug, which pairs seamlessly with their Lunita Fringe Top and Venom Lace Up Bottoms. Finish the look with face gems, colorful earrings, or even a tiny cowboy hat pictured here for the wildest neon set in the West.
---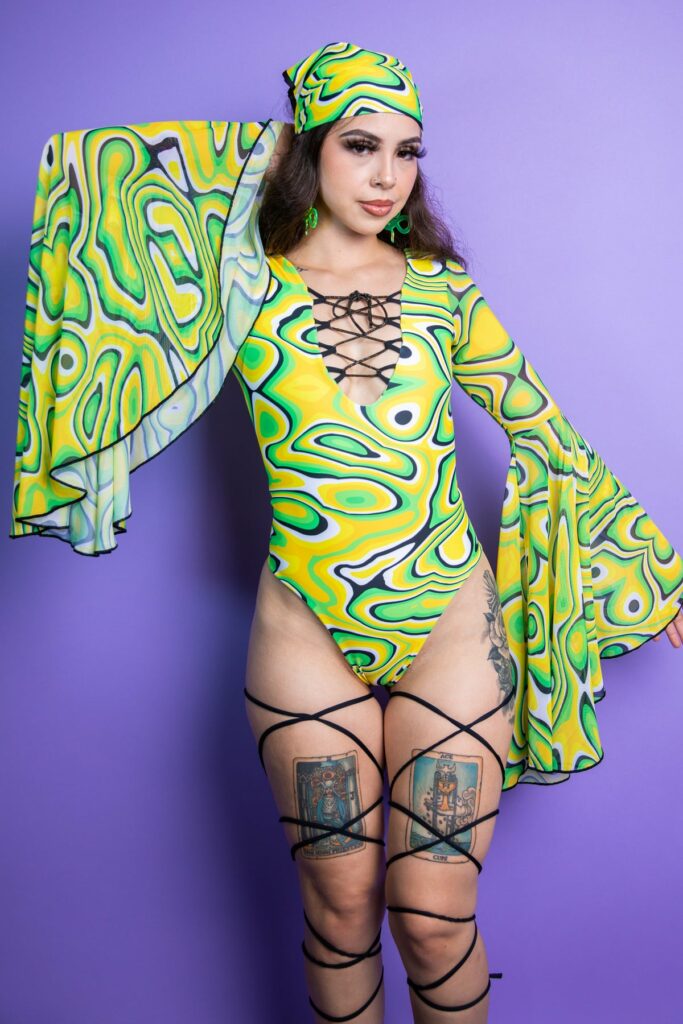 Groovy Vibes
Who knew groovy could be so wonky? This Wonky Goddess Bodysuit from Freedom Rave Wear offers a trippy spin on traditional groovy patterns for next-level rave fashion. Pair with a Wonky Bandana and leg wraps as you flow effortlessly through Wonderland. Also available in Wonky Sideboob Bodysuit, the collection offers a variety of styles and accessories to find the fit most suited to your style. Be sure to scope their Bell Bottoms, Bikini Top, Gloves, and more in the collection.
---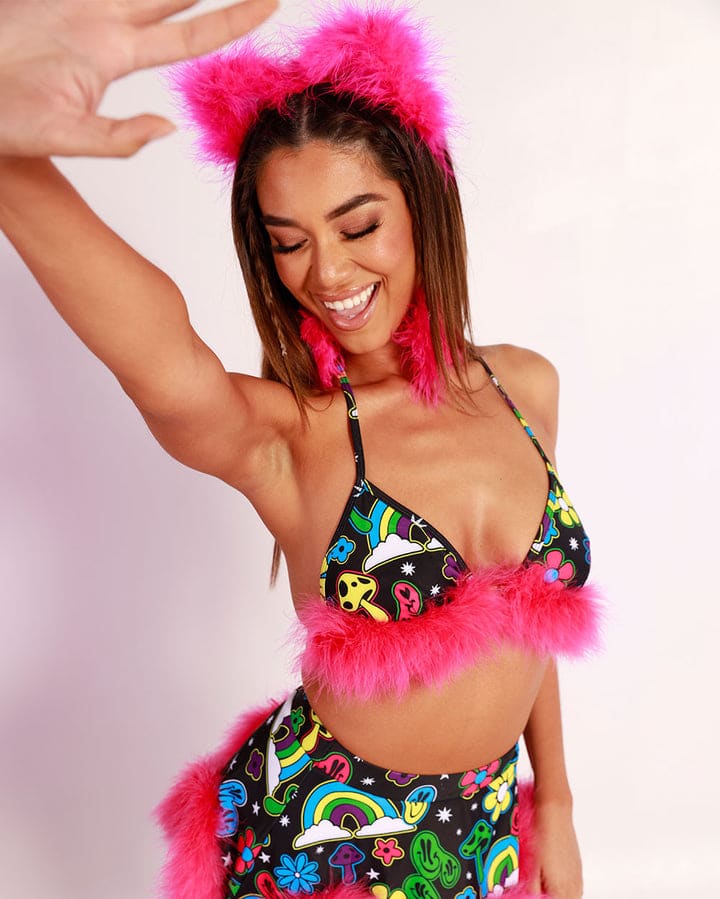 Psychedelic Twist
Prance around wonderland in this Shroomery Triangle Marabou Top and matching skirt, lined with fuzzy pink marabou for an extra magical twist. Light up the night with this psychedelic design as you spread nothing but good vibes around the festival. Complete with pink fluff earrings and kitty ears from BrittsBlossoms for a truly iconic look.
---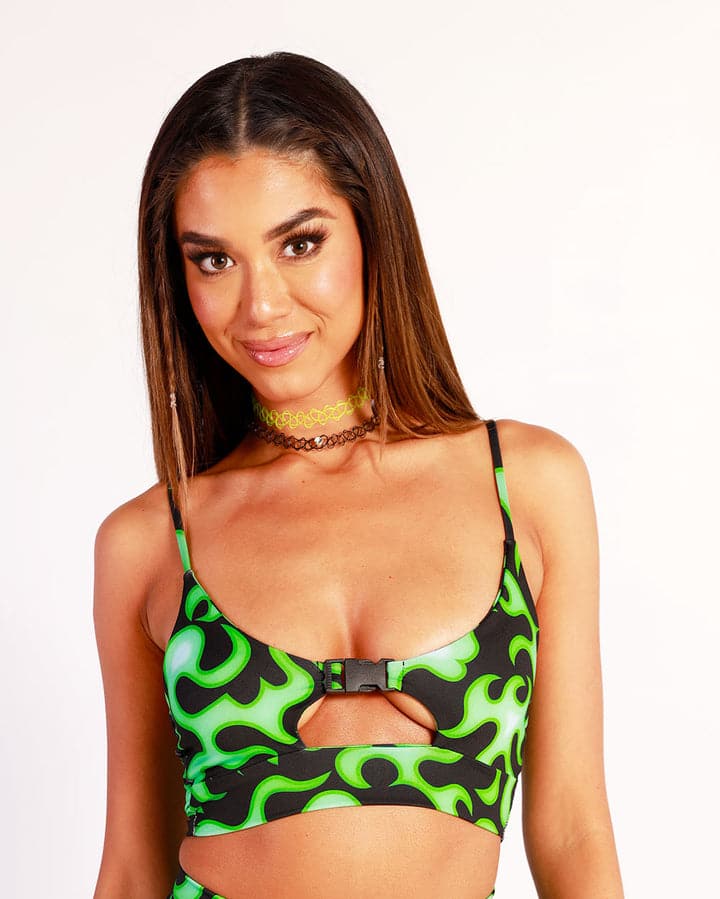 Flames for Days
It's time to turn up the heat. You can never really go wrong with flames, and iHeartRaves hits it on the nose again with the Ignite My Fire Speed Clasp Crop Top and matching skirt. While you're raising the temperature, you'll surely stay cool in the Nocturnal heat with this breathable fit. Fire up the dancefloor even more, and add some black bottoms into the mix, along with these Neon Green Old Flame Earrings.
---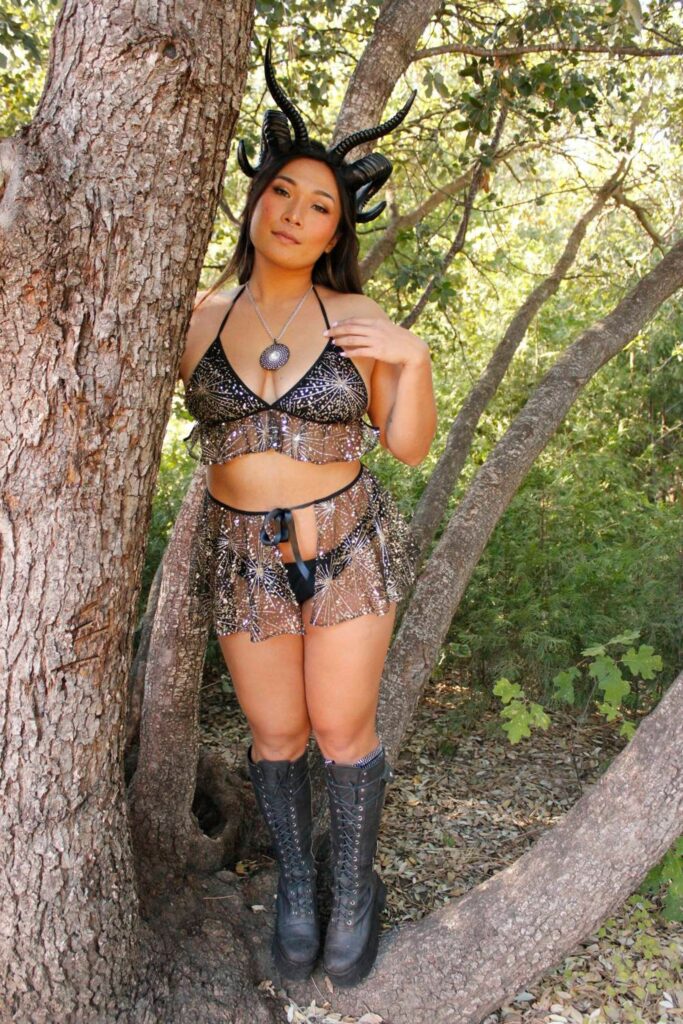 Celestial Sparkle
As their name suggests, Nocturnal Necessities offers a plethora of festival fits and accessories aligning perfectly with your Nocturnal Wonderland needs. In tune with this year's theme of Cosmic Equinox, we recommend the Sparkling Nights Rave Skirt, Top, and Bell Sleeves for an extra ethereal vibe. The Stars of Destiny Flip Sequin Bikini Top offers another option to channel the cosmos. For an added taste of luxury, be sure to snag one of the brand's exquisite kimonos or sequin jackets.
---
Follow Nocturnal Wonderland: