If you're still scrambling for fashion inspiration for Beyond Wonderland SoCal, we have a "mad" list to help you party in style!
---
Beyond Wonderland SoCal is just around the corner, and if you enlisted to become part of the Queen of Heart's subjects this year, you're encouraged to dress the part. This Alice in Wonderland-inspired festival allows for attendees from all walks of life to strut their stuff, and the depth of this year's Psychedelic Storybook theme allows for even more worthy items to draw inspiration from.
But is your outfit shopping late, late, late for a very important date? We hand-selected a list of femme and masculine options to spark your creativity to create the perfect outfits for this two-day wonderland. From the Cheshire Cat and the Jabberwocky to Queen of Hearts and the singing flowers, we have incorporated some of the characters from the animated and live-action versions of Alice In Wonderland into a list of inspirational fits.
Related: Looking for festival essentials? Check out our full list of must-haves!
If you're going with a group or would like to match outfits, this list serves many great examples. Take a peek through the looking glass at our mad list of fashion inspirations for this year's tea time look, grab your last-minute tickets on Front Gate, and let us know what you're planning to wear on Twitter!
Eight Fashion Looks for Beyond Wonderland SoCal
---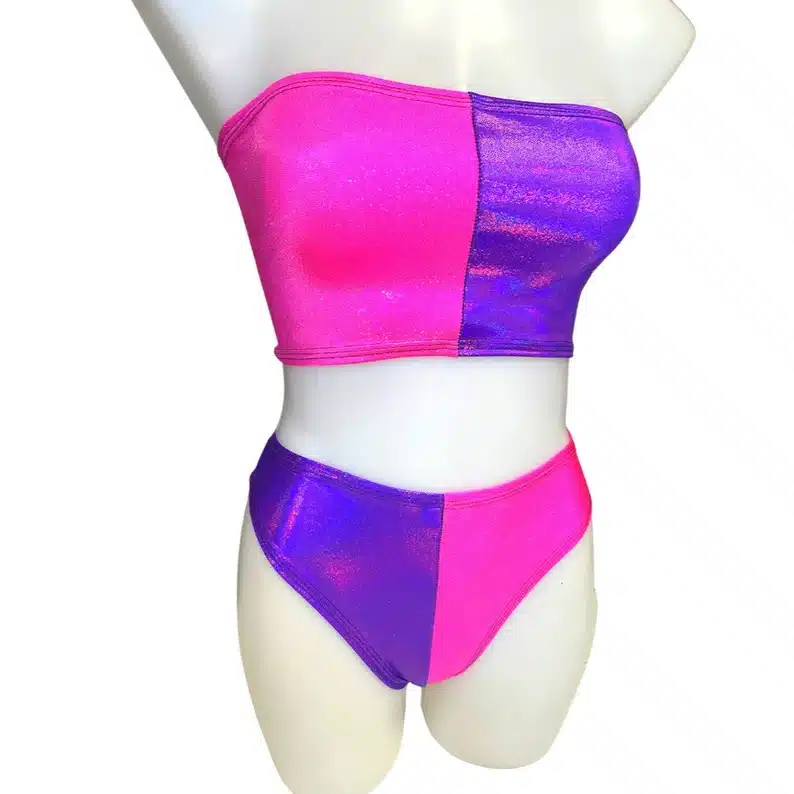 Cheshire Cat
The signature colors of the cat in the animated Alice in Wonderland are pink and purple, so these finds may give you the Cheshire grin as they mimic that combination. This set from The Lyte Couture and t-shirt from Frazy Designs offers inspiration for femme and masc-presenting festival attendees. Mix and match elements of pink and purple in your outfit for the ideal reference to the character. Accessories that would fit well with this would be any acid trippy or lunar designs. Luminescent glow-in-the-dark accessories would match well, too, to refer to the feline's glowing eyes and smile.
Pictured: CHESHIRE CAT Tube Top + High Waisted High Cut Bottoms – $70 via The Lyte Couture
Pictured: Frazy Designs Vivid Cocktail T-Shirt – $40 via Frazy Designs
---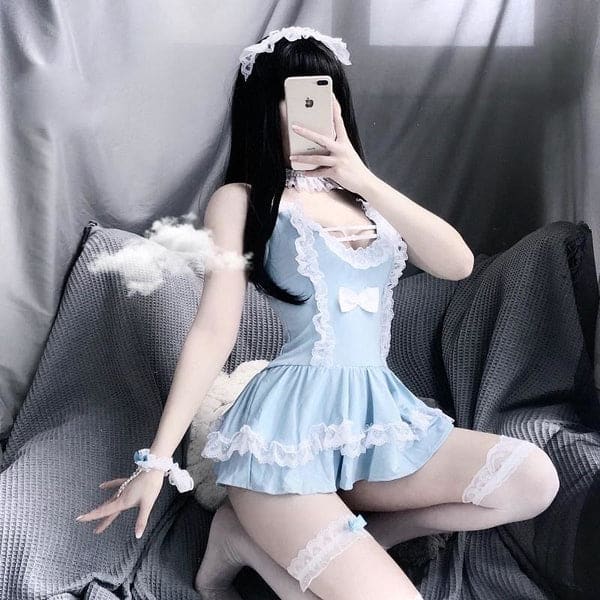 Alice
If your confidence defines you as the main character, a look inspired by Alice is perfect. Her signature maid dress and apron incorporate elements of blue and white paired with her blonde hair for hints of yellow or gold. These fits from DDLG Playground and Killer Kings serve as festival-friendly inspirations for your days in Wonderland. Femme options could incorporate white lace and bows for accessories, and masc options couple include gold detailed accessories.
Pictured: DDLG Playground Baby Blue Maid Dress – $24.99 via DDLG Playground
Pictured: Killer Kings Blue & Gold Paint Splatter Swim Trunks– $44.90 via Killer Kings
---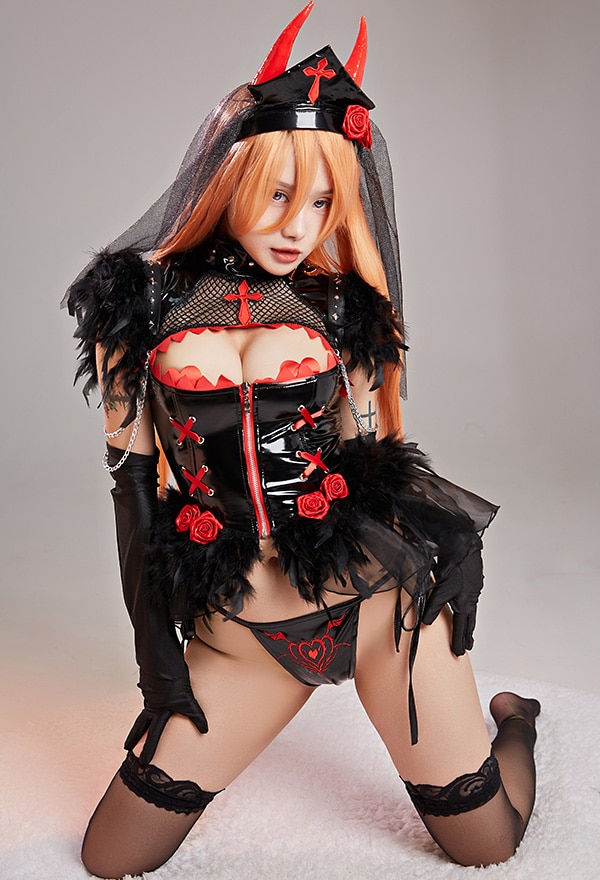 Queen of Hearts
Do you have main character energy but want to go a darker alternative route for your outfit? Check out the Meowcos set with red roses and Freedom Rave Wear's unisex t-shirt with house of cards symbols on it for the ultimate fit inspired by the authoritarian Queen of Hearts. Accessories for any outfit could include red and/or black additions of ross, hearts, or house of card symbols, even a crown to top of the whole look.
Pictured: Meowcos Power of Desire Women Gothic Black Cutout Leather Corset Top and Thong Lingerie Set– $45.99 via Meowcos
Pictured: Freedom Rave Wear Queen's Gambit Unisex T-Shirt– $50 via Freedom Rave Wear
---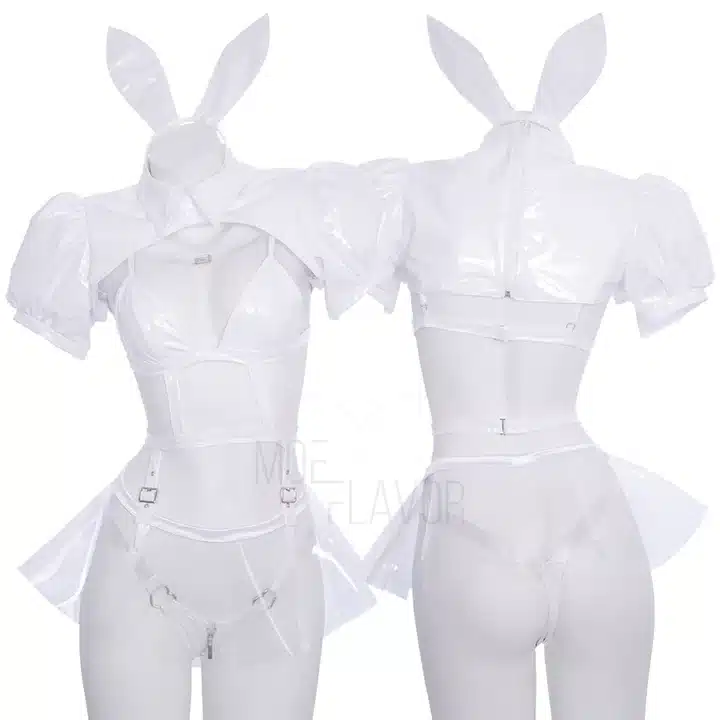 White Rabbit
Time is ticking to get that perfect outfit for tea time! Scurry quickly to get the set from Moe Flavor or the kimono from That Electric Touch to reference your outfit to the iconic white rabbit from the films. A bunny ear headband, white accessories, and a pocket watch are great examples of additives to your white rabbit outfit. Make sure to snag these soon so you won't be late, late for a very important date.
Pictured: Moe Flavor White Cyber Bunny – $49.95 via Moe Flavor
Pictured: That Electric Touch Holographic Kimono – $85 via Etsy
---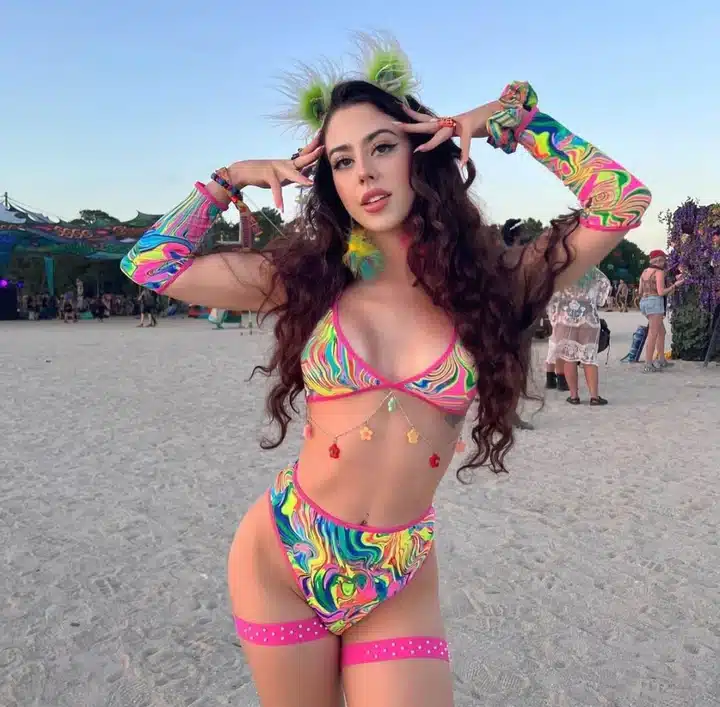 Trippy Vibes
If you don't want to dress as a movie character but still want to match the theme of the festival, a trippy print could be your ultimate outfit for one or both days. Several of these types of prints have been on the festival fashion market for years, so the options are endless; you may even already own at least one of these types of prints. This set from Electric By Mar and shirt and shorts from CraztCatz are exemplary, and the femme set even has floral detailing to reference the singing flowers in the animated Alice In Wonderland.
Pictured: Electric By Mar Electric Daisy Set – $65 via Electric By Mar
Pictured: CrazyCatz T-Shirt and Shorts Set – $78 via Etsy
---
Jabberwocky
For those on the edgier, darker side of things, an outfit inspired by the infamous Jabberwocky could be executed. A monochrome or silver outfit, like those depicted from Badinka, could be a great outfit basis. Accessories that would match perfectly for reference would be anything with scales, wings, or jewelry also of silver or monochrome color. This dragon-like creature from the live-action film also has glowing red eyes, so red lenses or sunglasses would also be a perfect addition.
Pictured: Badinka Monochrome Twisted Bodysuit – $89 via Badinka
Pictured: Badinka Chromatica Male Costume – $129 via Badinka
---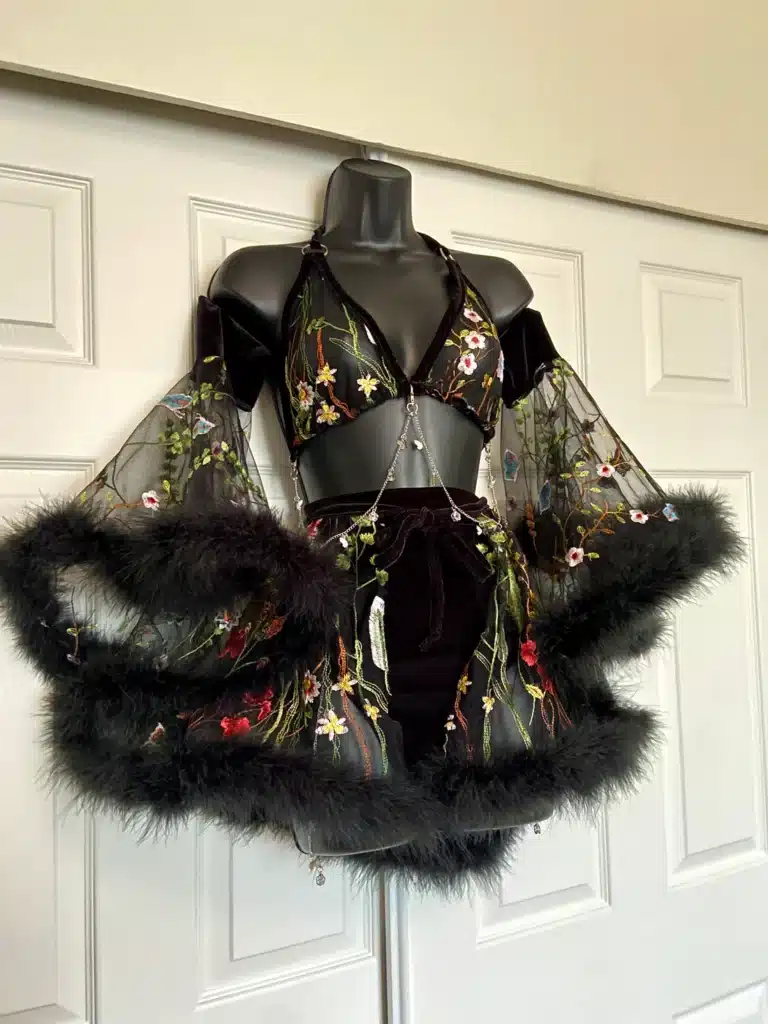 Singing Flowers
If you want a softer, more fairytale outfit, one inspired by the singing garden of flowers would be ideal. Floral patterns, of course, are the perfect match inspired by the garden's plethora of flower species. The pictured set from Cervantes Rave Co and the vest from SassyPants The Label utilizes vibrant floral designs. The best accessories to match your outfit would be items with flowers, leaves, or stems.
Pictured: Cervantes Rave Co. Fluffy Garden Fairy Set – $70 via Cervantes Rave Co.
Pictured: SassyPants The Label KatieKayyy x SassyPants Unisex Vest – $40 via SassyPants The Label
---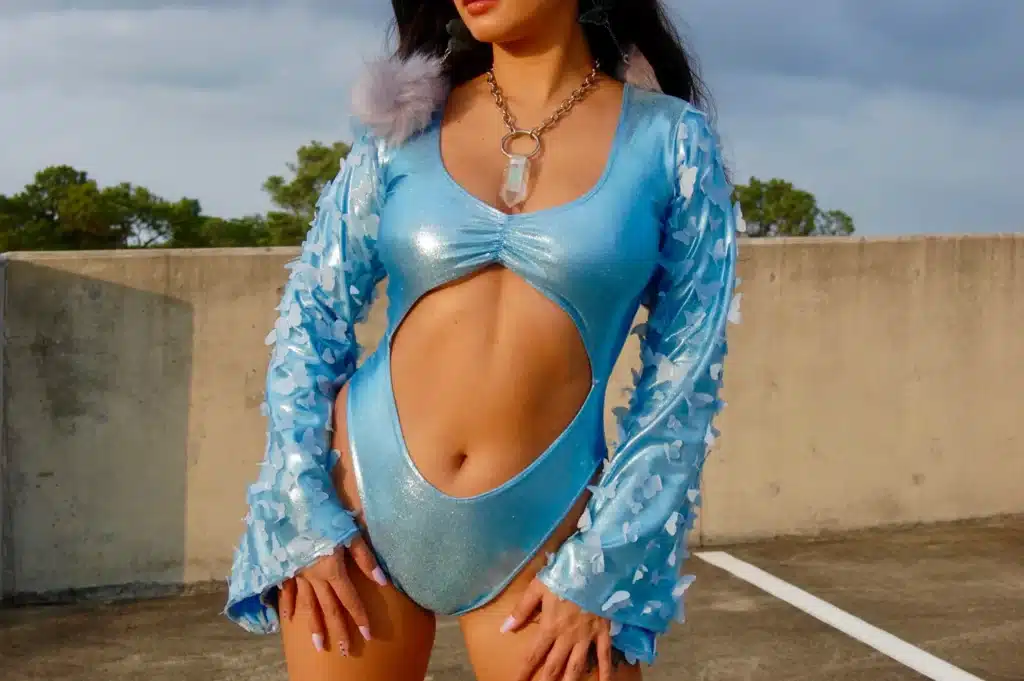 Absolem
'Who are you" without a stunning outfit? For those with amassed veteran festival wisdom, Absolem should serve as inspiration for your defining outfit. The blue caterpillar-turned-butterfly definitely calls for butterfly prints and detailing, like those on the Daisy Daydreamz bodysuit and Rave Nomad's butterfly board shorts. The most fitting accessories to add would be any items with butterflies, flowers, caterpillars, or referencing to grey smoke like Absolem's hookah he notably smoked.
Pictured: Daisy Daydreamz Flutter Bodysuit Blue – $98 via Daisy Daydreamz
Pictured: Rave Nomad Butterfly Nation Board Shorts – $50 via Etsy
---
When you purchase through links on our site, we may earn an affiliate commission. Please see this page for more information.