Enough about the music (for now), let's talk our favorite festival fashion looks from EDC Las Vegas 2019!
---
As one of the biggest electronic music festivals of the year, EDC Las Vegas always sets a precedent for the events that follow, not only in music and stage production but also in fashion. Although the colder weather this year resulted in many attendees (including myself) rocking sweatshirts by the end of the weekend – seriously, they literally sold out of sweatshirts at all the merchandise stands – fashion still managed to shine through!
We noticed some killer trends dominate the speedway this year that we hope to see more of at the festivals that follow. From colorful braids to a jacket made out of festival wristbands, read on for some of our favorite fashion trends that stood out to us this year!
Check out our favorite looks from EDC Las Vegas 2019 below and relive some moments from the festival with the live sets that have surfaced!
Favorite Fashion Trends of EDC Las Vegas 2019:
---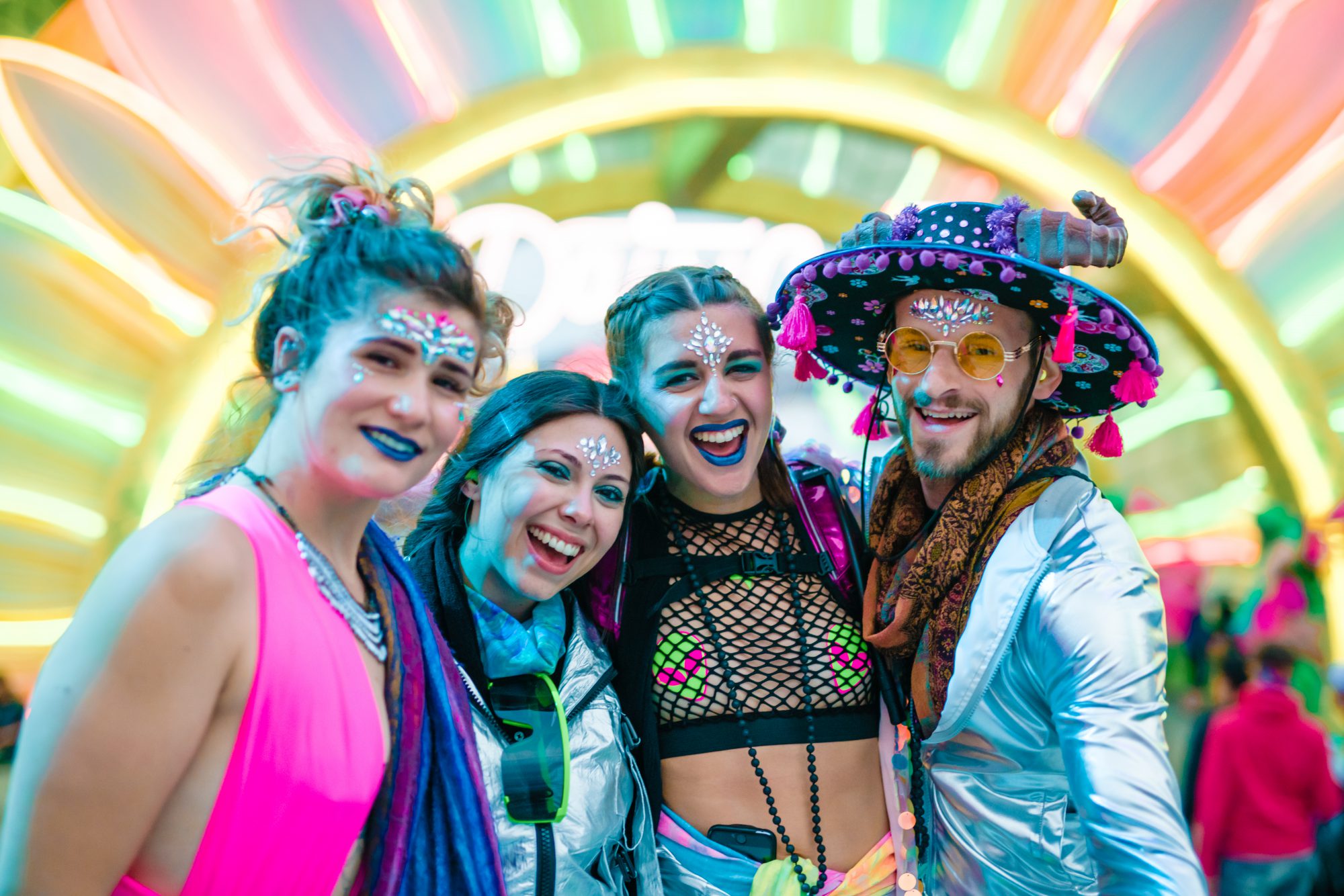 Reflective Material
One of the trends we couldn't help but notice was this funky "flash material". Under normal light, these fits appear white but as soon as you snap a photo, it creates this amazing reflective effect. The best part about this look is that you can easily incorporate it into any outfit. We saw the material in many forms throughout the weekend, from bralettes to pants and couldn't get enough of it. It's flashy… in the best way!
---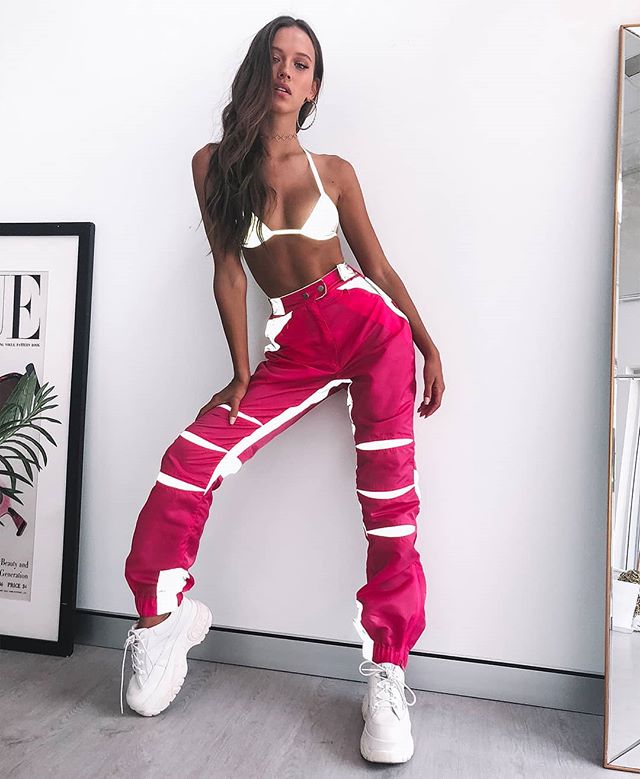 Colorful Cargo Pants 
We call this trend Kim Possible-chic. Recently, we've seen streetwear take over both mainstream and festival fashion, resulting in a trend we saw at EDC this year that channels our favorite animated spy by being simultaneously sexy and comfy. These pants took over the speedway this year, appropriately ranging in every neon color imaginable.
When temperatures dipped below 50 degrees come Saturday night, we found ourselves teeming with jealousy over the many attendees who'd gotten ahead of this trend in time to don a pair at EDC. Like Kim, we often saw the pants paired with a crop top, which balances out the bagginess of the bottoms nicely. Perfect for crime fighting or raving, we love the versatility of this look.
---
Buckles
Belts, straps, bags, heads, shoulders, knees, and toes, buckles dominated at EDC 2019. We can also probably thank the increasing prevalence of streetwear for this trend, which, similarly to the aforementioned pants, has a very industrial vibe. The trend is as simple as it sounds; it seems the more buckles and straps your outfit has, the better!
---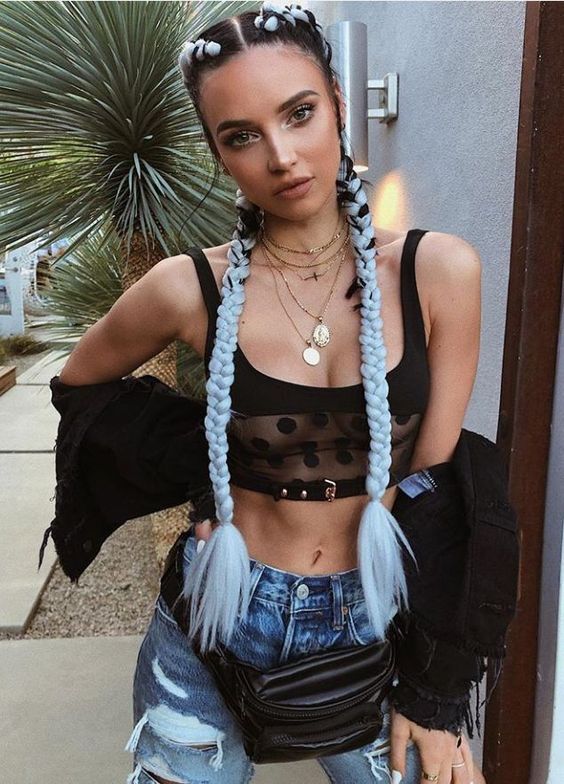 Braided-In Colored Extensions
We've noticed this particular hairstyle creeping into our Instagram feeds and festival fashion since last season. If suddenly you noticed that your friend sprouted waist-length, technicolored braids right before they were about to leave for EDC, you're not alone. These temporary extensions were everywhere this year and we're not at all surprised. They're a fantastic way for those wanting to add some color to their 'do for the festival but not wanting to deal with walking into the office post-fest with hot pink locks.
With these, you simply get the color braided in and bam! You've leveled up your hair game AND don't have to worry about styling it for the rest of the weekend. The ideal lazy gal – or guy – look.
---
---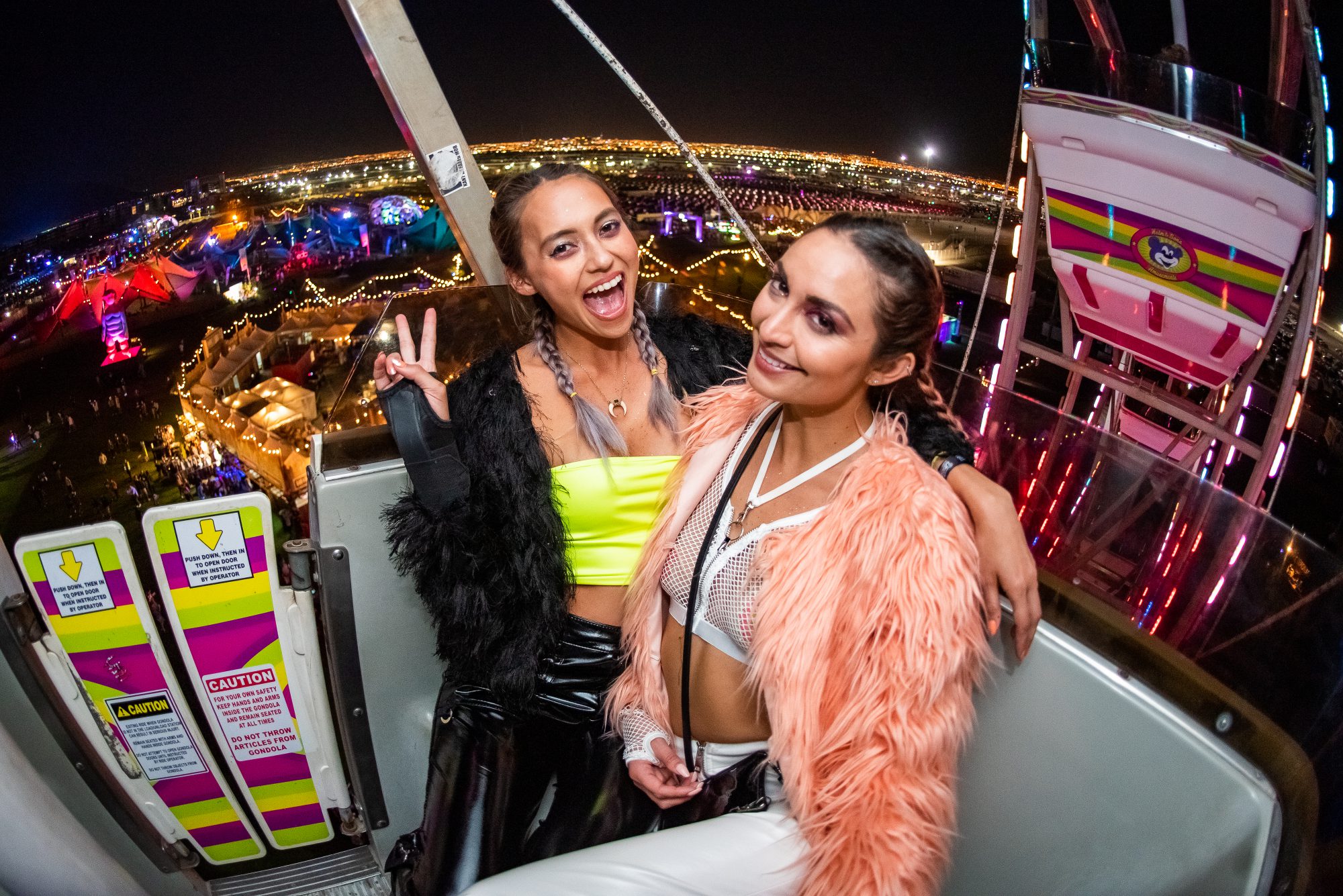 Funky Fur Jackets
When temperatures dropped, these furry coats were the real MVP. In year's past, it's been too hot for attendees to rock any sort of jacket, but thanks (no thanks) to the freezing wind that ripped through the speedway throughout the weekend, people got to whip out their finest furs.
We saw an excellent array of furry outerwear, from dazzling neon patterns to some straight up high-tech LED and we wanted to steal them all for ourselves. We noticed that this trend worked best when paired with a cowboy hat, but that's just our opinion. Yee-haw!
---
And of course, some honorable mentions…
Would EDC really be EDC without fab splashes of neon everywhere? If possible, this year we saw even more bright colors than ever before!
As predicted, Fifty Shades of Rave dominated the speedway in the form of harnesses, chains, and other BDSM-inspired elements. From more playful holographic takes on the trend to some hardcore harnesses, we can't get enough of this trend.
Finally, we could simply not publish a piece on EDC fashion without mentioning ZHU's meticulously crafted festival wristband jacket.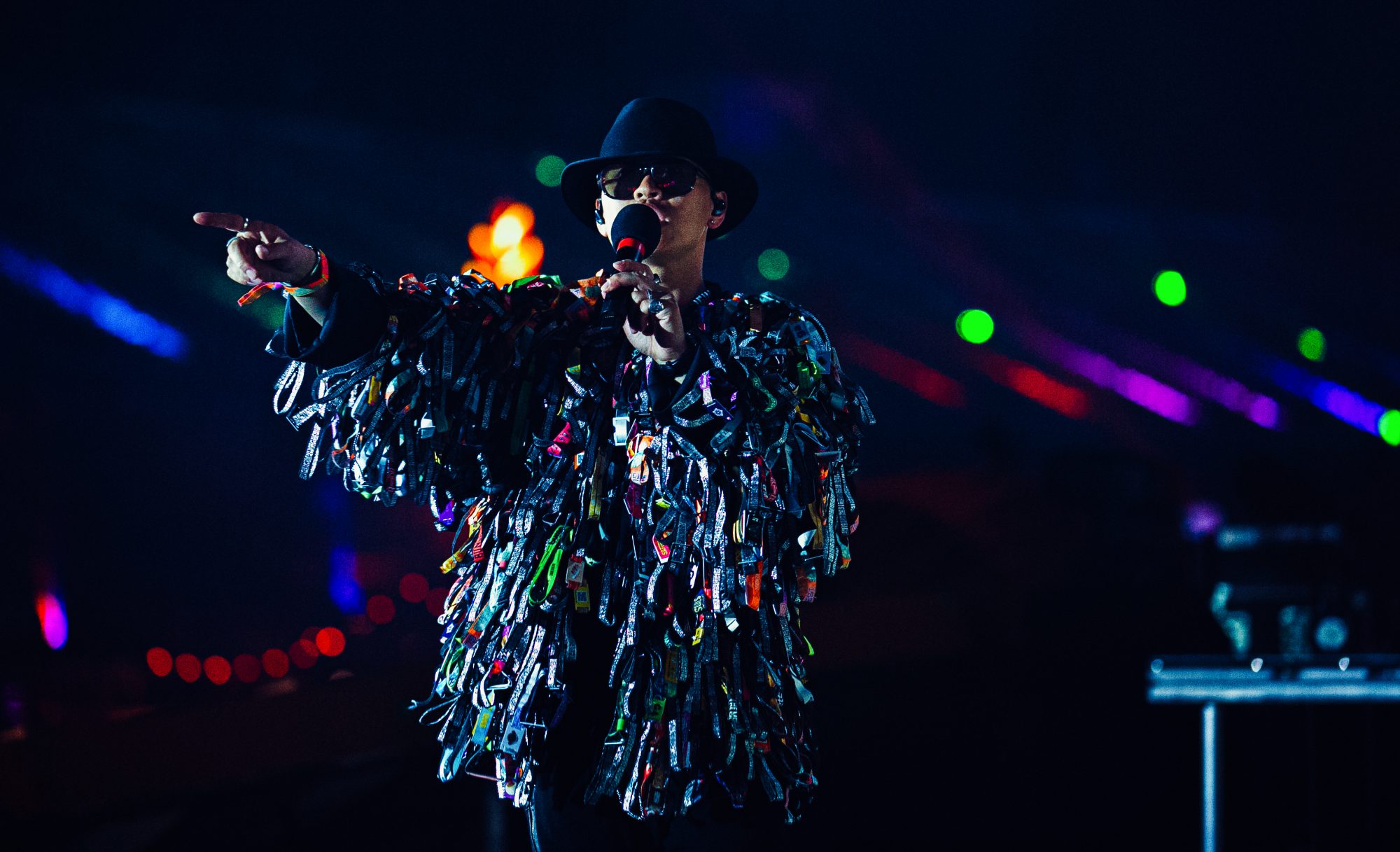 He debuted the look during his set Saturday night and it was fab. His creative director and designer behind the look Emmy Slattery shared an exclusive quote with us regarding the piece:
"Our goal was to create a symbolic piece of clothing that represents Zhu's fans, along with shining a light on the significance of festival wristbands within dance music and festival culture. The design process was an unconventinal one. We spent 4 months promoting the project and collecting wristbands from people all over the world. the response to what we have created has been overwhelming and i hope it continues to inspire and allow people to appreciate our innate festival culture that generally isn't featured in festival publications"

– Emmy Slattery
---
Connect With EDC Las Vegas On Social Media: