Backwoods' Executive Producer Will Royall stopped by to chat about the upcoming edition of the festival and give us some insight into its history!
---
For over a decade now, Backwoods has paired music and art with unique experiences to grow into one of the most unique festivals in North America. Originally making waves in Oklahoma before finding their new home on Mulberry Mountain in Arkansas, the festival continues to pack a punch each year with a diverse range of sounds to dance to and fun activities to explore.
At the helm of Backwoods is their executive producer Will Royall, who has led the charge in creating new magical moments and unforgettable memories for attendees each year. With the upcoming edition of the festival on the horizon, we wanted to sit down with him to take a look at the past, what he's excited for this year, and some special surprises for fans in the future as well. Check out the aftermovie from last year's edition and read on for out chat with him to gain some extra insight!
Related: Tickets for Backwoods 2019 are available now, check the full lineup post for more details!
Watch the Backwoods 2018 Aftermovie on Facebook:
---
Hi Will! Thanks for taking the time to chat with us today ahead of Backwoods 2019! Let's start off by digging deep into Backwoods history, how did the festival first come about?
Backwoods has been happening for over a decade now and is at its forever home after previously taking place at three other venues. It all started back in Oklahoma. I had a friend TC Lane, who was killed by someone who had been under the influence of alcohol in college. His brother and I remained connected via social media throughout the years following the memorial service at the university.
His brother and father later started a "camp out" with a few friends and a guitar in his honor. That event grew every year when eventually his brother, Trevor Lane, reached out to me and asked if I would get involved to help grow the event into a legitimate business. They also started the TC Lane Foundation, which helps kids with laptops at school, and ever since the event has helped fund the foundation annually.
For someone who may not have been to Backwoods in the past, what do you feel is the true ethos of the festival and makes it stand out from the rest?
Backwoods is like no other, that's true. First, there's something magical about our venue because we're located in the middle of the Ozark National Forest. It's not only beautiful but the mountain is one giant crystal so the energy flow is quite amazing and is literally something you can feel.
The next thing we've been known for is the creative design of our stages. We've never sold out to any corporate sponsor for our main stage and like to keep it purely artistic. We bring a lot of artists in as well for installations in the woods. This year I think we have one of the absolute best lineups of workshops from all the fests I've seen. It's definitely a differentiator for us this year.
Finally, we keep an eclectic mix of jam, bluegrass, funk, bass, and EDM in our lineup to make sure there is something for everyone – truly a cross-genre festival.
When you look at the chatter about Mulberry Mountain on social media there is clearly a strong connection to the energy that is present at the venue. What led to your decision to move the festival there from Oklahoma in 2018?
YES – huge energy flowing on that mountain, magical things happen there. It's literally a giant crystal underneath that mountain. One of the reasons we picked the venue was because of its history with great events such as Wakarusa.
We know that the venue helped make Wakarusa what it was before its unfortunate final year, and Backwoods wanted to give the people another shot at festing on the mountain. It was also only three and a half hours away from our previous location so it helped that our fan base was able to still drive to attend the event.
Over the years you've featured a number of major acts and this year will see you bring REZZ, Zeds Dead, Umphrey's McGee, and plenty more as well. If you had to pick three defining sets at the festival that stick out to you, which ones would they be and why?
Well, I think Pigeons Playing Ping Pong is really on the come up. You're going to see this band get huge in the years to come. They've got a slot on our main stage this year so be sure to check them out. Keller William's Grateful Grass is also a set not to be missed. You've got both Keller Williams and The Infamous String Dusters getting together to play some Grateful Dead tunes. That will be epic. Finally, in the electronic realm, I think G Jones is going to crush it. His newest album is drippin'.
Backwoods isn't all about the music though, as you offer a number of workshops and activities for attendees. What is the process like to brainstorm and develop these different experiences for attendees?
As I mentioned, our workshops are really a differentiator for our event this year. Aubrey did a great job organizing them with Javi on our team this year. You can listen to a podcast of Aubrey talking about the workshops and the festival overall, on an Innerverse Podcast which previously featured the event.
The workshops this year are sponsored by ENDO Water who'll be handing out some free water to those participating. They really helped us to build out the area even larger with shade structures for the attendees this year as well.
Here are some of the workshops I wouldn't miss: Intro To Astrology, Sound Healing Meditation, and Forbidden Knowledge. Of course, the Opening Meditation at the mainstage on Thursday Night will be awesome. Everyone at the event meditating in unison to draw the energy from the Mountain and set the weekend off on the right foot.
With the upcoming edition of Backwoods coming up quickly, can you share one or two experiences for this year that you're particularly excited about?
Well, don't miss the helicopter ride. You won't realize that we are literally on the top of a mountain peak until you fly out over its edge. The treeline looks deceiving but riding in our helicopter, you immediately see clouds below you, waterfalls, and the vast forest below.
Also, we are a late run fest so sleep in! We have crazy after parties in the secret speakeasy if you can find it at 3AM, and sunrise sets at 6AM. The main stage usually doesn't get going until 5pm or so daily.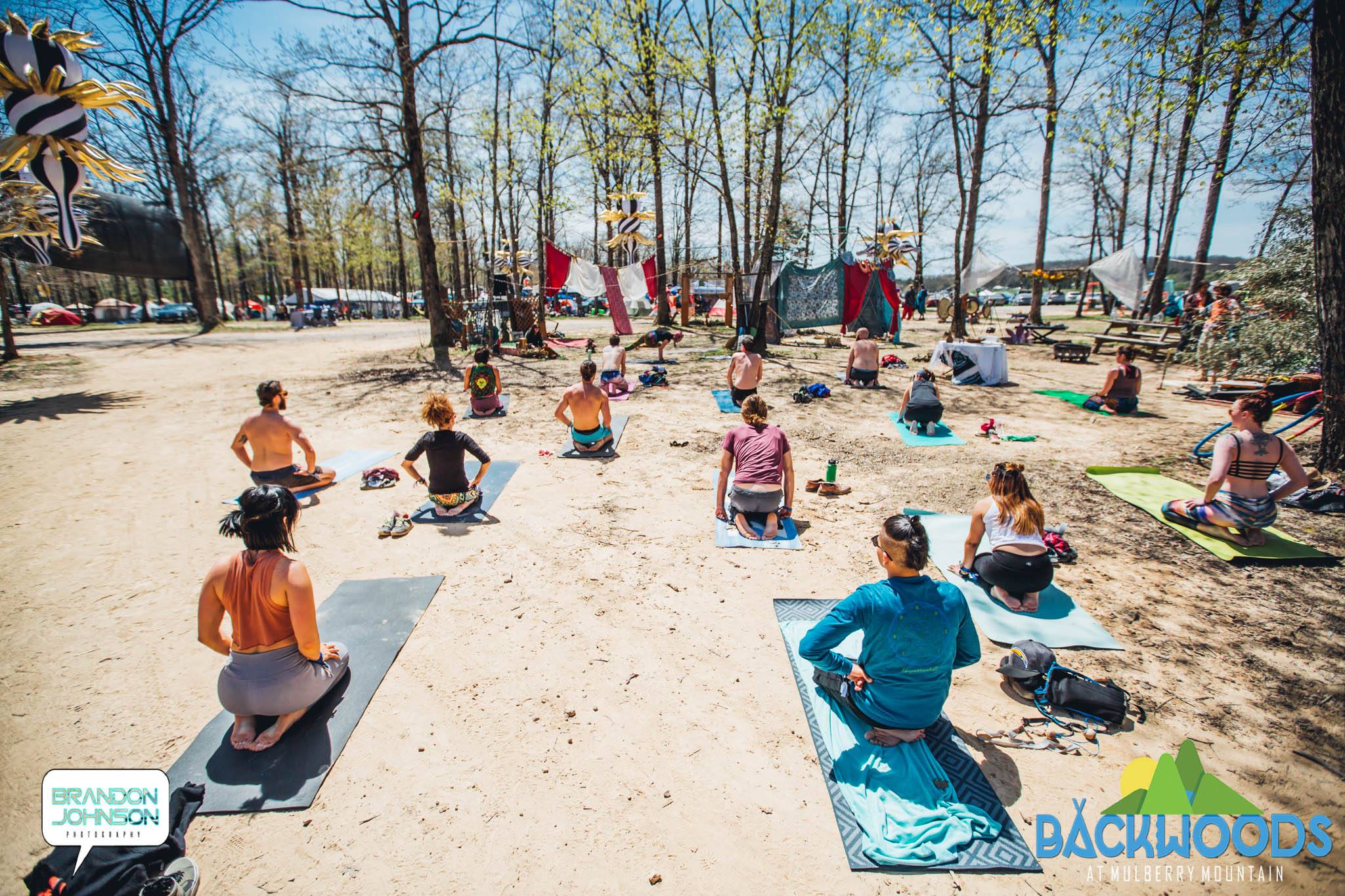 What has been one of the biggest hurdles you've faced with the festival, and how did you and your team manage to overcome it?
As with anything, there is a massive amount of work that goes into planning each event, and honestly a lot of work after each event wrapping and cleaning it up. The biggest challenge is probably finding the time and quality help to make the event happen every year. It's definitely a labor of love, as sometimes you're hard pressed to turn a profit as the very last guy who gets paid (the promoter). We do it "for the nod", as they say in the movie Groove.
We did help to create some amazing event marketing software that eventually helped us get to profitability and sustain the festival's growth for years to come. For promoters wondering what that is, it's actually available to you as well and you can check out the team at PromoJuice. The software solved many promotion and marketing hurdles for us and continues to come out with new features.
Are there any specific goals that you would like to achieve with the festival over the next few editions?
We want to continue to diversify our musical lineup, adding in more reggae, indie, house music, trance, and other genres that don't have a large showing on our bill. We think this will continue to add to the diversity, positive vibe, and culture we're known for.
We also will continue to build out our art installations and work with higher caliber artists. We've become known for great art and we more than doubled our art budget for this year to continue building that recognition. There should be some amazing pieces of work installed at Backwoods this year.
Finally, if you could offer up a piece of advice for someone who is thinking about starting their own festival or event series, what would it be?
Wow, starting your own festival… well, plan to give up your entire year for the event. If you don't you're not going to make it. Also plan to possibly lose money, although you can find some great festival marketing and budgeting tools that may help you not to lose money, or lose less money, as you build your brand and following the first couple of years. The industry is cutthroat when dealing with artists and agents.
Also, don't get into it for the money, get into it for the love of throwing massive parties that change people's lives. Remember, your loyal fans are your biggest asset at the end of the day, so treat them right and listen to their feedback!
---
Follow Backwoods on Social Media: