G Jones' debut album The Ineffable Truth is diverse, complex, and as hard-hitting as a freight train.
---
G Jones is continuing to prove himself as the golden boy of experimental bass music. I've enjoyed his unique, grimy beats since the beginning, but this collection has some of the crispest production and most varied styles that I've ever heard. Don't let the term "varied" fool you though… most of the tracks on The Ineffable Truth are mind-blowingly and spine-shakingly heavy.
Out today, G Jones' 11-track debut album is available on all platforms for your listening pleasure. Stream The Ineffable Truth on Spotify below and read on for my take on the album as I highlight some of my favorite tracks that were featured. Don't forget to share your thoughts on the release and let us know what you think of this bass music album in the comments!
Stream G Jones – The Ineffable Truth on Spotify:
---
"222 / Unknowable" introduces The Ineffable Truth with a range of reverberating tones and builds into a light, airy groove for the final minute of the song.
"222 / Unknowable" draws some samples from other songs throughout the album, including "Understanding the Possibility" and "That Look In Your Eye", giving the listener a sort of déjà vu when hearing them later on. It's done in a tasteful and minimalist way that doesn't sound like recycling but is rather a sort of Easter egg for those who listen to the album repeatedly. Pretty cool stuff.
The second track gets things heated up really fast. What's most interesting to me about "Different Sound" is how the same melody carries throughout the entire song, but the pitch changes and vocals keep things interesting enough that I'm happy to hear the same tones after the bridge. This one is raw, heavy, piss-your-neighbors-off bass music through and through.
https://open.spotify.com/track/3lTYIZWnZpN5TMw3zlOPSf
"Arbiter's Theme" is the first major standout of the album for me.
The ominous vocal notes gave me shivers off the bat, and I could tell I loved this track 30 seconds in when they were just accompanied by a kick and snare drum. It just really ties together perfectly, and the fast bass hits give it a ton of energy. This one is going to be a trap anthem for years to come.
I've already had the pleasure of hearing "Understanding the Possibility" live on a few occasions, and each time it was a highlight of the set. It's one of those rare tracks where I love the build up as much, if not more than, the drops. There's no filler here, just transitions between beautiful melody with rolling notes, and aggressive distorted drops with fast percussion. Each of these sections could have been their own distinct song, but I appreciate the dichotomy G Jones brought by weaving them together.
The next three may be the most wildly different songs I've ever heard on the same album, and I absolutely love it.
The fifth track, "Soundtrack to the Machine", sounds to me like it has some heavy Yheti influence. Given that they're playing some of the album's tour together, it seems to be a serious possibility. It has that distinct bouncy feel that we know and love, but with some lasers and other distinctive G Jones sounds that I can't even begin to describe. He seems to have a lot of those.
The tempo drops dramatically with "Everything All At Once", an ambient track that caught me completely off-guard. It almost seems like a return to the sounds of the Transmissions EP from back in 2013, albeit even more downtempo. I'm really happy to see that he's continuing to experiment with a broad range of styles. This is a seriously beautiful tune that actually weaves in very nicely with the sounds of the album, and I can only hope that we'll hear more like this. If G Jones ever decides to play an ambient/downtempo set, I will be the first person in line for tickets. As a side note, if you like how this one sounds then you should check out the brother-sister artist duo Tennyson – they have a strikingly similar sound albeit with more percussion and glitchy feel.
"In Your Head" is another highlight of the album for me – a pulsating banger that will sweep up even the most seasoned bassheads. This song is seriously overwhelming. If you're listening on even reasonable volume it will alter your mood, and heat up your body temperature. G Jones is constantly re-defining what heavy means, and he's done it again – this may just be the heaviest track I've ever heard.
"Time" is a six-minute masterpiece and a lesson in how rhythmic subdivision can alter the felt speed of a song without actually changing the tempo.
This one is my favorite track on the entire album. The bells at the beginning, and the flute that appears throughout add a tasteful layer of melody and complexity to an otherwise very aggressive and distorted tune. But there's certainly plenty of complexity without them. It alternates between eight and six notes per beat, and even some eighth-note triplets, constantly making the track seem to speed up and slow down. I just love how this one plays with my ears, and I keep discovering new embellishments that make me appreciate it even more.
Drum and bass alert! – "That Look In Your Eye" is an exciting fresh take on the genre and roused happy memories of my old love affair with it.
I'll be honest and say I haven't been excited by, or even looked for new DnB in a while. Much like house, I feel like it's become dominated by stripped-down tracks that take a basic drum sample, loop it for the entire song, and slap on some poor excuse for a melody. So, I haven't felt like digging through all that to find the gems that I know do exist.
Well, Greg has breathed new life into the genre, at least for me. The beat on "That Look In Your Eye" has so many creative flairs that it almost feels like more of a drum solo. The bleeping tones that lead up to the chorus hit me just right, and make the track sound absolutely massive. Much like the bridge in Bassnectar's "Music Is The Drug", they actually become my favorite part of the song and take on new life through a big sound system. G Jones is an expert at distorting vocals as well. The five words that appear in this song are presented in such varying ways that sometimes they sound like singing, and sometimes like synths. But they're crisp and creative all the way through.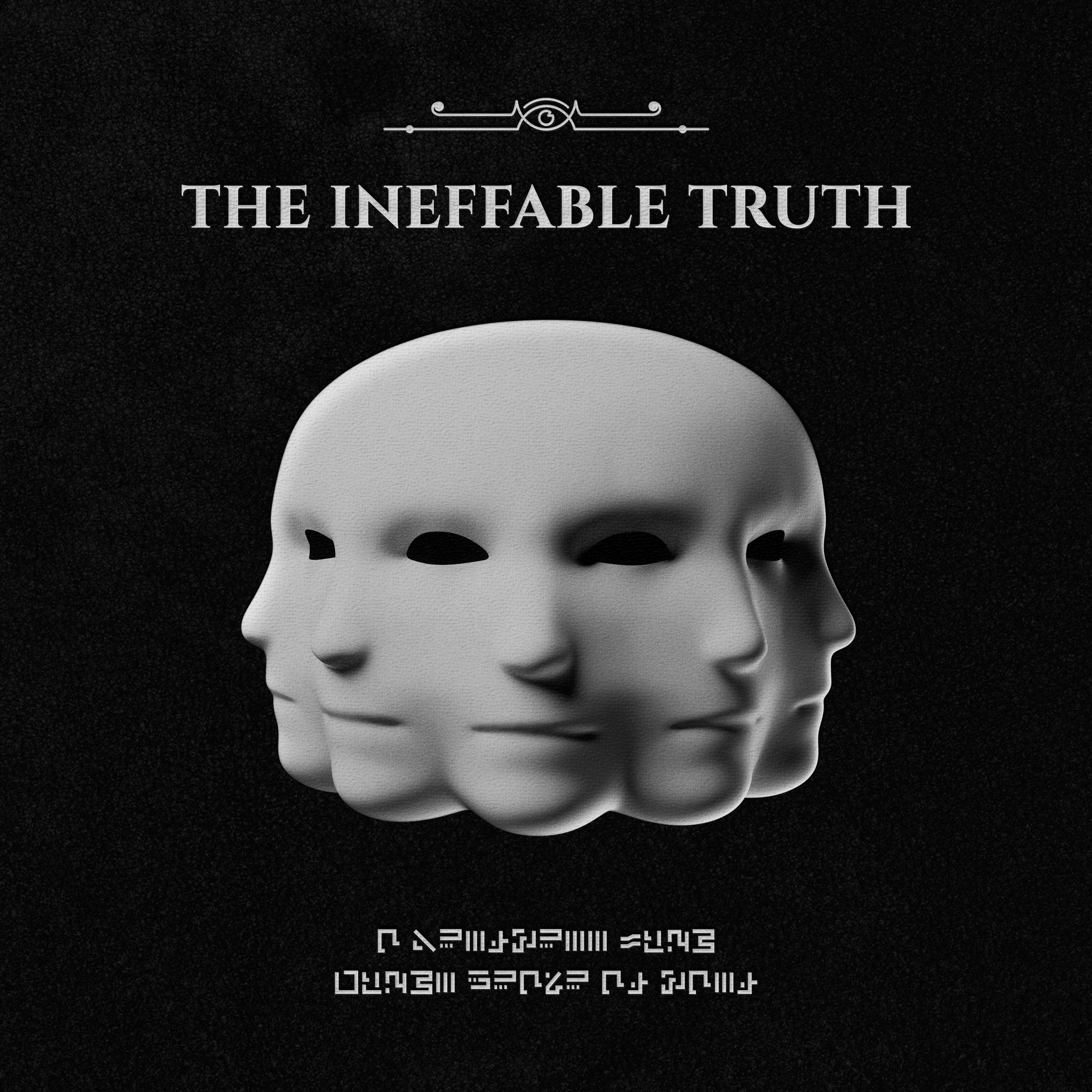 "Iridescent Leaves Floating Downstream" is a nice chill track, still retaining some of the DnB influence from the previous one but with a much lighter feel. I particularly like the long quarter note melody that's present in the background throughout the song. The repeated faster synth notes make this one not as relaxed as it otherwise would've been, but I can still appreciate its beauty and I'm happy to see that another relatively mellow track made it onto the album.
The Ineffable Truth goes out with a bang in the last track, "Forgotten Dreams". The fast, trappy bass line and melody are very high-energy, and the track has a really cool old-school feel. Like the first song, this one ties in vocal samples from other songs on the album, seemingly mostly from "That Look In Your Eye". I thought that was a nice touch, and made for a cohesive finish.
Overall, G Jones truly blew me away with The Ineffable Truth.
This album has proved to me that G Jones is part of a small and elite group of producers who consistently produce top-notch music, but also aren't afraid to try something completely different from what made them popular. It's a shining example of just how many styles can be used to produce hard-hitting bass music. It offers something for every fan of the genre, but not in the standard way of pandering to trends. Every song is unique, unpredictable, and exuding passion.
I'm sad that I'll be in Los Angeles during the upcoming New York shows, and in NY during the LA show (of course), but I'm going to make it my mission to catch at least one stop on this tour. This is not one to miss, check the dates below and grab tickets via GJonesBass.com!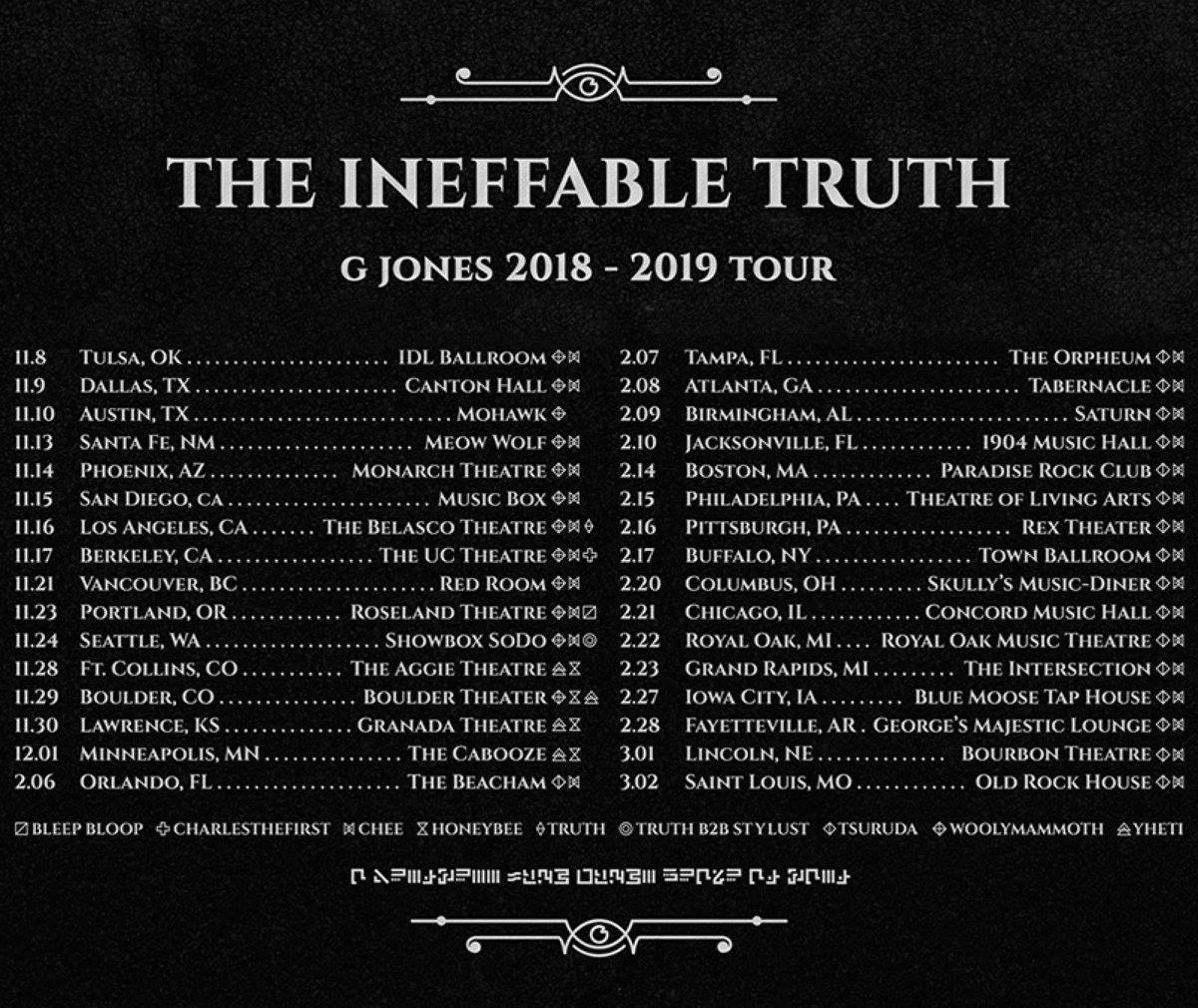 ---
Connect with G Jones on Social Media:
Website | Facebook | Twitter | Instagram | SoundCloud