There's more to Backwoods than just the music as they've announced plenty of workshops to participate in during the festival this year!
---
While the main focus of any music festival is the lineup of artists who will be taking the stage, the ones who truly stand out from the crowd offer an experience for their attendees that goes beyond the beats. This year, Backwoods has both the music and the experience covered, as the stunner of a lineup that was finalized earlier this year has now been paired with a list of workshops and activities that you won't want to miss!
Offering experiences and creating a true sense of community on Mulberry Mountain, Backwoods has continued on their mission of creating a space to help reinforce their ethos and grow the minds of those who attend the festival. This year, the Backwoods team has expanded on their workshops even further, stating: "We've put together a strong team of people all passionate about their roles, and we're proud how the final product is highlighting that passion. We've grown our workshop lineup to something that would stand on its own."
Today, they have unveiled the workshop lineup and it is full of immersive experiences that attendees will definitely want to check out. Notable activities include the daily hoop classes that are taught by Arkansas native Katie Sunshine and a flash mob that is set to take place on Sunday.
If you're looking to find your inner peace at Backwoods this year they've got you covered as well. The festival will feature daily guided meditation, a Music for Meditation workshop that will open your heart and soothe your inner rhythm, and breathing classes from Shanti Nolen. Adding to the mix are a bevy of different yoga classes to participate in, ranging from Aubrey Warren's Yoga Electrified that blends dance music into the mix to Acro Yoga from Empowered Acro that will have you flying with ease.
Learning is also a major part of the dynamics of Backwoods, and this year they'll be bringing in some speakers who will be sharing their insight. Damian Shreve will be hosting a workshop on plant medicines that will teach you how to use nature to help heal, energize, relax, and expand your consciousness. Ja'Quintin Means will be hosting a workshop that explores the secrets of the ancients and spiritual alchemy that he has discovered on his quest for wisdom and ultimate truth.
Check out the list of workshops that were announced today below, let us know which ones you plan to participate in, and don't forget to grab your tickets to the festival soon!
Backwoods 2019 – Workshop Lineup: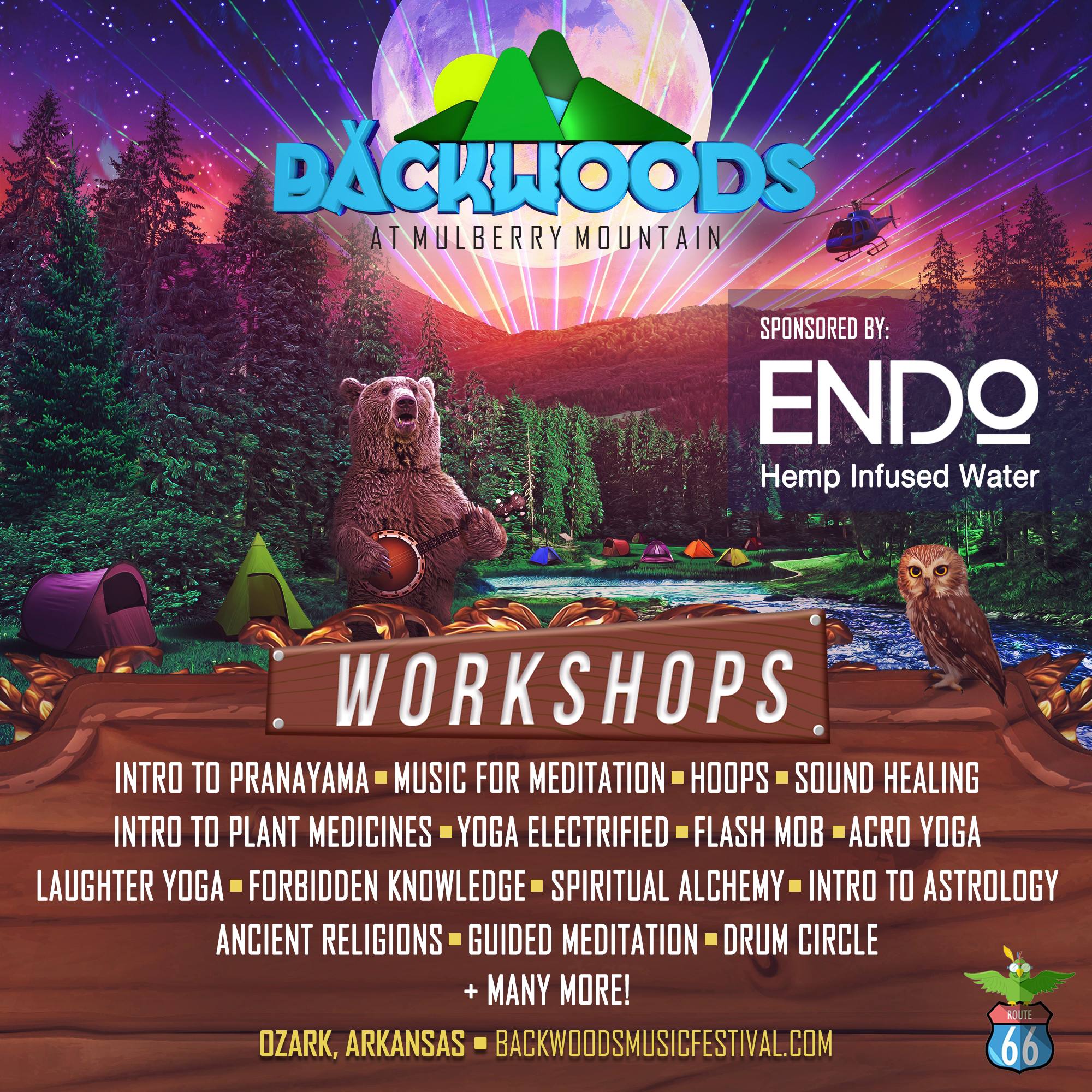 ---
Follow Backwoods on Social Media: