Phoenix Lights 2019 captivated its abductees with a stellar house and bass lineup!
---
Phoenix Lights 2019 returned to The Park at Wildhorse Pass, and it was bigger and better than ever. Relentless Beats celebrated their 5th year of Phoenix Lights by hosting some of electronic music's biggest names including the bass-heavy Excision and legendary Kaskade as well as 50+ additional artists across four stages. It's easy to see just how much the festival has grown over the years to become one of Arizona's destination festivals for ravers. To say the least, I was excited to get back and experience everything that makes Phoenix Lights unique.
The first thing I noticed upon entering the festival was the stage setup.
The Main Stage, The Mothership, was located on a large newly sodded grass area and hosted headliners Kaskade and Excision. The grass nearly eliminated all dust issues from previous years with the exception of a few areas at the back and in between stages. The production also seemed to be ramped up with tons of lasers and confetti; however, there were some technical difficulties over the two days.
During Big Gigantic, Excision, and Kaskade, the sound cut out for at least 30 seconds. Although you could tell the sound was out, each artist never skipped a beat and played through as if it never happened. Major props to all the artists for having the awareness, professionalism, and showmanship to keep the set going in the midst of adversity.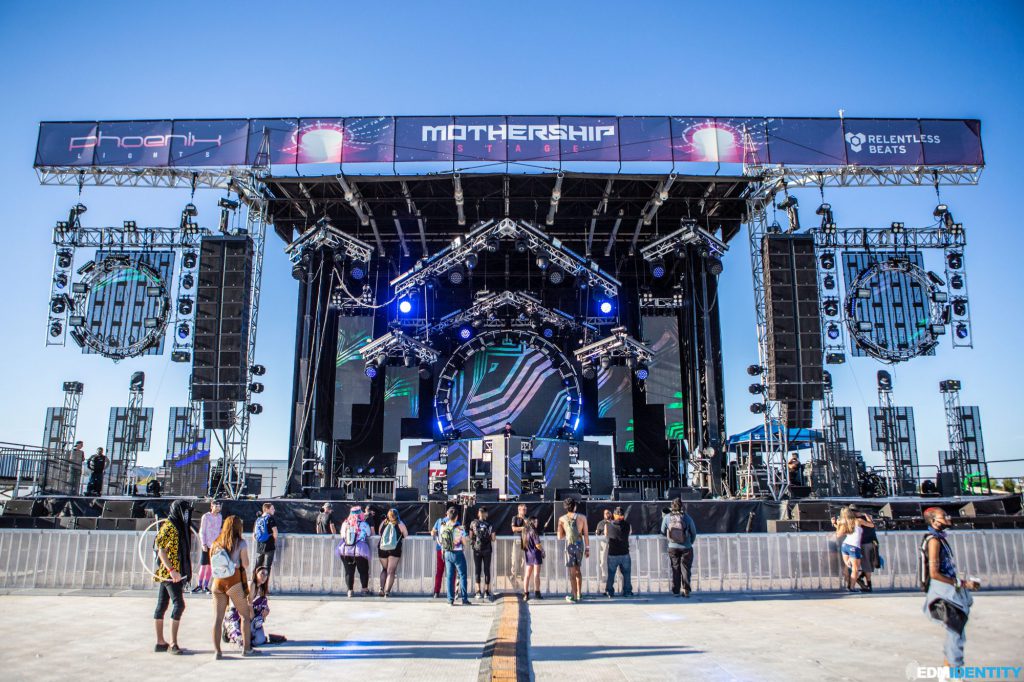 The Invasion was a tented stage and hosted the heaver bass music.
Every time I walked by this stage, there were nasty wubs emanating from the tent. Dirt Monkey, Whipped Cream, and Arty all played huge sets that I constantly heard people talking about throughout the night. It was never too crowded at the Invasion, and I was able to get a central spot whenever I visited. Unfortunately, Cookie Monsta was unable to make his b2b with Doctor P due to health reasons, but Doctor P still threw down an insane set fully equipped with lasers and headbanging. Sending major healing vibes to Cookie Monsta for a speedy recovery!
The Colony was interestingly set up compared to last year. Hosting more of the house and techno lineup, The Colony sat on another newly sodded grass area and was set up with a 360-degree approach in mind. The setup allowed for the crowd 180 degrees in front of the artist to have a pretty good view while other people preferred the back side. The back was a fun and different experience because you could still clearly hear the music being played but had no visual of the artist. This allowed the crowd to really tune into the music rather than focusing on the DJ or getting videos on their phones.
I didn't frequent the Fallout stage much, but it was host to a lot of upcoming local talent.
The stage was an out-of-commission Mad Max-style jeep with a serious speaker setup, but a better location would have allowed the production to shine more. I think it's a great platform for local artists to perform, but they should move the stage from the middle of the venue to a more isolated location, in my opinion. Whenever I walked by, there were a handful of people supporting the artists, but the sound overlap from other stages didn't make it a desirable place to be. However, between the four stages, there was more than enough great music to see and dance to.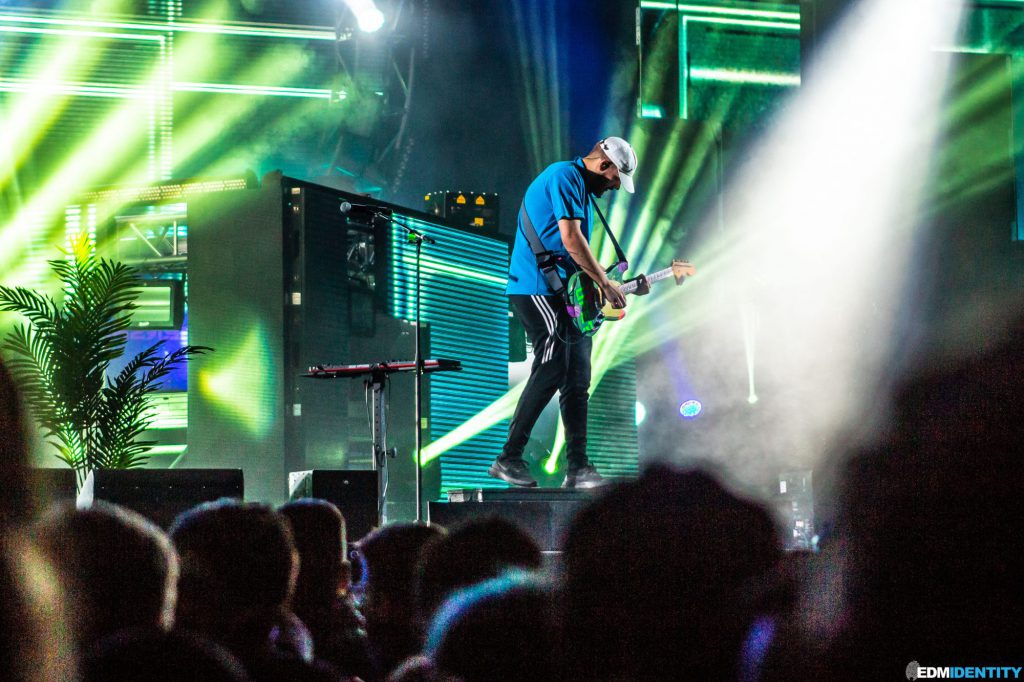 Saturday's main stage was stacked with back to back sets from San Holo, Malaa, GRiZ, and Kaskade.
With every set I saw at The Mothership, I kept saying to myself, "Wow, this is the best set all night!" San Holo kicked things off, and it was crazy to experience just how much he has evolved as an artist since his debut album, album 1, and the addition of live guitar into his sets. He seemed so confident and happy performing on the big stage with his new live identity. He would go from mixing on the decks to commanding the stage with his guitar and engaging the crowd. He finished the set with his four most popular tracks "Brighter Days," "Light," "One Thing," and "We Rise" to a crowd fully tuned into his energy.
In the wake of his new album, GRiZ played an entirely new set full of tracks from Ride Waves. It was refreshing to hear him debut new music, and all the tracks translated to high energy live renditions between him and Muzzy Bearr. GRiZ would go from spinning funky dubstep beats to playing saxophone then letting Muzzy Bearr fire off a few guitar chords. They are both masters of their instruments and perform with clear chemistry. Everyone was getting down when he dropped "My Friends And I Pt. 2" and the feel good tunes "It Gets Better" and "I'm Good."
Following a stacked lineup, I was really interested to see what kind of set Kaskade would put together.
Kaskade had big shoes to fill after the previous amazing sets, but with an artist of his caliber, I knew he had something special in store. Admittedly, I was really hoping he would play a set with more feels than high energy, but he gave us the best of both worlds. He started the set with his upbeat tracks "Us" and "Fun" before getting into the segment I was oozing for. He gave the crowd a nearly full Automatic and Atmosphere experience mixing in iconic tracks like "Disarm You," "Last Chance," and "We Don't Stop." Kaskade will always hold a special place in my heart, and his set was better than I could have ever imagined.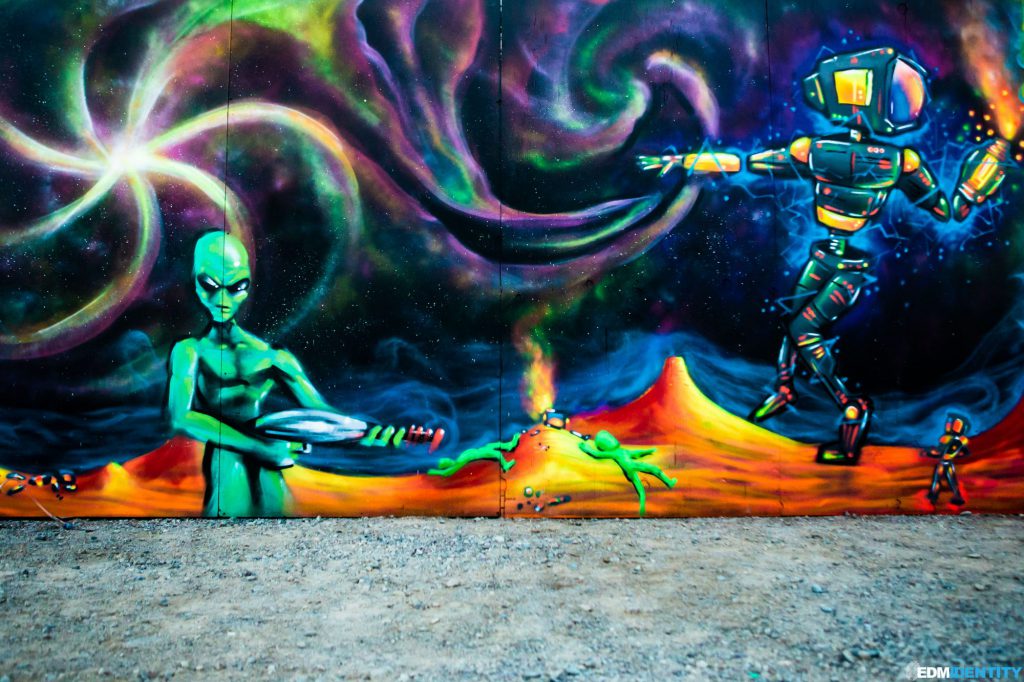 In between the music and friends, I had to make time to see all the amazing art displayed.
There were some amazing spray paint pieces, but one of my favorite installations was found in the Hospitality Lounge. When you entered the lounge there was a bar and some restrooms, but the real attraction was the 3D art. There were galaxies, stars, spacemen, and other intergalactic phenomena canvassed and painted on every wall. The first few times I wandered through, I thought it was all lit by black light until I chatted with visionaries behind the project.
It wasn't until the creators handed me a pair of 3D glasses that I felt like I was adrift among the stars. Everything jumped out at you making it a fully immersive and sensory experience. The creators were so genuine in connecting and talking with people, I found myself returning to the lounge time and time again. I must've gone back at least a dozen times because it became my safe space to relax and unwind between sets.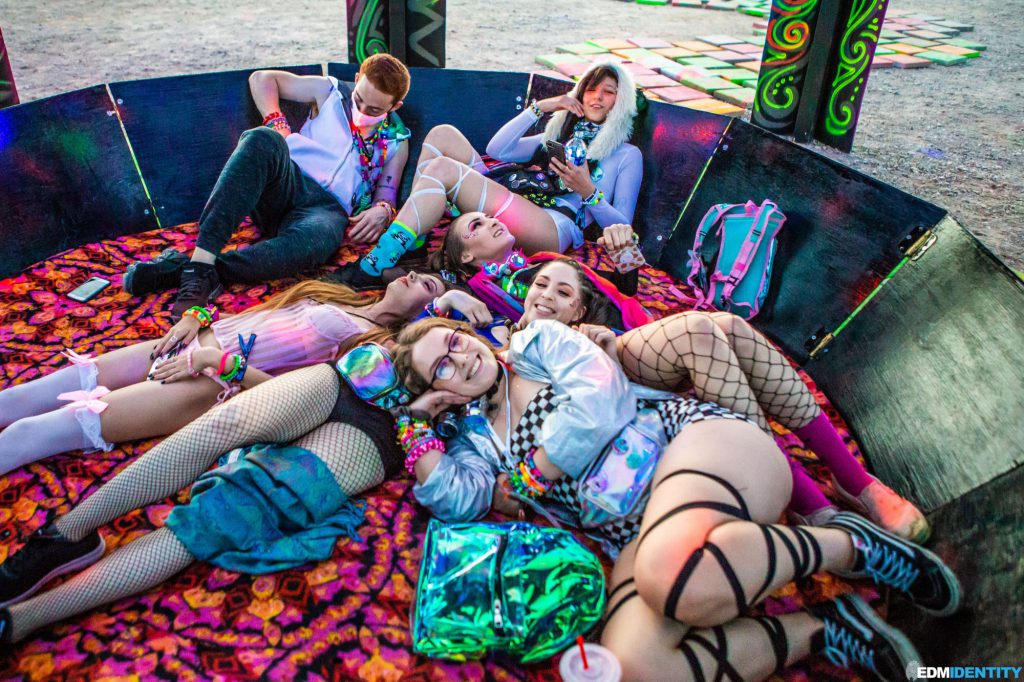 I also spent a good amount of time at the disco den, aka the Mona Lisa installation.
The best way I can describe this little oasis of comfort is a disco den, but it was really called Mona Lisa. It was basically a little circle of cushions encompassed by back support so you could sit, relax, and look up at the crazy inflatable spectrum. You could fit about 10 people comfortably and it was a fun place to go sit, chat, and meet new people. One night, the inflatable spectrum deflated and drooped lower to the people gazing up at it. I'm not sure how long it took to get it re-inflated, but by the time I visited again, the Mona Lisa was up again.
All in all, I am so happy I was able to experience and celebrate the 5th edition of Phoenix Lights.
It's easy to see just how much the festival has grown over the years. The team at Relentless Beats works extremely hard year-round to ensure the venue is properly maintained and to book a lineup that makes electronic music fans flock to Phoenix. Each year, the festival gets an upgrade, and I cannot wait to see what they have in store for next year!
---
Connect with Phoenix Lights on Social Media:
Website | Facebook | Twitter | Instagram | Facebook Event Page