Released on WAKAAN, G-REX pulls out all the stops with genre-bending REQUIEM EP. 
---
Since catching G-REX for my first time on Liquid Stranger's INFINITY tour, I haven't been able to stop listening to him. Hailing from Detroit, this insanely talented artist has been producing some heat under the G-REX moniker since 2015. Last September, G-REX received immense support with the release of "Babatunde", a track with WAKAAN labelmate PEEKABOO. Since then, G-REX has been widely recognized as a force to be reckoned with in the bass scene, drafting up some of the darkest, deepest, gnarliest wubs the world has ever known.
Having just caught G-REX at the WAKAAN after party at The BUKU Project, I couldn't have been more excited to catch some unreleased heat. With the release of his four-track collection REQUIEM, I can finally enjoy some of the tunes he's been throwing down in his live sets.
Stream or download REQUIEM on your favorite platform today and read on for my thoughts on the latest EP from G-REX!
Listen to G-REX – REQUIEM on SoundCloud:
---
REQUIEM begins with "Ladi", a highly-anticipated track with an ominous energy and deliciously dark bass.
I've been hearing "Ladi" dropped in multiple artists' live sets and for good reason. This track combines deeply distorted vocals, colossal bass stomps, and sickening sound design, making this my favorite tune on the EP. The second drop especially takes my breath away every time I hear it and is sure to get some heads knocking.
Up next is "Asylum", and with its deep and sultry wubs, you might think this is just another deep, dark, and slow freeform banger, but the second half of the song will prove you wrong. As the energy picks up, the bass comes in stronger than ever amidst a backdrop of garbled computerized clicks and warbles and vocal interjections.
Coming in as the third track on REQUIEM, "VOODOO" is a collaborative effort with STUCA. This one holds nothing back and goes in for the kill with a wave of gritty bass that'll stop you right in your tracks. With random noises mixed in such as the click of a gun and a horse neighing, "VOODOO" is a fun and ridiculously heavy tune that's bound to be a treat in live sets.
The last track on the EP is "Warning". A siren wails as maniacal laughter filters in, and a slow and steady wobble builds before descending into a subterranean slew of deep bass. This is the quintessential experimental bass tune that bassheads are bound to love and makes for the perfect ending to a fantastic EP.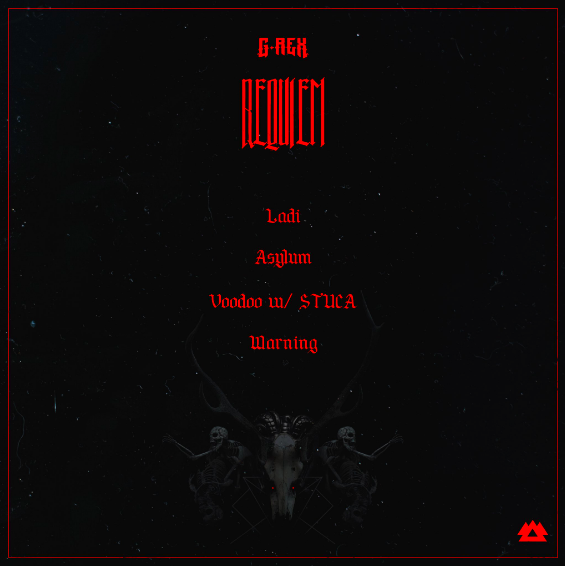 ---
Connect with G-REX on Social Media:
Facebook | Twitter | Instagram | SoundCloud