Insomniac's Rich Thomas takes a look back at past episodes of Wide Awake Stories, shares a favorite moment from back in the day, and offers advice for those looking to work in the industry.
---
If you're looking for a radio show that covers all aspects of the dance music scene there is no doubt that Wide Awake Stories is what you should be tuning into. Broadcast monthly on Insomniac Radio (SiriusXM Channel 730) and also available on major streaming platforms like SoundCloud and Spotify, this series features a blend of round table discussions, headliner experiences, artist interviews, and more.
The brainchild of Insomniac's Vice President of Culture & Content Rich Thomas and their editorial team, what makes Wide Awake Stories stand out is the insight they provide and their dedication to preserving the culture of the dance music scene. Notable episodes have covered everything from PLUR with Frankie Bones to deeper looks at genres like Drum & Bass and Trance, all of which are must-listens.
Recently reaching a milestone 24th episode, we caught up with Rich to take a look back at how the concept of Wide Awake Stories first formed, some of his favorite moments from past shows, and what's on the horizon. Tune in to the latest episode of the series below, follow all of Rich's adventures on his Instagram, and read on for our quality chat!
Stream Wide Awake Stories #024 – Remembering Keith Flint of the Prodigy:
---
Thanks for taking the time to chat with us today and congratulations on 24 episodes of Wide Awake Stories. What was the initial spark that led to you creating this project?
What Pasquale was doing with Night Owl Radio was something that he and Insomniac had never done before. Even though there were other DJs with radio shows, there really hadn't been a radio show with someone like Pasquale, a company Founder, hosting. We love Night Owl Radio, but as a journalist, I was always wishing that when he did artist interviews that the conversation would go on a little bit longer, but it's an hour-long show so you've only got a few minutes.
So at the time, the Insomniac editorial team thought, why not do our own and instead of having it be a mix show it could be like a raver's NPR. The goal was to have the stories not just about the DJs but about the people who make the culture so amazing. That could be activists, fans, DJs, record label owners, promoters… anyone.
The goal was to create a show that gave a voice to more than just the music. Because as someone who's always at these shows interviewing headliners, there are so many amazing stories out there. So it was like the foil to Night Owl Radio. Night Owl Radio was the mix show with all the music, ours was the talking with all the interviews.
How long did it take to fully conceptualize it from the idea stage to actually getting that first episode out?
It didn't take that long initially because we did it right around [EDC] Vegas the first time so there was so much content to choose from. But I would say the process of what the show has become has always been evolving. Initially, it was four of us hosting and then it was a few of us hosting, and then a couple of people from the editorial team and different hosts. So there's always been a different energy, but it didn't take that long to put together after we got Pasquale to sign off.
Yeah, the first one was surrounding PLUR with Frankie Bones, and it was right around the 20th Anniversary of EDC.
Yeah, that was a good one and Tommie Sunshine had the story about the night he fell in love with dance music, which was pretty crazy.
So when you're looking to create an episode, what's the process like? Do you guys just have an idea/brainstorming phase and then go through production that way?
Yeah, we figure out what we want to talk about this month. Once we figure out topics then we'd find a couple of interviews, usually, it's two interviews per episode, and people who are good to speak about that. Then those interviews will happen or we'll just bring someone else into the booth to have them come in and almost guest host.
You've covered topics that like PLUR, but also a wide variety of other ones like community service and different styles of music. Has there been one that sticks out to you as special that has been your favorite one so far?
Our first show was awesome because it was the first idea that we had for it. The one with Giorgio Moroder was cool because it was great to have his voice on the show. Having Pasquale interview Above & Beyond was fun. JAUZ was a great interview.
I just think it's fun because right now the hosts are like myself, Daniel who is my age but a little bit younger, a girl named Deirdre who's in her late 20s, and then Shai who is 22. So there are so many different points of reference and attitudes about music. I think the dynamic has always been really good, it's a fluid dynamic now, but that first one will always be super special because it was the birth of an idea and seeing it through to fruition.
I think it's good to have such a wide array of people on the show too because when I listen to the episodes I'll hear a lot of different perspectives. 
The Keith Flint episode I'm hoping will be like that too. I feel like this will be a good episode to where you'll get a lot of those personal stories.
Yeah, you've also brought on a bunch of different people on Wide Awake Stories to give their perspective. Obviously a lot of artists, but there's been plenty of industry members as well. If you can bring anybody on the show, who would you want to bring on to interview?
That's a great question… I would want to bring on Liam Howlett from The Prodigy.
So, similar to The Cure, where Robert Smith could write a song like "Friday I'm In Love" and then turn around and write "Disintegration," Liam Howlett is the same way. The Prodigy could write songs like "Out of Space," which are goofy and hard and super ravey, but then write one like "Their Law" which is a badass, ballbreaker of a song, and then a track like "Three Kilos" which has got a flipping fife in it.
Liam could do all this stuff and just own all of it. No one could really write albums where it's three or four different genres. Reggae, Metal, old Rave, Breakbeats… who can stitch that together in a way and have it really makes sense? Not many people.
And also he was the first interview I ever did as a journalist, back for Ray Gun magazine, and I totally crashed and burned with the interview. It was the worst interview because I asked him stupid questions, so not only would I want to interview him to right the wrongs of yesteryear I really do think that he's a great artist and would want to have him on the show.
After 24 episodes, where do you hope to take Wide Awake Stories in the future?
In a perfect world, it would be a weekly show, because with the podcasting audience that's how you keep people's attention. And right now, when we do our recording you'll hear that the interviews are brought in after the fact. Ideally, we would have the people in the studio live and it would just be a 100% live conversation.
You're not just all about Wide Awake Stories though, you also have a very long history in the scene. So looking "back in the day," what is one moment that you would deem as your favorite?
The most standout event for me was Organic '96. It was the rave on Snow Valley, I think, and it was Orbital, The Orb, Chemical Brothers, Underworld, and it was all live. It was the first time I ever heard "Satan" live, which was mind-blowing. I went with my cousin and it was all very new.
I had been to a Moontribe party but I'd never seen mainstream talent with Live PAs. Organic '96 was my proper rave baptism. Moontribe was cool, Nocturnal '97 was a proper rave at the NOS, but Organic was a weird mix of both worlds. Like you're on the mountain and kind of communing with nature, but you're also watching the Chemical Brothers b2b Underworld b2b Orbital while the sun comes up, it was awesome.
What was the draw for you to go to your first event?
I was taken, I had no idea.
But had you listened to the music at all before or did you have no idea what you were getting into?
I mean I listened to it and I knew about it, but I was a metal head. I listened to Iron Maiden, Slaughter, Warrant, Poison, and all that stuff. And then I was a huge hip-hop head so PE [Public Enemy], Pharcyde, Black Sheep, NWA…
I think what appealed to me about dance music was that the b-boy culture foundation because I was a huge fan of Uberzone, and breakbeat was the first official genre that I fell in love with and started DJing when I DJed. I think because of breakbeat's connection to hip-hop and b-boy culture, that was kind of bridge for me.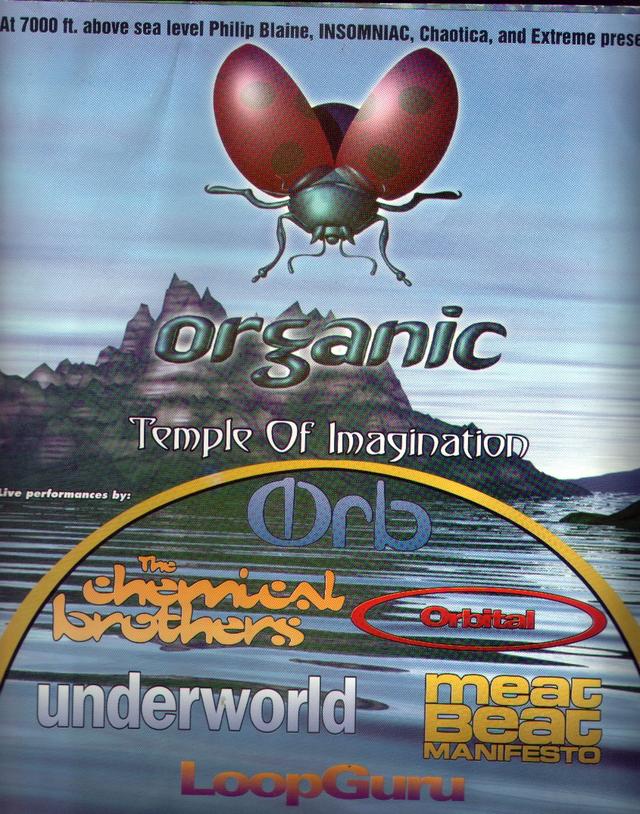 So if you had one tip for somebody who was going to try to break their way into the music industry, what would it be?
Identify what it is about the business that you're passionate about, whether that's stages, performers, talent booking, publicity, anything. Once you find out what it is that you're passionate about, figure out who does it the best and just work your way in there.
I've seen so many amazing people come through Insomniac who start at Ground Control, graduate to customer service, and then move on to production and working on plans for future iterations of EDC. In a perfect world, somewhere in that great company, there's someone who will want to mentor you and really cares about not just what you can do for the company, but what makes you happy as a human being.
That's what I try to strive to do at the office every day; help the people who I work with do their best work. Not because it's what the company needs, even though that's obvious, but if that work doesn't resonate with those people at their core, it's not going to work for the company.
Trying to motivate people to do right by the company to me is backward. If you motivate people to do right by themselves they end up doing right by the company because the company is benefiting from their purest work. So find what you love, plug into a place where someone does what you love, and then find the right people.
Definitely, that's some great advice! Well, that's all I got for you, thanks for chatting!
Ah, dope man thanks for having me. 
---
Follow Wide Awake Stories Online:
Website | SoundCloud | Mixcloud | YouTube | Spotify