If you couldn't make it to iconic nightclub Output for their closing party that featured John Digweed, you're in luck as he has put together a mix compilation so you can feel the vibe of the night!
---
A wave of sadness swept over the dance music community when the news came out that the Brooklyn nightclub Output would be closing its doors permanently. As many shared memories of past shows they attended, others looked forward to the closing party that was set to feature legendary artist John Digweed.
Taking those who were lucky to snag tickets on a massive, 10-hour journey deep into the sounds of house and techno, John Digweed closed out the venue in the most proper way possible. After releasing his previous compilation Live In Tokyo last year, many were hoping that the set would be released in a similar manner, and today those calls have been answered.
On May 3, John Digweed will officially release the Last Night at Output mix compilation for electronic music lovers to tune into. Spread across six CDs, the 71-track compilation will allow listeners to close their eyes and take a trip back to the iconic nightclub. Also to be released is a four-set vinyl package that features 15 tunes to help you feel the vibe of the night as well.
Different packages of Last Night at Output are available for pre-order now via Bedrock. Don't sleep on these as they're limited edition and will surely be a great addition to any collection. Check out the full tracklists below and read on for some thoughts on the night from John!
"From sadness to joy, I had so many mixed emotions and overwhelming pressure to deliver a party that a club of that stature deserves. I really put my heart and soul into that party drawing from my favourite tracks over the years. The 10-hour set seemed to fly by and there was just a constant sea of smiling faces from the dancefloor all night long as the crowd literally savoured every record on that crystal clear Funktion One sound system. After listening back to the set, I knew this album had to come out and not just be another mix online. It deserved to be a part of music collections and a memento for years to come. I am sure this album will bring back some amazing memories for the people there that night, and for those who were not, I hope you can immerse yourself in one of my favourite sets in New York for years to come." – John Digweed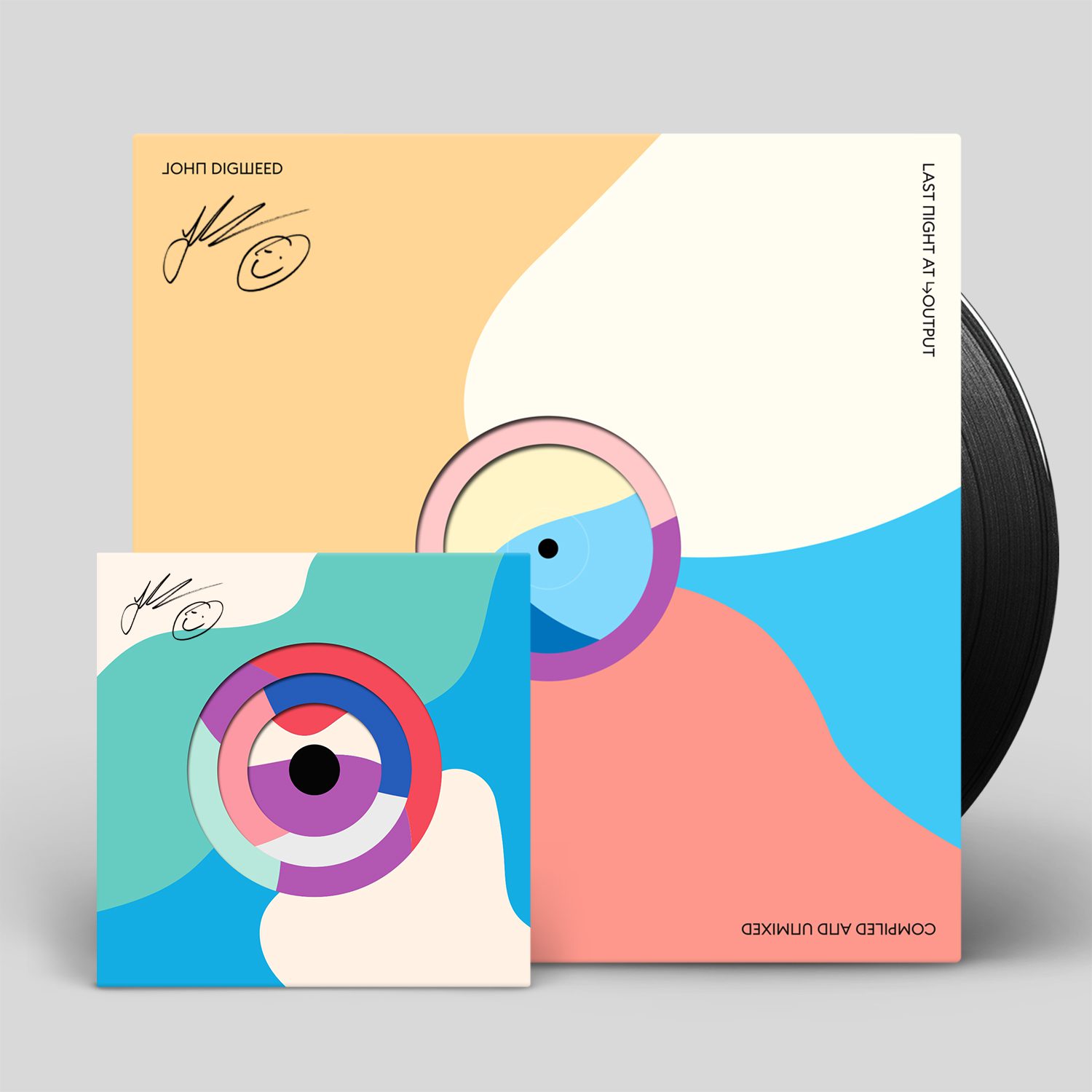 ---
Last Night at Output – CD and Vinyl Tracklists:
CD1
01 Eagles & Butterflies – Last Dance
02 Agoria ft Scalde – Singing (Dixon Dub)
03 Geist – Tiny Little Things (Tripswitch Remix)
04 Butch & Julie Marghilano – Last Tango (Daso Remix)
05 Pablo Sánchez – Daydream (Pablo Bolivar Remix)
06 Emilie Nana – I Rise (François K Journey Vocal)
07 Martin Buttrich – Southwest
08 Alex Niggemann – Zoulou
09 Florian Kruse & Tesla Nix – I Am Here (André Kronert Remix)
10 Mulya – Cyclone
11 Mulya – Romeo
CD2
01 Nathan Fake – The Sky Was Pink (Holden Remix)
02 Dele Sosimi Afrobeat Orchestra – Too Much Information (Laolu Remix)
03 Raxon – Enter Galactic
04 Raw District – Ranking
05 Danny Howells – Earthlings X (Jimpster Remix)
06 Martin Buttrich – Northeast
07 Jonas Rathsman – Lost Youth
08 Randall Jones – 53 Stickup
09 Pig&Dan – Crazy
10 Âme – Den Ratta
11 Kenneth Bager & Phunk – Farmacia (a Hommage to Frankfurt)
12 Agoria – Scala
CD3
01 Eagles & Butterflies, John Digweed & Nick Muir – Crazy Diamond
02 Acumen & Timid boy – Chicago Story (Oxia Remix)
03 C12 ft Jole – Judy (Hooked On Coke) (Tunnel Line)
04 Aaaron – Janus
05 All Is Well – Jarry
06 Massimiliano Pagliara – Raving At The Acropolis
07 Verche – Rapid Eye Movement
08 Sobek – Modest is Hottest
09 Steve Bug & Langenberg – Chord Cluster (Cassy Full On Dub Mix)
10 Oliver Huntemann – Rotlicht (Raxon Remix)
11 John Digweed & Nick Muir – Satellite (Oxia Remix)
12 Anja Schneider – Run The City
13 Argy – La Vida
CD4
01 Andre Hommen – Nowadays
02 PBR Streetgang – Transfunction (Tom Demac Remix)
03 Raxon – Destiny
04 Super Flu – Selee
05 Frankyeffe – Red Giant (Nicolas Masseyeff Remix)
06 Quenum – Blue Mountain
07 Beanfield – Human Patterns (Roman Flügel Remix)
08 Layo & Bushwacka! – Now Is The Time (2020 Soundsystem Remix)
09 Acid Pauli – Ayam (Red Axes Remix)
10 Âme – Tatischeff
11 Jean Pierre & Tranganz – Flying Through You (Per Hammer End Station Mix)
12 Tom Flynn feat Amp Fiddler – The Future (Claude VonStroke Remix)
13 Hot Since 82 vs Joe T Vannelli ft Csilla – The End (Richie G Remix)
14 Flowers And Sea Creatures – Color The Rain (Stereocalypse Remix)
CD5
01 Paul Rutherford – Get Real (Just Be Re-Rub)
02 Frankyeffe – Eterea
03 Ivory – Super
04 Fairmont – Modol
05 Better Lost Than Stupid – Inside (Dub)
06 Josh Wink – Mars Beats
07 Josh Wink – Aries In Mars
08 Laurent Garnier – Swinging @ Da Suga!
09 Shiffer – Ourselves Behind Ourselves (The Drfiter Remix)
10 Reset Robot – Velleity
11 Pig&Dan – Jaguar (Alberto Ruiz Remix)
CD6
01 Pig&Dan – Reset Your Bassline
02 Future Beat Alliance – Pitch Black
03 James Holden – The Wheel
04 Marc Romboy – Sequential Error
05 Nathan Fake – Adamedge
06 Laurent Garnier – Electric Djjedi Disco Biscuit
07 Madben – Acid Madness
08 Oliver Lieb – Violet Phosphorous
09 Drag & Drop – Discolabirinto
10 Choice – Acid Eiffel
BEDOUTVIN01
A1. Agoria feat. Scalde – Singing – Dixon Dub
A2. Mulya – Cyclone
B1. Josh Wink – Aries In Mars
B2. Shiffer – Ourselves Behind Ourselves – The Drfiter Remix
BEDOUTVIN02
A1. Agoria – Scala
A2. John Digweed & Nick Muir – Satellite – Oxia Remix
B1. Âme – Den Ratta
B2. Steve Bug & Langenberg – Chord Cluster – Cassy Full On Dub Mix
BEDOUTVIN03
A1. Emilie Nana – I Rise – François K Journey Vocal
B1. Laurent Garnier – Electric Diedi Disco Biscuit
B2. Fairmont – Modol
BEDOUTVIN04
A1. Dele Sosimi Afrobeat Orchestra – Too Much Information – Laolu Remix (Edit)
A2. Danny Howells – Earthlings X – Jimpster Remix
B1. Âme – Tatischeff
B2. Acid Pauli – Ayam – Red Axes Remix
---
Connect with John Digweed on Social Media:
Website | Facebook | Twitter | Instagram | SoundCloud