Unity Events is turning five years old and they will celebrate in style with Giuseppe Ottaviani LIVE 2.0!
---
Update April 6, 2019: 
Important Announcement from Ryan Michael Sanchez of Unity Events:
As you may have heard, the venue you know as Wild Pitch Underground is currently in transition but rest assured that with the help of Wild Pitch we have secured a great new venue to hold Unity's 5th Birthday Featuring Giuseppe Ottaviani LIVE 2.0.
The new venue is located in a prime location in the heart of Midtown. A parking deck is located conveniently next to the building with 24-hour guarded security on site. Parking is $7. The venue is larger with two areas so the show will remain exactly the same with the full line-up of the 9 artists and the operating hours from 9pm to 3am. We will also be bringing in the massive sound system from Wild Pitch and lasers will still be provided by Ncturnal.
Age is now 18+
For anyone traveling in from out of town, there is a Sheraton Hotel located directly across the street from the venue on Courtland Street with a wide range of different restaurants within walking distance.
We are very excited about putting on this show in a new spot and you can trust that you will experience the same level of quality that you have come to expect from us. See you all soon.
New address: 182 Courtland St NE, Atlanta, 30303
---
For the last five years, Unity Events has been at the forefront of an epic trance explosion in the great city of Atlanta, Georgia. Bringing some of the biggest names in the industry such as Alex M.O.R.P.H., Sean Tyas, Indecent Noise, Arctic Moon, Will Atkinson and many more, this is a team of trance fanatics who know exactly what we desire when it comes to the music that moves our soul. And when it comes to their birthday bash, you already know that these guys are prepared to come with the fire!
On Saturday, May 18, 2019, Unity Events will bump your nightlife experience up a notch with an invitation to share the good vibes on the dance floor with the one and only Giuseppe Ottaviani! Get ready to see the music come to life in real time as Giuseppe takes the stage at the intimate Wildpitch Underground bringing along his LIVE 2.0 experience for the very first time in the city of Atlanta.
If you have ever been privy to the LIVE 2.0 experience, then you already know that what Giuseppe plans on delivering will include a vast array of live elements like strings, keys, percussion or effects, all played spontaneously, resulting in the creation of brand new music that will get you reaching high to the heavens. With no two shows alike, the LIVE 2.0 experience provides a window to peer into the mind of a true musician.
What makes this night extra special is the group of local talent that will be joining in on all of the "trancetastic" shenanigans.
Grey Machine, Nhexis, RojBe, Type 41, Fülproof, Lance Blackford, Lumina, Vsounds….these are the guys that live and breathe the genre, unveiling their hearts calling behind the decks, on the radio show front, and through immaculate original productions. Every single talent on this roster has proven time and time again that they are the future of our beloved trance genre. To get them all together to celebrate Unity Events 5th birthday will surely culminate in an explosion of energy you won't ever forget!
Tickets are on sale now, so gather up your family and friends and get your booty over to Wildpitch Underground to immerse yourself in Giuseppe Ottaviani's LIVE 2.0 experience!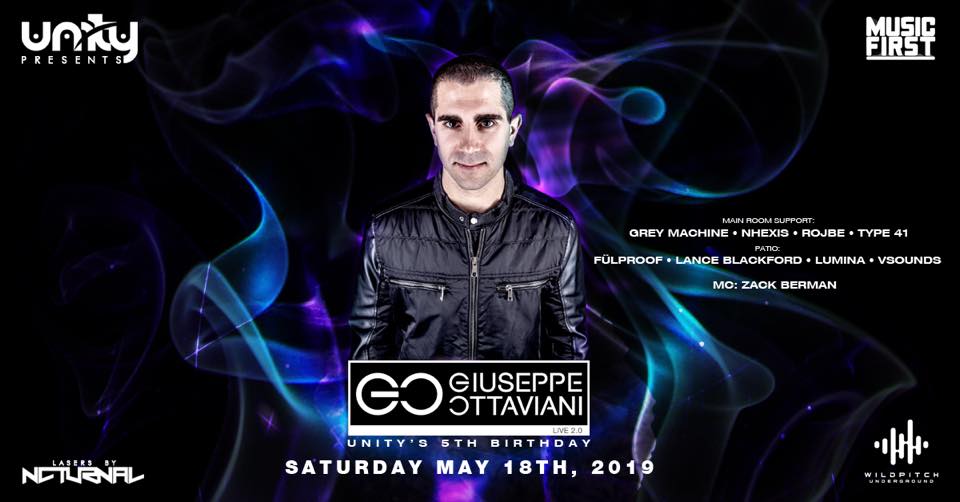 ---
Unity Events 5th Birthday Event Information:
Date: Saturday, May 18, 2019
Ages: 21+
Hours: 9 PM – 3 AM
Venue Address: Wildpitch Underground, 255 Trinity Ave Southwest, Atlanta, Georgia 30303
Tickets: Purchase Here 
Facebook Event Page: RSVP HERE and check out the event page for details on how you can win free tickets!
---
Unity Events 5th Birthday Lineup by stage:
Mainstage:
Giuseppe Ottaviani
Grey Machine
Nhexis
RojBe
Type 41
Patio:
Fülproof
Lance Blackford
Lumina
Vsounds
*Master of Ceremonies: Zach Berman
*Laser show performed by Ncturnal
---
Connect with Giuseppe Ottaviani on Social Media:
Website | Facebook | Twitter | Instagram | SoundCloud
Connect with Unity Events on Social Media: