Liquid Stranger takes us on a wonderfully weird auditory journey with INFINITY, a 30-track album encompassing heartfelt chord progressions and grossly heavy basswaves.
---
When Liquid Stranger released Polarity in November, dedicated bassheads everywhere met their day of reckoning with each of the six tracks. Ranging from the gritty basslines in "Paranoid" to the delicately laced instrumentals in "Saturn Cruiser", this EP quenched our thirst for some one-of-a-kind Liquid Stranger wubs. Little did we know that the WAKAAN founder was cooking up something beyond any of our imaginations. With all 30 tracks transcending sonic boundaries, INFINITY is undoubtedly one of the greatest projects 2019 will see.
If there's an album you should listen from start to finish, it's INFINITY. Gradually building in intensity, the album begins with soothing lullabies and progresses into more bass-heavy endeavors before completely shoving bass in your face. The latter third of the album is an emotional ending to a beautifully crafted masterpiece, making this a true multi-stop adventure through space and time.
Featuring collaborations with CHEE, Dion Timmer, KJ Sawka, CloZee, and others, INFINITY is a must-listen for music-lovers everywhere, regardless of affinities for bass music. Though every track is special in its own way, I'm highlighting several of my favorite standout tracks from each stage of this multidimensional expedition.
Stream or download INFINITY on your favorite platform today, and read on for my review of my favorite tunes!
Listen to Liquid Stranger – INFINITY on Spotify:
---
As the second listed track, "Prime" begins INFINITY with a deep emotional intensity.
Each synthesized chime and snare spat loops in with an orchestra of oscillating blips and bobbles. The tune is simultaneously simple yet stunningly complex, performing as a fine example of Liquid Stranger's attention to detail and immensely unique sound design. For this reason, "Prime" immediately stole my heart before I even listened to it all the way through for the first time.
Following "Prime" on the tracklist, "Ignite" is an upbeat slew of trumpets and silky basslines. With almost a jazzy feel, this track is the first look at some serious bass on the album. It's sure to get your feet moving and hips shaking with every sexy undulation and instrumental.
There is so much to be said about "Brain Boi".
Beginning with sensual humming and hollowed-out chord progressions, I get the feeling of walking through a serene, fog-filled fantasy-land. There's something about the vocalizations tying in with a slow and supple bassline that is remarkably elevating. There's an undeniable amount of emotion and energy pooling in every crevice of this track, and for this, it's one of my absolute favorites on the album.
You can imagine my excitement when I saw that Liquid Stranger collaborated with French producer CloZee for "Ceremony", who is one of my favorite artists of all time.
Deftly interweaving worldly instrumentals with bass, CloZee has continued to blow my mind with every single release of hers. These two coming together just feels like the ultimate synergy, like if the sun and the moon were to come together and make a track. Ceremonious chanting slips into low-down swoops of subterranean bass, instantly kicking ass and taking names. It's subtly heavy and hypnotizing, calling for nothing short of your nastiest bass face and probably some really weird hand movements to match.
Since the first time I heard "Run For Cover" dropped a year ago in live sets and compilations, it was one of the most highly anticipated release for me.
Featuring rapped vocals from MC Shells, "Run For Cover" is filled to the brim with bass so low and so heavy that you can feel it shaking your bones. As much as I can describe this track, there's only two words that can do this one any justice: Holy. Shit.
The closest I ever thought I would see Liquid Stranger and Dion Timmer come together was when I saw the two open for Excision's Paradox 2018 tour.
That was around the time I first fell in love with Dion, who has countless collaboration with Excision and other notable artists such as Pegboard Nerds and Modestep. Now, both of my favorite artists have come together for "Spastic Elastic", which is just as insane as the title suggests. What I love the most about this tune is being able to hear both artists' influence: Liquid Stranger's weird and raw wobble meets Dion Timmer's pure dubstep artistry, creating the track of a lifetime.
With Liquid Stranger's INFINITY tour stop in Bloomington, Indiana coming up on Thursday, if there's one track that I can't wait to hear live it's "Jetpacks".
This tune takes bass to a new level, incorporating some high-energy basskicks and a mouthwatering stream of a rising static-filled basswave. If you were looking for the heavy bass on the album, "Jetpacks" will be one of your go-to tracks.
What happens when experimental bass legends try out some bass house? It may not sound like the best combination, but Liquid Stranger would beg to differ. 
"The Pod" is a bass house-influenced tune with trap breakdowns, differing from the onslaught of heavy basswaves and fantastical soundscapes seen earlier in the album. This is one of the tracks that really blew me away because it's somewhat outside of what is to be expected from Liquid Stranger, but is a true testament to just how expansive this artist's repertoire is.
Although a majority of the tracks I've chosen to showcase are some of the bassier tunes on INFINITY, I have to pay homage to the final tracks on the album. 
"Falling Away" wraps you up with feather-light vocals and a saddened trickle of chimes and muted basslines. It's tracks like these that make me realize just how much time, energy, and pure heart Liquid Stranger has put into INFINITY.
"Echo" also deserves a place on this list for so many reasons. With uplifting vocalizations swimming amongst calming soundscapes, "Echo" is a breathtaking collaboration with KJ Sawka and Christian Acamo. If you're catching the INFINITY tour, this is one track you're going to want to hold your best friends to and just feel the love.
In its entirety, INFINITY is more than anyone could have ever asked for.
Just as the title suggests, INFINITY is an endless multiverse of sound and feeling. It's more than just an album – from start to finish, it is an experience of self-realization and understanding. I'm so thankful Liquid Stranger has taken the time to create something so meaningful to him and what will become just as meaningful to many others.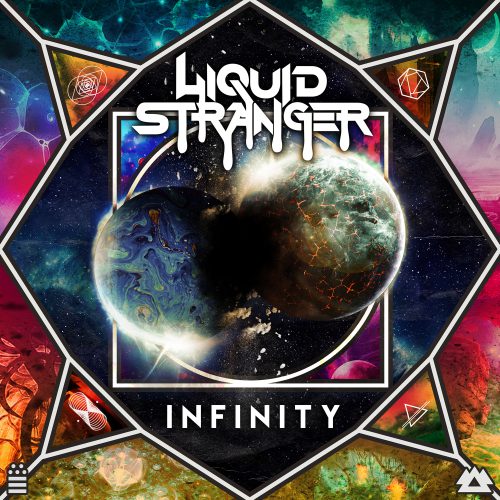 ---
Follow Liquid Stranger on Social Media:
Website | Facebook | Twitter | Instagram | SoundCloud