SnowGlobe will always hold a special place in my heart, but it's beginning to seem like a real-life Groundhog Day.
---
SnowGlobe returned to South Lake Tahoe for another frosty New Year's celebration hosting huge names across three stages including some notable names like Above & Beyond, Eric Prydz, Diplo, REZZ, and RL Grime. The undercard also packed a punch with incredible sets from Pax Impera, 1788-L, G-Eazy, and Kaskade all before the sun went down.
Our 10-hour journey began in San Diego as we made the pilgrimage north until we reached the breath-taking backdrops of South Lake Tahoe. This year, we were greeted with fresh blankets of snow which immediately set the right tone for what I have come to love about SnowGlobe.
We arrived in South Lake Tahoe early with a whole day to relax before having to gear up for the festival.
South Lake Tahoe is simply beautiful. Waking up in a cabin to all your smiling friends and a backyard full of snow with trees as far as the eye can see is one of my most cherished memories from the Glerb. Some of the crew tore up the slopes at Heavenly while others adventured around town and cooked up delicious meals at the cabin. It was really nice to not have to rush the experience and have a day to decompress before the festival started. The drive takes a lot out of you and it's absolutely worth taking time to see all the beauty Lake Tahoe has to offer.
Around mid-day, a friend and I went to the lake with my drone to get some aerial footage. Being from San Diego I have never captured any footage besides sandy beaches and waves, so I was really excited to fly in a different environment. The beauty of Lake Tahoe did not disappoint and the footage made me appreciate every being around me. It's as if every part of nature from the trees, water, and air emanated powerful energy that rejuvenates your soul if you allow it.
After a successful day zero, I was eager to get into the festival and start creating some SnowGlobe memories. As soon as the set times were released I knew the first day was going to be one of my favorites and upon reflection day one took the cake.
I arrived at gates on day one to catch epic back to back sets at main stage from G-Eazy, Kaskade, Big Gigantic, Eric Prydz, and REZZ.
Five top tier artists one after the other was a pretty insane way to start the festival. G-Eazy provided the best hip hop set of the weekend, performing a plethora of his energy-inducing tracks like "Calm Down", "Random", and "No Limit" before sending the crowd into a frenzy with "Me, Myself, and I". A late addition and SnowGlobe veteran, G-Eazy took advantage of his early set time and provided energy that fueled the whole day.
Riding the buzz from G-Eazy's set, Kaskade, another SnowGlobe veteran, graced the stage with his iconic sound and heart-warming tracks. Casually assuming the position behind the decks in a beanie, green jacket, and jeans, Kaskade fluidly took the audience on a sonic journey mixing in beloved sing-alongs "Atmosphere", "Last Chance", and "We Don't Stop". There's is something about Kaskade's melodies that pair so beautifully with the landscape of the festival. Just when you think his set couldn't get any better he unleashed Porter Robinson's "Language" and melted the hearts of anyone in an ear's distance of the main stage.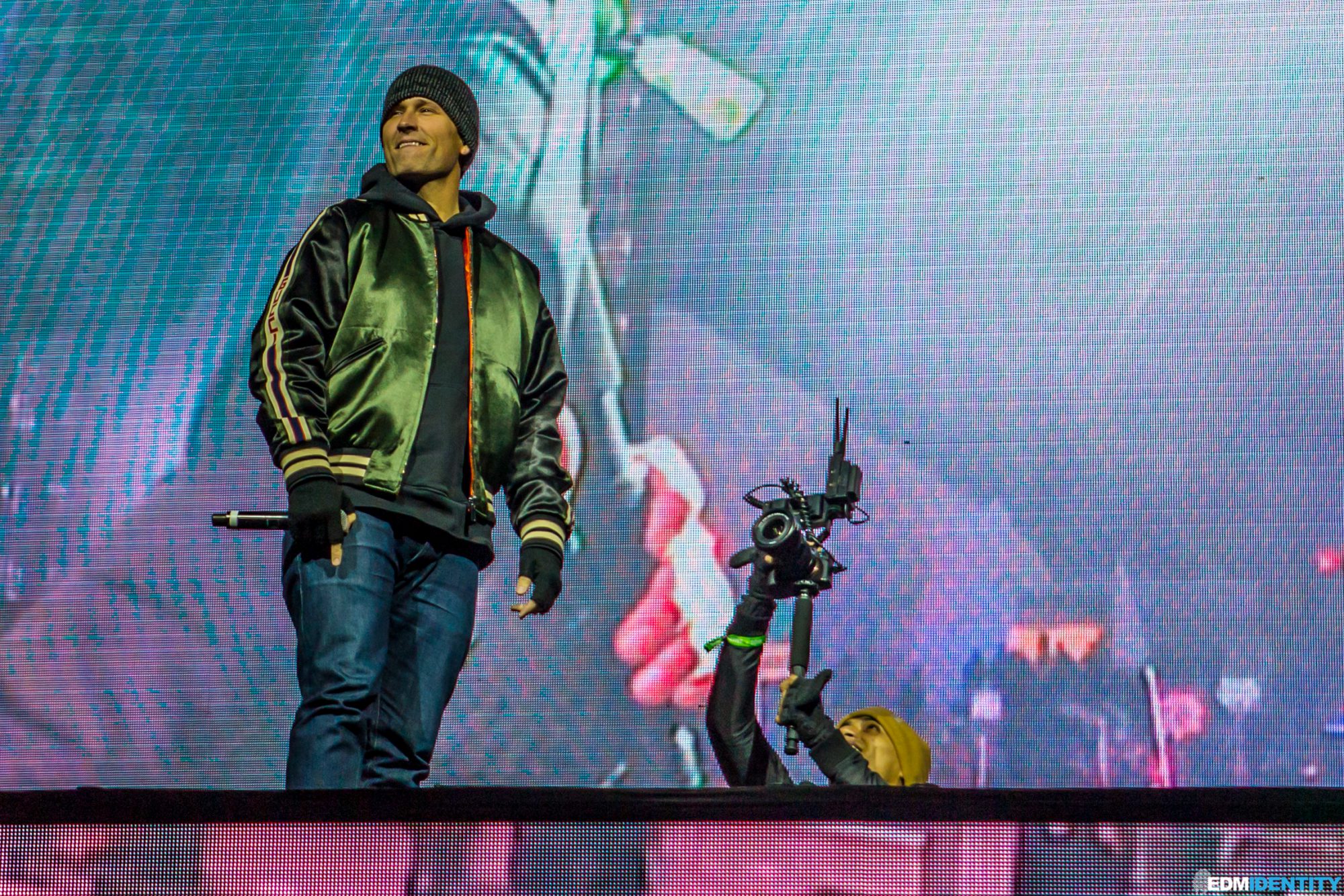 Even after seeing Big Gigantic a handful of times I haven't gotten enough of them.
Big Gigantic, yet another seasoned SnowGlobe artist, has continued to supply me with great memories and their SnowGlobe set blew me away. They might play the same songs from set to set, but they mix it up and always have the luxury of throwing down impromptu sax and drum solos. Their SnowGlobe set went much harder than the other times I have seen them recently, so it was almost refreshing to get the bassier side of the bass/funk duo.
Looking back through my notes of SnowGlobe, it's easy to see that each set at the Main Stage got better and better. After Big Gigantic came Eric Prydz, who seemingly can't play a bad set, which then transitioned right into REZZ's SnowGlobe debut. Having seen her previously and impressed with her sets, I was interested to see how her SnowGlobe performance would differ. It's safe to safe Space Mom did not let me down.
You know that episode in Rick & Morty where Rick has a house party and the house gets transported to space? That's what REZZ did to SnowGlobe.
With Party Favor at the Sierra and Anna Lunoe in the Igloo, the options were there, but I am really happy I chose to see REZZ. Crowds flocked to the main stage as Space Mom dropped banger after banger. REZZ abducted the minds of the festival babies, but it was clear to see everyone had given into REZZ and her dark, spacey, experimental beats.
She played nearly everything off her albums Mass Manipulation and A Certain Kind Of Magic while mixing in some unheard of releases. Not to mention her visuals were just as captivating as the sounds blasting from the speakers. At the end of the night, I popped into the Igloo and caught the end of Anna Lunoe's set which was fire and a proper way to end the first day.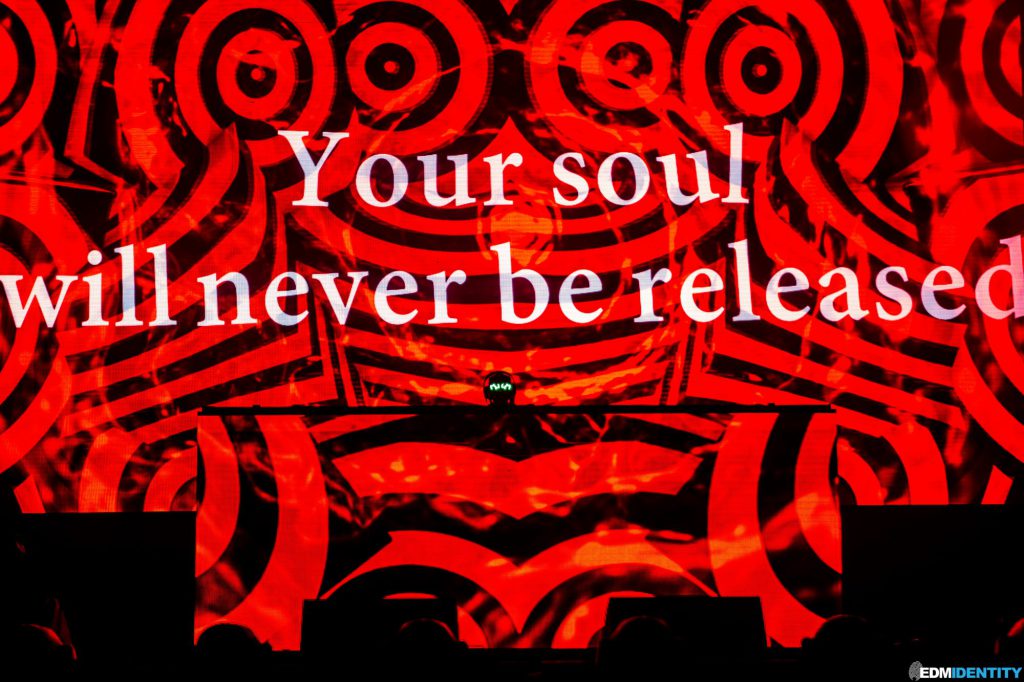 To be honest, I could have stayed in the Igloo all festival and been content.
No matter what time or set you went into the Igloo for, it was popping. There was always a dance party going on and if you needed to warm up there was no better place to do it. It was perfect that the glowing sign above the artist read "This Must Be The Place" because it really is. I even caught myself saying that phrase in my head not even prompted by observing the sign, but by the experience and vibes that were always present in the Igloo. A few sets that stood out to me from the Igloo were Phantoms, Chris Lake b2b Walker & Royce, and AC Slater b2b Wax Motif, but my favorite has to go to Shallou.
My favorite set of the entire weekend was Shallou. The Foreign Family Collective artist played a live set accompanied by a drummer and it was better than I could have ever imagined. When you listen to his recorded productions they are tranquil and melodic but live they are completely transformed. He would go from mixing, drumming, and singing to shredding the guitar center stage. I had no idea he would be performing live, or with a drummer, and that always adds an exciting dynamic to any performance. I was blown away by how fluent he was in every instrument and you could tell he has jammed with the drummer before because they were in sync and vibing the whole set.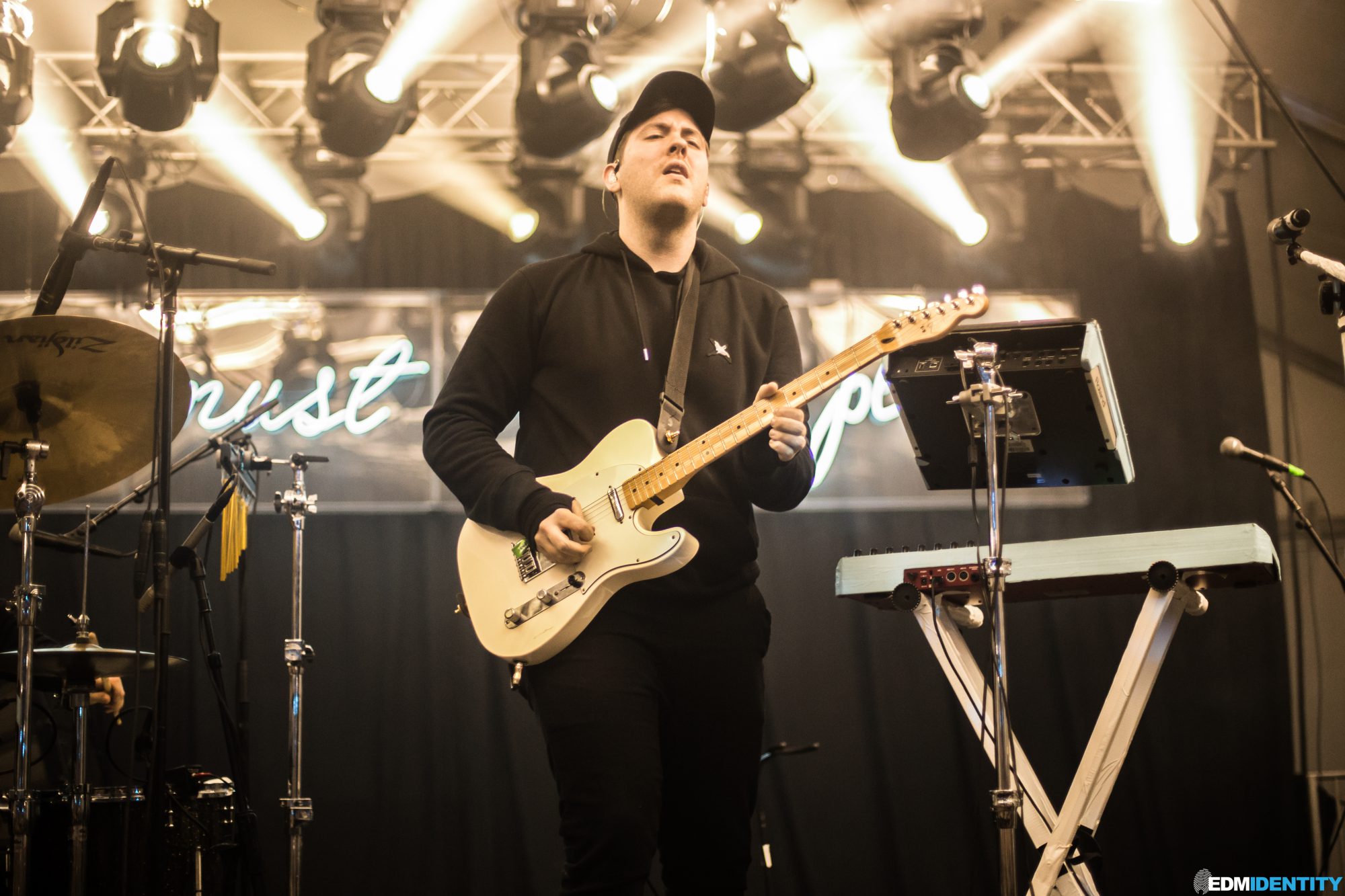 I definitely had fun at SnowGlobe, however, I feel I have to address some of the problems that have become more and more apparent over the five years I have attended.
One of the biggest things I found disheartening about this year's SnowGlobe was its acquisition by MTV. I understand festivals grow and use different resources to build their brand, but I immediately got the feeling MTV slapped their name on the festival and made this year more about diversifying their business portfolio rather than investing in the festival itself. Everything had MTV on it, the banners read "MTV Presents: SnowGlobe", and they were TRL interviewing artists and fans throughout the festival with huge external flashes and TV personalities.
I don't know, it just seemed cheesy to me and although MTV claims it was a "natural step" to acquire SnowGlobe, it made everything seem less authentic. I really hope MTV doesn't snatch up the festival and try to turn it into a pure money maker, but as of right now that seems that is their vision. They plan to expand SnowGlobe with additional dates and want to bring the festival to more locations around the world, but I hope they don't forget where it all started.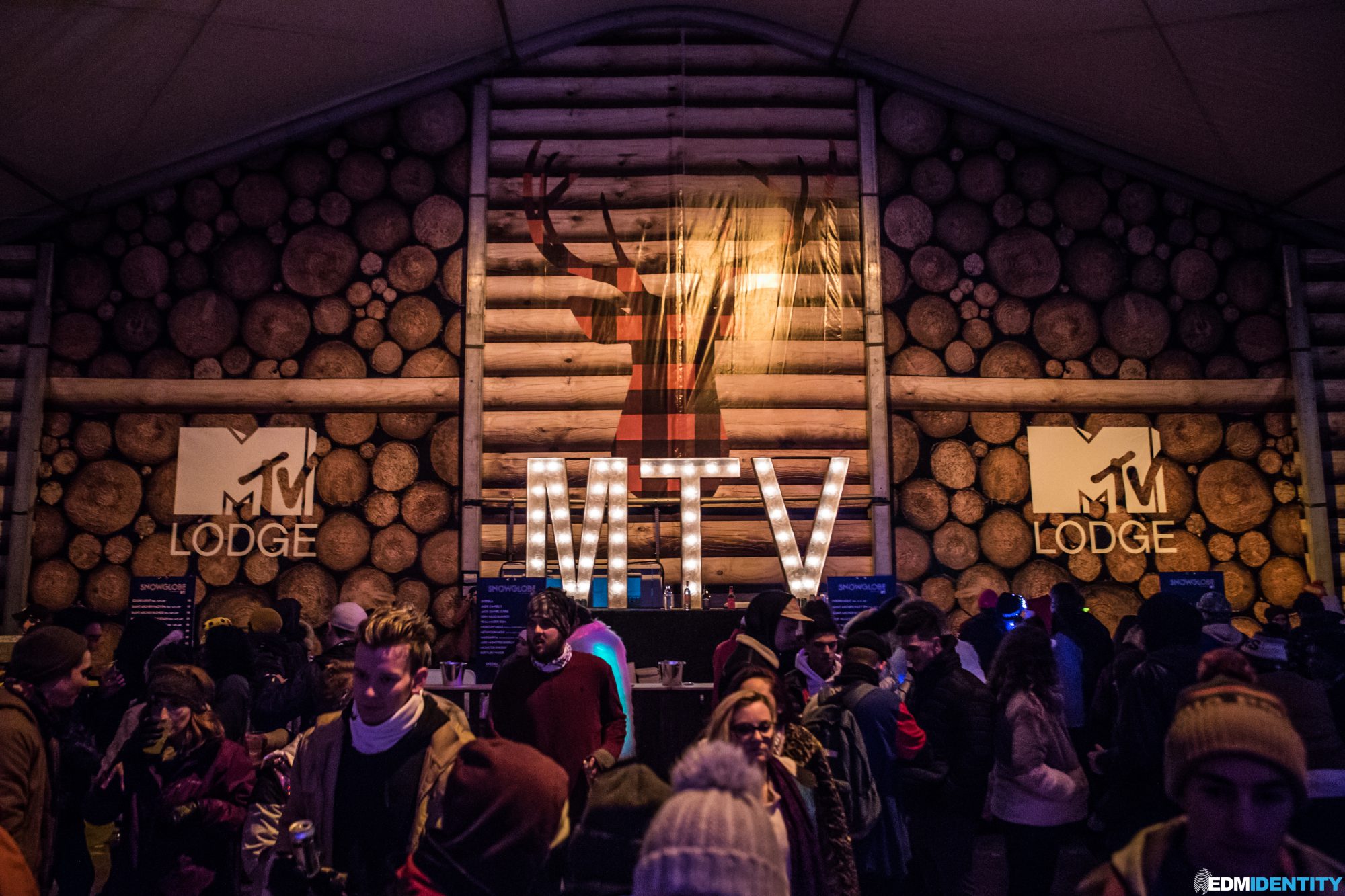 I also have to mention that quality hip-hop has been severely lacking since 2016.
It seems the last two years Brownies & Lemonade has replaced the Snow Sessions bill on the lineup, and I've honestly not been really stoked on it. This year the Brownies & Lemonade set was underwhelming and the hip-hop as a whole was cringeworthy. Past editions of SnowGlobe have brought us Atmosphere, Snoop Dog, and E-40 while this year we got Rae Sremmurd, SOB X RBE, and Shoreline Mafia.
Most every hip-hop set this year was basically a large group of people on stage completing each other's sentences mixed in with different hype vocalizations like "yuh" and "brrrrrrap". You couldn't even tell who was saying what. I am open-minded when it comes to music, but I feel the new age hip-hop is all about hype and not about any substance.
If you are unfamiliar with Snow Sessions, it was basically a set time at the main stage with legendary hip-hop artists. Some of the names that were part of the Snow Sessions included Del The Funky Homosapien, Too Short, Andre Nickatina, Yukmouth, as well as a slew of other noteworthy Bay Area rappers. It was great because you got the NorCal vibe and you didn't have to figure out who was saying what because there weren't a million people on stage. All I'm saying is "what's in" isn't always good and I think the booking team can dig deeper for better hip-hop. Check out artists like Abhi The Nomad!
Lastly, I really think SnowGlobe has to do something about recycling their lineups.
After five years of attending SnowGlobe it has become tiring to continuously see the same artists billed on the lineup. "SnowGlobe Veterans" this year included Kaskade, Diplo, Eric Prydz, RL Grime, Big Gigantic, G-Eazy, SOFI TUKKER, Goldlink, LP Giobbi, NGHTMRE, Party Favor, Sam Gellaitry, Chet Porter, Manila Killa, Justin Jay, Slumberjack, and Brownies & Lemonade.
I still had fun, don't get me wrong, but my point is that if you have 17 of 40(ish) artists repeatedly playing the festival year after year it begins to feel a little stale. I mean, that's three artists away from having 50% the same lineup as past editions.
Also, three of the five headliners and six of the nine top billed have played SnowGlobe before. All I'm suggesting is that SnowGlobe thinks outside the box for future editions because there are a ton of great artists out there besides the ones that have already supported.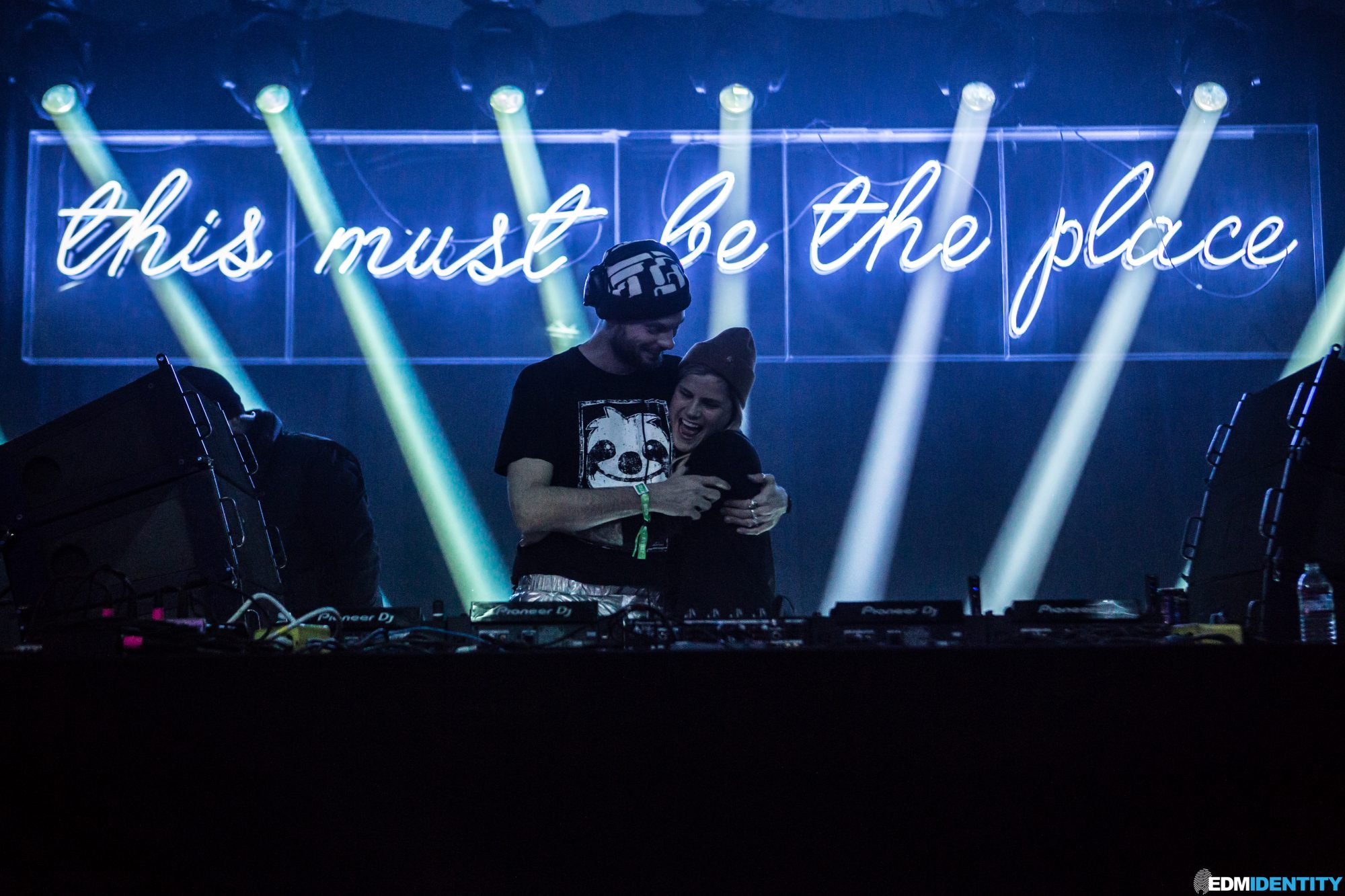 Earlier this year I said I couldn't imagine spending the New Year anywhere else, but now I find myself considering it.
I had fun at SnowGlobe because I created my own environment, but unless some big changes are in the works I am definitely considering attending other shindigs for New Years 2019. SnowGlobe will always hold a special place in my heart, but this year the problems seemed to glare at me. I could have gone on about the misplacement of the art, lack of food options, and repetitiveness of the stage design and production, but I truly do want to people know SnowGlobe is a unique experience.
To me, it does seem that the appeal of the festival is shifting toward a younger crowd and the organizers aren't doing much to incentivize veteran attendees to come back. Especially with MTV being the neck of the operation now it feels like things have changed rapidly.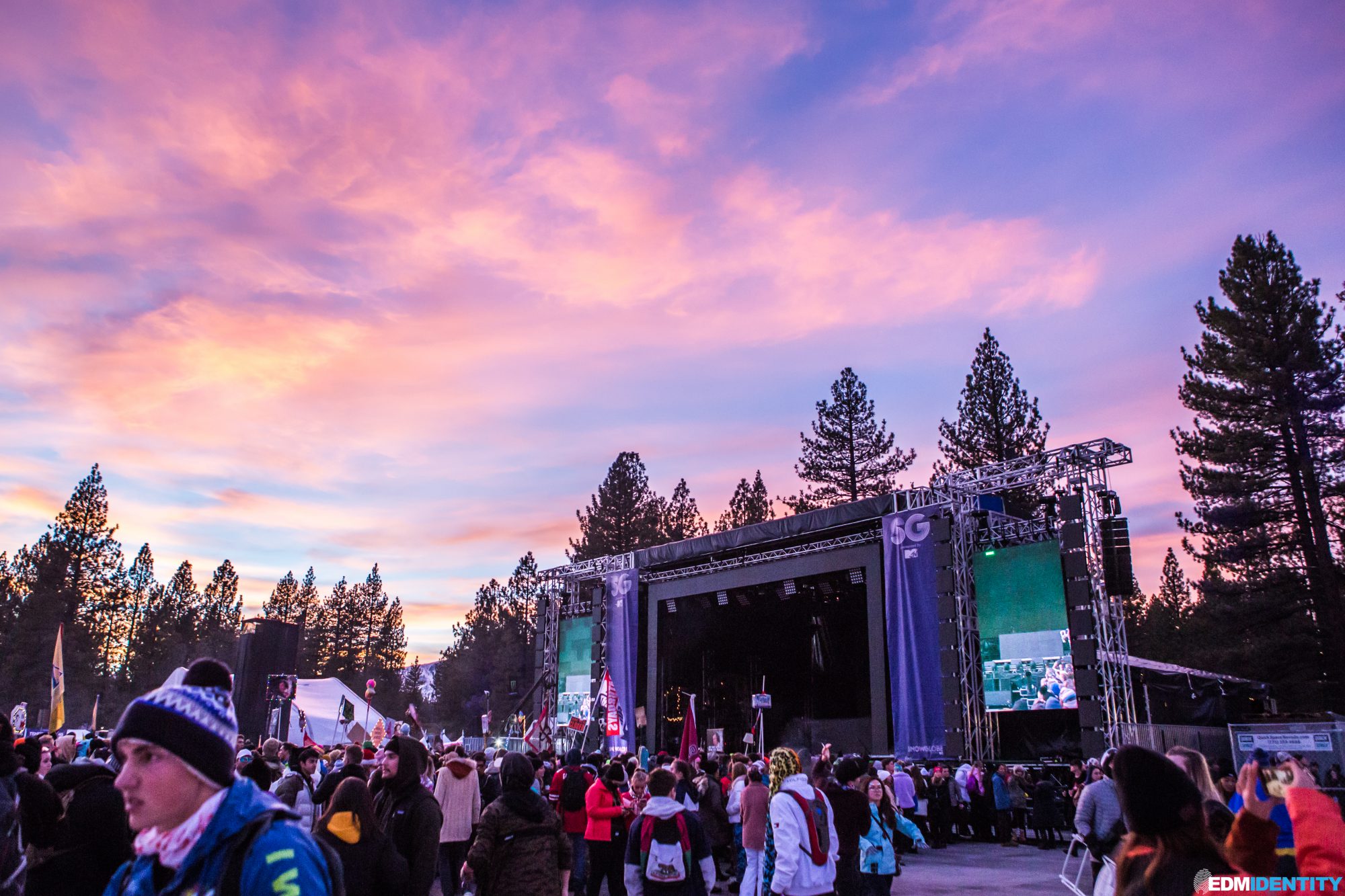 Either way, SnowGlobe 2018 did leave me with a fair share of unforgettable memories.
One memory being I waddled up an icy hill that everyone was falling up or down, and after I successfully waddled up (I wore a penguin onesie for 3 days) some guy applauded and gave me a Dirtybird patch. There was only one other time I smiled that big over the 3 days and it was when I waddled up to a random group of 4 dudes that had the best festival, and genuine human, vibes I've encountered.
We chatted for at least 30 minutes and I come to find out that one of them set the world record for Lime scootering around Lake Tahoe (72 miles while his friends followed him in a car to help pay/scan the Lime and provide him water and snacks during the 13-hour feat). One of the other guys did the epic one-shot video of FKJ and Masego performing "Tadow" in the studio which is just an absolutely amazing piece of work.
While my future attendance of this festival is uncertain, those memories alone will last me a lifetime and it was SnowGlobe that provided them and many more I experienced. So, cheers to you SnowGlobe, thanks for the good times and I hope to be back in 2019!
---
Connect with SnowGlobe on Social Media:
Website | Facebook | Instagram | Twitter | SoundCloud