REZZ has finally released her long-awaited album Certain Kind of Magic, and it's not what I expected.
---
For the past week, all that's been on my Twitter have been purple crystal ball emojis and superscript letters spelling out "REZZ" and "Certain Kind of Magic", the artist's latest album release. I wasn't expecting to listen to Certain Kind of Magic right away; in fact, I even debated not listening to it at all. My curiosity peaked and I decided to check out the album the moment it released, and I can honestly say I wasn't expecting what happened next.
Clocking in at 27 minutes with eight tracks, Certain Kind of Magic is definitely not for everybody – but it's not meant to be. Packed to the brim with REZZ's signature dark, static-filled bass reverberations, Certain Kind of Magic proves to have several notable tracks showing off a new and addictive realm of sound design untouched by REZZ's previous creations. Stream or purchase Certain Kind of Magic today and read on for my thoughts on the album.
Related: REZZ has two shows set to dominate the Shrine Expo Hall in Los Angeles this November. Get more info and grab your tickets to catch her live!
Listen to REZZ – Certain Kind of Magic on Spotify:
---
Prior to the release of the full album, "Witching Hour", "H E X", and the more recent drop "Flying Octopus" had taken the internet by storm.
"Witching Hour" has REZZ's recognizable gritty bass wallops and while it didn't completely sweep me off my feet, I can't help but enjoy the track. There's a sort of alien forcefulness about it, and I love the wickedly ominous interludes.
"H E X" is a collaborative effort with 1788-L, an unknown producer who has also gained a massive following in a seemingly short amount of time. I can definitely hear 1788-L's influence in this track. Over-amplified bass similar to that in the track "Sound of Where'd U Go", another production 1788-L dabbled in, makes up the backbone. The second half of the track is where things get a little more interesting: the bass hits just a little slower and heavier in all the right places. It's not my favorite track on the album, but I do enjoy this part.
"Flying Octopus" is a slow-moving creature with crunchy claps and ribbed sonic blips, and truthfully, this track is just not for me.
"Flying Octopus" sounds like the soundtrack to trudging through a pool of molasses and feels less like the hypnosis Rezzbians speak of and more like a lullaby. The fourth track on the album, "Life & Death", is a different story though. With hiccupped wubs and chilling alien gargles, this collaboration with Deathpact is a hip-shaking tune that rejuvenates the soul before it's snatched away with each staccato wobble.
My final two notable mentions on Certain Kind of Magic are "Teleportal" and "Toxin".
"Teleportal" is reminiscent of 1788-L vibes from earlier, but is instead a collaboration with Kotek. The electrifying bass rips are back, broken up by stippling silence blurbs. Again, there's an intensity that's nearly indescribable.
"Toxin" is the final track on the album, and this is where I truly do commend REZZ for reaching into different styles.
Absent is the dark, gritty, discombobulated growls of REZZ's bass – instead, we are blessed with hauntingly beautiful vocals and an emotional swarm of bass and air-light chimes. "Toxin" shows REZZ exploring new soundscapes, and I can definitely see some tears being shed to this one in live sets.
In the eyes of someone who does not declare herself a "Rezzbian", Certain Kind of Magic has some notable moments.
Though I have always respected REZZ and her creative artistry, my main criticisms of her music are that a majority of her latest tunes sound very similar and I struggle to find a connection with them past surface-level. Certain Kind of Magic works to dispute both of those points, taking steps in unfamiliar directions while still remaining true to REZZ's style. I look forward to what REZZ creates in the future, and what new heights she'll reach.
What are your thoughts on Certain Kind of Magic? Leave us a comment!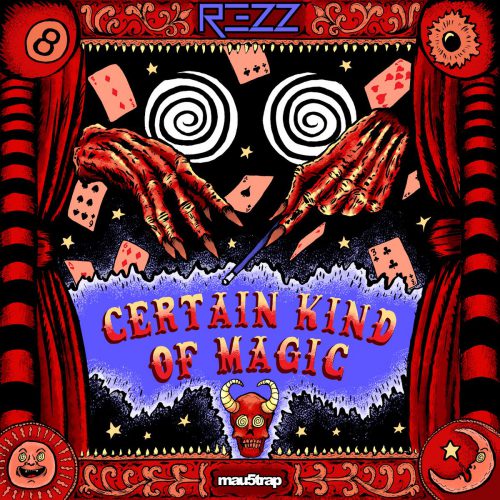 ---
Connect with REZZ on Social Media:
Website | Facebook | Twitter | Instagram | SoundCloud | YouTube