After a year that saw him dominate the dance music space, we sat down with rising star i_o to chat about the future and more!
---
When discussing the artists that truly broke out in 2018 and made an impact on the dance music scene, it is impossible to not bring i_o into the discussion. A rising star who we've had our ear tuned to closely all year long, he has continually left us impressed with his releases and sets while also keeping us intrigued with the direction of his sound.
Releasing on mau5trap and inHarmony, his EPs like ANALOG//DDOS and ROOTKIT or tracks like "LAZERS" and "Not Techno" infected headphones and speakers like an actual computer virus. On top of his releases, he took the stage around the world to bring a taste of his underground, warehouse vibes to cities like Los Angeles, Amsterdam, Bangkok, San Francisco, and most recently Montreal.
Closing out the year strong with the release of his LOW EP and a fantastic mix for mau5trap radio that you can tune into below, we're excited to see what the future holds. With 2019 on the horizon, we sat down with i_o for a chat to reflect on the massive year he's had, his growth as an artist, what's in store for 2019.
Stream deadmau5 presents mau5trap radio 007 (i_o takeover) on Mixcloud:
---
Hi i_o and thanks for taking the time to chat with us today! On January 4 you'll be officially releasing your remix of deadmau5's "Imaginary Friends". How do you approach putting your spin on a track from an artist like the mau5 and transforming it into something of your own?
That's one I've had on the back burner for a while. The song and I have quite the history, it was a remix of this tune that put me in touch with deadmau5 and led to me signing a lot of my records to mau5trap. With this one, the driving melody was already there in the original, it just needed a touch of darkness and a kick that sounds like it was recorded in a fkng trashcan to turn it into a warehouse weapon.
You ended last year strong and absolutely dominated the scene in 2018 with tunes like "Not Techno", "Move", and "Audio Dust". How do you feel you've grown as an artist this year?
When I started this project at the end of 2017, I wanted to infect the dance music scene with the dark heavy 4×4 music that I felt it was missing. We began the year with some progressive records and some techno-influenced club records, and then throughout the year honed more and more into what the project is actually about — dark warehouse music.
The next year will be focused on the heavy and evolving sounds of records like "Move" and "Warehouse Use Only", as well as a few techno records I like to call "bomb shelter records" that I hope will define the club sound for 2019.
The music that you're creating evokes those dark, underground warehouse vibes that you've said were missing from the current scene. Who are some of the artists that you first listened to when you discovered dance music that have left a lasting impact on you?
Early deadmau5 is an easy answer but really there are so many. Not so obvious ones would be artists like Stimming, Trentmoller, and BookaShade.
With your vision of making that dark, industrial, warehouse music, are there any artists that you think share a similar space that you'd love to work with in the future?
I have a track with Raito that I love. He is making some real heat recently. Testpilot would be nice, really hope he decides to make that a priority in 2019.
In your Reddit AMA with No Mana, you mentioned that your friend Fay provided the vocals for some of your tunes including your recent collab "Bad Things". How did that friendship form and what led to you working with her on music?
I just hope Fay remembers me when she's famous.
What was the process like in cracking the mau5trap code and finally breaking through to release some tunes on that label?
IDK. Push the envelope, build something special from nothing, and eventually, you get noticed. It takes longer than you think usually.
Aside from your productions you've also played a number of shows, with notable headline debuts on both coasts along with opening for GAIA during ADE. What was your favorite moment from a set standpoint in 2018?
Two moments really stand out. First was Halcyon SF. A proper techno venue with a proper 4+ hour set. I felt like family by the time I left.
The other was Bangkok, Thailand. The promoters really understood what I was about and my first show there was in an abandoned mall. I played in a concrete room with one strobe light. They paid off the police to go an extra hour. I don't know what could be more fkng techno than that.
Montreal's New City Gas was the latest victim of your exploits as you hacked their page effortlessly after they challenged you with a booking on the line. What made them such an easy target?
What can I say, I really wanted to play Montreal. Don't store your admin on an open facing network.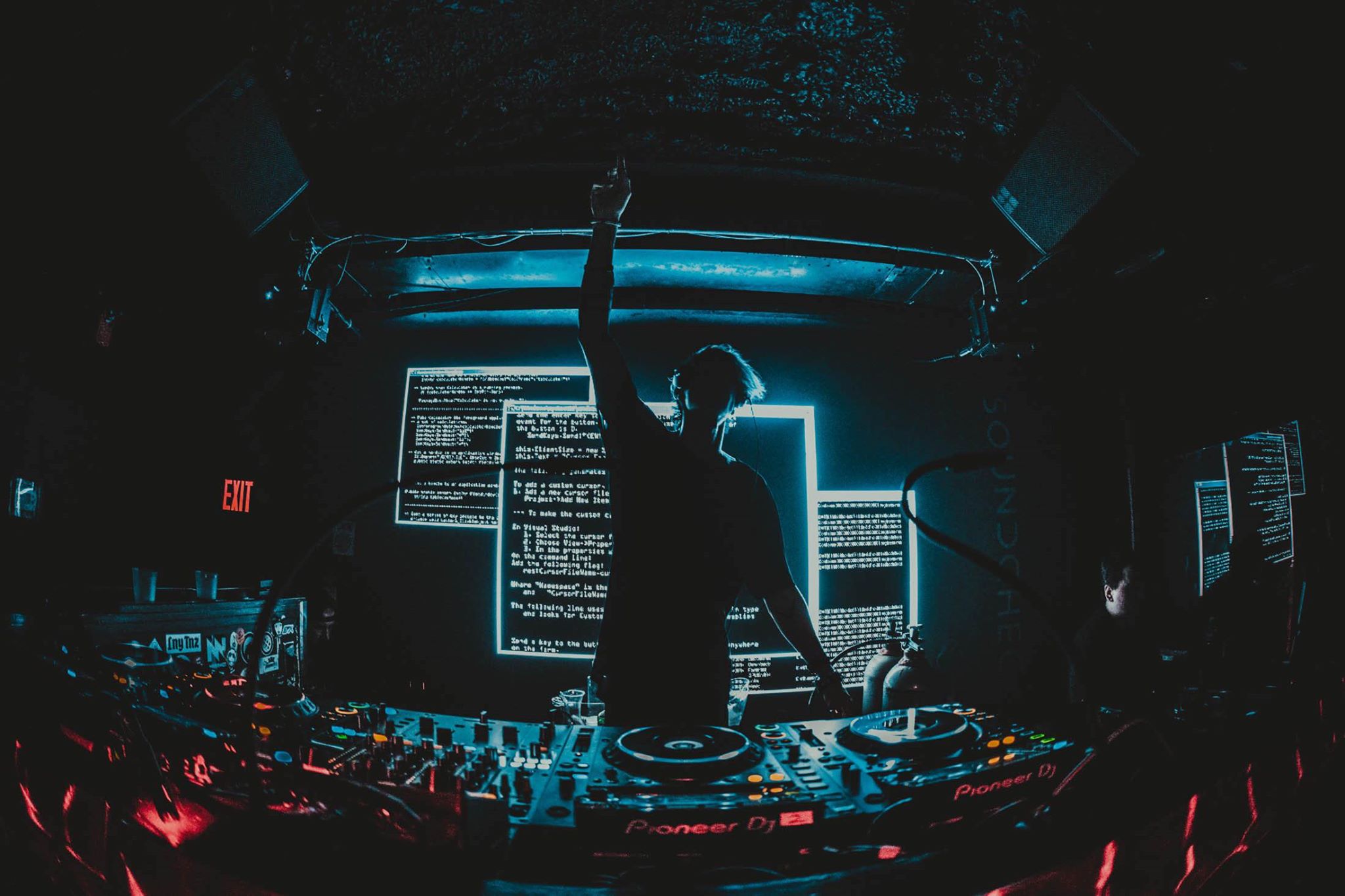 As an artist who is constantly evolving, what has been the biggest lesson that you've learned in your career so far?
Don't take anything too seriously, and don't read the comments.
If you woke up tomorrow and found yourself in a cyberpunk, dystopian world like Blade Runner or Akira, but realized the only person with you is No Mana… What's your first reaction?
Kicking him off his light cycle.
Finally, with the new year on the horizon, can you share any thoughts on techno taking over the mainstages in 2019?
It's a movement in dance music, and it's nice to see techno taking over in a big way. I can hear the underground snobs screaming, but techno becoming popular isn't immediately a bad thing. Carl Cox said it best when he said: "I don't think it's 'underground vs overground,' I just think it's pop culture versus people who actually love the music."
Early fans might get mad that something considered underground like techno is hitting the main stages, but it's what we're here to do—> share music. The more people who are listening, the more community we have. You'll always be able to tell the posers from the real music lovers, so don't worry. Just keep the hate to a minimum, we all take time to discover what really moves us.
---
Connect with i_o on Social Media:
Facebook | Twitter | Instagram | SoundCloud