Welcome to The Landing, EDM Identity's weekly post highlighting fresh tracks you may have missed!
---
In each edition of The Landing, we intend to highlight some tracks that have landed in our inbox each week that you may have missed, or perhaps shine a light on new music for you to fall in love with.
This week's edition of The Landing features fresh tracks from Tinlicker, BROHUG, Steve Darko, Casilofi, Shmitty, and Boys Noize!
Listen to some of our favorite tunes from this week and past editions in our playlist and read on for more details on the tunes added below!
The Landing || Volume 099
---

Tinlicker release "About You" on mau5trap to close out the massive year they've had!
Tinlicker has had a monster of a year which saw the duo release countless releases and livesets that we simply couldn't get enough of. Whether we were soaking in their stunning remix of "Clarify" or getting swept away with their tracks like "Nothing Without You," we simply couldn't listen to enough of their work in 2018. Closing out the year, Tinlicker has returned to mau5trap to release "About You" ahead of their forthcoming EP on the label that is due out in January.
Featuring a punchy bassline and soothing synths throughout, it is the soft vocals on the progressive track which bring those who tune in to a bliss-like state. "About You" is the perfect bookend to the year that this duo has had, listen to it and let us know what your favorite release from the duo has been in the comments! – Grant
Download or stream "About You" on your favorite platform!
---

Steve Darko has been perfecting his "Whistle Work" for the Dirtybird flock to enjoy!
Have you been working on your whistle? Full of the Dirtybird quirk that we are completely and utterly obsessed with, Steve Darko fires on all cylinders with the fun-filled vibes of "Whistle Work"! The first of two tracks (the second being "My Hood") found on his brand new Firecracker EP, "Whistle Work" stands out as possibly one of Steve Darko's most infectious productions to date. It is no surprise that this Boston native would be named as one of Claude VonStroke's favorite artists.
It is the crunchy vocal line that is the true highlight of "Whistle Work", paving the way for a trippy tailspin into mental delirium. But, just when you think you have learned everything you need to know about this track, a momentous build appears near the end, taking us to the threshold of pure auditory chaos. After just one listen it is impossible not to catch yourself humming the lyrics to yourself or to anyone else close enough to join in on the fun! Seriously fam, I did this at work and before I knew it, I had my whole team singing along with me! Score one for Steve Darko! – Maria
Download or Stream "Whistle Work" and the full Firecracker EP on your favorite platform!
---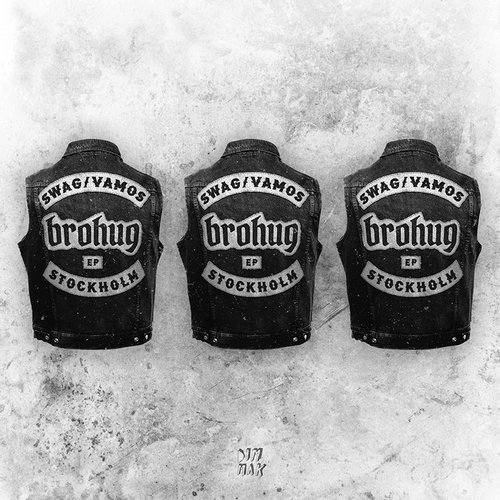 BROHUG releases the Swag/Vamos EP on Dim Mak Records.
Bass house trio BROHUG have enjoyed a busy year and are releasing some new bass-filled BROHOUSE to end 2018. The two-track EP contains two very interesting bass house tunes. "Swag" combines soul-laden vocals with a heavy drop, continuously building energy and waves of bass. A reverberating high-pitched vocal accentuates the drop.
"Vamos" is more big-room influenced; decked out with snazzy horns, driving synths and BROHUG's signature "boom bass snap" sound. A dark voice repeats "Vamos" in the background alongside explosive drops, perfect for hard bass shuffling. – Darris
Stream BROHUG's Swag / Vamos – EP on SoundCloud.

---
Step into the world of Casilofi with "Create, Create, Create"!
Before San Holo burst into the electronic music scene his side project of experimental and instrumental beats, Casilofi, was his way of producing music that didn't fit a specific genre. After five years, he has finally returned to his musical beginnings and released the magical "Create, Create, Create" on his very own label bitbird. It's easy to hear how the Casilofi project influenced his current sound as San Holo, but sometimes it's good to produce from the mindset of where it all started.
Unlike his melodic and future bass-driven tracks as San Holo, the Casilofi project explores the sounds that motivated San Holo to start producing electronic music in the first place. "Create, Create, Create" is full of cinematic sounds and takes you on a sonic journey as different sounds and layers enter at epic times. Explore the beginnings of San Holo and dive into his first release as Casilofi in over five years. – Zach
Stream "Create, Create, Create" on SoundCloud!
---

Shmitty provides "The Power" to energize techno lovers before the new year!
Los Angeles-based underground artist Shmitty has been making some serious waves in 2018. With sets at shows like Escape: Psycho Circus and AfterTraxx 001, while also opening both nights of the Adam Beyer x Cirez D shows in LA, the Minimal Sessions founder has made his presence known. Now, he's looking to give techno lovers another tune to get down to with the release of "The Power".
This driving techno tune is perfect to get pumped for a night out on the town, and even more so ahead of some serious nights full of underground sounds this weekend in SoCal. Paired with a remix from Stephen Disario, "The Power" is a must-add to any end of the year playlist. If this is a sign of what's to come from Shmitty in 2019, you best buckle up because it's going to be quite the ride! – Grant
Download or stream "The Power" on your favorite platform!
---

Boys Noize gives Autotune's "Blade Runner" a solid edit to end the year properly.
This year has seen Boys Noize continue to be one of the most dominant forces in dance music as he has released some amazing work and played plenty of sets that have kept crowds dancing deep into the night. Now, he's ending this massive year with a remix of Autotune's track "Blade Runner" that you'll definitely want to tune into.
Originally released in 2004, "Blade Runner" was an addictive track that blended the worlds of disco and industrial together. With this edit, Boys Noize has breathed new life into the tune with an update that we simply can't get enough of either. Don't sleep on the re-release of this classic track and check out the full EP on Beatport! – Grant
Download or stream "Blade Runner" (Boys Noize Edit) on Beatport or SoundCloud.