AfterTraxx brought some sick underground vibes and left us seriously impressed for their first party at the Thunder Studios in Long Beach.
---
One of the many lessons I've learned since embarking on my journey in the electronic music scene is that I should always say "yes" more than "no". Okay, maybe not for every instance, but without saying "yes" to a good portion of the questions or requests I have been presented with, I definitely wouldn't have had as many unique experiences to look back on. AfterTraxx was one of those "yes" moments, with a series of previous yes's leading up to it.
See, I met Mark Lizaola after saying "yes" to attending the first Dirtybird Campout and setting up camp with the rest of the Accessible Festivals team. Starting from that weekend, a level of trust has been built between him and I, where I've said "yes" and he's presented me with something epic in return. Whether it has been artists to check out, parties to attend, or experiences inside festivals, he's never led me astray. So when he hit me up about his latest party AfterTraxx, I said "yes" without hesitation.
Hosted at the Thunder Studios in Long Beach, AfterTraxx was just a two hour trip from San Diego, but well worth the drive.
While I wasn't familiar with everyone on the lineup, I have seen Mark Lizaola and Shmitty play quite a few times now, and their sets have always left me impressed. Stoked to explore some artists new to me like Mary Droppinz, Stephen Disario, Mister Blaqk, and Trouble, I set off on my journey North to the venue.
Arriving at Thunder Studios, the first thing I took note of was that they had a secured lot with a security guard for all cars parking for the event. The warehouse-feel of the neighborhood really added to the atmosphere, and as we walked towards the giant double doors of the soundstage, we could hear those infectious house and techno sounds already pumping out.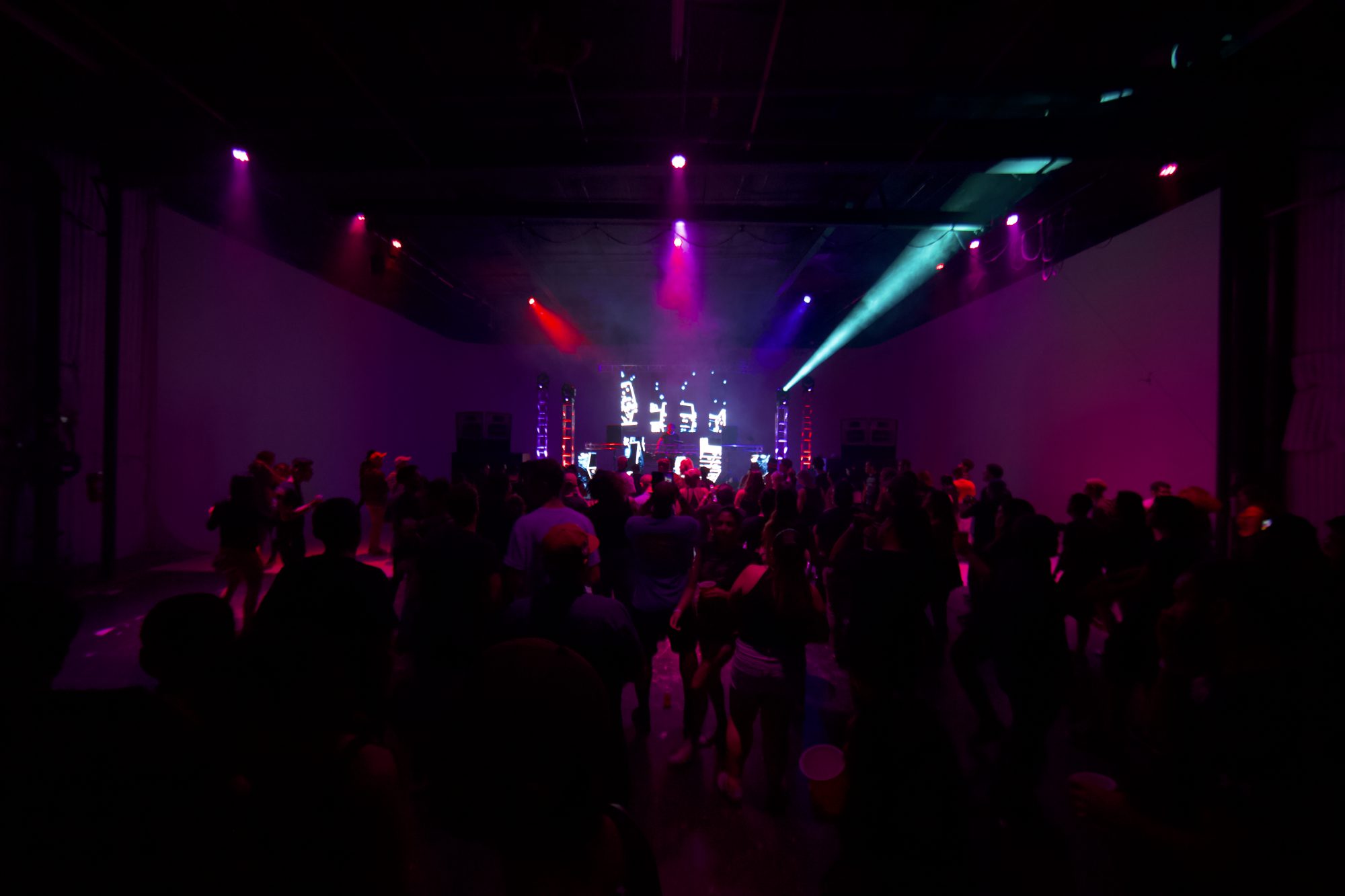 Once my ID was checked and my ticket was scanned, I headed inside to find quite possibly one of the dopest spaces for a party I've laid my eyes on.
A stage that featured production elements at an Insomniac Events' side-stage level (if not better) and plenty of people filled the cavernous room. The booming sound came through crisp and clear, and I realized quickly that this was not your typical underground event.
While each artist had their own distinct style, the way they flowed into each other created a journey in sound that kept me going deep into the night. Highlight sets for me included Mark's and Shmitty's, of course, but I was also really impressed by Mary Droppinz and Trouble who played some wicked tracks as well.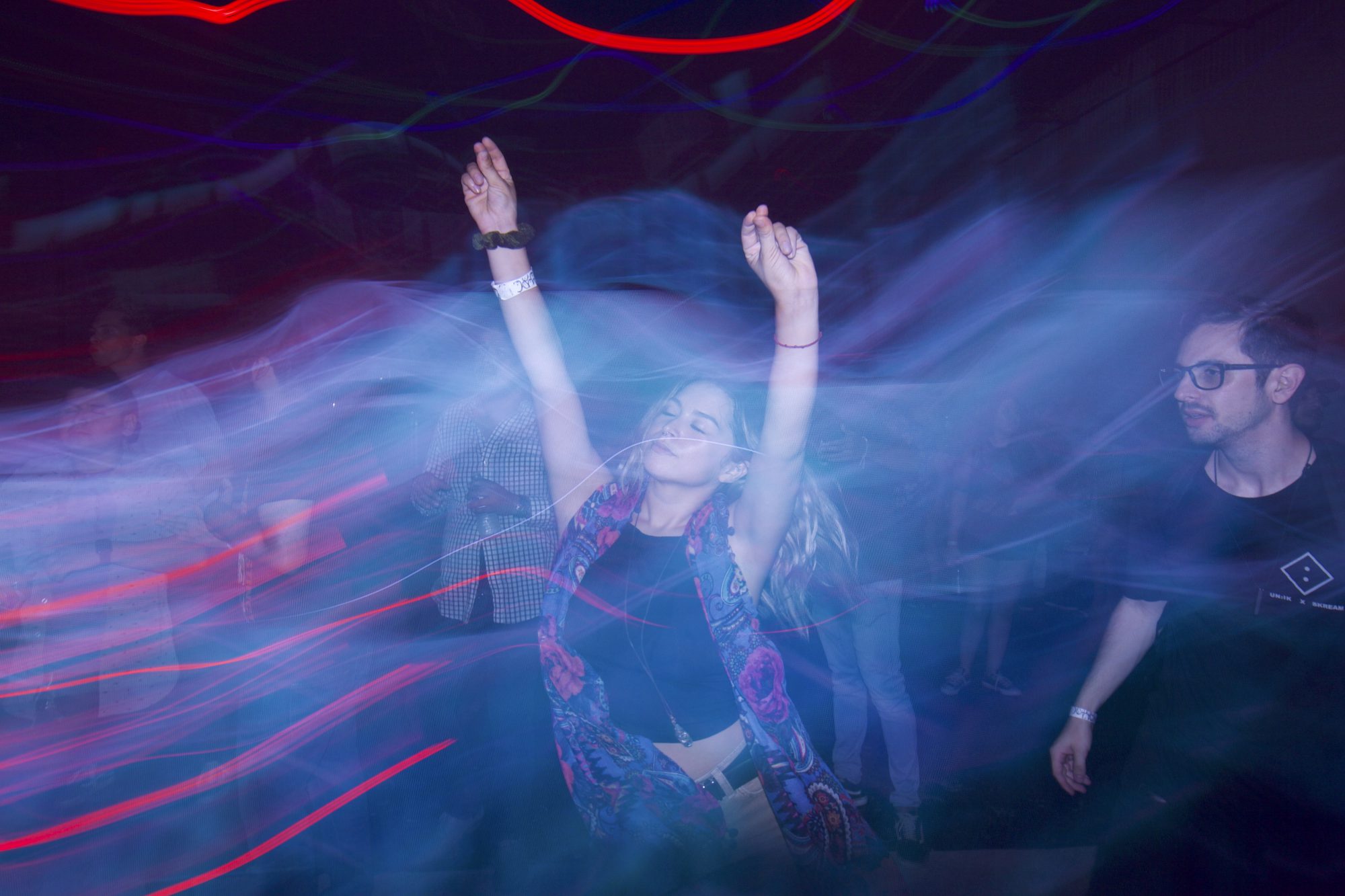 Spending time between the dancefloor and chatting outside with friends both new and old, this event really took me back to a different era of the scene where everyone seemed to know each other and wanted to connect on a deeper level. That's honestly something I feel that has been missing for a while, so it was refreshing to find myself in a place that spoke to me on that level.
From the production to the DJs to the people in attendance, AfterTraxx was the exact dose of rave vibes that I needed this month.
It was an escape from the real world, a chance for me to reconnect with old friends and make some new ones, and left me wanting to come back for more. I can't wait to attend their next party and see how they continue to expand on this dope venue, and if you can make it out I hope to see you there as well.
Stay tuned for the latest from AfterTraxx by following them on Instagram!
Check out some photos from the night to get a feel for the vibe: