Stay in the know ahead of Dirtybird Campout West 2018 with all the essential info needed to get your weekend started off right!
---
Gearing up to head out to the Modesto Reservoir Campgrounds for the 2018 edition of Dirtybird Campout West? Well, allow us to make your last minute planning a little bit easier as we dish out everything you need to know ahead of your unbridled weekend of house and bass insanity!
Read on below for the most up to date essential info, set times, and more. When the party commences, make sure to be on the lookout for the EDM Identity crew as we can't wait to get weird with you on the dance floor!
Want some amazing tunes to get your journey started? Check out our Spotify playlist, featuring the sounds of The Birdhouse or the Bass Lodge!
Dirtybird Campout West 2018 Essential Info:
Date: Thursday, October 4, 2018 (for Early Arrival Pass holders only)| Main Event Friday, October 5, 2018 – Sunday, October 7, 2018
Ages: 21+
Hours: For Early Arrival Pass holders, gates open on Thursday at 2 PM. Gates for main event open Friday 9 AM – 11 PM, Saturday 9 AM – 11 PM, Sunday 9 AM – 4PM. Campgrounds close Monday at 12 Pm
Venue Address: Modesto Reservoir -18143 Reservoir Rd, Waterford, California 95386
Tickets: Purchase HERE
Facebook Event Page: RSVP HERE
Download the comprehensive "Getting Here Guide" to maximize your experience! 
---
Dirtybird Campout West 2018 Set Times:
Download a PDF of the set times on DirtybirdCampout.com!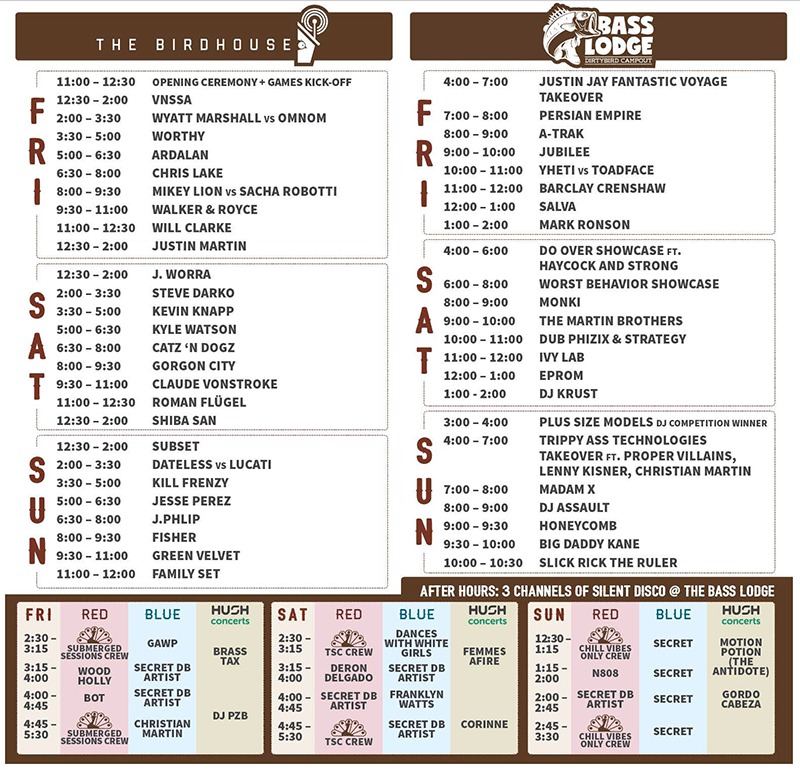 ---
Dirtybird Campout West 2018 Map: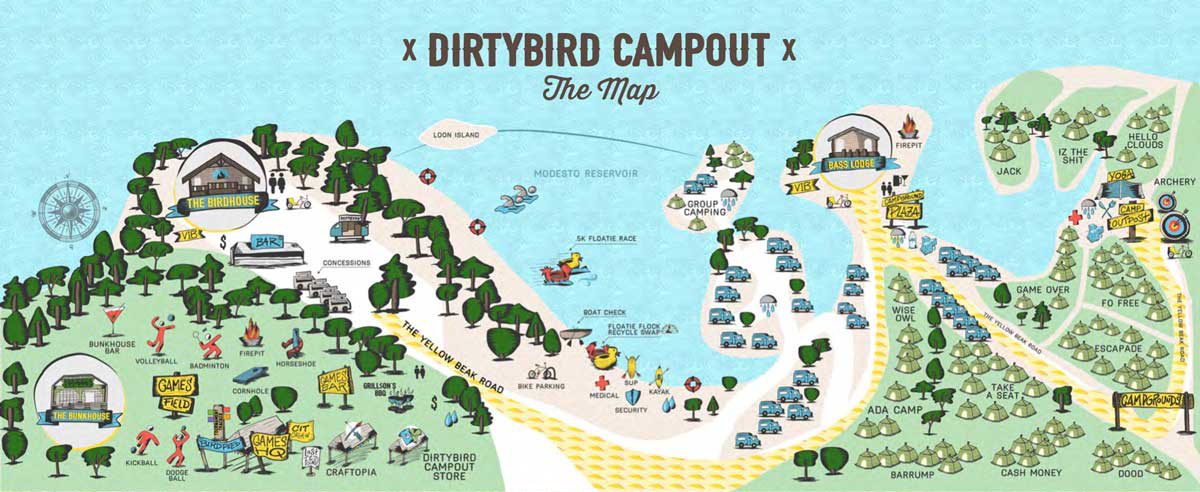 ---
Need a lift to the venue? Check out the 2018 Camp Bus schedule below:
---
Dirtybird Campout West 2018 Do's & Don'ts:
Prohibited Items
**All persons, items and vehicles are subject to search upon entry by Security and Law Enforcement.
Permitted Items
You can bring blankets, backpacks, toys, totems, games to play with, small propane camping stoves with small tanks (up to 1lb per stove), lots of friends and good attitudes. Check out Dirtybird Campout West's Ultimate Packing List for a full list of camping essentials and permitted items!
---
Reminder To Mind Your Belongings:
Unfortunately, many people have reported pickpockets, bag slashings, and theft of wallets, smartphones, purses, and other valuables during this festival season. While this small number of bad apples in the bunch doesn't define an entire crowd, there are opportunistic people who come to these events to take advantage of unsuspecting partygoers and it's important to be mindful of your valuables while at Dirtybird Campout West.
Looking for tips to keep your belongings safe? Check our post highlighting some ideas! 
---
Connect with Dirtybird Campout on Social Media:
Website | Facebook | Twitter | Instagram | SoundCloud