This fall, INF1N1TE goes on tour in support of his filthiest track yet, "Overrun"!
---
As far as undercard dubstep producers go, INF1N1TE is one who is on every heavy bass fan's radar. Based out of Calgary, Alberta, this young DJ is steady building his following amongst the bass community. Having dropped tracks on Firepower Records and Play Me Records, INF1N1TE is rightfully attracting attention for his oil-slick bass whomps and artful sound design.
If you're looking for some heavy dubstep infused with mystical soundscapes, INF1N1TE will inevitably make his way onto your playlists. He has recently been brought onto 24-8 MGMT, a company which has represented Herobust, Spag Heddy, Dubloadz, and many other bass music contenders.
Having performed at Dion Timmer's Lost Lands sound camp, INF1N1TE combines mystical soundscapes with pulverizing wubs. His latest release, "Overrun", pulls from metal influences with a screeching vocal interjection and serrated dubstep rapid-fire. The track was recently added to Spotify's "Bass Arcade" playlist, which features some of the hottest new tracks in bass music. "Overrun" is an absolute heavy-hitter and is only a taste of what INF1N1TE has to offer on his fall tour.
This Thursday, you can expect an exclusive Overrun Tour Teaser, where fans will have the opportunity to unlock a private SoundCloud stream of unreleased music. If you're gearing up for INF1N1TE's tour, you're definitely going to want to take advantage of this opportunity! Not all of the bass producer's tour dates are announced, but INF1N1TE encourages fans to reach out to their local promoters if they are eager to catch him in town.
Listen to INF1N1TE – Overrun on SoundCloud:
---
INF1N1TE Overrun Tour Dates: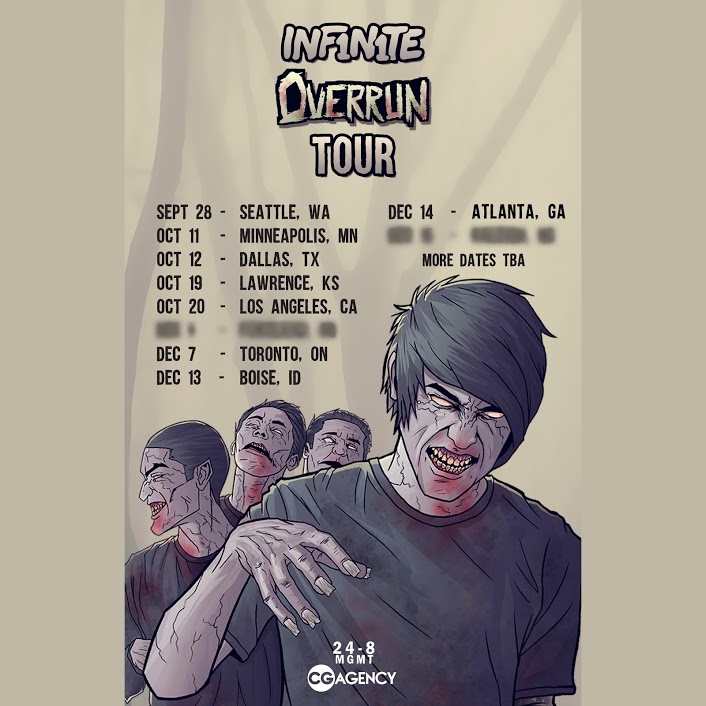 ---
INF1N1TE Overrun Tour Dates:
September 28 – Seattle, WA
October 11 – Minneapolis, MN
October 12 – Dallas, TX
October 19 – Lawrence, KS
October 20 – Los Angeles, CA
December 7 – Toronto, ON
December 13 – Boise, ID
December 14 – Atlanta, GA
+ more dates to be announced!
---
Connect with INF1N1TE on Social Media:
Website | Facebook | Twitter | Instagram | SoundCloud | YouTube