We got the chance to speak with Dubloadz on his heavy-hitter Ghost Gang EP, his diverse production style, and more!
---
Dave Nardolilli, otherwise known as Dubloadz, has spent years contributing to the scene with some of the gnarliest dubstep tunes we know and love today. Having received support from Excision, Figure, 12th Planet, and more, Dubloadz is an incendiary force to be reckoned with, hacking through the categorial confines of dubstep and reimagining the genre. The Los Angeles-based producer has done work with Disciple Records, Rottun Recordings, and now with heavy bass label Never Say Die with the release of his latest EP, Ghost Gang.
Ghost Gang features four blistering-hot tracks with appearances from three "ghosts": Midnight Tyrannosaurus, Yakz, and Monxx. Each track combines the unique stylistic composition of each artist, complementing Dubloadz' slaughterous bass through a grimy dubstep production echo chamber.
Aside from getting an inside look into the making of Ghost Gang, Dubloadz speaks on his Houseloadz project as well as where he believes dubstep is heading. Read on for the full interview and download or stream Ghost Gang on your favorite platform!
Listen to Dubloadz – Ghost Gang on Spotify:
---
Hey Dave, thanks for taking some time with us! So you just released Ghost Gang complete with features from Midnight T, Yakz, and Monxx. Can you talk about what it was like working with all three of those artists on your EP?
It was cool! This is actually me and Midnight T's fourth collab, but it had been a few years since our last one so we were past due. It started out as a bit of a deeper tune I was working on and Midnight T beefed it up and made it more of a live banger which was awesome. The Yakz collab was cool because it started as something David (Yakz) had posted on Twitter asking if he should finish it. I commented, "Let me finish it!" and he had the stems over within an hour. I'm glad all these dudes could be a part of the EP.
I've heard you refer to your sound before as "savage wonk." How did you come to develop your trademark sound?
It's hard to believe it's been about five years now since I started making dubstep, but from the start, I always liked the idea of wonky stuff. Lost, 50 Carrot, Coffi, etc. were all crushing it with that style and it inspired me a lot. I wanted to put my own spin on it though. I think it's interesting how my style has evolved so much over the years but still has that core wonky sound for the most part. At least I like to think that lol.
I know you probably hear this a lot, but "Fight Music 2017" is one of my favorite dubstep tracks of all time. One can argue most dubstep makes people want to fight, but this track makes me want to ruthlessly beat everyone's ass (in a good way, though). Did you have any idea of how successful this track was going to be when you made it? 
Nope! What's interesting about it is "Fight Music" (the original version) was one of the first dubstep tracks I ever made, period. I guess it always had a special place in my heart because a few years later I made the VIP and then finally the 2017 version. The original version didn't even have the trademark "Get fucked up!" sample in it. All three versions came out on different labels as well lol. I'm just glad the Fight Music legacy is still going. I'll have to do another new version soon! Add that to the to-do list.
"Salt" and "Pepper" kind of delve into experimental bass mixed with crisp riddim vibes, different from the savage onslaught of dubstep you usually bring. How have you noticed your style changing over the years?
To be honest, "Salt" and "Pepper" might seem like a refreshing style switch for me right now but they actually aren't any kind of new territory. They actually resemble my really old stuff more than anything. Some of my early songs such as "Whoa Dude" and "Lost World" were what inspired "Salt" and "Pepper". I just wanted to give that style another shot since my sound has become more refined and my mixdowns have progressed a lot.
So I know you've also dabbled in house a little bit with your "Houseloadz" project. Is that a route you're trying to explore more, and how has your fandom reacted to you producing something other than gnarly dubstep?
For sure! I had a major house kick earlier this year where I was writing a ton of house stuff, but then all this deeper wobbly stuff took over. I never have enough time to write everything I want and my brain is constantly on overload. A lot of the house songs I had written in that timeframe kind of grew old to me, but I have a few that stood out and will be released. I still don't think I've made that "wow" house track yet, but hopefully, I will soon.
As for the fans, I'd say the vast majority is on board with the Houseloadz stuff which makes me happy! Of course, there are some haters as to be expected. I've always felt bad for those people. Must be awful going through life so closed-minded that you have to have a go at an artist for trying something different.
You've been in the game for quite a while. Where do you think the production of dubstep is headed with the newer producers coming into the scene?
It's going deeper and darker again and I am loving it. Artists like PEEKABOO and Dion Timmer are literally saving dubstep in my opinion. There was a point where it really was all starting to sound the same again and all everyone wanted to hear was the heaviest neck breaking sets possible. Obviously, I love heavy dubstep but I'm not a fan of playing an entire set of it, especially if it's a set longer than an hour. You need some different stuff to break up the monotony.
I hit a point early this year where I was playing a set halfway through and just thought, "Honestly the last four songs I've played all sound wayyyy too similar. I need to change it up." I had already been back on a deeper tip as I wrote "Salt" and "Pepper" toward the end of last year (even though they only saw a release this year) but the songs weren't catching well in my live sets. I think the rise of artists like PEEKABOO has enabled me to actually play more of what I want in my sets, which makes me happy.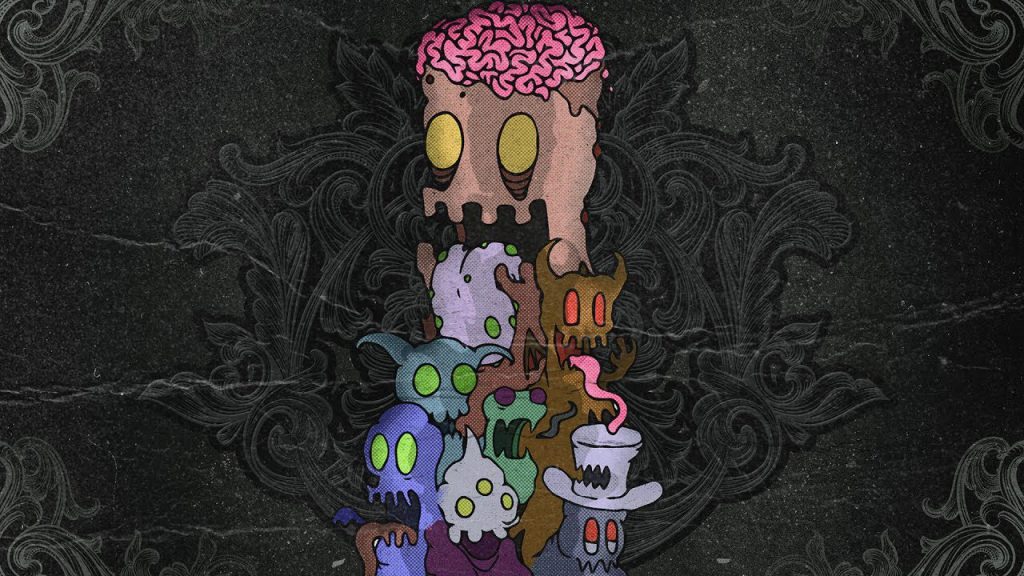 Who are some up-and-coming dubstep producers we should keep an eye out for?
In my opinion, right now we're seeing the best surge of up and coming talent in dubstep/heavy bass in ages. My homie Suahn is about to fuck the whole game up. You'll be hearing a lot of him very soon. I don't consider all of these guys up-and-coming because some of them are already well-established, but to name some of my favorite artists at the moment: PEEKABOO, Dion Timmer, G-Rex, Tynan, Kompany, Wooli, Hydraulix, Oski, YOOKiE, Svdden Death, Somnium Sound, Mastadon, Tiigers, Wooli, Subtronics, Dirty Monkey, too many to name.
Last question: Out of your 9,000 ghosts, which one is your favorite and why?
Ghost #8768 happens to be my favorite just because he's a real spooky guy.
---
Connect with Dubloadz on Social Media:
Website | Facebook | Twitter | Instagram | SoundCloud