In between big shows at Bass Canyon and Lost Lands, Herobust took some time to go over his brand new track "WTF", his upcoming EP Not Your Average, as well as some production tips!
---
Herobust is a name in bass music that has absolutely taken the scene by storm. He's an incredibly well-known name and has a very dedicated fanbase. His work ethic is unlike any other producer. He's always on tour and has played some of the biggest festivals such as EDC Las Vegas and Lost Lands. Further, he is constantly releasing new music that pushes the boundaries of bass music.
He took some time from his busy touring schedule to chat with us regarding his track "WTF", his take on playing bass-music festivals versus multi-genre festivals, and finally he went into some detail on his upcoming EP and his production style. Check out the latest track from Herobust below, and catch him in a city near you on his WTF Tour!
Stream 'WTF' by Herobust on Spotify:
---
It's been a little more than a year since we last sat down for a chat, and you have been more than busy. How has touring and playing shows changed for you within this year?
I don't know about being changed, but I definitely love seeing the crowd yelling "WTF" at the shows! It's been fun, and I feel like I've gained even more of an understanding of the DJ/crowd dynamic.
Having just taken the stage at Bass Canyon and with a set at Lost Lands last weekend, what are your favorite things about playing bass music-centric festivals, and do you feel the crowd is more into your set compared to multi-genre events?
I would say that the crowds are usually pretty into the music regardless of the festival, but I love bass music festivals because I can drop more of the heavier shit than at something like Lollapalooza, and I know that the crowd is stoked and ready for it!
Your song "WTF" has been received extremely well thus far. With such an experimental track, were you nervous to release it at all?
I wouldn't say nervous, because I was excited for everyone to hear it. I had a feeling that the community has been looking for something more off the wall than what has been coming out lately, and I felt like this track was gonna be it.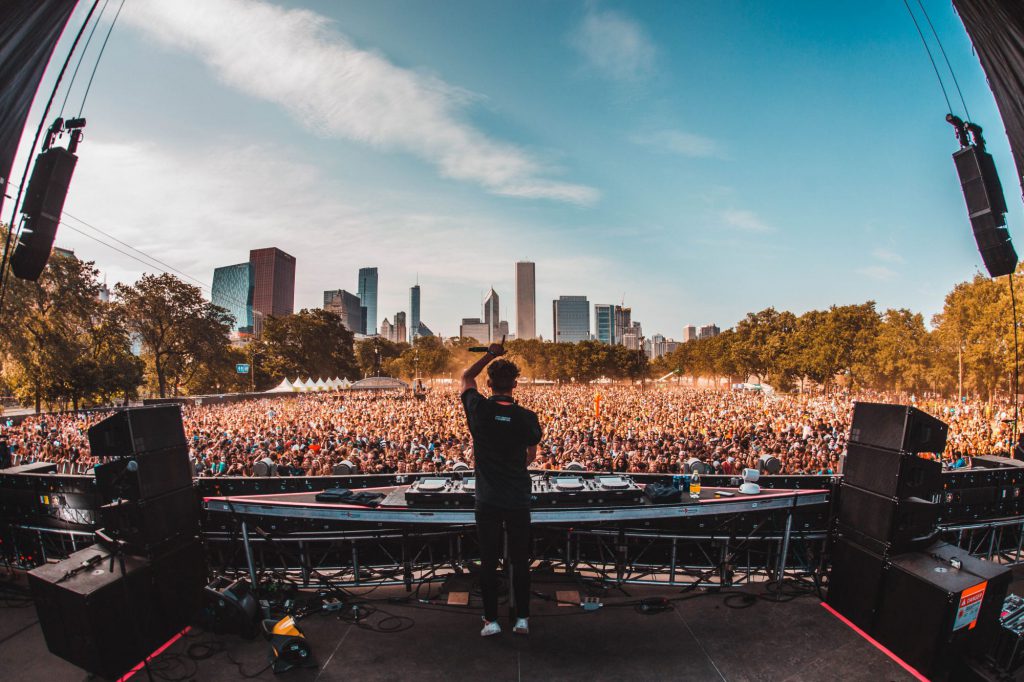 What can you tell us about your upcoming EP Not Your Average? When can fans expect a release date?
As the name says this will be NOT YOUR AVERAGE EP. I will have music representing all different types of bass music. The EP release date will be announced this fall!
In the past year alone you've released tons of new tracks, all pushing the boundaries of dance music – what do you specifically do to keep the creativity flowing and combat writer's block?
Being disciplined is the best thing you can do. Creativity is like a muscle, and you have to train it otherwise it'll get weak. So the best way to do that is by going into your creative space every day and trying to make something.
Your songs are both hard-hitting and bass-heavy, but also have a certain melodic groove and energy behind them. How do you balance both of these aspects when making a track?
I think about what I want to hear, or maybe some production thing I've wanted to try, then I think about how I want the crowd to hear it. If I think about it that way, I feel I will always make something fun for everyone, but also for myself.
As a producer who has been dominating the game for quite a few years now, what is a tip you can share for aspiring artists looking to make their mark on the scene?
It seems like this statement is overused, but keep making music. Don't stop. And don't just go in with no ideas, go in with the mindset to make something better than the day before. And don't get stuck on one style that's easy for you to make, try every angle, learn everything you can to make your tracks better. All of the other "industry/scene" stuff will come with making songs, showing them to your friends, and trying to play shows locally. Once people start telling you what they liked about your track. That's when you can start to hone in on that and create your signature sound.
Finally, you've been compared to Squidward by many on the internet. What's your favorite episode of Spongebob Squarepants?
The one where Spongebob catches a jellyfish and keeps him as a pet, then they have a huge speaker set up and party all night! I feel it represents me as a person, and also the track slaps.
---
Connect with Herobust on Social Media:
Website | Facebook | Twitter | Instagram | SoundCloud