GRiZ, Tycho, Lee Burridge, and more are set to take the stage at Envision Festival in Costa Rica next year. Will you be there?
---
Hosted at the stunning tropical paradise of Rancho La Merced in Costa Rica, Envision Festival is one of the most environmentally-friendly and conscious experiences on the planet. Blending art, music, workshops, and more to create an environment that allows for attendees to explore and learn, this festival has become one of the most sought-after in the transformational scene as they continue to spread the message of the 8 Pillars of Envision.
Although workshops, theme camps, and more are still yet to be announced for the 2019 edition, today we know who will be taking the stage over the weekend of February 28 – March 3! Headlining the event will be GRiZ and Tycho, who both fit the bill with their stunning soundscapes and sets that truly tell stories. Other major names on the lineup include Random Rab, CloZee, Lee Burridge, and Bedouin, all of whom will be bringing some quality beats to the tropical setting.
Continuing on with their mission of highlighting musical artists from Latin America, Envision has also released a showcase of local talent as well. Artists like Santos Y Zurdo, Portilla, and Killer Diller will be taking the stage over the weekend, bringing along their unique stylings that fuse the many musical influences.
Looking for some insight into Envision Festival? Check out Gina's take on how this year's edition went in her full review! 
"Coming into our 9th edition, we really wanted to step up our game. We created a diverse and extremely strong gathering of well-established international artists and local emerging talents. Without a shadow of a doubt, we are proud to announce the best lineup in the history of Envision!"

– Josh Wendel, Envision Festival Founder
Already set on attending Envision this year? Tickets and accommodations are available for purchase today via envisionfestival.com/ticketing2019! 
---
Envision Festival 2019 Lineup: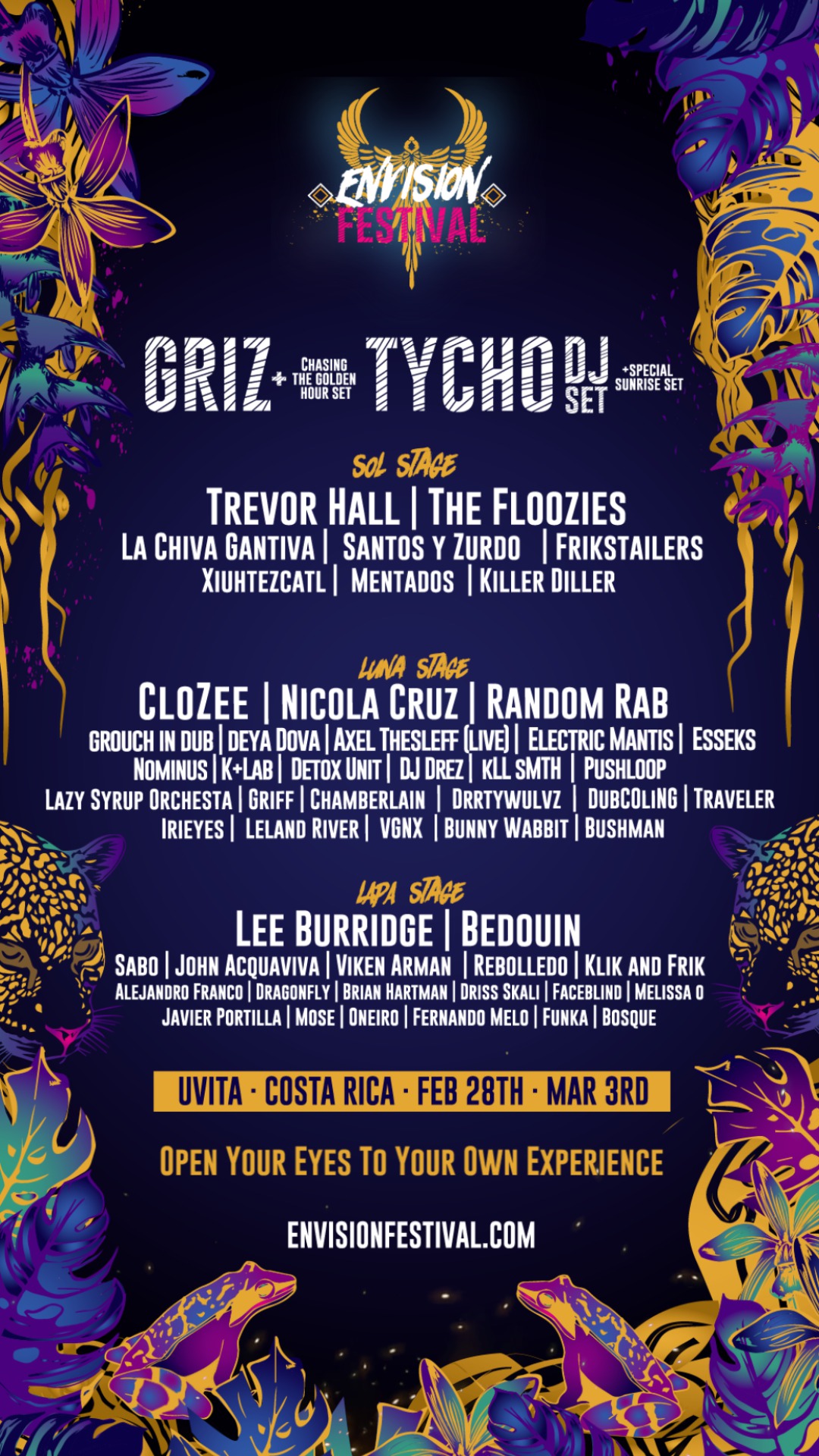 ---
Envision Festival 2019 – Lineup By Stage:
SOL Stage: Griz (+ Chasing the Golden Hour Set), Trevor Hall, The Floozies, Xiuhtezcatl, La Chiva Gantiva, Santos Y Zurdo, Frikstailers, Mentados, Killer Diller.
LUNA Stage: Tycho (+ DJ Set), CloZee, Nicola Cruz, Random Rab, Grouch In Dub, Deya Dova, Axel Thesleff, Electric Mantis, Esseks, Nominus, K + Lab, Detox Unit, Dj Drez, kLL sMTH, Pushloop, Chamberlain, Drrtywulvz, DubCOliNG, Irieyes, Leland River, VGNX
LAPA Stage: Lee Burridge, Bedouin, John Acquaviva, Sabo, Viken Arman, Klik and Frik, Alejandro Franco, Dragonfly, Brian Hartman, Driss Skali, Faceblind, Melissa O, Javier Portilla, Mose, Bunny Wabbit, Bushman Bosque.
Latin  American Showcase: Santos Y Zurdo, Faceblind, Portilla, Bunny Wabbit, Killer Diller, Mentados, Bosque, Melissa O, Klik and Frik, Frikstailers
---
Envision Festival 2019 – Event Information:
Date: February 28 – March 3, 2019
Location: Rancho La Merced, Uvita, Puntarenas, Costa Rica
Age Restriction: All Ages
Facebook Event Page: RSVP HERE
Tickets: Purchase HERE
---
Follow Envision Festival on Social Media: