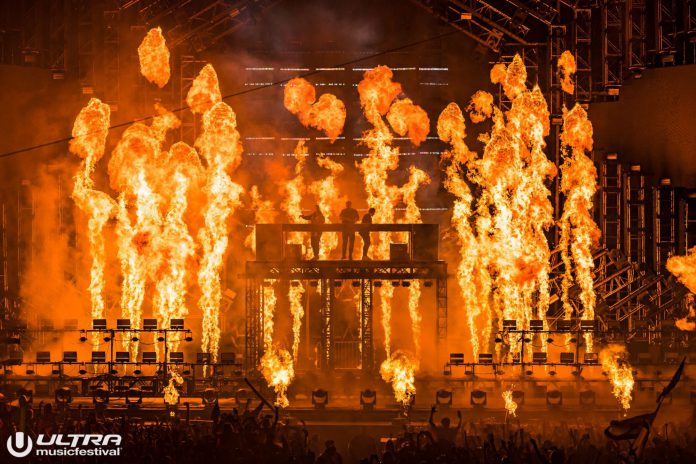 Ultra Music Festival has celebrated their 20th Anniversary in style. Relive some of the magical moments from sets inside!
---
When you're talking about major festivals in North America, there is no denying that Ultra Music Festival is one of the top ones to attend if you're looking for a stacked lineup. Each year, electronic music lovers from all over the world descend upon Miami to party at both Ultra and Miami Music Week as well.
This year for Ultra Music Festival was something special, though, as they celebrated an epic 20th Anniversary in style. Bringing in some artists that have graced the stage over the past two decades along with some fresh faces too, we couldn't help but be blown away by the sets that were played over the weekend.
What was your favorite set from last weekend? Who surprised you the most? Let us know in the comments! Also feel free to join in on the conversation on Facebook!
Ultra Music Festival 2018 Livesets
---
4B
SoundCloud | Mixcloud | YouTube
---
Above & Beyond
SoundCloud | Mixcloud | YouTube
---
Adam Beyer
SoundCloud | Mixcloud | YouTube | Be-At.TV | Facebook Video
---
Afrojack
SoundCloud | Mixcloud | YouTube
---
Alan Walker
SoundCloud | Mixcloud | YouTube
---
Andrew Rayel
SoundCloud | Mixcloud | YouTube
---
Armin van Buuren (A State of Trance)
SoundCloud | Mixcloud | YouTube
---
Armin van Buuren (Mainstage)
SoundCloud | Mixcloud | YouTube | Facebook Video
---
Axwell /\ Ingrosso
SoundCloud | Mixcloud | YouTube
---
Benny Benassi
SoundCloud | Mixcloud | YouTube
---
Better Lost Than Stupid
SoundCloud | Mixcloud | YouTube | Be-At.TV
---
Blasterjaxx
SoundCloud | Mixcloud | YouTube
---
Carl Cox (Friday)
SoundCloud | Mixcloud | YouTube | Be-At.TV | Facebook Video
---
Carl Cox (Saturday)
SoundCloud | Mixcloud | YouTube | Be-At.TV
---
Carlo Lio b2b Marco Bailey
SoundCloud | Mixcloud | YouTube | Be-At.TV
---
Cedric Gervais
SoundCloud | Mixcloud | YouTube
---
Cheat Codes
SoundCloud | Mixcloud | YouTube
---
Coyu
SoundCloud | Mixcloud | YouTube | Be-At.TV | Facebook Video
---
Danny Tenaglia
SoundCloud | Mixcloud | YouTube | Be-At.TV
---
Dash Berlin
SoundCloud | Mixcloud | YouTube
---
David Guetta
SoundCloud | Mixcloud | YouTube
---
DJ Snake
SoundCloud | Mixcloud | YouTube
---
Dubfire b2b Paco Osuna b2b Nicole Moudaber
SoundCloud | Mixcloud | YouTube | Be-At.TV
---
Ekali
SoundCloud | Mixcloud | YouTube
---
Ello Riso
SoundCloud | Mixcloud | YouTube | Be-At.TV
---
Empire Of The Sun
SoundCloud | Mixcloud | YouTube
---
Eric Prydz
SoundCloud | Mixcloud | YouTube (Crowd Video)
---
Estiva
SoundCloud | Mixcloud | YouTube (Audio Only)
---
Fedde le Grand
SoundCloud | Mixcloud | YouTube
---
Flosstradamus
SoundCloud | Mixcloud | YouTube
---
Frank Walker
SoundCloud | Mixcloud | YouTube
---
Gabriel & Dresden
SoundCloud | Mixcloud | YouTube
---
Ghastly
SoundCloud | Mixcloud | YouTube
---
GTA
SoundCloud | Mixcloud | YouTube
---
Guti (Live) B2B waFF
SoundCloud | Mixcloud | YouTube | Be-At.TV | Facebook Video
---
Hardwell
SoundCloud | Mixcloud | YouTube | Facebook Video
---
Henry Fong
SoundCloud | Mixcloud | YouTube
---
Hot Since 82
SoundCloud | Mixcloud | YouTube | Be-At.TV | Facebook Video
---
Jamie Jones
SoundCloud | Mixcloud | YouTube | Be-At.TV
---
Jasper Jones b2b Jackmaster
SoundCloud | Mixcloud | YouTube | Be-At.TV
---
JAUZ
SoundCloud | Mixcloud | YouTube
---
Jillionaire (Major Lazer)
SoundCloud | Mixcloud | YouTube
---
Joseph Capriati
SoundCloud | Mixcloud | YouTube | Be-At.TV | Facebook Video
---
Josh Wink
SoundCloud | Mixcloud | YouTube | Facebook Video
---
JOYRYDE
SoundCloud | Mixcloud | YouTube
---
Julian Jordan
SoundCloud | Mixcloud | YouTube
---
Kaskade
SoundCloud | Mixcloud (Partial) | YouTube
---
Kayzo
SoundCloud | Mixcloud | YouTube
---
Keys N Krates
SoundCloud | Mixcloud | YouTube
---
Kris Kross Amsterdam
SoundCloud | Mixcloud | YouTube
---
KSHMR
SoundCloud | Mixcloud | YouTube
---
Ksuke
SoundCloud | Mixcloud | YouTube
---
Kungs
SoundCloud | Mixcloud | YouTube | Facebook Video
---
London On Da Track
SoundCloud | Mixcloud | YouTube (Crowd Video)
---
Lost Kings
SoundCloud | Mixcloud | YouTube
---
Luigi Madonna
SoundCloud | Mixcloud | YouTube | Be-At.TV
---
Maceo Plex
SoundCloud | Mixcloud | YouTube | Be-At.TV
---
Manila Kila
SoundCloud | Mixcloud | YouTube
---
MaRLo
SoundCloud | Mixcloud | YouTube (Audio Only)
---
Marshmello
SoundCloud | Mixcloud | YouTube
---
Matador
SoundCloud | Mixcloud | YouTube | Be-At.TV
---
Mike Williams
SoundCloud | Mixcloud | YouTube
---
Nastia
SoundCloud | Mixcloud | YouTube | Be-At.TV
---
NGHTMRE & SLANDER present Gud Vibrations
SoundCloud | Mixcloud | YouTube
---
Nic Fanciulli
SoundCloud | Mixcloud | YouTube | Be-At.TV | Facebook Video
---
Nicky Romero
SoundCloud | Mixcloud | YouTube
---
Nora En Pure
SoundCloud | Mixcloud | YouTube
---
Oliver Heldens
SoundCloud | Mixcloud | YouTube | Facebook Video
---
Ookay
SoundCloud | Mixcloud | YouTube
---
Pan-Pot
SoundCloud | Mixcloud | YouTube (Audio Only) | Facebook Video
---
Patrick Topping B2B Nathan Barato
SoundCloud | Mixcloud | YouTube | Be-At.TV | Facebook Video
---
Paul Oakenfold
SoundCloud | Mixcloud | YouTube (Audio Only)
---
Pete Tong
SoundCloud | Mixcloud | YouTube | Be-At.TV | Facebook Video
---
Popof
SoundCloud | Mixcloud | YouTube | Be-At.TV | Facebook Video
---
Quintino
SoundCloud | Mixcloud | YouTube
---
QUIX b2b Wuki
SoundCloud | Mixcloud | YouTube
---
Rafa Barrios
SoundCloud | Mixcloud | YouTube
---
Raiden
SoundCloud | Mixcloud | YouTube
---
REZZ
SoundCloud | Mixcloud | YouTube
---
RL Grime
SoundCloud | Mixcloud | YouTube
---
Salvatore Ganacci
SoundCloud | Mixcloud | YouTube
---
Sam Paganini
SoundCloud | Mixcloud | YouTube | Be-At.TV
---
San Holo
SoundCloud | Mixcloud | YouTube
---
Sasha b2b Digweed
SoundCloud | Mixcloud | YouTube | Be-At.TV | Facebook Video
---
Sick Individuals
SoundCloud | Mixcloud | YouTube
---
Slushii
SoundCloud | Mixcloud | YouTube
---
Stefano Noferini
SoundCloud | Mixcloud | YouTube | Be-At.TV
---
Stephan Bodzin (Live)
SoundCloud | Mixcloud | YouTube | Be-At.TV | Facebook Video
---
Steve Aoki
SoundCloud | Mixcloud | YouTube | Facebook Video
---
Sunnery James & Ryan Marciano
SoundCloud | Mixcloud | YouTube
---
Sub Focus
SoundCloud | Mixcloud | YouTube (Partial; Crowd Shot)
---
Swedish House Mafia
SoundCloud | Mixcloud | YouTube
---
Tchami X Malaa (No Redemption)
SoundCloud | Mixcloud | YouTube
---
Technasia b2b Hector
SoundCloud | Mixcloud | YouTube | Be-At.TV
---
The Chainsmokers
SoundCloud | Mixcloud | YouTube
---
The Tripletz
SoundCloud | Mixcloud | YouTube
---
Tiesto
SoundCloud | Mixcloud | YouTube 
---
What So Not
SoundCloud | Mixcloud | YouTube
---
Valentino Khan
SoundCloud | Mixcloud | YouTube
---
Vini Vici
SoundCloud | Mixcloud | YouTube
---
Virtual Self (Porter Robinson)
SoundCloud | Mixcloud | YouTube
---
Follow Ultra Music Festival on Social Media: