After a post shrouded in mystery, the secret has finally been revealed, an Adam Beyer x Cirez D show in Miami has been announced!
---
Yesterday, an image was posted on both Eric Prydz and Adam Beyer's social channels that hinted at something big in store for the future between the two renowned artists. Many devoted fans of both artists began to let their thoughts swirl about a potential collaboration or even a show in the future. Today, their calls have been answered with a teaser video telling the world that an Adam Beyer x Cirez D show is coming!
Tickets go on sale December 15 at 1pm EST via http://blnkcnvs.com/!
That's right, mark your calendars to be at SOHO Studios in Miami on March 24, 2018, for a show that will bring two powerhouse acts together for an evening full of unreal music. Set during Miami Music Week and Ultra Music Festival, will definitely be one of the ones not to miss in 2018.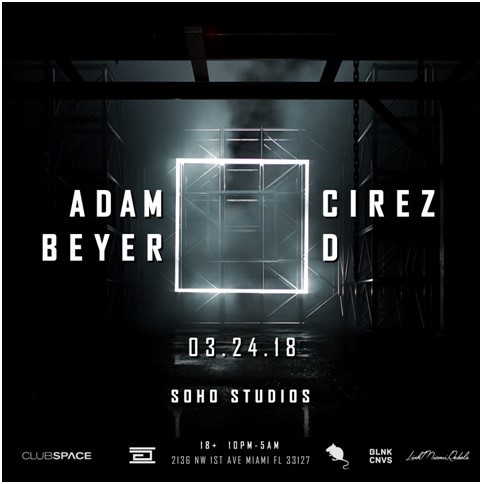 Watch the Adam Beyer x Cirez D in Miami Announcement Video on YouTube:
---
Both hailing from Stockholm, Sweden, Adam Beyer and Eric Prydz have both made massive names for themselves in the house and techno scene over the years. Cirez D is an alias of Eric Prydz that is known for its heavier techno sound that is evident on tracks like "The Accuser" that was released this past July.
Not just skilled as DJs and producers, both artists also manage imprints that highlight the work of other rising stars in the scene. Adam Beyer's label, Drumcode, has become a fixture at many festivals worldwide as the sounds coming from the imprint move crowds deep into the night. Eric Prydz manages multiple imprints, each with their own unique flavor and style depending on the genre represented, most recently he launched Pryda Presents and debuted his alias Tonja Holma on the label.
---
Connect with Adam Beyer on Social Media:
Website | Facebook | Twitter | Instagram | SoundCloud
Connect with Eric Prydz on Social Media:
Website | Facebook | Twitter | Instagram | SoundCloud