With a move to greener pastures on the horizon, Dirtybird has released their fourth annual lineup for Dirtybird Campout West Coast!
---
If you're anything like us, then one of your favorite moments all season long is the announcement of the Dirtybird Campout West Coast lineup in the summer. Past editions have featured label favorites such as Claude VonStroke, Justin Martin, J.Phlip, and Shiba San alongside scene powerhouses Green Velvet, Mija, and the Mikey Lion, so we knew that this edition was bound to be terrific.
Well, the wait is over, and we couldn't be more excited to announce that Big Daddy Kane, Catz N Dogz, Chris Lake, FISHER, Gorgon City, Patrick Topping, Roman Flugel, Walker & Royce and more will be joining us at Dirtybird Campout West Coast's brand new home at the Modesto Reservoir in Northern California.
As if the stellar set of headliners wasn't enough, there are plenty of excellent undercard acts to sink your teeth into throughout the three-day festival that run the gamut from hip-hop, house, techno, and bass. In addition, Dirtybird would not be complete without some titillating showcases that for this year's edition include a live house music power session from Justin Jay's Fantastic Voyage, the globally revered LA Sunday shakedown The Do-Over, NYC low-end label Worst Behavior and Christian Martin's Trippy Ass Technologies!
But wait! There's more! As always, our Dirtybird Camp Counselors have been locked in so get ready for some seriously fun social action as you stretch your competitive legs alongside Claude VonStroke, Justin Martin, J.Phlip, Christian Martin, Worthy, and Ardalan!
Tickets for the fourth annual edition of Dirtybird Campout West Coast are on sale now via Eventbrite, so make sure to grab yours while they're still available. With a brand new venue featuring swimming, fishing, and boating, we're sure this will be an edition of Dirtybird's West Coast Campout that you absolutely won't want to miss!
Watch the Dirtybird Campout West 2018: Lineup Announcement Video:
---
Dirtybird Campout West Coast 2018 Lineup: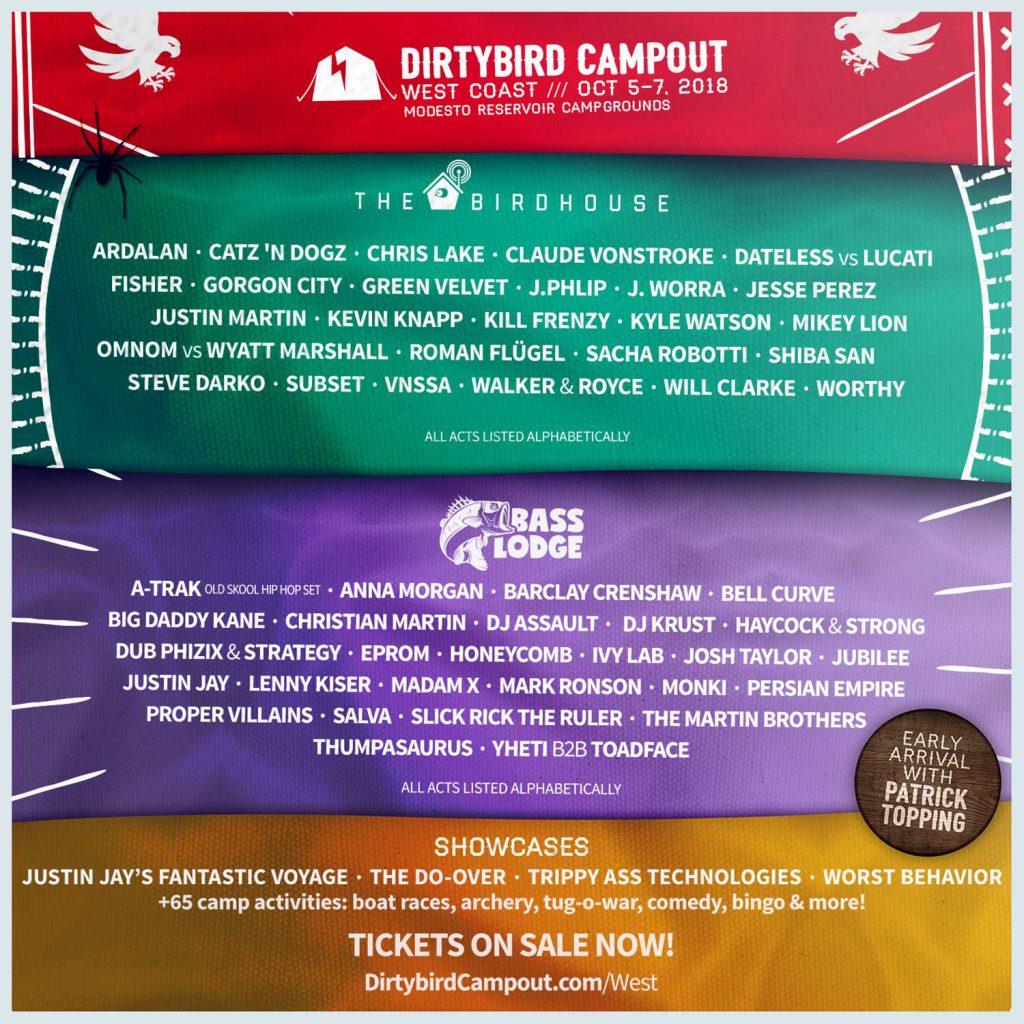 ---
Dirtybird Campout West Coast 2018 – Lineup By Artist:
Ardalan
Anna Morgan
A-Trak (Old Skool Hip Hop Set)*
Barclay Crenshaw
Bell Curve
Big Daddy Kane
Catz 'N Dogz
Chris Lake
Christian Martin
Claude VonStroke
Dateless vs Lucati
DJ Assault
DJ Krust
Dub Phizix & Strategy
EPROM
FISHER
Gorgon City
Green Velvet
Haycock & Strong
Honeycomb
Ivy Lab*
J Worra
J.Phlip
Jesse Perez
Josh Taylor
Jubilee
Justin Jay
Justin Martin
Kevin Knapp
Kill Frenzy
Kyle Watson*
Lenny Kiser
Madam X
Mark Ronson
Mikey Lion
Monki
OMNOM vs Wyatt Marshall
Patrick Topping
Persian Empire
Proper Villains
Roman Flügel
Sacha Robotti*
Salva
Shiba San
Slick Rick The Ruler
Steve Darko
Subset
The Martin Brothers
Thumpasaurus
VNSSA
Walker & Royce
Will Clarke
Worthy
Yheti b2b Toadface
*Indicates recently added artists
---
Connect with Dirtybird Campout on Social Media:
Website | Facebook | Twitter | Instagram | SoundCloud