Ryan Farish chats about balancing fatherhood, album creation, and more after the release of his second album this year, Wilderness.
---
If you don't recognize the name of Ryan Farish, here is a brief synopsis of the talented producer.  Coining the term "positive chillout," he has produced numerous tracks that typify his talents in a manner that makes an astounding impact on listeners.  He promotes tranquility and zen in his modern works, primarily in an effort to take away from the hectic moods that permeate modern living.
Ryan is known for mixing instruments with uplifting and ambient sounds, an art he has honed for years, and consequently, has released over 40 singles. Ryan's massive list of accomplishments includes having multiple tracks hitting Top 10 Billboard chart positions, co-writing and publishing a GRAMMY Award-Nominated Recording, winning a GMA DOVE Award, gaining over 190 million streams on various platforms, and more.
Back in late December of 2017, we sat down and got The Lowdown from artist Ryan Farish as he debuted his new album Primary Colors.  Imagine our surprise when his second album of the year dropped!  After reaching out to find the nitty-gritty details on his second 2018 album, titled Wilderness, we secured some awesome details we have to share with you.
So let's dive deeper into the forest of electronic music and see what made Ryan journey into the Wilderness on his latest LP. Grab your copy today via your favorite platform!
Stream "Wilderness" by Ryan Farish on Spotify:
---
"Wilderness," both the track and the album, represent a fine launchpad to continue the downtempo trends from your last album, Primary Colors. When producing this album, what was the hardest creative struggle?
Thank you! Probably the hardest creative struggle was the season I made this album in. It was winter… and although it was cozy when I was feeling inspired to work on the album indoors, I didn't have the opportunity to spend as much time as I normally like to outdoors. But looking back, it probably was a really good thing, because it allowed me to search for the feeling I get outdoors, in the music.
The album represents a cinematic mood – a story progressing throughout. What is the story you see "Wilderness" unfolding?
The story for me, is really and simply a quiet moment in time, a time spent focused, like those moments we have when things quiet down, and we find ourselves looking within, and looking up… this album really explores the softer side, in fact probably the most delicate and intricate compositional moments I've experienced with my music so far.
The vocals on the album definitely stand out for the ethereal feeling they produce. Where or who did you source them from? How did they come about in production processes for tracks like "My Heart Beats" and "Ebb and Flow"?
Thank you, I'm actually singing in a lot of the songs on the album. The ambient vocals are me, and many of the vocal chops came from bits of my vocals, or additional creative samples loaded into various instruments like an AKAI MPC Live, Kontakt or Battery from Native Instruments.
Given the eleven tracks on the album, which do you feel represents the most heartfelt melody for you? Is there one that you're most proud of and why?
Probably the title track, 'Wilderness'. This song really felt to me like it fully represents the artistic vision and intention I had for the entire album.
There are recent rumor surrounding the possibility of a live version of the album as well. Would you like to formalize what a live version means for you, and what is the greatest challenge in translating the electronic works to live instrumentation?
This fall, I'm headed into the studio with some musician friends who are also the group currently on tour with the Hamilton Musical, Angelica Tour. We plan to record and explore these songs in the studio in a live context.
You released a two-hour zen mix on YouTube earlier this year. Do you have any advice you would give someone who's stressed to find their center? Is there a unique role that prayer or meditation plays in your personal life?
Music for me has always been that place I can escape to and reconnect with myself. The key really, for me… is to let the music take over. Music for me has always been something that can open the window in my mind, allowing me to explore and feel things that are in the moment, and to experience life in a more meaningful way. For me, that has always been the allure to music.
If you had three big tips for a budding producer, what would you advise them of? To throw out a few examples: being mindful of how loud their headphones could be so protecting their hearing, using a certain piece of technology in their workflow, or being mindful of focusing too hard on the details and not letting their ears do the talking?
Those are all great points, and I'm behind all of those you just mentioned… to add to this, I feel like it's really important to master the gear you have versus constantly purchasing the latest piece of gear. The more familiar you become with what you have, the more time you can spend on being creative musically. Chasing new gear all the time will only bog you down, and the best time spent is on melody, and finding a musical vision and path for yourself and your creativity. Find the sound that most naturally comes to you and moves you… and explore that with everything you have.
Never chase the latest thing, the latest thing soon becomes outdated, but having an original musical voice, or vision, or striving to make a contribution to the overall musical landscape, is much more meaning full and can be timeless. Make music you love, make music that even if no one else was listening to it, it is music that moves you personally. Never chase trends, if you want your music to matter, in the end.
As a father, what's the biggest hurdle for balancing your musical desires with family time? What's the greatest joy?
The hardest part is balancing time. I make time every day to spend with family, that is non-negotiable for me. I also try to make time to share the studio with my daughter who just turned two. We play on all the synths, strum on the guitars etc…at first I think it was all the pretty lights that she enjoyed, but then came the moment when she connected that turning this dial, this filter, this button affected the sound, and she follows it with her eyes from speaker to speaker… I couldn't be more proud and excited about her enthusiasm towards music at such a young age.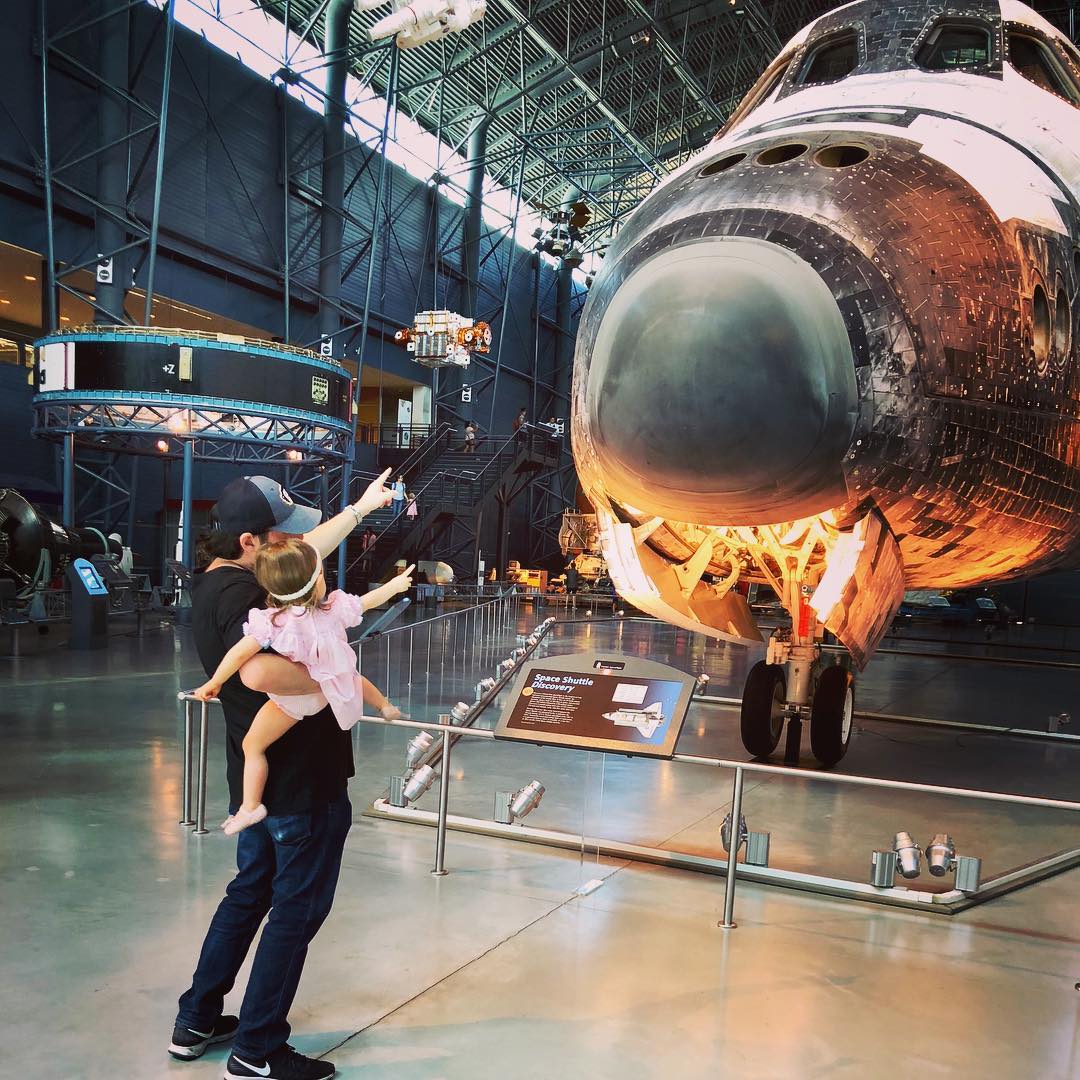 You posted a photo earlier this year of your daughter and yourself at Space Shuttle Discovery and posted inspiration as a hashtag. Define the things that inspire you the most in the turmoil of modern life.
Looking beyond, towards the future, and how we are living in such a great time of tech and discovery. Dreams can truly become reality, with the right focus, hard work and vision to see them thru.
We discussed your motorcycle and Boosted Board riding in our last interview near the start of this year. Have you picked up any new gadgets you think are really neat or pushing technology?
Haven't made any recent tech acquisitions this time around to mention, but I am excited about upgrading my phone this fall, it's time!
In a related question, where is your favorite area to take a ride on either of the two vehicles?
I have two favorite roads. On the east coast it would be the colonial parkway in Williamsburg VA on the bike, and on the West Coast Hwy 1 up to San Fran in the car with the windows down is never anything less than a car enthusiasts dream!
Finally, last time we had a chat you stated you wanted to hit up the martial arts for the first time this year. Have you been able to balance that in with your hectic lifestyle yet this year?
Unfortunately, I haven't been able to make more time, if only there was a new piece of tech that would allow that! Thanks for the great questions, it's always a real pleasure to connect with you guys!
---
Connect with Ryan Farish on Social Media:
Website | Facebook | Twitter | Instagram | SoundCloud