Excluding Virus: The Remixes, Excision hasn't dropped an original album in two years – until now. Headbangers, get ready to throw your X up for Apex!
---
Since seeing him for my first time ever at Lost Lands 2017, Excision has never ceased to blow me away with each live performance and track release. The heavy bass megamind, otherwise known as Jeff Abel, has been delivering the filthiest drops since 2004 and remains one of the most prominent dubstep producers today. After creating two of his personally curated festivals, Lost Lands and Bass Canyon, we didn't think Excision could sweep us off our feet any more than he already has – until Apex, a fourteen-track heavy hitter featuring Dion Timmer, Sullivan King, Space Laces, and Illenium.
If you're heading to either of Excision's events this year, you're in for a treat. Each of these tracks goes harder than the last and are sure to make an appearance in heavy bass sets to come. Stream or download Apex via your favorite platform, and read on for a review of my favorites off this new album!
Don't miss out on a dose of dinosaur bass this year! Visit BassCanyon.com and LostLands.com to snag your tickets now!
Stream Excision – Apex on Spotify:
---
Apex begins with "Exterminate", one of the most memorable tracks I've heard this year.
Excision opened with this one on his Paradox tour in Indianapolis, and it was easily the gnarliest intro I've ever witnessed. Complete with robotic dinosaur roars and a sharp stampede of bass, "Exterminate" turns things up a notch with a rapid-fire of incendiary bass ripples, taking you and your neck on a wild ride.
I'd be remiss if I didn't mention the legendary collaboration with Illenium, "Gold (Stupid Love)". Combining Illenium's recognizable emotional bass and Excision's blistering dubstep thrashes, "Gold" will have you crying one minute and headbanging the next. The next listed track on Apex is "Fall", a squelchy slime-ball of a tune, slurping its way through rugged soundscapes with mutilated bass licks. The bass-face is definitely out in full effect as long as this track is playing, and I couldn't be happier.
Perhaps the track I've been waiting for the longest is X's collaboration with Dion Timmer, "Home".
Dion Timmer is also one of my favorite producers, and it's a fact that any time he and Excision join forces, it's pure gold. Dion's bubbly blips send waves of euphoria throughout the track's entirety, but Excision's touch is still noted: a light touch of bass accompanies a string of beautiful vocals, truly tugging at heartstrings with every sentimental pulse.
But nothing compares to "Vault", the holy grail of this entire album.
What we all thought was just a randomly constructed intro used to amp up the crowd at Lost Lands, Camp Bisco 2018, and several other festivals, "Vault" begins with a compilation of samples of Excision's tracks. Broken by colossal bass stomps, "Vault" is a headbanger anthem with a massive energy you can only understand hearing it live. The track dives into a guttural dubstep warble and is possibly the best intro that X could ever open up with.
Though the track has been released for a while, "Hoods Up" will always be one of my favorite tracks to date. Another stunning collaboration with Dion Timmer, this scarily heavy track featuring Messinian is one of the grossest things I've ever heard. Bass knocks with a terrifying tenacity and escalates with bone-rattling fervor, stopping my heart and snapping my neck every time I hear this tune.
Last but definitely not least is "Rumble", Excision's collaboration with Space Laces.
Probably one of the most-played bass tracks this year, this tune takes a trippy spin on the average dubstep whomps. With Space Laces absolutely annihilating 2018 with some of the most unique dubstep you've heard, "Rumble" is a track you won't want to miss.
I'm so proud of Excision for all he has accomplished in recent years, and couldn't be happier with Apex. I'm excited to see what other bass-riddled endeavors he pursues in the future; in the meantime, catch me losing my voice screaming out every word of "Vault" at Lost Lands!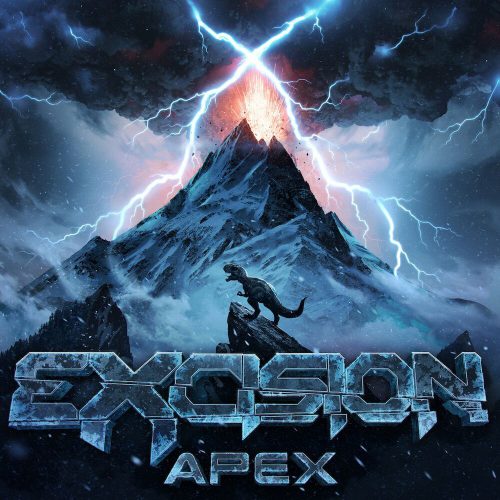 ---
Connect with Excision on Social Media:
Website | Facebook | Twitter | Instagram | SoundCloud | YouTube