Though Rusko is difficult to top, Bassnectar does the dubstep pioneer's "High" justice with his highly-anticipated bass-heavy remix.
---
As bassheads gear up for the full release of the Reflective (Part 3) EP, Bassnectar satiates our appetites with the release of his moving remix of Rusko's "High". While maintaining the structure and sound design of the original, Bassnectar takes the vocals down to a seductive octave and coats the track with deep bass.
With both Bassnectar's and Rusko's styles clearly distinguishable, this minimal remix is refreshing and weaves a familiar entrancing tale for listeners. Its simple and tranquil nature is a stark contrast to Bassnectar's collaboration with Jantsen on "Heavyweight Sound", another early release of Reflective (Part 3). The entire EP will be released on August 24; in the meantime, stream or download "High" (Bassnectar Remix) on your favorite platform, and read on for information on Bassnectar's latest escapade!
When Rusko first released his Has Made 5 More Songs EP, even the non-bassheads were enthralled by his intricately built soundscapes, ranging from dubstep wobbles to gentle and soothing bass. "High" is without a doubt my favorite track on the EP: the ethereal vocals paired with feather-light wubs make it a standout amongst modern bass tunes. There's no other artist who could do the masterpiece justice than Bassnectar, and I'm so glad he did.
Listen to Rusko – High (Bassnectar Remix) on SoundCloud:
---
So what does Bassnectar have lined up for us next?
Just recently, Bassnectar announced Deja Voom, an all-inclusive getaway in Mexico's Riviera Maya in February of 2019. Consisting of four days of a range of bass styles, exquisite resorts, and action-packed on-site and off-site activities, Deja Voom is a lavish experience that will go down in history. Plan your getaway to Mexico to witness three sets of Bassnectar, along with REZZ, 12th Planet, LUZCID, and many more. Tickets are selling fast, so square away your payment plan today and stay up to date with the latest info via DejaVoom.com!
Deja Voom 2019 Lineup: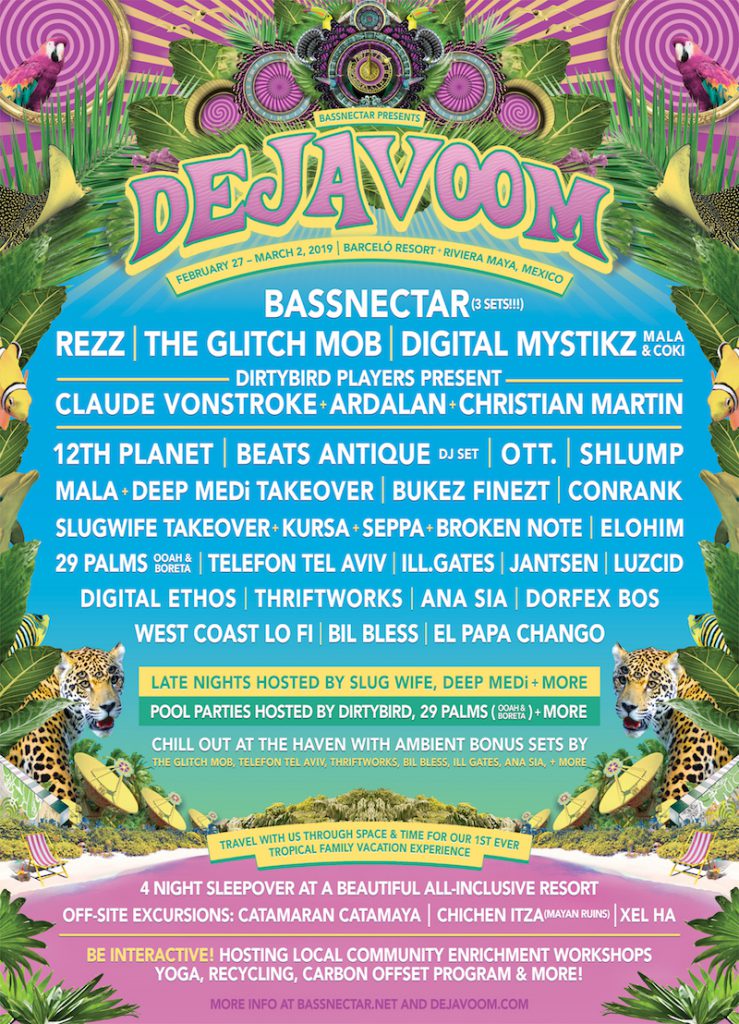 ---
Connect with Bassnectar on Social Media:
Website | Facebook | Twitter | Instagram | SoundCloud | YouTube