Pegboard Nerds drop their take on the iconic "Purple People Eater" ahead of their Full Hearts EP.
---
Dynamic duo Pegboard Nerds are known to bring some of the best beats on the Monstercat label. The duo's catalog traverses the genres of bass, hardstyle, and even 8-bit music, to name a few so with every release it's always fun to find out which genre they are dropping. Not only are they known for their diverse tastes but also their unique ways of combining multiple styles in order to make each track sound fresh and new. That paired with their colorful, animated and often 8-bit inspired track art, it's clear to see why so many love Pegboard Nerds!
Imagine my surprise when I took my first listen and release that the track is very literally a remake of the 1958 chart-topping hit "Purple People Eater." The track took me back to elementary school and instantly put a huge smile on my face. The Pegboard Nerds version is definitely a modernized version while surprising keeping the essence of the original throughout the track.
Stream and Download "Purple People Eater" on your favorite platform, and read on for my take on the tune below!
Listen to Pegboard Nerds – Purple People Eater on SoundCloud:
---
When I think of Pegboard Nerds, I don't think of the music they are typically known for by many others.
Instead of the heavy bass and, at times, hard dance inspired tracks, I'm more familiar with the bleeps and bloops of their more 8-bit inspired music. From tunes such as "Disconnected" which is distinctly 8-bit to others like "Try This" that appeared in the recently released Just Shapes and Beats my familiarity with Pegboard Nerds has always come from all things video game related. This track was certainly very different from the 8-bit tunes and I suspect even different from what hardcore Pegboard Nerd fans would have expected.
The first thing that stands out from the track is the duo's specific use of what sounds like the original "Purple People Eater" vocals. The track begins with the raw vocals from the iconic chorus backed by a soft melody. Before chopping the vocals and layering in some bass, adding elements of hardstyle and dubstep along with it. If you're a fan of the original track or maybe just recall hearing it everywhere in elementary school, you're likely to love this updated version!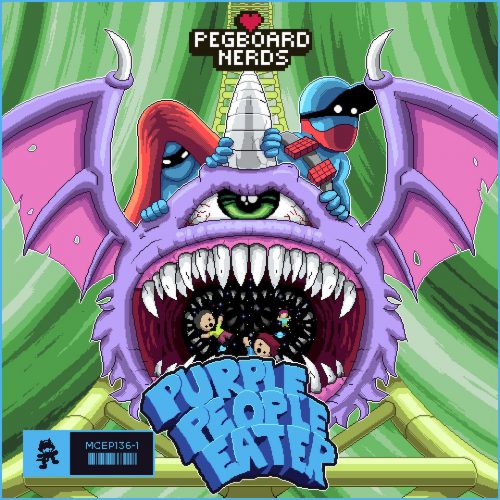 ---
Connect with Pegboard Nerds on Social Media:
Website | Facebook | Twitter | Instagram | SoundCloud | YouTube