After hinting the locations via the VIRTUAL SELF website, news has now surfaced surrounding the upcoming UTOPiA SySTEM North America Tour!
---
Update August 6: After a stunning performance at HARD Summer this past weekend, more dates have been announced for upcoming shows on the UTOPiA SySTEM North American Tour. These include the addition of a CLUBSYSTEM show in Vancouver, and performances in San Jose and San Bernardino!
---
If you've been following Porter Robinson's latest project, VIRTUAL SELF, for quite some time, you know that he's been dropping plenty of hints and teasers for fans to discover. While many have caught his sets at events like Ultra Music Festival or EDC Las Vegas, a full-on tour had yet to be announced to showcase the project. Today, those calls for a tour have been answered as the UTOPiA SySTEM North American Tour has been announced!
After releasing some GPS coordinates that marked specific cities and venues in North America just a few days ago, the official details have been released for the upcoming UTOPiA SySTEM Tour this fall. Kicking things off on August 31 at Electric Zoo's 10th Anniversary, the tour will bring the VIRTUAL SELF experience everywhere from Seattle, Washington to Minneapolis, Minnesota.
The UTOPiA SySTEM show will feature two sets to create a unique experience for attendees. The Pathselector moniker focuses on the styles of techno, 2-step, and trance while the technic-Angel side which brings gabber, jungle, and hardcore to the table. The production of the performance will immerse guests into a mutated, early-2000's warehouse rave that is fully custom and unlike anything else in the scene right now. Don't miss this show when it comes to a city near you.
There are two pieces of information that are also to note about the Utopia Tour. First, there will be more West Coast dates added, so stay tuned for those. Second, is that there are two CLUBSYSTEM sets that will be different than the standard tour, bringing a more intimate club experience or one that will not feature the custom stage setup.
Artist pre-sale tickets are available on Tuesday, July 17 at 12pm PT/3pm ET.
General on-sale tickets are available on Friday, July 20th at 12pm PT/3pm ET.
For access to the exclusive artist pre-sale code, please visit VirtualSelf.co/UtopiaTour!
VIRTUAL SELF UTOPiA SySTEM North America Tour Announcement Video:
---
VIRTUAL SELF UTOPiA SySTEM North America Tour Flyer: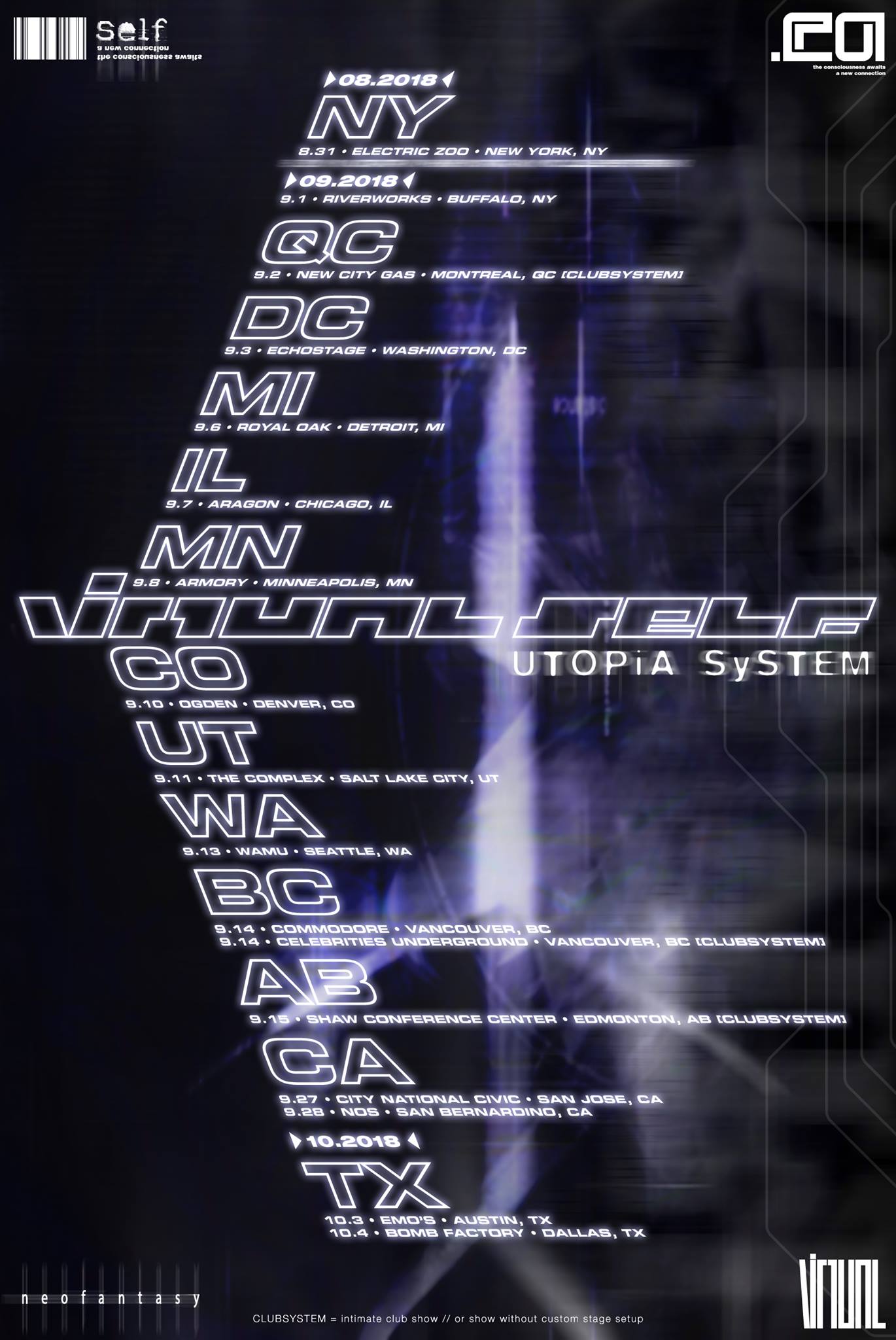 ---
VIRTUAL SELF UTOPiA SySTEM Tour Dates and Venues:
Fri 8.31 – New York, NY @ Electric Zoo
Sat 9.1 – Buffalo, NY @ Riverworks
Sun 9.2 – Montreal, QC @ New City Gas (CLUBSYSTEM)
Mon 9.3 – Washington, DC @ Echostage
Thu 9.6 – Detroit, MI @ Royal Oak
Fri 9.7 – Chicago, IL @ Aragon
Sat 9.8 – Minneapolis, MN @ Armory
Mon 9.10 – Denver, CO @ Ogden
Tues 9.11 – Salt Lake City, UT @ The Complex
Thu 9.13 – Seattle, WA @ WAMU
Fri 9.14 – Vancouver, BC @ Commodore
Fri 9.14 – Vancouver, BC @ Celebrities Underground (CLUBSYSTEM)
Sat 9.15 –  Edmonton, AB @ Shaw Conference Center (CLUBSYSTEM)
Thu 9.27 – San Jose, CA @ City National Civic
Fri 9.28 – San Bernardino, CA @ NOS
Wed 10.3 – Austin, TX @ Emo's
Thu 10.4 – Dallas, TX @ Bomb Factory
Will you be catching VIRTUAL SELF when he heads to a city near you? Let us know in the comments below!
---
Connect with VIRTUAL SELF on Social Media:
Website | Facebook | Twitter | Instagram | SoundCloud