I couldn't believe my eyes when the curtain dropped at The Fillmore Detroit to reveal Excision's Paradox stage, the biggest production I'd seen outside of a festival!
---
I knew I was in for a treat after experiencing Excision's sets at Lost Lands Music Festival last year, but I didn't anticipate that he would bring the same level of energy to the shows on his tour. From start to finish his entire set was mind-boggling and featured some of the best bass music I've heard in my life. The quality sounds were accompanied by his signature Paradox production elements and next-level visuals that kept the crowd stunned.
The night didn't start with Excision's incredible set though. Before he took the stage we got the opportunity to see some of bass music's best talent open up for the man himself. Playing in support of Excision that night were Monxx, Liquid Stranger, and a double dose of b2b sets, Dion Timmer b2b Protohype and Midnight Tyrannosaurus b2b Downlink.
Unfortunately, we missed Monxx as he was on early right when doors opened, but we did make it in time for the second openers – Dion Timmer B2B Protohype. They put on a raging set of everything from dubstep to bass house and even sprinkled some Porter Robinson in there as well. Next up, Midnight Tyrannosaurus B2B Downlink brought the heaviest set of the night without a doubt. Their filthy dubstep went hand in hand with the insane energy they brought on stage.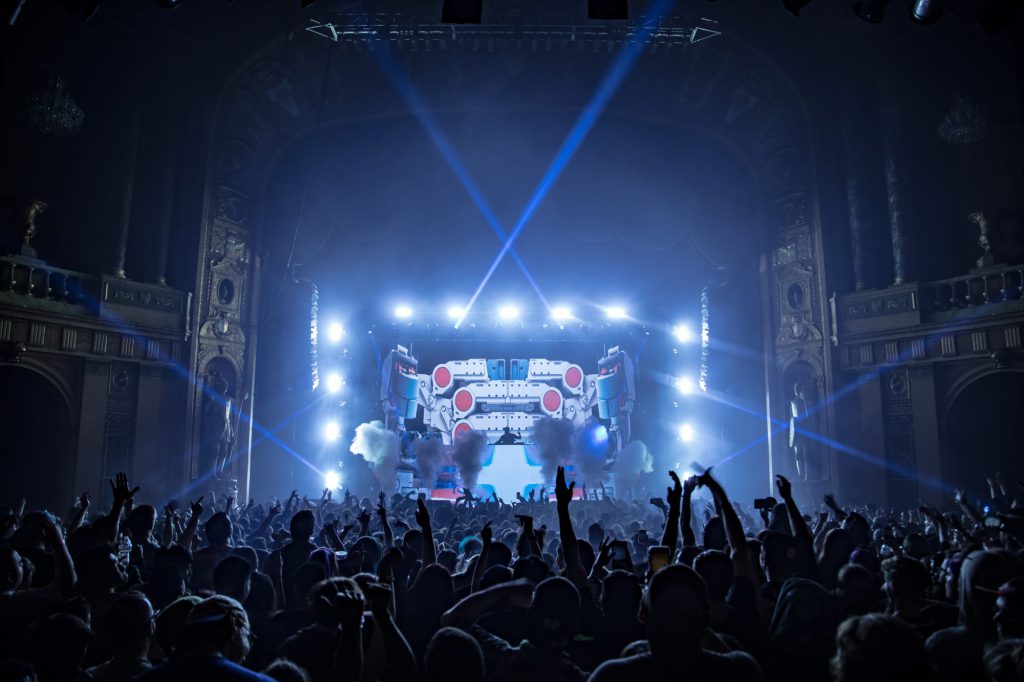 Following the back to back sets, Liquid Stranger took the stage.
I'd heard amazing things about his experimental sound and couldn't wait to finally experience his set for myself. He didn't disappoint, bringing a unique, free-form bass set that took us on an expertly curated journey through sound. His somewhat downtempo set was the perfect break from the dubstep that otherwise characterized the night giving us some time to chill before Excision set the place on fire.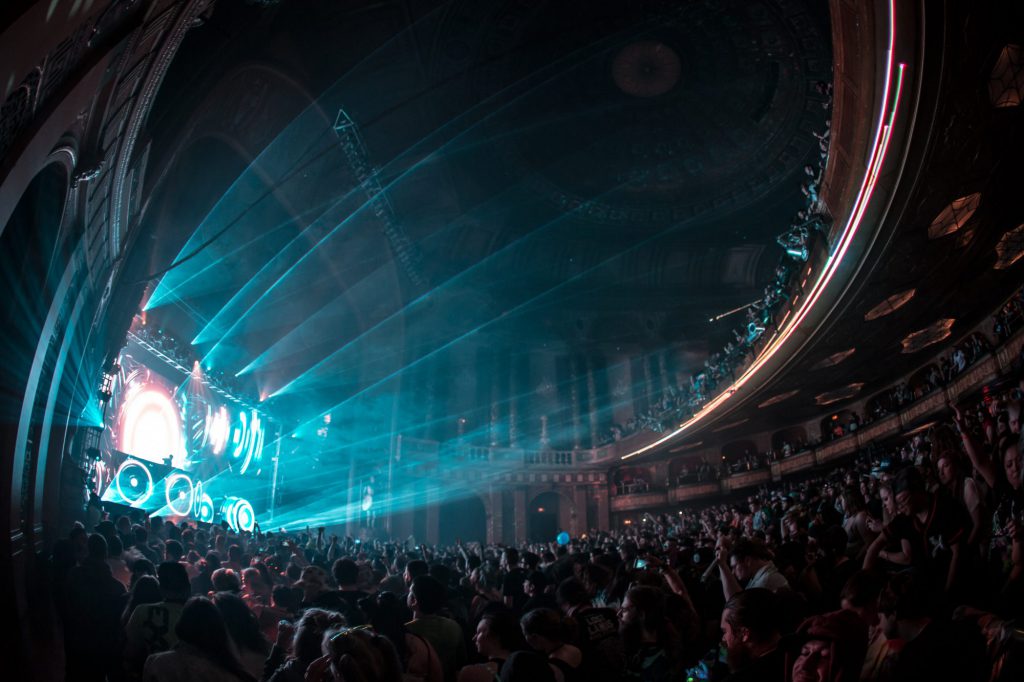 After a brief intermission as they set up the stage, the lights dimmed and the bass started rumbling – it was finally time for the main event!
The curtain dropped revealing one of the biggest stages I'd ever laid eyes on at a show. It was fully LED top to bottom. Excision emerged onto the stage, his figure outlined against the vibrant hi-def visuals. The ensuing hour and a half, we headbanged and (politely) moshed as Excision dropped banger after banger.
From insane unreleased tracks to his hit fan favorites like "Robo Kitty" and "Codename X", the set contained anything a basshead could ever desire. The crowd went absolutely wild when he dropped arguably his biggest track at the moment, "Throwin Elbows".
He even brought out massive dino on stage for a few tracks and towards the end did an awesome tribute to Lost Lands!
We almost lost it when he dropped the mashup of his tracks that he opened with during his Friday Lost Lands set. I was so impressed by his entire set music and production wise. Each and every track was accompanied by incredible visuals and face-melting lasers. It was a lot of stimulation, that's for sure!
I'm so glad I got to experience The Paradox live, especially since I was able to attend the show in Detroit where the bass scene is so lively. Everyone was equally hyped to see the man Excision destroy once again, and he did not disappoint. My group left simultaneously agreeing that The Paradox was one of our top five favorite shows of all time. Excision truly delivered in every possible way.
Enter to win tickets to Excision at Terminal 5 in NYC on March 2 & 3! 
---
Connect with Excision on Social Media 
Website | Facebook | Twitter | Instagram | SoundCloud