Excision's first-ever Lost Lands Music Festival managed to exceed the monumental hype leading up to it. 
---
Lost Lands Music Festival was an event of colossal proportions, selling out all 25,000 tickets in its first year. Excision's hard-earned expertise, thoughtful attention to detail, and dedicated, hardworking teams radiated through the entire event, down to its most minute aspects. The production, music, and atmosphere were all unbelievably on point, and it was irrevocably clear that Excision genuinely cares about his fans.
As the festival drew nearer, there was a consistent flow of articulate, detailed public messages keeping everyone up to date. Upon entry, some people experienced long security lines, intense searches, and other unfavorable circumstances. As individuals' concerns began pouring in over social media, their queries and grievances were directly engaged in real time, some resulting in immediate actions to improve. One such example was over a dozen security guards being fired on the spot for unlawful or inappropriate behavior. 
It took just a few hours for my crew and I to get through security on Thursday afternoon, which is not bad at all by most festival standards. The search was thorough, and we, unfortunately, had a couple of aerosol hair products seized. Despite the minor inconveniences, however, everyone was energized once we entered the site. Food and gift vendors were already active, labeled with custom signage that matched the numbered street crossings placed at each campground intersection.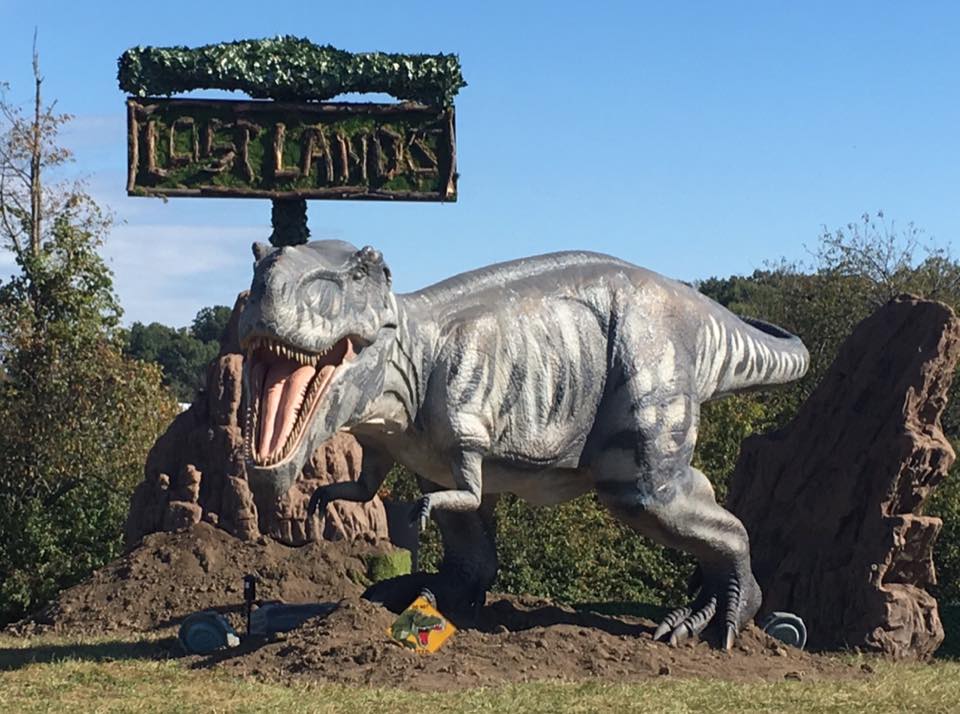 Water stations were relatively few and far between due to limited water sources on the farm.
It was easier for me to access water within the venue gates than from my GA campsite. However, the limited access to water was taken into account and alleviated through venue staff handing out water bottles at the rails, as well as offering water directly to those in the crowd. What's more, water bottle sales at the entire festival were capped at $2 a bottle, effectively encouraging people to stay hydrated. 
Another unique characteristic was a covert operation undertaken by a saintly group of people called the Sh*t Flies.
Donned in bug-eyed masks and dark wings, their sole mission was to personally check the porta potties to prevent them from getting too out of hand. What is otherwise the most unpleasant aspect of any festival experience had motion sensor lights, state-of-the-art ventilation technology, and a special on-call team buzzing about to directly tend to it.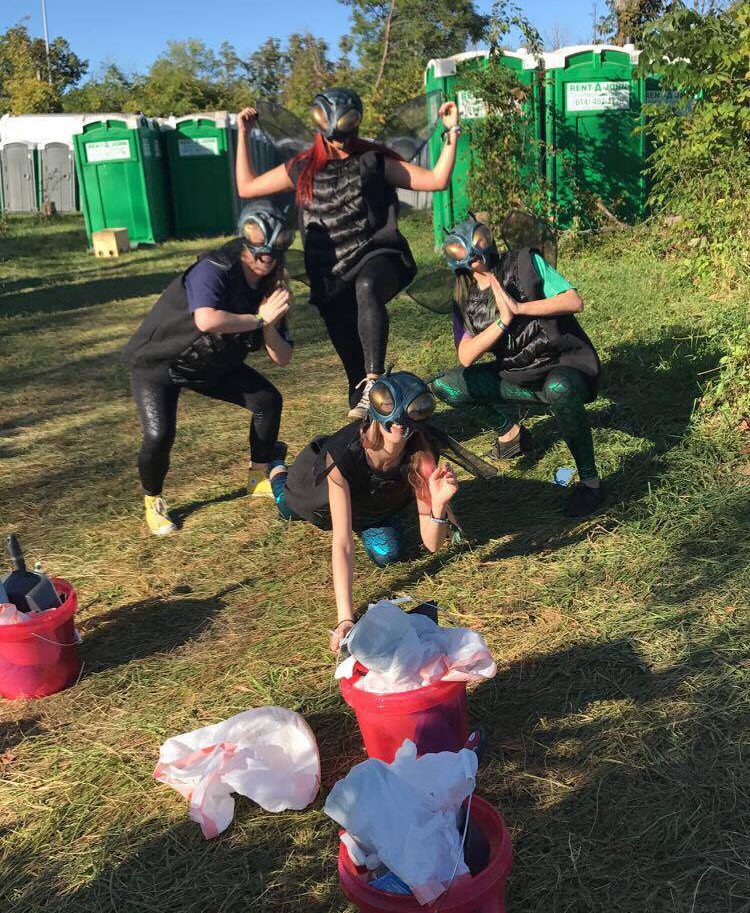 The Legend Valley concert venue was an optimal location for a dinosaur-themed event, with lush foliage and rolling green hills reminiscent of that in Jurassic Park.
Lost Lands' prehistoric motif reached far beyond Excision's smoke-breathing T-Rex that paces in front of him on stage. Thirty-five life-sized dinosaurs were set all throughout the venue, many of which were enlivened with sound effects and eerily lifelike animatronics. One such sauropod stood at a colossal 80 feet towering high overhead. Grunting cavemen and cheeky stilt performers added an interactive human element to the already immersive environment.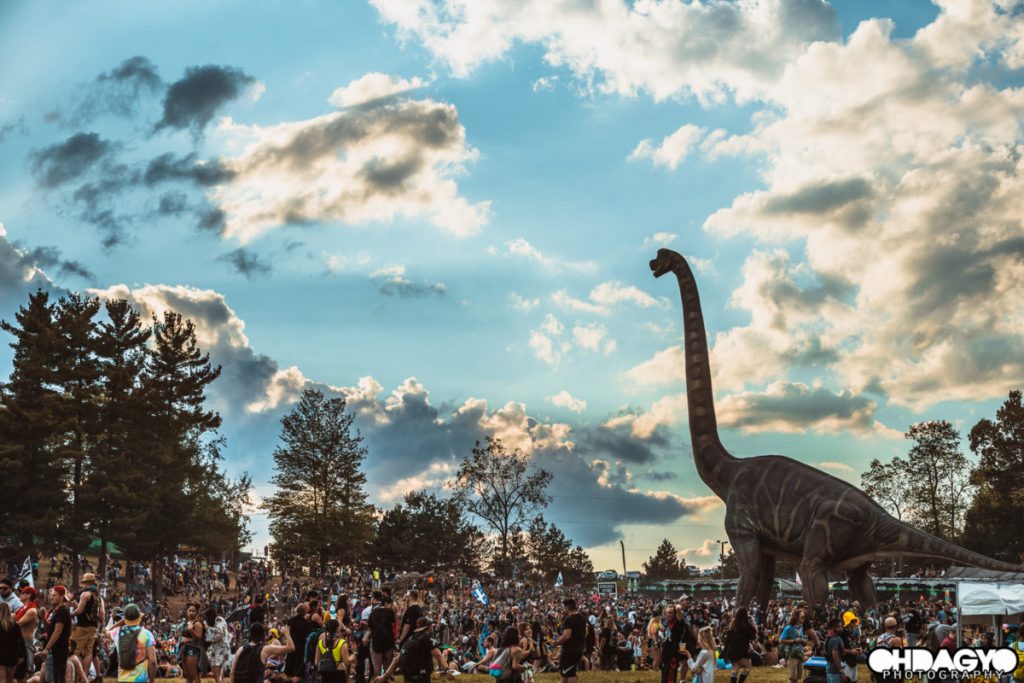 The main Prehistoric Paradox Stage held two massive T-Rex's that ferociously guarded the DJ podium on either side. Beside them stood two even grander 8500-pound volcanos which shot 70-foot flames, and beamed with intricate mapped visuals at night.
The huge, half-cylinder Cave of Souls stage, filled with rugged stalagmites and a busy array of lights, lasers, and crazy visuals, was a very convenient distance from the main stage, separated by a corridor of vendors and washrooms.
Vendors provided nearly everything one would need at a festival. Uniquely including Excision's own clever brand of e-juices, along with full e-cig mods, which was a godsend after mine had stopped working once we'd arrived at the festival. There was even a booth for the Humane Society, which was a last minute addition after the original occupier was booted for being rude to festival staff.
The Grove was a forested chill-out area nestled in the GA campgrounds, where KJ Sawka and ill.Gates' Ableton music workshops were also held during the day. Those who entered on Thursday had a chance to catch The Grove's crazy, impromptu Executioner set which involved nearly every artist who was on site at the time. It was a completely unexpected and epic way to kick off the weekend.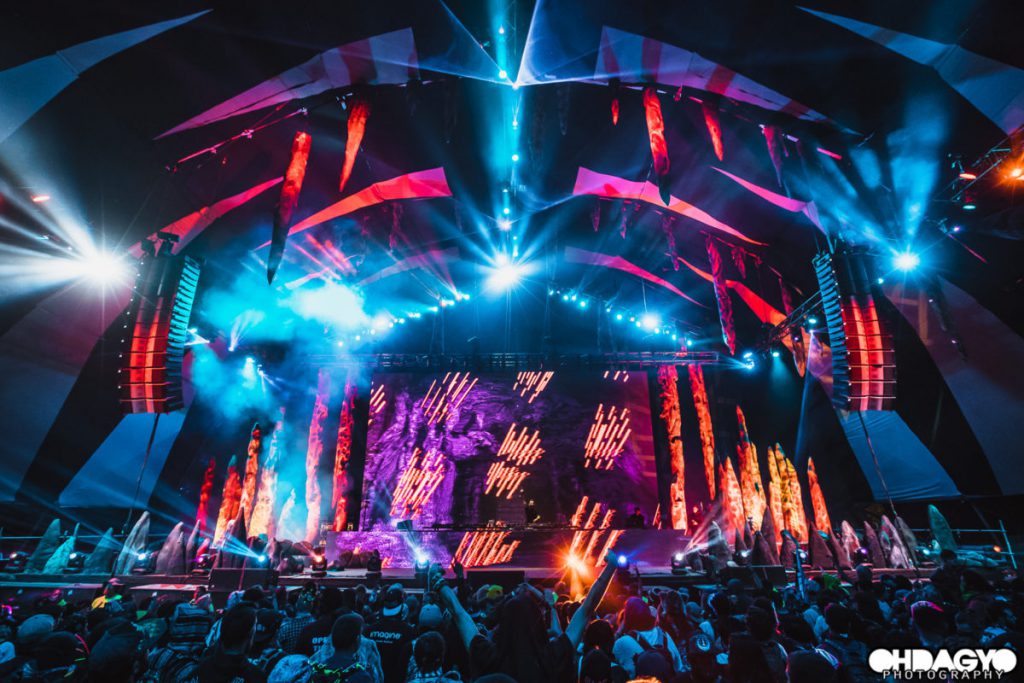 Any proponent of bass music can attest to the absolute immensity of this lineup.
Nearly all of the most prominent names in bass were present for this event, save for some exceptions that I hope to see at Lost Lands in the years to come. This lineup represented a very diverse range of music within the bass spectrum including dubstep, drum & bass, psychedelic bass, bass house, riddim, trap and everything in between.
Some artists even pushed beyond the genre like heavy electro group Black Tiger Sex Machine, and Sullivan King with his live-guitar, metal-infused style. There was certainly some overlap in the repeated play of particular tracks, but I never felt it reached the point of being exhaustive or overplayed. I personally enjoyed hearing tracks like minate's "Snake Bite VIP" or The Frim's "Swipe My Swords" on repeat. 
Before acquiring every piece of PK Sound equipment available in North America, Excision was well aware how intense 750,000 watts of loud, PK-powered noise would be. As such, he had 27,000 pairs of reusable, high-fidelity earplugs handed out in commemorative Lost Lands containers. This is just one of many instances where the care for small but important details was apparent. Even the festival's wristbands were the nicest I've ever seen.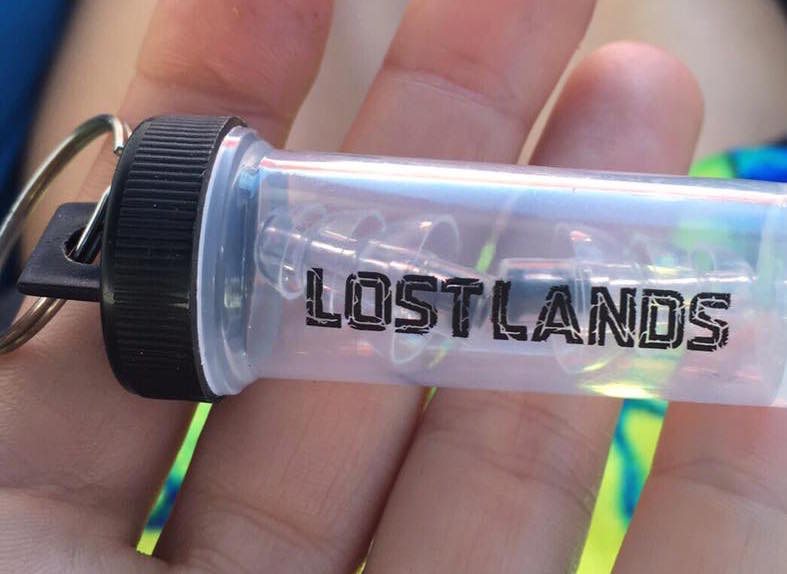 And then there was the music… th
is lineup was deeply insane, and each artist I caught absolutely nailed it.
Everything within audible range was saturated with contagious energy and crisp, electric sound. There were, however, several notable artists who particularly affected me in their own ways.
The Frim is one artist whose tracks I heard countless times over the weekend. His mercilessly brutal performance instantly brought down The Cave of Souls, and somehow just got heavier as it went. Combined with the amazing vibes of literally everyone around me, I staggered away feeling both physically destroyed and spiritually uplifted. 
I've seen Seven Lions many times over. Though I really enjoy his music, I've felt that the live performances I've seen often appeal more to the mainstream, commercial crowds. This particular set, however, was very bass-heavy. But better yet, it had an intensely heavy psytrance interlude, that he cleverly mixed right back into heavy dubstep. Those two genres are what my soul is made of. Besides Infected Mushroom, I've never heard another artist blend them so seamlessly. I completely lost myself in his set, and it was genuinely one of my most memorable moments of the season.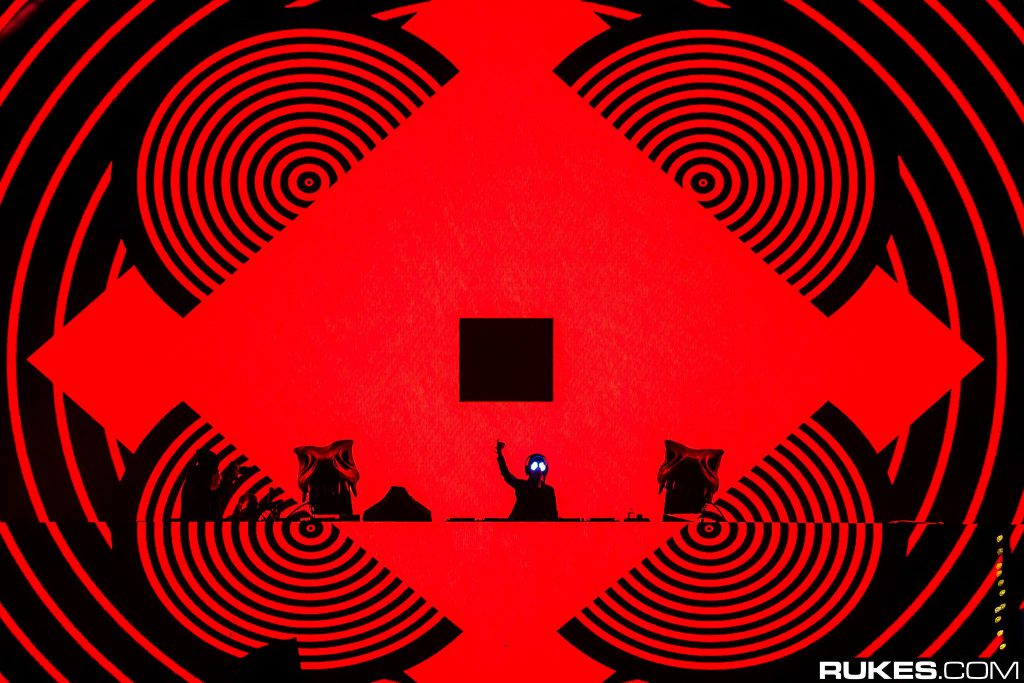 Where does one even begin with REZZ? 
She is a total gem with an incredibly unique sound. Her set was the weirdest of them all, transcending several music genres with all manner of eclectic grime, whilst still maintaining a relentlessly heavy energy. I imagined myself as a jellyfish, bent over, parallel to the ground, floating up and down to her filthy beats. When she dropped MUST DIE!'s "Project Ghost", all remnants of composure were completely deserted. I'm already looking forward to catching her next live performance. 
Of course, excitement was brimming for Excision's heavily-anticipated two-hour set.
When Excision opened with John Williams' Jurassic Park intro theme, I admittedly couldn't help tearing up. It was too perfect. His visuals depicted the scene where we're flying through the trees upon the initial entry to Jurassic Park. Then the music descended to the depths of hell with nauseatingly heavy force, that I couldn't tear myself away from. Every good intention of pacing myself and preserving my body for the weekend plunged right out the window with reckless abandon. There was something particularly special about sharing that moment with so many vibrant people. 
Anyone who attended this event can't go without mentioning Destroid, Excision's band of alien humanoid maniacs with superhuman drumming machine KJ Sawka and bass legend Downlink. Their set was so lit, one of the volcanos on stage caught fire during Excision and The Frim's explosive hit "Nightshine". This situation was handled perfectly. Destroid's performance was cut a bit short till everything was under control, but within about 20 minutes everything was back and running as usual.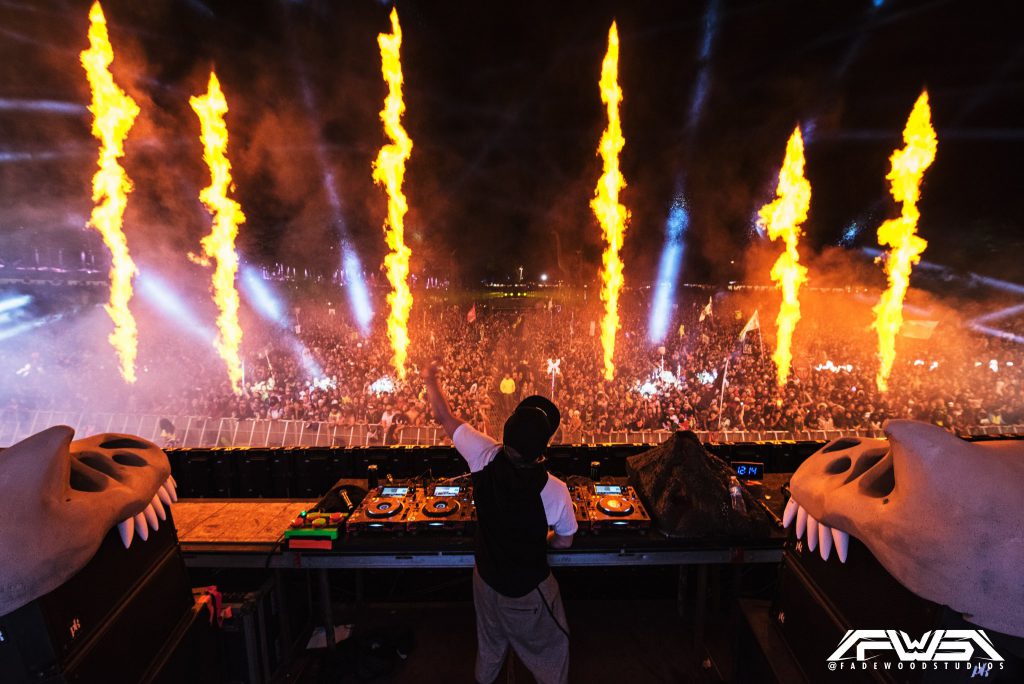 Just beneath the captivating music and the immersive atmosphere was a uniquely cohesive energy, a pervasive energy that we were all a part of something much greater than ourselves.
These beautiful bassheads had flocked from literally all corners of the country and beyond. My camp alone had people from New Jersey, South Carolina, Georgia, Washington, California, Pennsylvania and Rhode Island. In addition, I found so many friends from my bass family back in Seattle. Lost Lands really felt like home. 
I seek out bass music so vehemently for many reasons.
Most importantly, it's something in which I can entirely lose myself, a profoundly hypnotic space where I can completely let go in savage capitulation to the music.
Bass music itself makes me feel like I'm home. Then coming to Ohio, of all random places, gave this energy much more potency to me. It's the state where I was born but had left during infancy and never returned. Going to Lost Lands felt like an unexpected personal pilgrimage to a place that's always been a part of my history, and which now very suddenly feels like part of my identity. I felt such a deeply spiritual sense of belonging. One that I've never experienced so closely other than perhaps at Shambhala.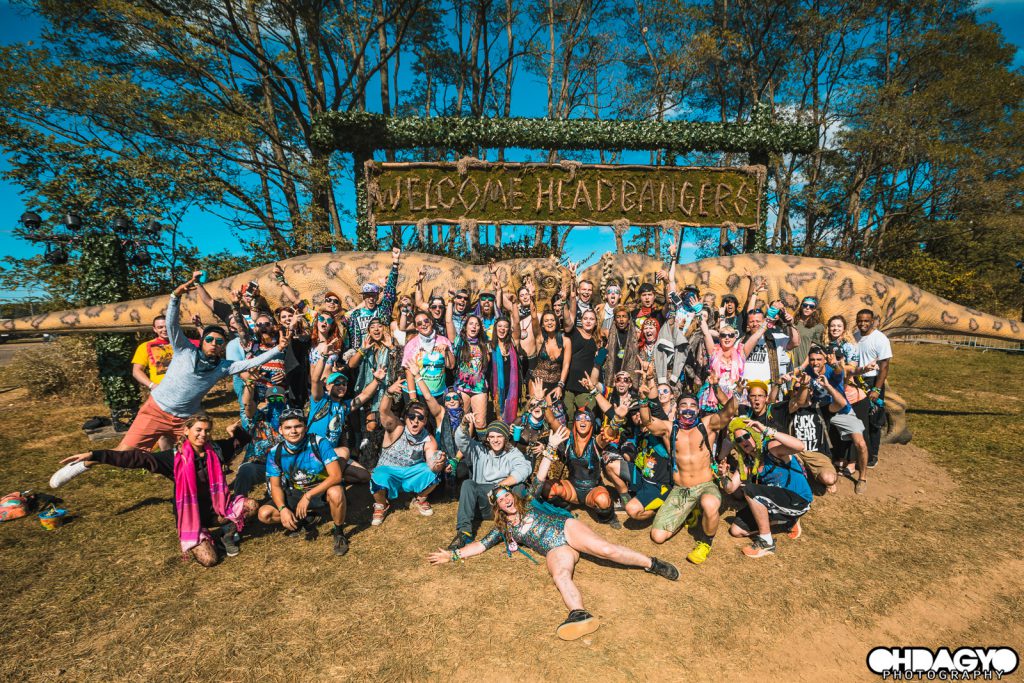 Just like Shambhala, I'd had a feeling that Lost Lands would be a festival where its magic continues long after the event has ended. My suspicion was confirmed on our way home when the headbangers took over our plane after we were diverted due to disruptive weather.
"Our bass community is such a positive force," said Excision himself over social media in response to the news of there being zero drug-related medical transports during the entire three-day event. I feel like this event did an amazing job of dissolving the stereotype driving outward assumptions that it would be wrought with adolescent shenanigans and shameful behavior.
Don't get me wrong, there was certainly some of that, such as the infamous Booty Sundae Contest, which raised money for hurricane victims. But people were really looking out for each other. Everyone I interacted with over the weekend was open and willing to share some part of themselves. I see this kind of magic at most bass music events.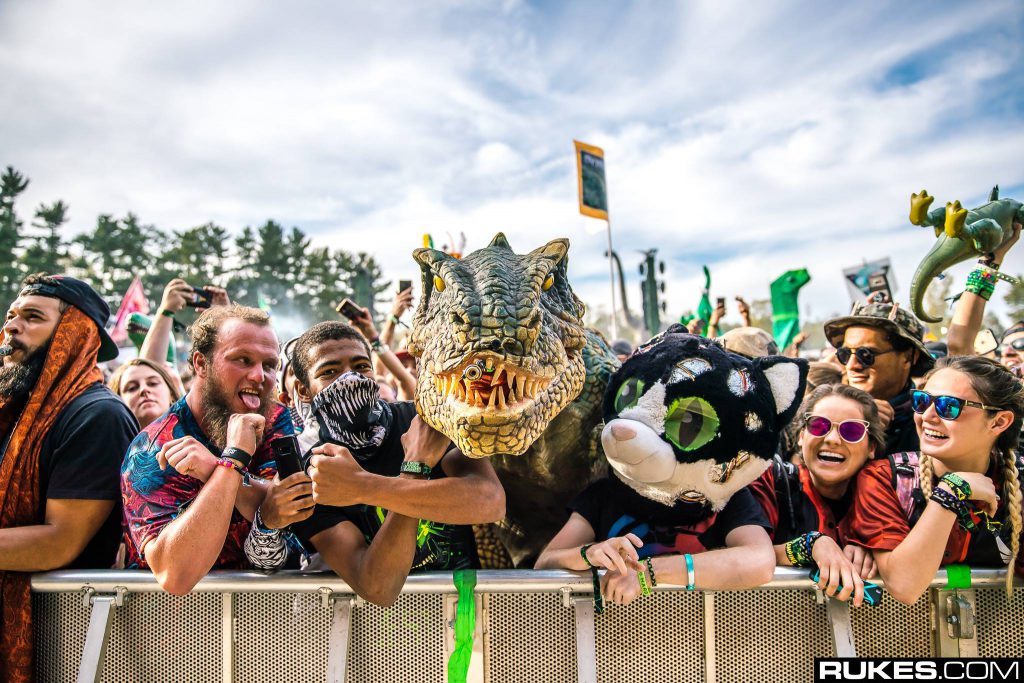 The palpable sense of camaraderie in the electronic music community is evident in many little ways, like when people exchange their handmade kandi jewelry.
At trance music shows, it's heartwarming to watch people connect through warm hugs and tears of joy. At bass events, however, the energy is so much stronger.
I personally don't find anything more beautiful than watching a sea of people literally throw their entire bodies into the music with every bit of energy they can muster. Or meeting someone new and headbanging arm-in-arm when the music drops. Those that think there's no magic in the bass community are really missing something huge. 
And the bass faces… The involuntary stank face that a filthy drop provokes. It's not glamorous, nor it is attractive. In my case, it's sometimes downright terrifying. But it's raw. And it's authentic. When you hear the bass drop, the only reaction is to make this distinctive face that would cause anyone on the street to instantly question your sanity. It's unique to this style of music, and I absolutely love it. 
I came back from Lost Lands with so much to reflect on, as well as a warmth in my soul and a deep sense of gratitude to be part of this community. As my good friend Elijah of Digital Motion Events aptly stated, "Lost Lands just put every other festival on notice." Truly. This epic first-timer really just gave every other festival something to strive for. 
---
Follow Lost Lands Music Festival on Social Media: