Ready your neckbraces — PhaseOne just released his Double Up EP and it's absolutely mental!
---
It's the moment headbangers around the world have been waiting for: metalstep extraordinaire PhaseOne has released his long-awaited Double Up EP. Ever since I heard his beast of a track "Welcome to Mayhem", PhaseOne has become one of my favorite producers. His insanely detailed sound design and perfected infusion of metal with dubstep is unlike few others in the bass scene.
When he announced he would be coming out with a new EP, I had no idea what to expect. After listening to it, I can easily say that Double Up EP is the hardest-hitting dubstep EPs I've heard this year. Stream it on Spotify below and read on for my take on the release!
Stream PhaseOne – Double Up EP on Spotify:
The EP begins with the title track, "Double Up" — an explosive metalstep monster of a track.
Featuring Young Buck, "Double Up" begins with a rap intro before erupting in a series of colossal bass stomps that'll leave your neck on the ground. With bass so bold it'll send chills down your spine, I can definitely see this disgustingly filthy track becoming a headbanger anthem this festival season. "Double Up" is a hell of an introduction to this five-track EP, and after listening to it on repeat for a few times, I'm not sure how much more my neck can take.
Ragged breaths and the trill of a phone begin "State of Emergency" before escalating with shrill screams and rapid drumming. Featuring bass brothers YOOKiE, this riddim-infused track gets unimaginably heavy by the time the second drop rolls around. This collaborated tune effectively transitions from slimy riddim drips to full-on bass assault faster than you can blink. "State of Emergency" showcases the different styles of both PhaseOne and YOOKiE while still piecing together seamlessly, and it's one of my favorite tracks on the EP.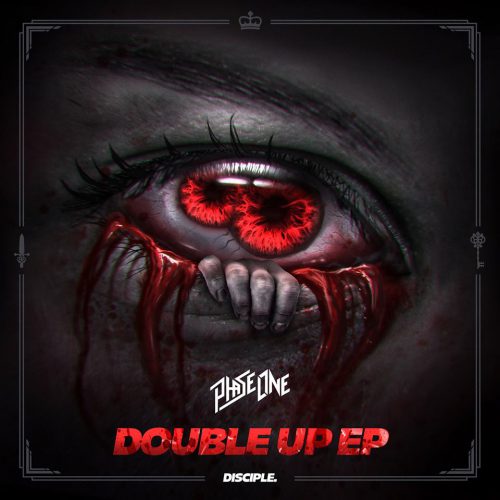 Up next is "Decimate", which is exactly how my body is feeling by the time this track rolls around.
A haunting intro is overlapped with heavy metal instrumentals before everything is sucked up and spat out in a distorted soundwave. A guttural scream is heard a split second before a detonation of angry dubstep and some of the nastiest sound design I've ever heard takes over.
Perhaps the holy grail of this entire EP is the highly anticipated "Welcome to Mayhem VIP".
As previously stated, "Welcome to Mayhem" is one of my favorite dubstep tracks of all time, and this VIP takes it to an entirely new level. The VIP has been a fan favorite in dubstep sets for a while now, and everyone has been hungrily awaiting its official release. In between relentless bass machetes is the heavy dose of infuriating metal as heard in the original "Refuge" by In Hearts Wake. If you're a metalhead turned basshead, you won't be able to get enough of this track.
The final track on Double Up EP is the Bandlez remix of "Double Up".
The remix begins with halted bass crashes and ascends into growling dubstep ripples. It takes more of a riddim approach than the original, which is more than okay with me. I love that PhaseOne included this flip on the EP, as it packs a different punch than the original but is a hell of a punch all the same.
What's your favorite track on PhaseOne's Double Up EP? Leave a comment and let us know!
---
Connect with PhaseOne on Social Media:
Facebook | Twitter | Instagram | SoundCloud