EDC Las Vegas is an amazing opportunity to express yourself through creative and electrifying fashion!
---
One of the most exciting parts of EDC Las Vegas is figuring out the perfect outfit to dawn on each of your three days under the electric sky. The possibilities are endless; you can go as comfortable or as over the top as you desire! From full-on themed costumes to some itty bitty pasties, your EDCLV look can take so many different, amazing forms.
To give you some inspiration for your outfits this year we've compiled some of the hottest rave fashion items at the moment. With a little over two weeks until EDC Las Vegas, you've got just enough time to order some last-minute outfits. You'll be dancing your way to the Las Vegas Motor Speedway in style with these must-have items!
Looking for some tips on accessories this year? Check out our posts highlighting fantastic shoe options so your feet don't get tired and hydration packs that will make sure you don't run out of water!
Five Fashion Items to Take Your Look to the Next Level at EDCLV 2018
---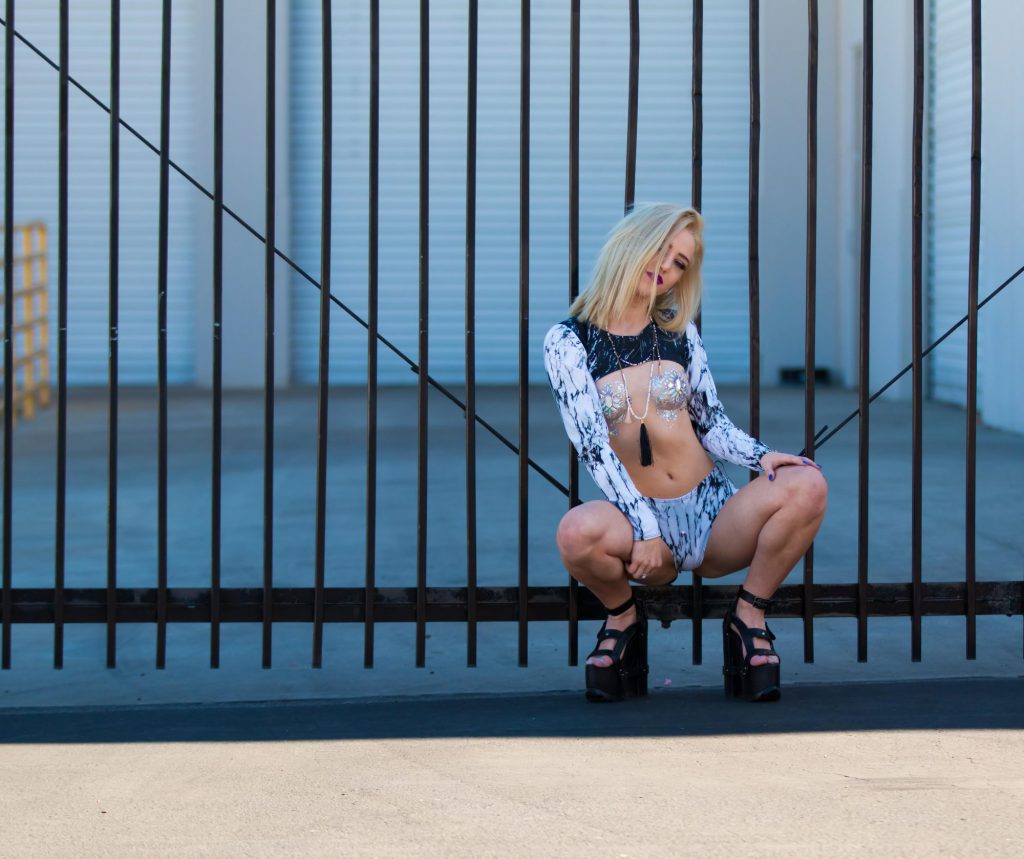 Baelien Sleeves 
These Baelien Sleeves from Freedom Rave Wear are the perfect way to stay a little warmer without getting too hot and sweaty. Extremely versatile, you can wear them with pasties, rave tops, bralettes, or whatever you so desire. This model's accompanied the sleeves with some bomb gem pasties that make for a drop-dead sparkly look. With dozens of prints and colors available on their site, you can pick the perfect Baelien Sleeves for your outfit.
Check out all the options on Freedom Rave Wear and don't forget to use the code EDMID10 for a 10% discount on your next order! 
---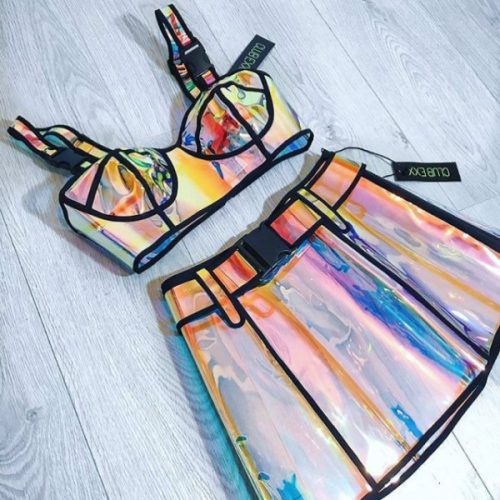 Clear Holographic Skirts 
These holographic sets are going to be reigning over the Speedway this year at EDC. Colorful and oh so fun, anyone can make them work to their liking. Stay covered underneath with shorts and a top, or make things a little sexier with pasties and some tiny bottoms. While Dolls Kill has some amazing options, including a clear, blue and iridescent sets, many other stores online like IHeartRaves are carrying these clear skirts as well.
Get your own clear holographic skirt set on Dolls Kill! 
---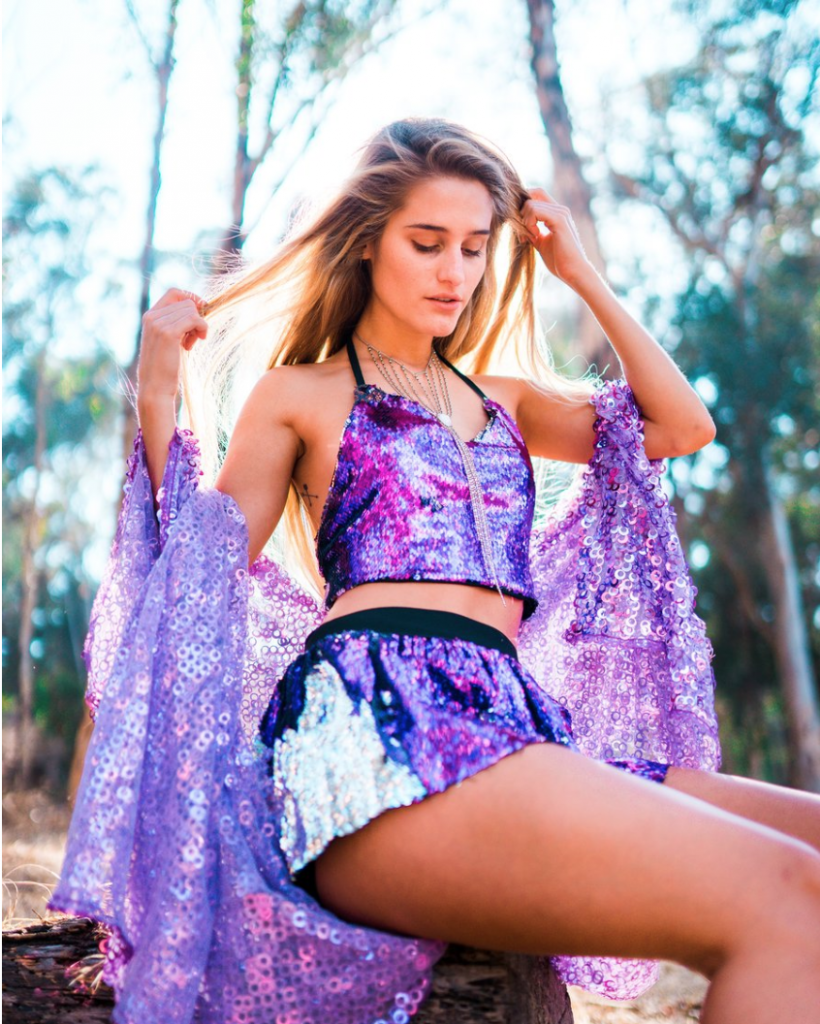 Sparkly Kimonos 
With temperatures predicted to fall to around 58 degrees at night, EDCLV is going to be a bit different from the past years of scorching hot nights. A beautiful sparkly kimono is a perfect way to stay warm while adding a drop-dead twist to your outfit.
The Lumi Shop specializes in all things sparkles and carries some absolutely amazing options for EDCLV. Whether you want to go rainbow, black, white, or beyond, they've got it all for you.
Check out The Lumi Shop and find your perfect sparkly kimono. 
---
Platform Sneakers
Platform sneakers and boots are all the rage in the rave world right now, especially pretty colorful ones such as these! For those tired of being the shortest one in the crowd, these are perfect to give you some height to see your favorite DJ killing it on stage.
While platforms are extremely cute and fun, make sure you break them in before showing up to EDCLV. While some are comfy enough for hours under the electric sky, others may result in some miserable foot pain and nobody wants that!
Check out the plethora of platforms on Dolls Kill!
---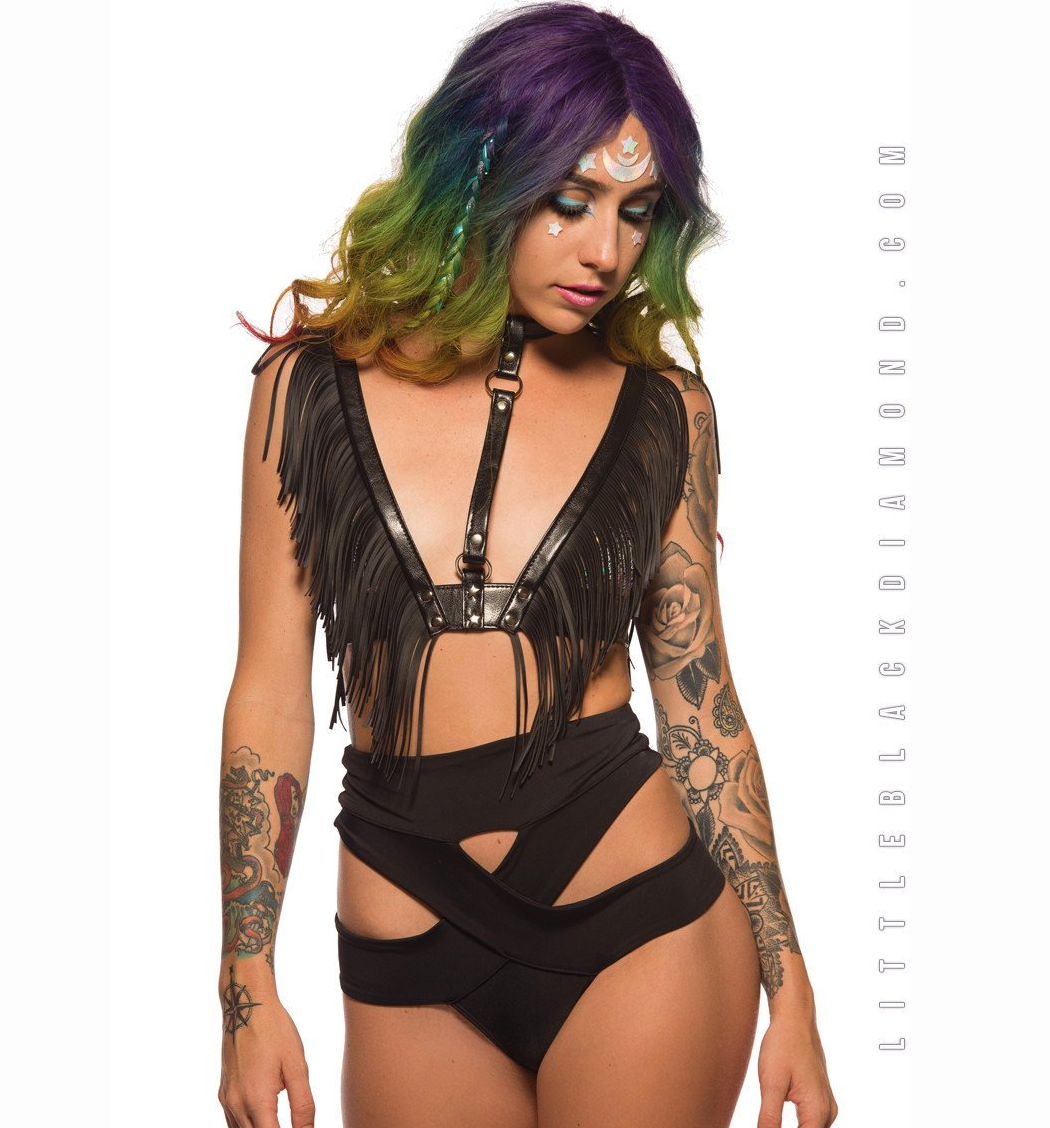 Harnesses 
Harnesses, belts, and chains are taking over rave fashion by a storm this year. Little Black Diamond carries a ton of jaw-dropping options such as this one, taking your outfit to new heights. You don't even have to go with the classic black color as there are plenty of awesome harnesses in rainbow and silver for a less hard-core look. Harnesses are so great because you can throw them on over any old rave outfit and boom, you are one hot mama!
Check out all of Little Black Diamond's options for harnesses and belts! Use the code "EDMIDENTITY" for a discount on your purchase!
---
Connect with EDC Las Vegas on Social Media: