The queen of festival fashion herself, Adrienne Shon of Little Black Diamond, chatted with us about what she predicts are going to be this year's hottest trends!
---
Feathered bodysuits, sequined kimonos, fringe harnesses; you name it, Little Black Diamond's got it! Ever since it's beginning back in 2014, Little Black Diamond has been an icon in the festival fashion world — and not just because its clothes are super cute, either. Since day one, Little Black Diamond creator Adrienne Shon has not only wanted her customers to look good in her clothes but feel good in them too. Throughout the years, Shon has cultivated her brand to stand for so much more than just clothes.
On their website, Adrienne and her team explain that "clothing has the power to be an expression of the self" and her clothes definitely reflect that belief. Little Black Diamond collections are expansive and most items are offered in a rainbow of colors, ranging from "sapphire" to "fire opal." From promoting body positivity to designing some of the hottest clothing in the game, Adrienne Shon is the ultimate girl boss.
If anyone knows what trends are going to dominate this year's festival circuit, it's her. We were lucky enough to get the chance to chat with Adrienne about what she thinks this year's top festival fashion trends are going to be. Read on for her predictions and more from Little Black Diamond!
Ordering some clothes or accessories from LittleBlackDiamond.com? Use promo code 'EDMIDENTITY' for a discount on your order!
---
As head of Little Black Diamond, what do you strive for to stand out amongst others in the business?
Three reasons. First, we at Little Black Diamond give an actual fuck about our customers. Our shipping and customer service team (two amazing girls who do it all, Francine and Jordin) is super fast and we literally make sure we take care of every single customer and respond to every person who contacts us. I've heard horror stories from other clothing companies never responding, never sending orders or treating their customers with attitude. My team and I have had bad experiences trying to order from other festival clothing companies in particular. We stand out for many reasons, but the fact that we give an actual fuck about anyone who shops with us makes us better than even the top clothing companies.
Second, our clothing designs and quality are top-notch! We put a ton of effort into making sure everything fits and flatters a multitude of body shapes. We strive to empower women through our messaging and our clothing. We want you to put on our clothes and make you feel like an invincible space queen.
Third, all our designs are made ethically and locally here in San Diego, California. This means everyone who sews our clothing by hand works in a clean, safe, healthy space and is paid a fair living wage. Other companies aren't telling you who is making the clothing or what kind of shady sweatshop they're working in (even spaces here in the USA). Our clothing may cost a little more, but the quality is superb and fast fashion is one of the biggest polluters on the planet. We refuse to take part in that ethical disaster! It's not like I've never shopped at Forever 21, but since I've watched a few documentaries on the subject, it's really opened my eyes to the true cost against human rights for cheap clothing. When people support us, they're saying no to the fast fashion nightmare!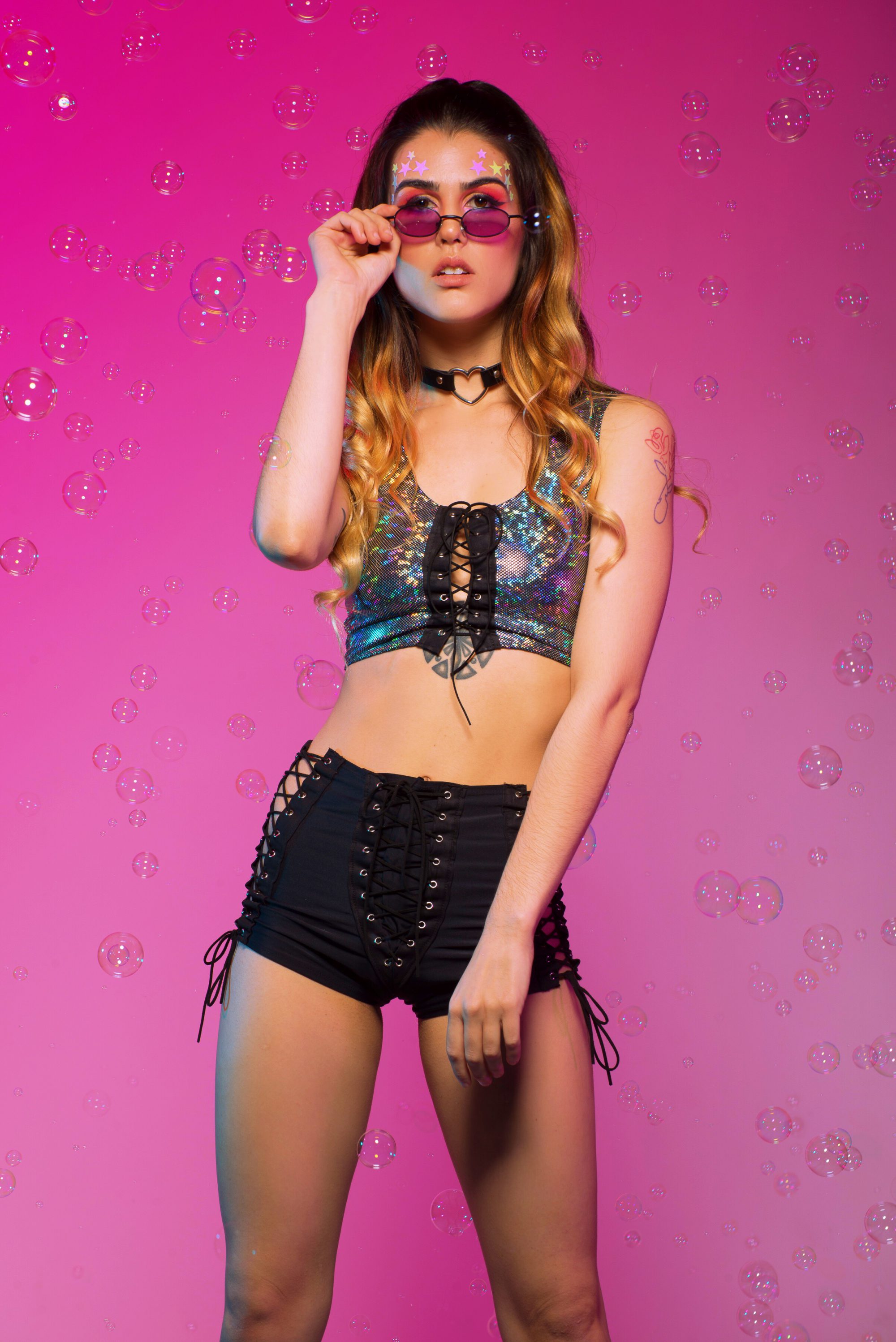 Where do you draw inspiration from when creating new designs? Are there particular designers or eras that you're especially enamored with?
I love the seventies. Studio 54, people expressing themselves in decadent fun ways and raging hard without a care in the world. Cher is an original gangster goddess. Inspiration sometimes has less to do with clothing and more to do with personalities, attitudes, and energies. Cher told her mom she didn't need to marry a rich man because she is a rich man. I dig that so hard.
When creating festival wear, what key characteristics are you designing for?
Comfort is king! We want our girls to feel sexy and free when adventuring in our clothing.
Are there any spring or summer festivals in particular that inspire some of your clothing themes?
Lately, I'm digging the vibes from Australian festivals, Burning Man (of course) and Desert Hearts.
We love how you've incorporated tons of posts championing body positivity and feminism on your blog. Have these always been messages close to your heart?
Yes. My company is literally my love song to the female form. I honor and respect the divine feminine because I have so many powerful women in my family to look up to. These messages have been embedded in my very soul since birth because of the women in my family.
As a woman who has been bullied, harassed in public, sexually assaulted and even assaulted at a rave by a competitor in the scene, I know the struggle of what it means to rise up and be a powerful woman. Since the dawn of time, women have been beaten down and mentally and physically enslaved. We carry trauma from past generations and as a result, my heart is bleeding and enraged at the way women have been treated.
I'm a sensitive person who treats everyone with respect unless you come at me sideways. I recognize that separateness is an illusion. We all get angry and frustrated with people at times, but ultimately we are all human and love and compassion is the way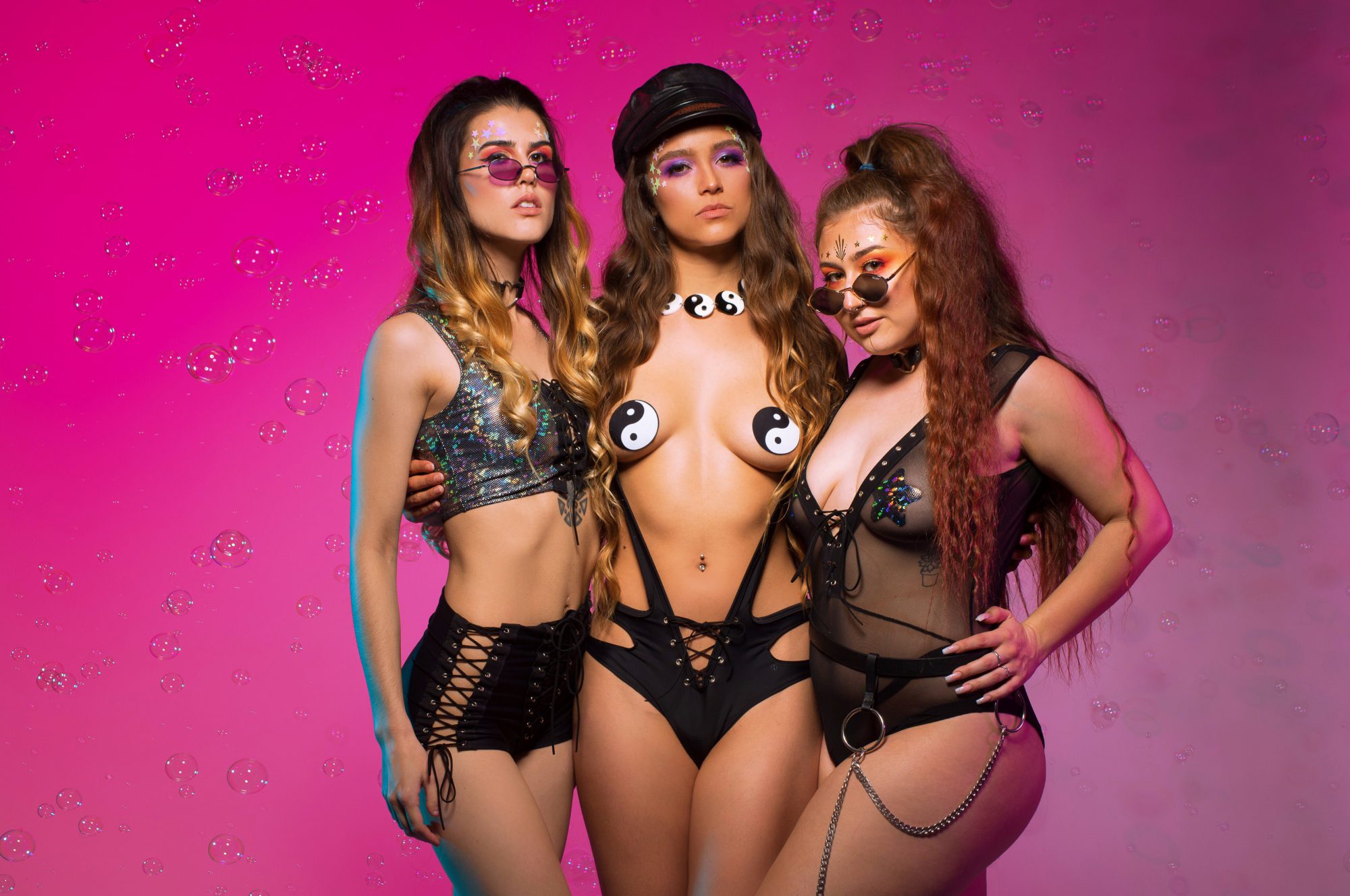 What trends do you see taking off during festival season in 2018?
Chaps! Freeing the nipple (or rocking our waterproof pasties). My friend Crystal Danielle is starting a new initiative called "Free the Fanny," which I also love. Honestly, I think nudity and honoring your body is the biggest–I don't want to call it a "trend," but an up and coming conscious way of self-expression.
Conversely, what are some festival fashion trends that people would be wise to steer clear of?
Last year I saw some asshole wearing a t-shirt that said "SKINNY CHICKS ONLY" at a festival. My friends and I glared at this dude and were like, "Wow! Fuck that shirt and fuck this guy."
At Global Eclipse Gathering, my friend saw a guy tie top ramen to his belt and said he was gonna "catch a chink bitch" with it. I thoroughly enjoyed Oregon Eclipse and all the interactions I had personally with people there were nothing but positive, but this story horrified me. I am of Asian descent and have experienced racism (casual and more aggressive forms) my entire life. Any form of expression that belittles, demeans and puts down others is never fucking okay.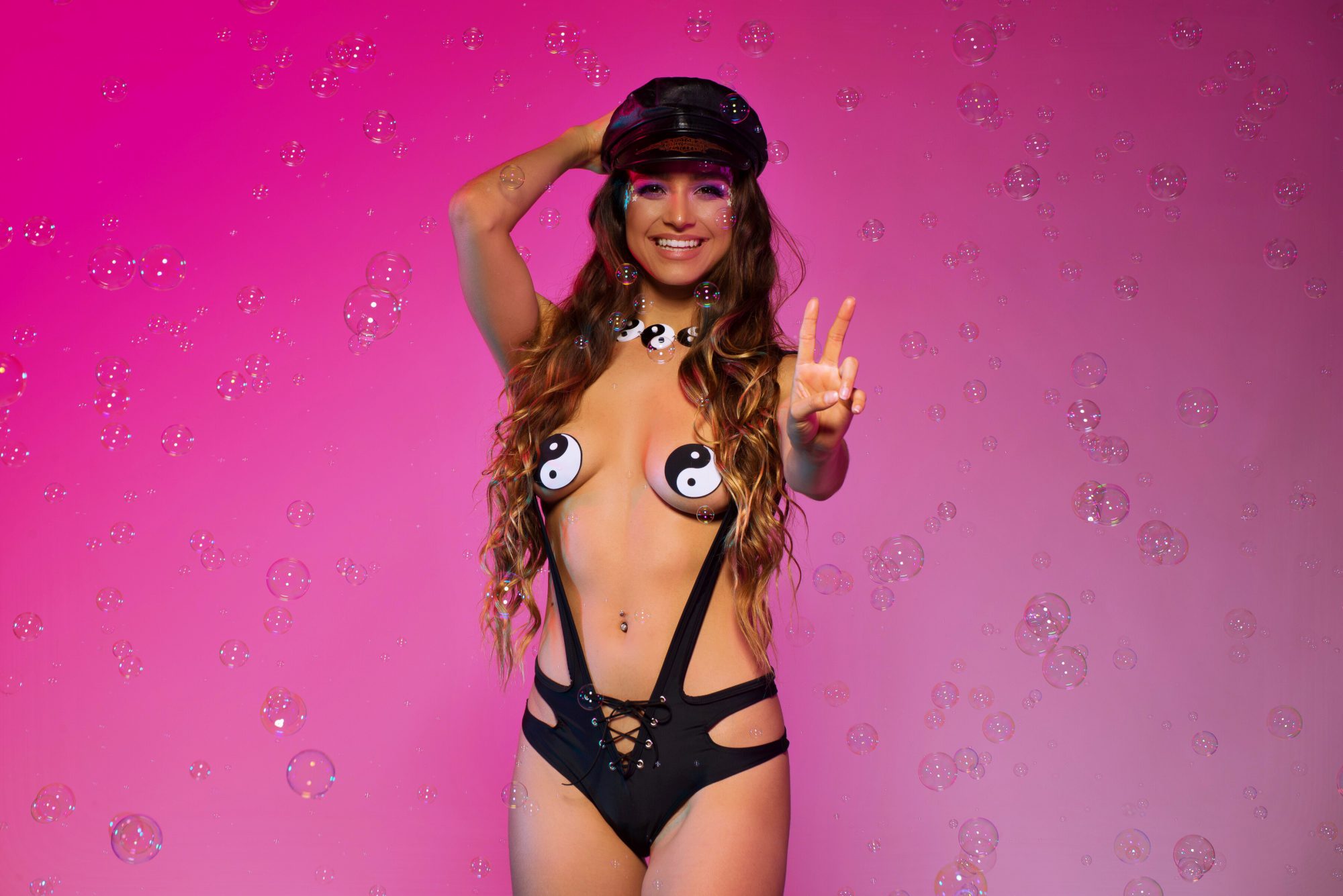 When you're headed to an event, what is your go-to festival outfit?
Between my company's clothing and stuff that my other creative homies make, I have so many amazing and cute things to choose from that sometimes I get overwhelmed with my options! It's a good problem to have. The beauty of the clothing from our shop is that everything is pretty interchangeable and versatile, so you can style it however you want and the look will still be unique. I like to wear outfits with an athletic base, so I can stay mobile and ready to dance.
What are some of your top items for women looking for comfort on the dance floor while still looking stylish as can be?
We strive to design all our clothing to be comfy and form-fitting, but my personal favorite is our assassin leggings. With all that lacing up the front, you'd think it would be uncomfortable, but they're not–I've even accidentally fallen asleep in them after a long night of dancing and I was fine.
Another one of my new favorites is our Nirvana tie-dye bodysuits, which was created in collaboration with Oh Geez, another local brand. We love coming together with like-minded, respectful and responsive people and doing business together to create dope stuff!
Finally, we have our crown jewel, the shakedown jacket, which is very difficult and expensive for us to make but it's worth it.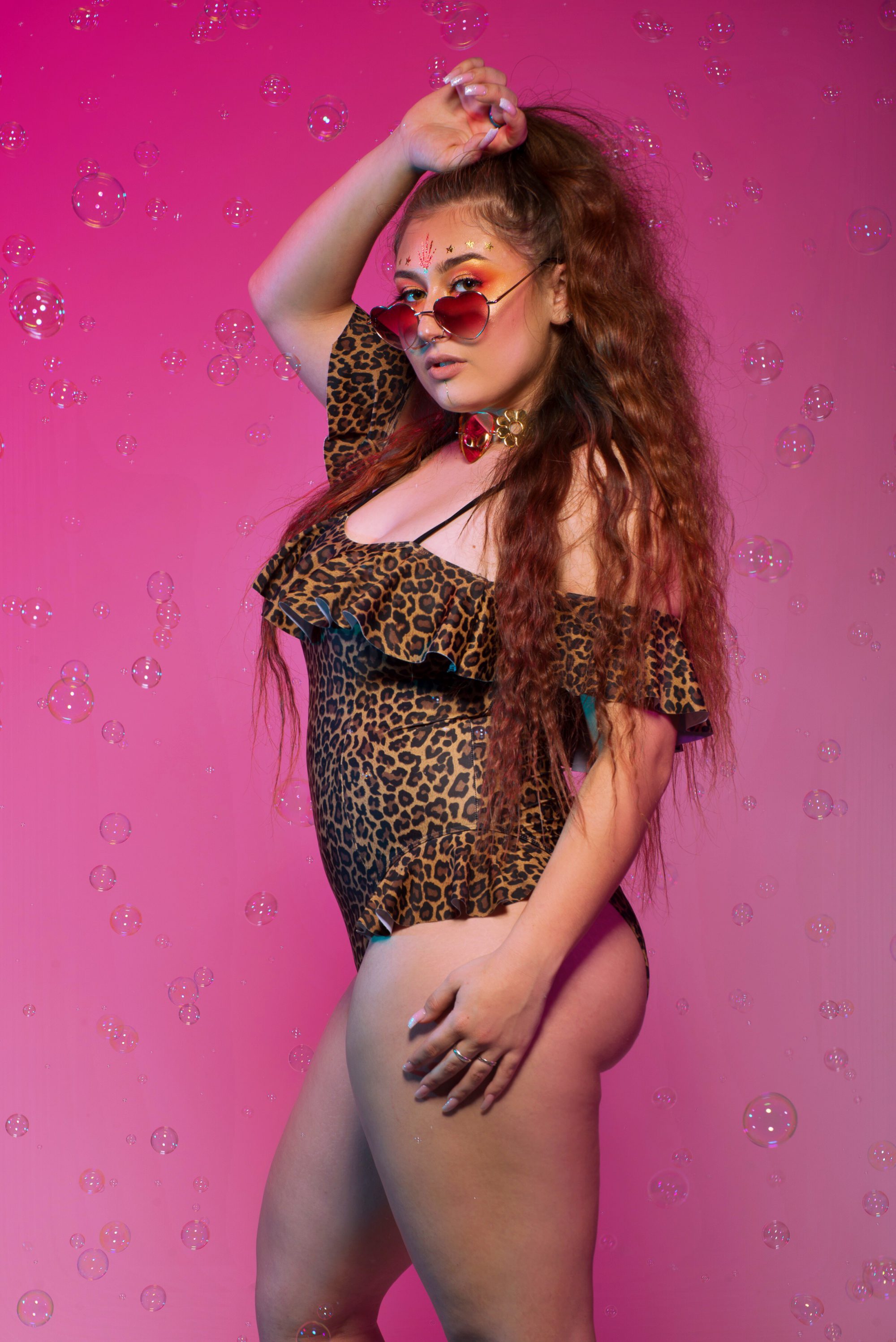 For fashionistas on a budget, what is the one festival fashion item that is an absolute must-have?
Our waterproof pasties are the best on the market. When applied properly, they will literally stay on through everything–swimming pools, festival heat and sweat, you name it. They're a great layering piece (or wear them alone) and they're affordable.
Say you want to look fashionable but you don't have the resources to get super dolled up, like at a camping festival for example. Do you have any tips for up-leveling your festival look simply and easily?
We carry biodegradable glitters and primer that is super easy to use. Just swipe on the primer and tap the glitter on with your finger. I like putting them under my eyes and on my cheekbones.
Making a hat, headpiece or any kind of weird accessory on your own is a great way to add to your self-expression at a low-cost. I recommend using E6000 glue when getting crafty–hot glue won't cut it while you're dancing and raging in the dust.
Accidents happen at events (missing gemstones, torn fishnets, spilled beer… the list goes on). What do you recommend that our readers have on hand for a fashion emergency kit?
Super glue for torn fishnets (or just extra fishnets), E6000 glue as I mentioned, extra gemstones. If you're really hardcore and want to make sure your gems will never come off your face ever again, use spirit gum, but it's a tradeoff because this shit is insanely sticky and hard to get off. Makeup wipes are an absolute must. I also bought an outdoor shower bag which has been a total game changer and they're very affordable.
Always bring a first aid kit. I sliced my thumb open while hammering down a tent stake at a festival and didn't even have a band-aid. The medical tent will always help you out, but it's better to have your own on hand because you're gonna want to refresh that band-aid at least once a day, if not more.
Nasal decongestants and antihistamines (allergy medicine). Allegra and Claritin are my personal favorites because they don't make you drowsy. It gets so freaking dusty out there, especially when the dance floor is popping. Being able to breathe will help you have a better time.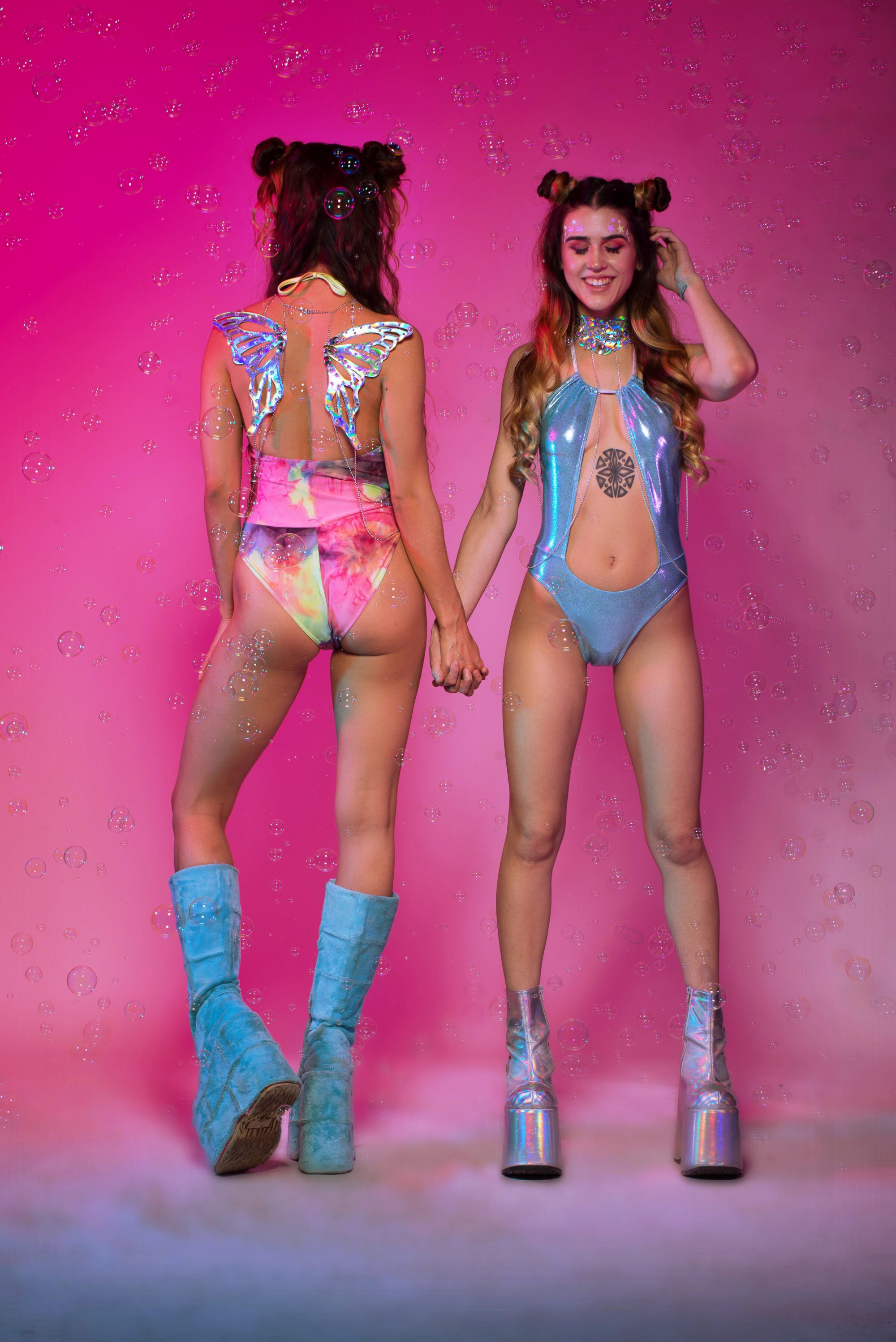 What advice can you give to people brand new to putting together outfits for festivals?
Start with one clothing piece you absolutely love. Then build your look around that piece. Try stuff on in front of a mirror and see if you vibe with it. Just try different things until you feel like, "Yes, I look great, I feel amazing and this is totally 110% ME."
One question we always get a lot is what fashion is accessible to plus-sized women who might not be as comfortable in some more traditional rave outfits. Do you have any tips for items or outfits to rock if you're not looking to bear as much skin?
Yes! High waisted shorts and we have some really cute ones–our kiki bottoms and tie me up bottoms are very flattering on many body types and help shape your curves. You can layer any outfit with a kimono, a dope oversized jacket or even a pretty scarf. It's good to embrace your body and say fuck what everyone else thinks, I love me and I am BEAUTIFUL. But I understand being comfortable in your own skin is a lifelong process too.
Finally, which festivals or events are you looking forward to this year, and where can we find you dancing in 2018?
I'm all for our local scene. I love love love the Blonde Bar and Dance Klassique on Wednesday nights. I've met people who came all the way from Ibiza and they were super impressed by the quality of vibes and the music. I also love events by The Deep End, Ego Trip, and House2Ourselves.
In terms of festivals–I'm very focused on growing our business right now, which is why I've been enjoying the local scene more. But I'll definitely be at Desert Hearts! I'm also hoping to start branching attending some international scenes, especially Australia. How wonderful it would be to meet and connect with other beautiful people all over the world!
---
Connect with Little Black Diamond on Social Media: