Gerry Gonza chats about his drumline influence, the Arizona scene, the With It EP, and more at Phoenix Lights!
---
Gerry Gonza is undoubtedly one of the best up and coming house artists in the electronic music scene, and one you definitely should be tuning in to. Recently relocating from Los Angeles to Phoenix, he quickly began to dominate the local scene with gigs at local venues and festivals like Goldrush and most recently Phoenix Lights.
From collaborating with artists like Bijou to releasing his own stunning work, it is easy to see the future is extremely promising Gerry Gonza. We had the chance to sit down with him at Phoenix Lights this past month to chat about his musical background, aspirations as a producer, and more. His genuine and authentic personality made him a pleasure to speak with, so listen to his recently released With It EP below and read on for our chat with the man himself!
Stream Gerry Gonza's With It EP on SoundCloud:
---
Having opened the last few festivals in Arizona, Crush and here at Phoenix Lights, what is it like playing the opening spot and setting the vibe for the event?
It's really awesome when you have an opening set. It's not like when you're following someone up and you have to maintain that vibe. You get to choose the direction. Like, for today I had an hour and a half. I knew I had some time and just explored a little bit. Started off a little techy an eventually got into the heart of stuff, but you definitely gotta take everyone from 0 to the party.
I noticed you are incorporating your own live vocals into your sets. Is this something you recently started doing?
It's been for about the past year. Recently, I have been doing a lot more of my own clean vocals. Because what I used to do in the beginning is harmonize with the vocal that was already on the track, but now it's no vocals from the song and I just have my own.
The whole thing I see is being more than a DJ. Being more an entertainer. Putting on a show and making it a whole experience. A whole production instead of just a DJ set. Which is totally fine, but I know how to play these instruments so it's like why not. The fun thing too, I just added a synthesizer to the whole thing. So now I have some more tools and some more things to have fun.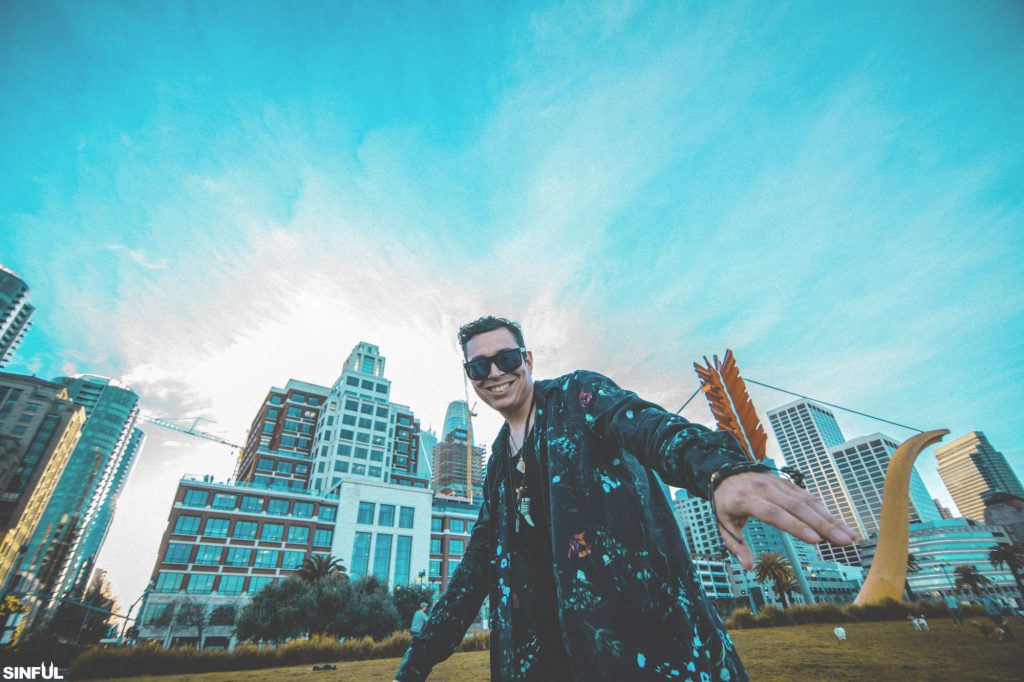 We've read that you're from Calexico and have a musical beginning on the drumline. How did that early introduction to music shape or influence your current sound?
100% you can hear it in my productions they're definitely influenced by the drumline. I put some heavy drums in there. My drums are loud and knocking. That's what I really want to hear. They're what drives the song. It's definitely made me think of the music in a drumline production way. It definitely shaped my whole process and the whole vibe. It's also kept me very interested in other world music. Classical and stuff like that.
Being on the drumline and performing must have helped you prepare or transition to playing these big music festivals.
It's funny because even when I was younger my father had a dojo. He was a sensei and I used to do karate when I was 3 or 4 years old. I would do little formations and showmanship karate. So I've been performing since I was really little. Just being in front of people and doing the thing I've always loved it. Causing a good reaction and a good time.
What is your favorite memory from a show here in Arizona, and how do you think that shows in this state have built their own identity over time?
One place I definitely see huge growth at is Bar Smith. It's one of my favorite venues in Downtown Phoenix. From playing there 2 or 3 years back doing my opening slots and eventually being able to headline I can see how much it has grown. Now they have local nights and it's packed. When it used to be they had to get a headliner just to get it even somewhere. Just seeing that is awesome and places like Shady Park it packs out. It's beautiful and amazing. Regular college bars are bumping house music and other electronic music in general.
And one of my favorite memories has to be the recent Crush. I remember right at the end I played "Bad Bitches" I was kind of rushing to get all my equipment off the stage so GTA could set up and for a quick a second I got on the mic and yelled, "everybody make some noise!" and people went super crazy. I heard the yell, but I was so occupied just getting my stuff off I never really savored that little moment. But it was cool when I saw the video later. My photographer actually went into the crowd and took a video of everything and I got to see just how crazy it was!
You recently released your With It EP, which has a distinctively different sound than some of your other tracks. Can you share a little bit about your creative process in building this release and how it differed from your past work?
With this EP I definitely wanted to make dancefloor bangers. Something I could play at festivals. Something that people can hear and recognize. Very easy to sing along to. Just fun stuff. The whole idea with "With It" and the whole EP was I wanted to make songs that you can jam with your crew. Like the whole idea, "I'm down party", "I'm with it", "I'm down with the rave and PLUR life", just being a down ass human. Being nice and being cool. Just being with it!
Over the past few years, you've released a steady stream of EPs and singles, do you plan on dropping a full album in the future?
I'm definitely waiting because when I do my album I want to do something that's multigenre and different. It's not going to be just a bunch of bangers. I want it to be a story or have a theme. Make it with songs where I am singing and stuff.
Aside from your solo work, you've also collaborated with other artists like Worthy, Bijou, and more. Do you approach these productions differently, and have there been any funny moments in the studio while working with these artists?
I don't know if people really knew this about me and Bijou, but we really love funk and RnB. I know we usually make some heavier stuff, but we'll be listening to some funky groovy girly stuff right before our jam sessions making the heavy stuff.
As a DJ, is there a dream festival, event, or location to play that you have on your bucket list?
I recently saw Rampage Festival over in Belgium and that one looks really fun. It's got more UK styles like dubstep and trap, but it looks like so much fun. I've been loving all that UK bass stuff.
Have you ever attended or played an international event?
Yea actually! With Thee Cool Cats we got to play a festival in Brazil. Brazil was beautiful. Everyone is so nice and it is so lively.
If you were stuck on a desert island and only had three things with you, what would they be and why?
First I would definitely bring my laptop. I don't know how I would charge it. Probably make some potato contraption or with coconuts. A knife, and if I could have more than 3 things I'd bring some cliff bars and an extra big sweater with the hoodie and built-in pillow.
Finally, we noticed that you are a fan of The Office, what was one of your favorite episodes or moments from the show?
Yes, absolutely! It's the episode where Jim wraps Dwight's desk in Christmas wrapping paper. So good! And the one where they make megadesk, there are so many great moments in that show.
---
Connect with Gerry Gonza on Social Media: 
Facebook | Twitter | Instagram | SoundCloud