Okeechobee Music & Arts Festival started out like as many other festivals I've been too. I had that same feeling you get when waking up on rave day. Like a kid waking up on Christmas morning: innocent excitement, purity of joy, and fluttering anticipation. The feeling that you will be lost in Florida groves, camping with other ravers, meeting new loving people and living life to the fullest.
That first morning, I felt that Okeechobee would be a defining music festival in my life. I was not wrong.
From Orlando, the Sunshine Grove is only about 2 hours away. I took the back roads to see a side of Florida that many people miss. To get my mind and heart ready, I listened Okeechobee's Exclusive Mix on Spotify. On the way, I saw the markings of festival-goers: over-packed cars with camping gear, Bassnectar stickers, and other music festival attendee paraphernalia. To pick up my media pass, I had to drive to a separate location than other attendees.
The event staffers were extremely friendly and helpful, and the process was quick. They asked what I was most excited for Okeechobee. Even before I felt the great vibes, relaxing campgrounds, and met amazing people, I was truly excited to see what this festival was about to offer.
Festival Security
Security was quick and easy at the main gate, #entertheportal. Each car was searched and given a green circle in the upper right hand side of the windshield. My car inspector was awesome. After finding out that I was attending alone, he tried to hype me up. He didn't think I looked ready to party. For those who know me well, I have what's called a Resting B***h Face or RBF. The one that looks like I'm uninterested. You've seen it before on someone you know. Despite my RBF, I'm smiling inside. I reassured him that I was excited and ready for a good time.
After passing through security checks, garbage bags, recycling bags, and a guide to the grounds were handed out to attendees. The excitement was really starting; I was officially into the venue. On the way in, the grounds looked expansive and absolutely gorgeous. My campsite was right in the middle of LMK camping grounds. I absolutely loved that I could keep my car parked next to my campsite. Campsites were marked off with spray paint. Each campsite offers a big space with room for your car, tent, and sitting area. As I pulled out my equipment, I mingled with my camp neighbors. They were the first part of the festival experience. Meeting new people and relaxing is a great part of festival camping.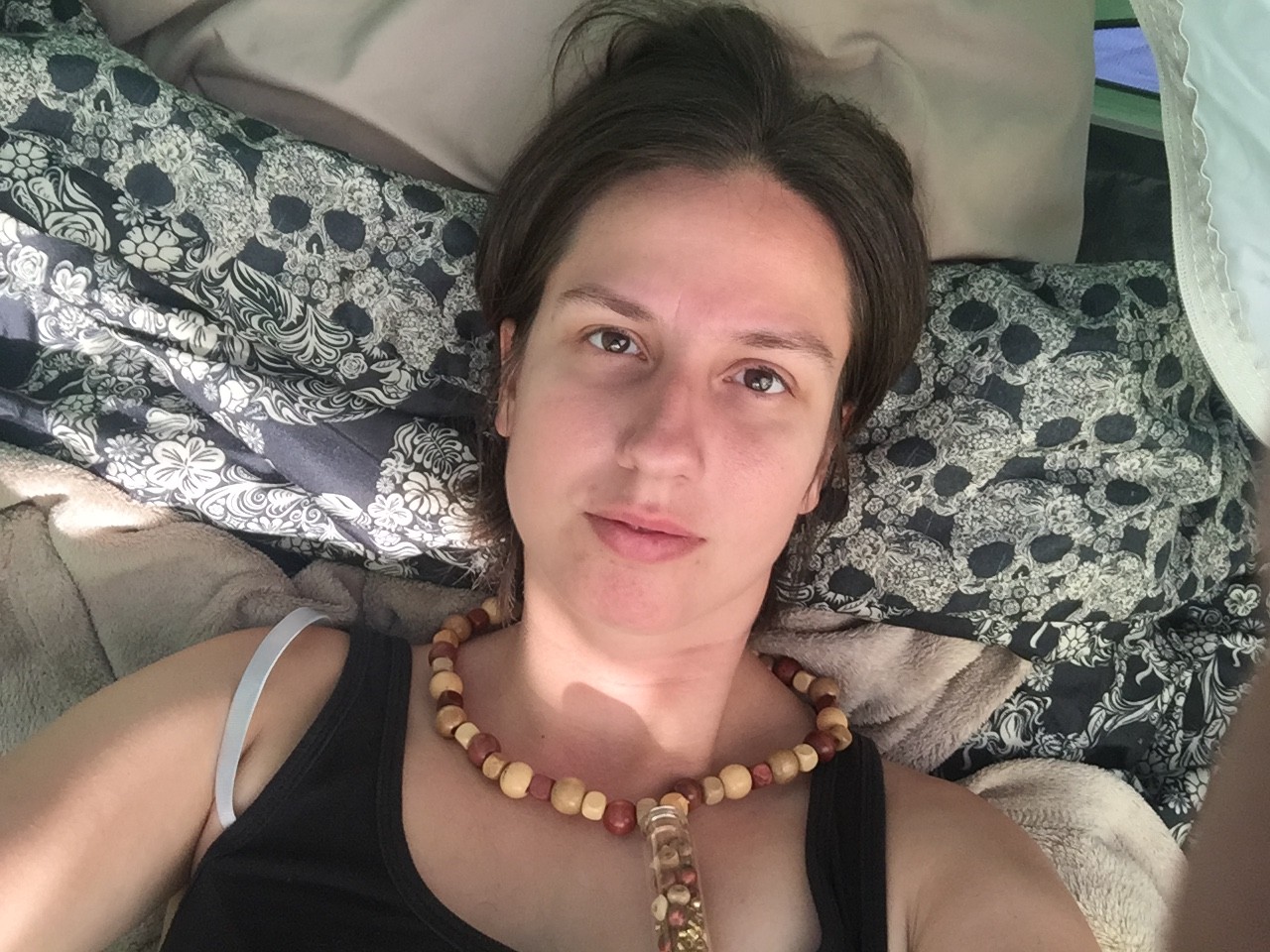 Okeechobee's Unique Tranquil Atmosphere & Great People
I explored the grounds solo. On Aquachobee Beach, there was a Ferris wheel. Disappointingly, they charged for it and that it wasn't open 24 hours. The beach water was cold, but it offered food trucks and a Corona Extra cabana. There were many cabanas overlooking the water. I met a group from Fargo, North Dakota who invited me to stay with them for the festival. The vibes that this festival is giving off are amazing. The palpable vibes were full of unity, love, and peace. True caring for one another and serenity were felt throughout the grounds.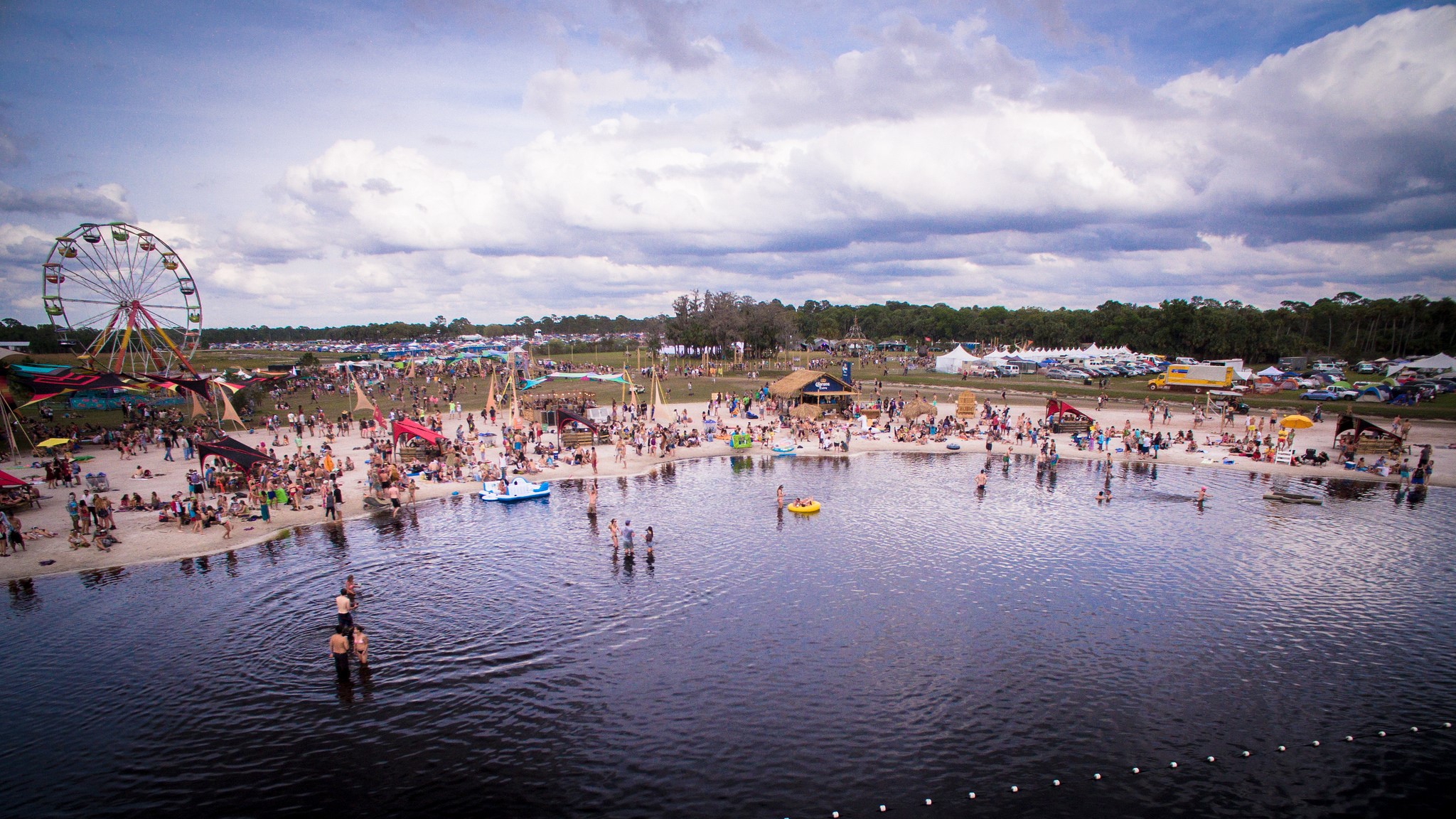 Okeechobee had a unique atmosphere from the start. I met amazing people just in the first day. I ran into old friends and made many new ones over the festival weekend. Families with babies weren't uncommon. I can't stress it enough. I still had three more days to create lasting memories.
My new friend Grace and I stumbled upon this cool space in the Village. An inviting small grove welcomed everyone with beaded curtains. Stepping inside was like finding your happy place or following Alice down the rabbit hole. Random couches and hammocks littered the area so everyone could just relax and enjoy the vibes. In our time at the festival, Grace became a festival friend and I can't wait to see her again. As many of us have experienced in the EDM community, Okeechobee was another opportunity to make lasting relationships with like-minded caring people. Jungle 51 opened around 9pm, I didn't get a chance check it out, but it went on all throughout the night.
Day 1: Serenity, Music & a Crashed UFO
Friday morning brought an immediate feeling of serenity, quietness, and beauty. The sunrise marked the beginning of a new adventure. I attended first yoga event from 9-9:30am. I'm not that flexible, but it was fun experience and great way to start a festival day.This is by far one of the most laid back festivals I have been to date. My new friends and I had many opportunities to relax in hammocks, talk and enjoy the festival grounds. Okeechobee was different from many of the "go go go" festivals I've experienced.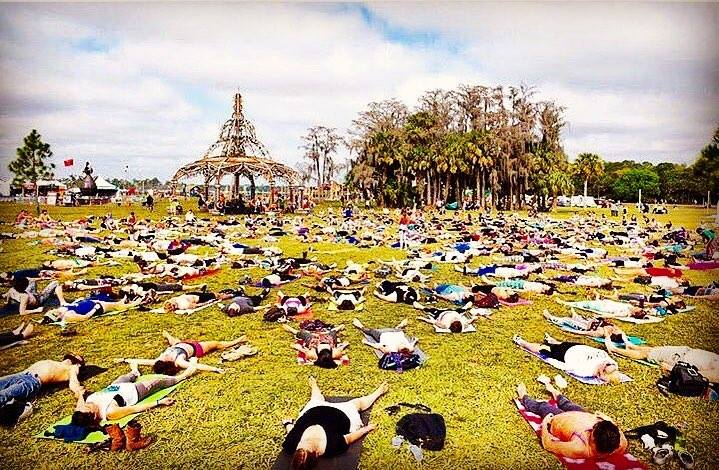 Day One was Bassnectar and RL Grime. RL Grime was absolutely electric.  He threw down some dirty beats. My first live experience of RL Grime made me fall in love with his music all over again.  Only one word can describe Bassnectar's sets: magical.  That bass hitting you. The visuals. Bassnectar sets in high-paced settings like EDCLV or EDC Orlando can't compare to Okeechobee's relaxed atmosphere.
This Bassnectar crowd blew me away. It was more intimate than other experiences.
Jungle 51 stage was freaking awesome. The setting was remarkable with a crashed UFO next to the stage in a grove of palm trees. It was futuristic. You could relax with deep house on one of many of the couches in the area. This festival was built for tranquility.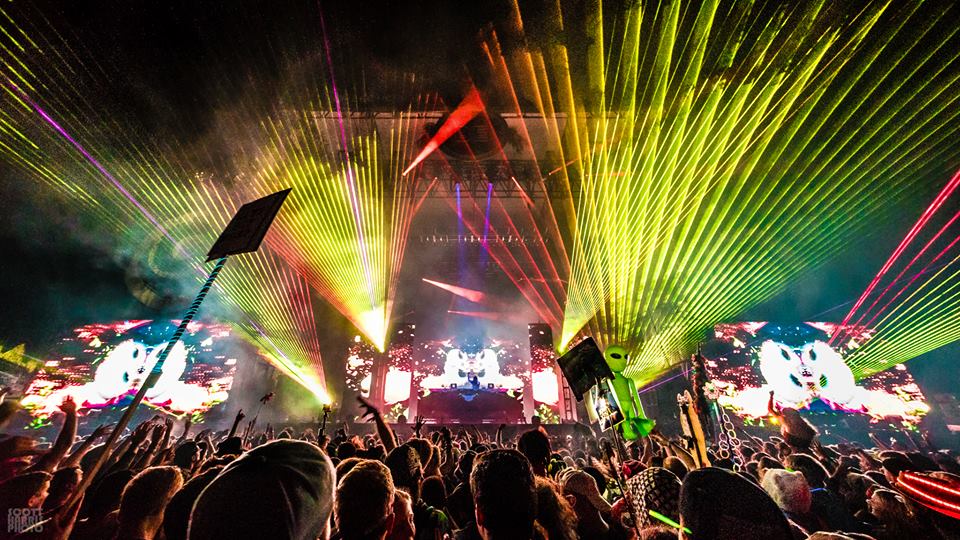 Day 2: VIP Experience and FEELS
Day Two was another tranquil experience. The Killer Melts truck offered delicious cheese fries, but did not offer drinks. All drinks were only served at Okeechobee Bars. Different Non-Profit Organizations that collected 30 cents per beverage plus tips ran each bar.  So a cut of the profits made went to their organizations.
The VIP experience was new for me. I was always content with GA since that's the only thing I knew, but VIP at Okeechobee has its definite perks.  There are special viewing areas at each of the three main stages, private bathrooms, WiFi, discounted drink bar, snacks, and a small little concierge.  Plus there is a pit area next to the stage if you wish to get close.  I can't forget the two specified food trucks they had: an exclusive Japanese Hibachi and Paradise Cups. VIP is worth the extra money. The exclusive bathrooms and snacks are great benefits for all attendees who enjoy ease.
Day Two's music experience was life changing with Miguel, Big Gigantic, Kendrick Lamar and Skrillex.  Miguel was a very involved artist and you rarely see that with singing talent anymore.  His music contained many different genres and appeals to any age.  A message to not sell yourself short reached out to every one in the crowd. It struck a chord with me. It hit me so deep that tears were brought to my eyes.  Big Gigantic did not disappoint. Their melding of live musical instruments and EDM beats is definitely a different take on electronic music.  The sound of the sax and EDM is a great combination.  I thoroughly enjoyed seeing them for the first time.
Kendrick Lamar exceeded my expectations. Although rap is not a genre I listen to, a part of his set stuck with me. Kendrick invited a young man named Logan to the stage after noticing him belting the words to "u." "u" is a deep track about depression and suicidal thoughts. Lamar told the crowd that in tough times, we could all find someone to relate to. He was there for us. He showcased that we all go through so much and shouldn't take life for granted.  He understood those of us who know social ridicule and sadness. It was a very powerful message and I commend him for it.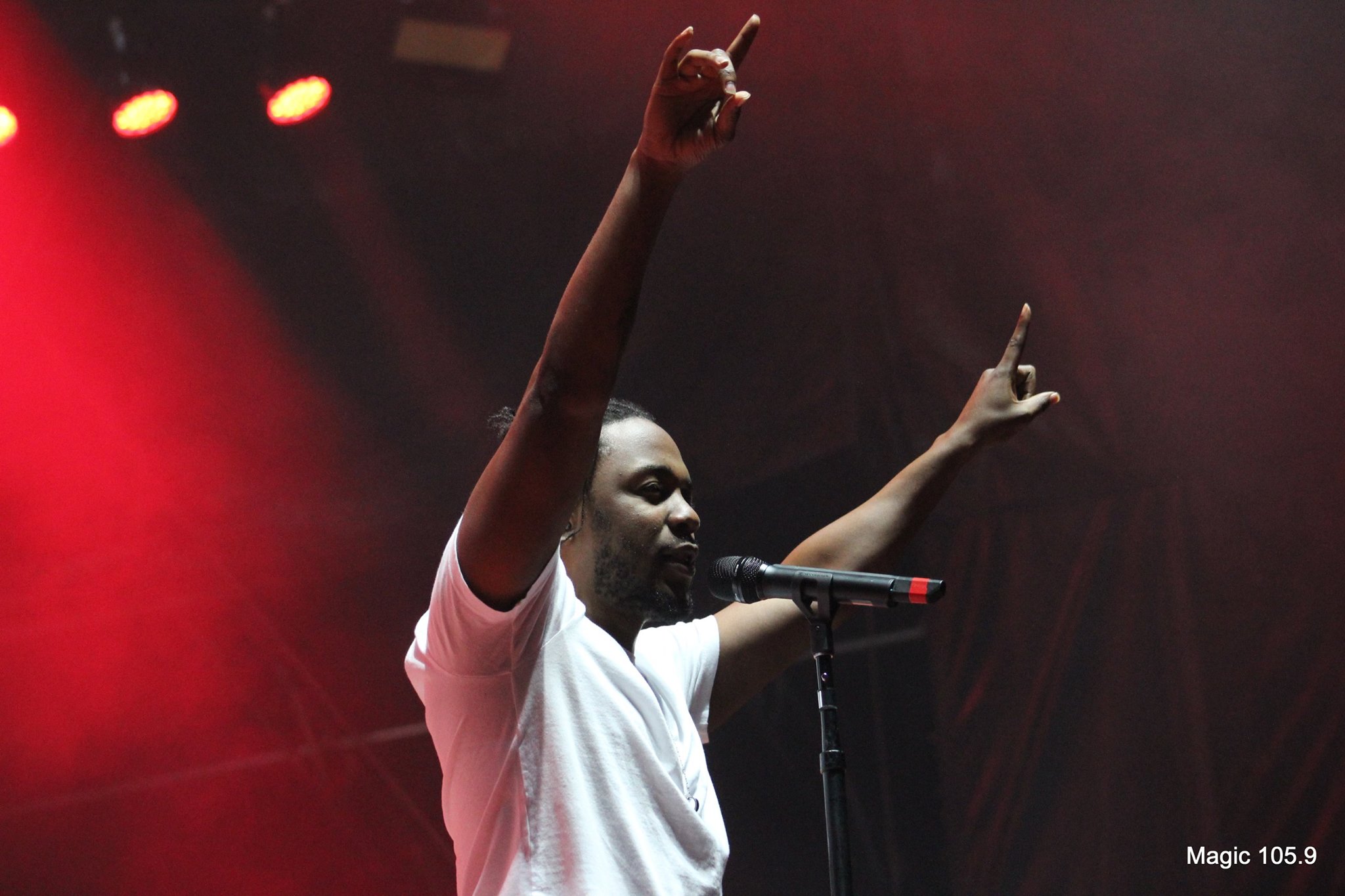 Day 3: Magic, New Friends and Amazing Memories
On Sunday, Day Three, it was becoming all too real that the weekend was coming to an end.  My neighbors were slowly leaving one by one.  Since I was up early once again, I went to media tent to write some of my review (while it was fresh in my mind.)  As I was leaving I saw two gentlemen walk in and looked vaguely familiar. I put two and two together, the two guys were the artists Bedside.  I had talked to them about Okeechobee and what they thought of the festival, along with other small talk. They were cool guys.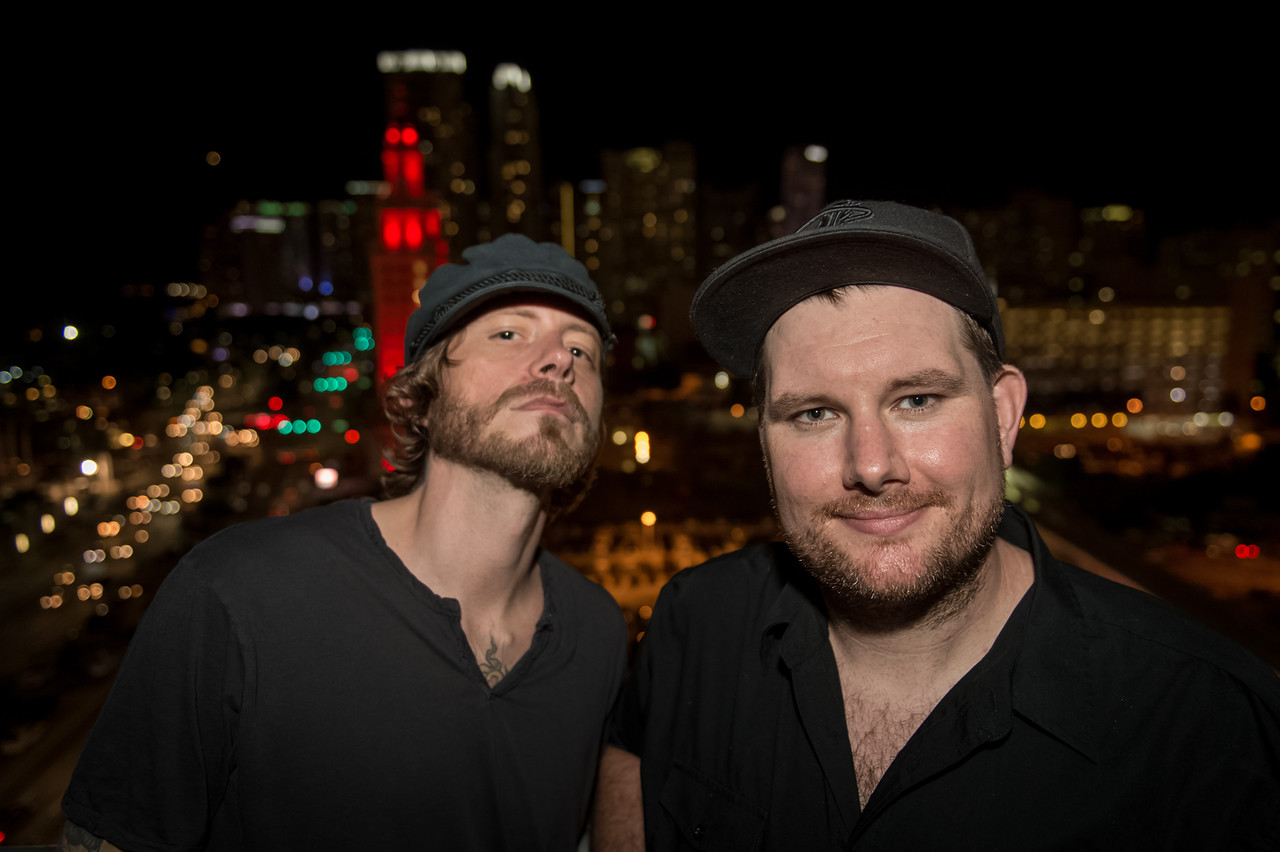 Then I finally headed back to my camp to see that my immediate neighbors had already left. The groups I met were all relaxing on our final day at the Sunshine Grove.  Kill the Noise was the first up on stage for Day 3. After Fetty Wap cancelled, Kill the Noise was rescheduled. In the VIP viewing area, some awesome people from Revolution Radio out of Miami that I met the previous night were there to enjoy the noise.  Kill the Noise put on an amazing show. Right the end, Jake had made it known that he was extremely happy with the turnout despite his early set time.  Don't get me wrong, it would have been great to see him play at night, but regardless of the time, he still killed his set. I had to try the Japanese Hibachi truck between sets. It was DELICIOUS.  The general consensus from VIP goers and GA attendees was that Okeechobee was great festival and they would love for its return next year.  It was cold at night and I was glad to have packed some warmer clothes.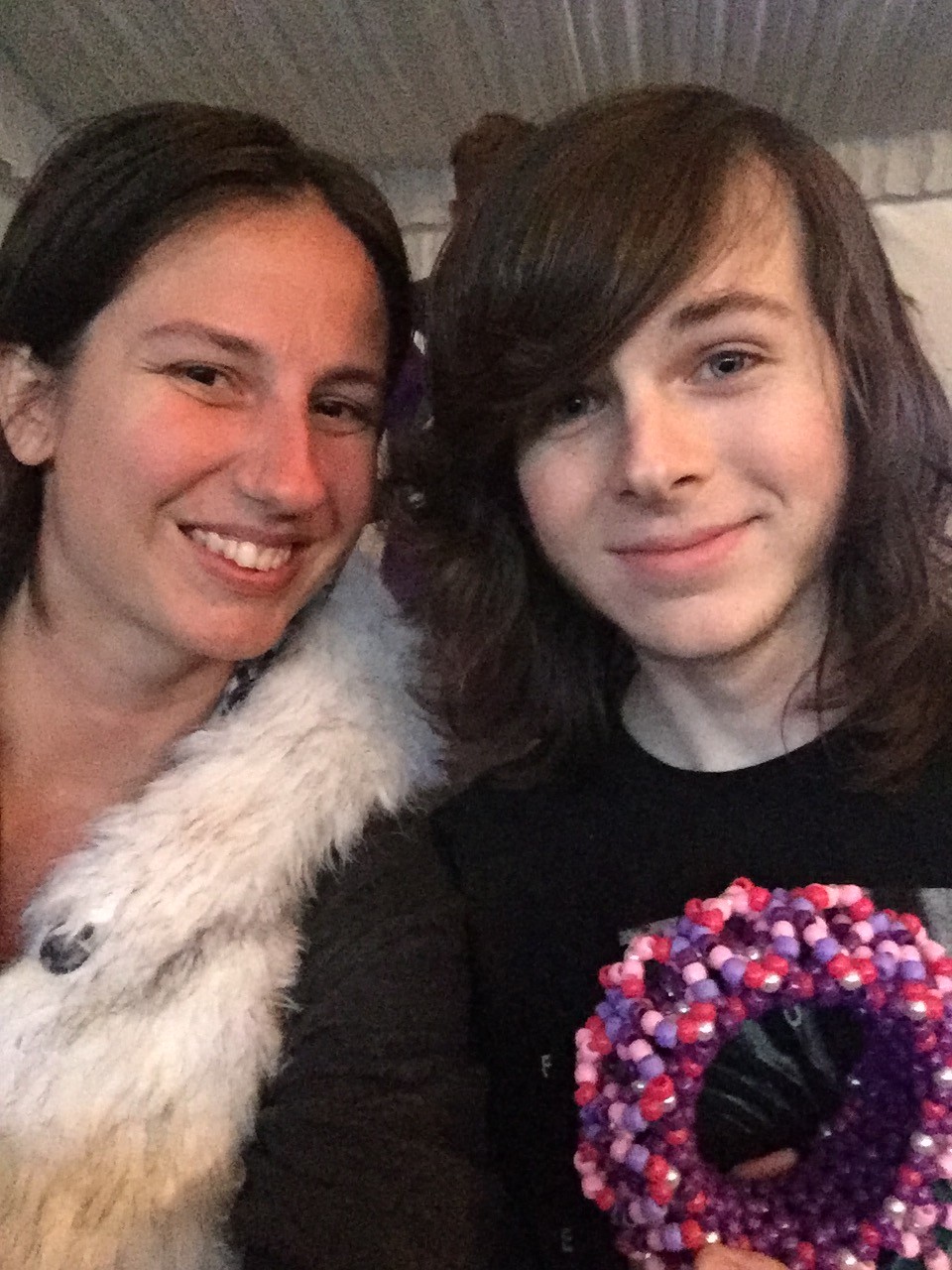 Music festivals are always an adventure of surprising moments and lasting memories. My biggest surprise was meeting Chandler Riggs, who plays Carl on AMC's The Walking Dead. Having the chance to discuss his love of EDM and trading kandi was a highlight of my experience from this weekend. We traded a kandi cuff I made with a single bracelet. His girlfriend felt bad about trading a single for a cuff, but every piece of kandi is made with the same amount of love and happiness. Talking with younger ravers like Riggs and his girlfriend is enlightening.
Odesza definitely did not disappoint. My first live Odesza performance was eye-opening experience. The music was relaxing and beautiful. The music's sense of longing filled the air. We felt that we had all found solace in one another.  That unity, love and happiness. It was a great way to end the weekend.  A couple I had met accompanied me to see Damian Lazarus. Once we arrived at Jungle 51, the atmosphere was once again relaxed.  There weren't that many people there, maybe about 75-100.  Most people were either at Mumford & Sons or were heading back to camp to pack up.  After being there for about 30 minutes, all three of us decided to leave and head back. We parted ways at the intersection, traded numbers and closed out the night. Making new friends is an amazing aspect of the EDM community that isn't felt in other places. I hope to dance, relax and enjoy experiences like this with them again. As I headed back to camp, I realized I didn't want this weekend to end. It was such a magical weekend and full of so many great people and great memories.
Thank You, Okeechobee, For Everything
Monday morning was packing, and goodbyes. My neighbors and I stayed for hours after packing to let the traffic die down. At noon, it still took me 4.5 hours to get home. Traffic was horrible. As I was about to leave the Okeechobee area, I saw my friends from Fargo, North Dakota at the gas station. Mother Universe was telling me I needed to say goodbye. So I pulled in and gave each of them a hug before leaving.  Unfortunately I didn't get to say goodbye to Gino, or Grace.
As I drove home, I reflected on the whole weekend. The people I met, the memories I made, and the moments I felt are all unforgettable. This is one festival that I'm glad attended and if it comes next year you shouldn't miss out on.  It was a beautiful and life changing experience.
Okeechobee Music & Arts Festival proved to be one of my absolute favorites. As the weekend winded down, it was mentioned to me that Steve Aoki was at the festival the first two days hanging out by Aquachobee/Ferris Wheel, and that Skrillex was hanging out at Jungle 51 in disguise in a hoodie.  I cannot confirm or deny that any validity of this info, but that it wouldn't surprise me. This was an amazingly awesome festival.
This festival offered many great things and I wouldn't change much. One thing I was happy about, that others weren't was the lack of cell reception. People of all generations were forced to put away their phones and talk to one another. Communicate and interact without technology.  No silly phone games, but real conversation. They were pushed to have fun. To a kid again with no responsibility.
What I took away most from this festival is the line-up is only a small part of the experience. The people you meet and the memories you create are the biggest part. The world is around you. You just have to take the time to experience it. Do not be glued to your phone.  Given the chance to attend this festival next year, I would do it again in a heartbeat. I recommend Okeechobee to everyone.
Okeechobee, you have made a very special place in my heart, and I can't wait to enter the portal to the Sunshine Grove again.
Be sure to check out Okeechobee Music & Art Festival 2016's Official Recap Video:
---
Follow Okeechobee Music + Arts Festival on Social Media:
Website | Facebook | Twitter | Instagram | SoundCloud