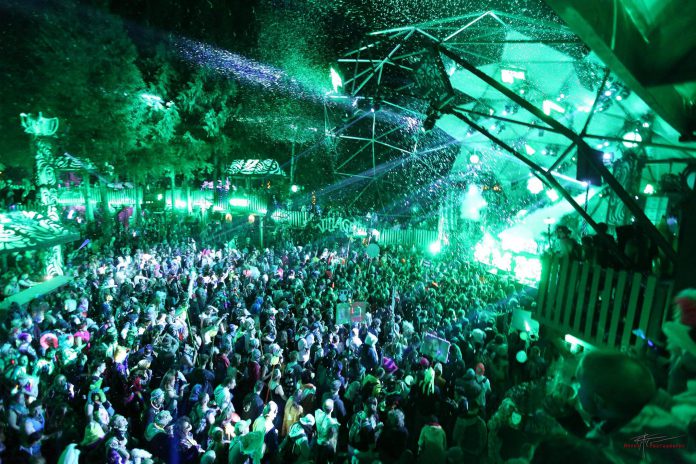 Shambhala Music Festival dropped their 2018 lineup with Adventure Club, Snails, Claude VonStroke, and more!
---
Get ready to return to Fractal Forest, The Pagoda Stage, The Village Stage, and The Grove at Shambhala this August with some of the best bass and house music in the scene. Headliners include returning champions The Glitch Mob with a DJ set, REZZ with her out of this world beats, and The Funk Hunters to groove the night away.
You'll be able to enjoy both Claude VonStroke and a special set from him as Barclay Crenshaw, plus The Glitch Mob will team up with Ooah & Boreta as 29 Palms. As if that weren't enough, Opiuo, Adventure Club, Snails, Black Tiger Sex Machine, and more will also be hitting the decks for a lineup that includes a little something for everyone!
Tickets are on sale now starting at $420 CAD. That includes camping, free parking, and admission from Friday until Sunday. The full lineup will be out April 9, but the phase one artists released today is more than enough to show that this year contends to be its best yet!

---
Shambhala Music Festival 2018 Phase 1 Lineup: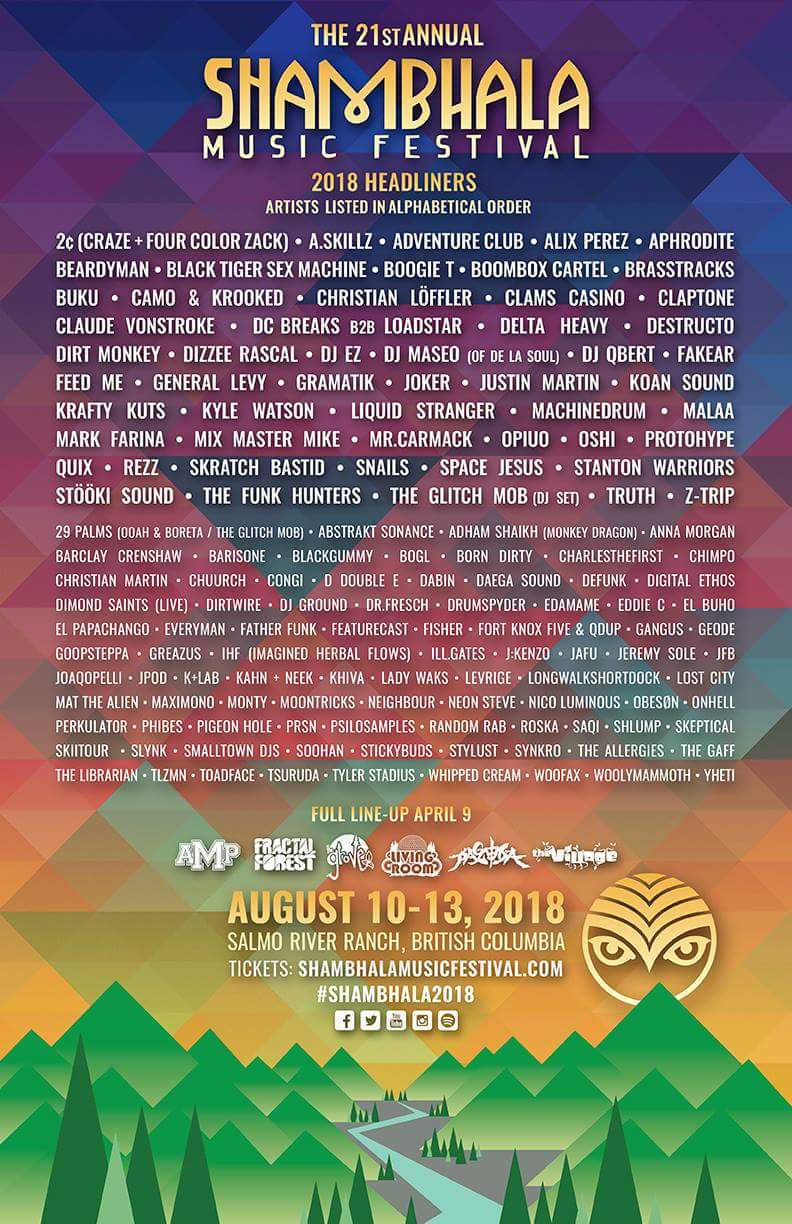 ---
Shambhala Music Festival 2018 Phase 1 – Lineup By Artist:
2¢ (Craze & Four Color Zack)
A.Skillz
Adventure Club
Alix Perez
Aphrodite
Beardyman
Black Tiger Sex Machine
Boogie T
Boombox Cartel
Brasstracks
Buku
Camo & Krooked
Christian Loffler
Clams Casino
Claptone
Claude VonStroke
DC Breaks B2B Loadstar
Delta Heavy
Destructo
Dirt Monkey
Dizzee Rascal
DJ EZ
DJ Maseo (Of De La Soul)
DJ Qbert
Fakear
Feed Me
General Levy
Gramatik
Joker
Justin Martin
Koan Sound
Krafty Kuts
Kyle Watson
Liquid Stranger
Machinedrum
Malaa
Mark Farina
Mix Master Mike
Mr.Carmack
Opiuo
Oshi
Protohype
Quix
REZZ
Skratch Bastid
Snails
Space Jesus
Stanton Warriors
Stooki Sound
The Funk Hunters
The Glitch Mob (DJ Set)
Truth
Z-trip
Including:
29 Palms (Ooah & Boreta / The Glitch Mob)
Abstrakt Sonance
Adham Shaikh (Monkey Dragon)
Anna Morgan
Barclay Crenshaw
Barisone
Blackgummy
Bogl
Born Dirty
Charlesthefirst
Chimpo
Christian Martin
Chuurch
Congi
D Double E
Dabin
Daega Sound
Defunk
Digital Ethos
Dimond Saints (Live)
Dirtwire
DJ Ground
Dr. Fresch
Drumspyder
Edamame
Eddie C
El Buho
El Papachango
Everyman
Father Funk
Featurecast
Fisher
Fort Knox Five & Qdup
Gangus
Geode
Goopsteppa
Greazus
IHF (Imagined Herbal Flows)
Ill.Gates
J:Kenzo
Jafu
Jeremy Sole
JFB
Joaqopelli
Jpod
K+Lab
Kahn + Neek
Khiva
Lady Waks
Levrige
Longwalkshortdock
Lost City
Mat The Alien
Maximono
Monty
Moontricks
Neighbour
Neon Steve
Nico Luminous
Obeson
Onhell
Perkulator
Phibes
Pigeon Hole
PRSN
Psilosamples
Random Rab
Roska
Saqi
Shlump
Skeptical
Skiitour
Slynk
Smalltown DJs
Soohan
Stickybuds
Stylust
Synkro
The Allergies
The Gaff
The Librarian
Tlzmn
Toadface
Tsuruda
Tyler Stadius
Whipped Cream
Woofax
Woolymammoth
Yheti
---
Shambhala 2018 – Event Information:
Date: August 10-13, 2018
Location: Salmo River Ranch, 7790 Hwy 3 & 6, Salmo, British Columbia V0G 1Z0
Age Restriction: 19+
Facebook Event Page: RSVP HERE
Tickets: Purchase HERE
---
Follow Shambhala on Social Media:
Website | Facebook | Twitter | Instagram