We caught up with Morgan Page at Lucky 2018 to discuss his new EP series, working with Tesla, and experimenting with VR.
---
Few artists in the scene are able to maintain quality vocal electronic releases like Morgan Page has in his vast career. He's always been at the forefront of technology in our scene with his previous 3D tour, and now he's pushing boundaries by working with Elon Musk at Tesla and utilizing virtual reality to connect with fans in innovative ways.
What may surprise you, however, is how much Morgan Page gives back to the scene, including his quick tips series and his involvement with "going green." Hot off the release of his new Born To Fly EP, we sat down with the two-time Grammy Award-nominated producer at Lucky 2018 to discuss his past milestones, present plans, and future endeavors.
Related: Read our review of Lucky 2018!
Stream Morgan Page – Born To Fly EP on SoundCloud:
---
The Born To Fly EP kicks off your series of EP releases for the year. Is there a particular feeling, sound, or theme that you will be exploring through each?
That's a good question because I'm still working out the track listing for it, still a work in progress. All the songs are done but this one is definitely deeper and more sultry, the other EPs will be more pop-leaning, and I'm not sure what the last one will be yet.
On the new EP, "Lovesong" is a cover from The Cure's Disintegration album. Inside or outside the music industry, who have been some of your biggest inspirations?
Yeah, well I think the obvious answer is Daft Punk. Everybody says that but it's totally true–that's my musical inspiration. I think my business and tech inspiration is Elon Musk, who I've had a chance to DJ for, and he's just doing amazing things.
That's funny because I was getting ready for a show around 10 years ago and I saw his Bloomberg piece and I almost missed my show because I was watching the story about Tesla before anyone knew who they were. They had just put out the Roadster and I almost missed the show and I was like, "Wow something is going to happen with this guy," and I never knew I was going to meet him and play for him, which is crazy.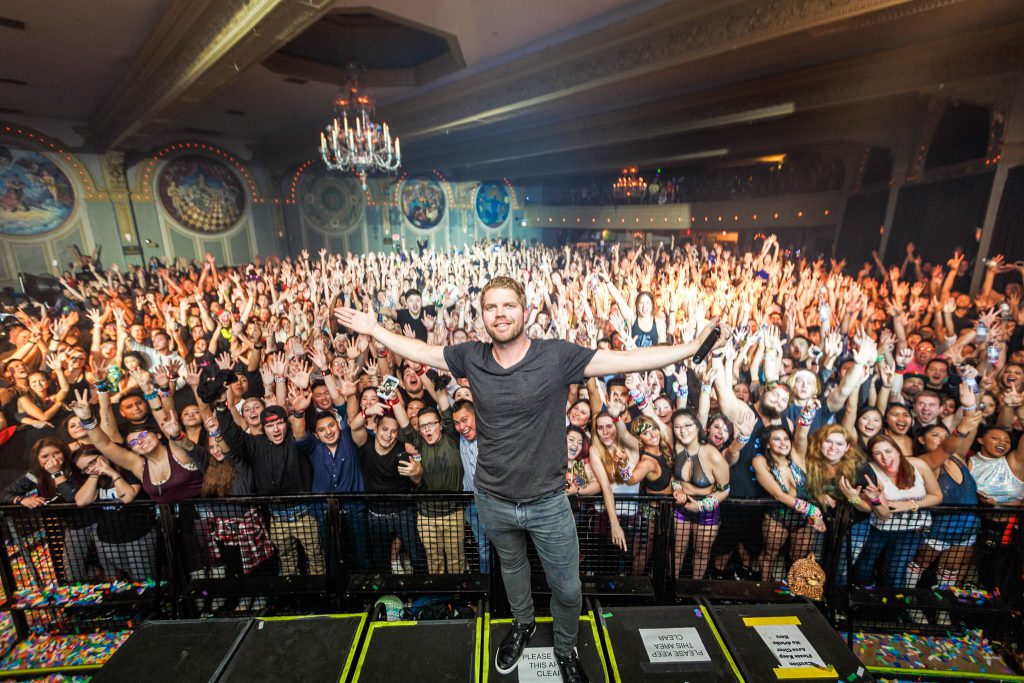 Your previous 3D tour raised the bar for live performances. With the Born to Fly EP featuring both electronic and live musical elements, what unique performance elements do you want to try in the future?
In terms of tech style, I think I would love to do 3D again, but it's so expensive to do. That's why we haven't done it–we did it at such a scale that it's really hard. I want to do it for six or seven shows instead of 35 shows. We had set up a bus tour and we couldn't even fit the screens in half the venues, so it was crazy.
But yeah, I think using technology in a way that enhances the experience isn't just a gimmick or something exotic. I think the nice thing with the 3D show is that you can have the lyrics follow you, you know the lyrics come up to you, and that's really cool because the lyrics are really important to my music.
So it's got to be about finding what elements you can strengthen your show and brand, so we have done VR experiences for the meet and greets. Those are really fun–it's still not a mainstream thing, it's not part of the culture but I love that as an experience you can take home and relive a song and be inside of the song.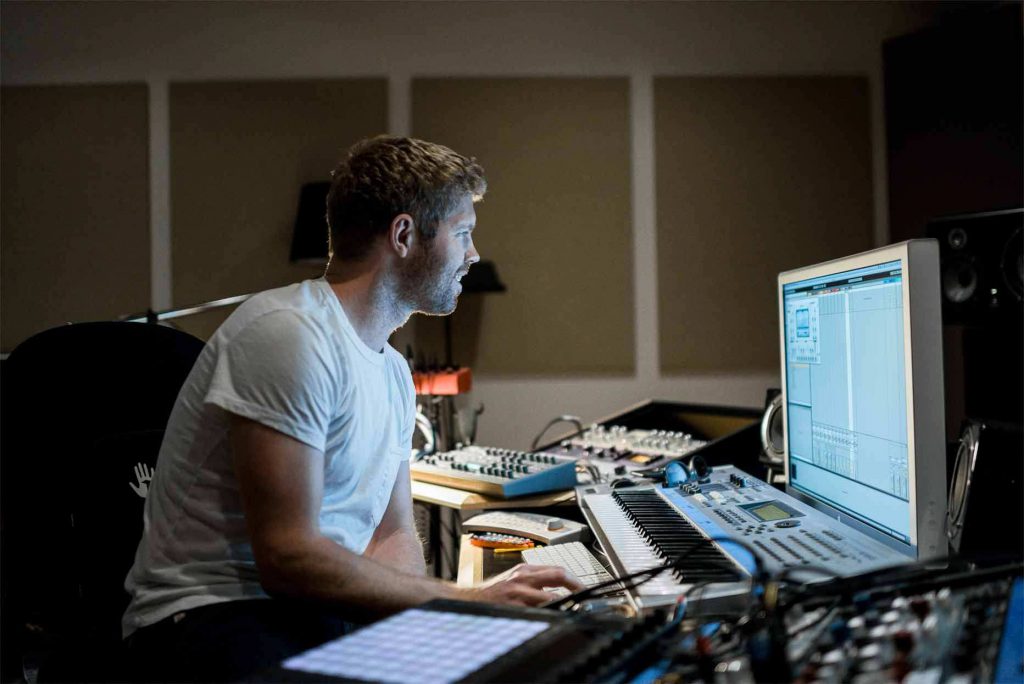 We also noticed you experiment with VR experiences on the Oculus Rift. For those who haven't experienced it yet, what does the technology offer to fans compared to a live show?
With VR, what I love is that it is different; you can't sweat as much in that environment and move around, but it's more of an inward-focused experience. You can really hear surround sound, true 3D sound with height and depth. You can really be at that sweet spot in a song and at an event you get it off to the side, to the front, outside the festival–the sound can kinda phase through the air.
So the nice part about meet and greets is we can tune the audio and can be like, "This is how you're going experience it," and have that consistent experience but it's tough to do because you have to fly out all the stuff for it.
Congratulations on celebrating your 400th episode of "In The Air". How important will radio shows and labels be going forward with the vast amount of tracks coming out every week in the industry?
Probably more important than ever before. The information overload is at an all-time high. I don't know what's going to happen because I think the attention span is lower and an extended mix is three minutes and it was 4:30 a couple years ago and I'm guilty of that too but I have to cater to the crowd.
And people don't necessarily want to hear two drops anymore, but there are some songs that where it does make sense to play both drops. But I think it's always typical–it will go back to more album focus at some point, for live events hopefully it does. It would be nice. But I think as the technology made DJ'ing easier and people weren't struggling with transitions, you know, it made for shorter transitions.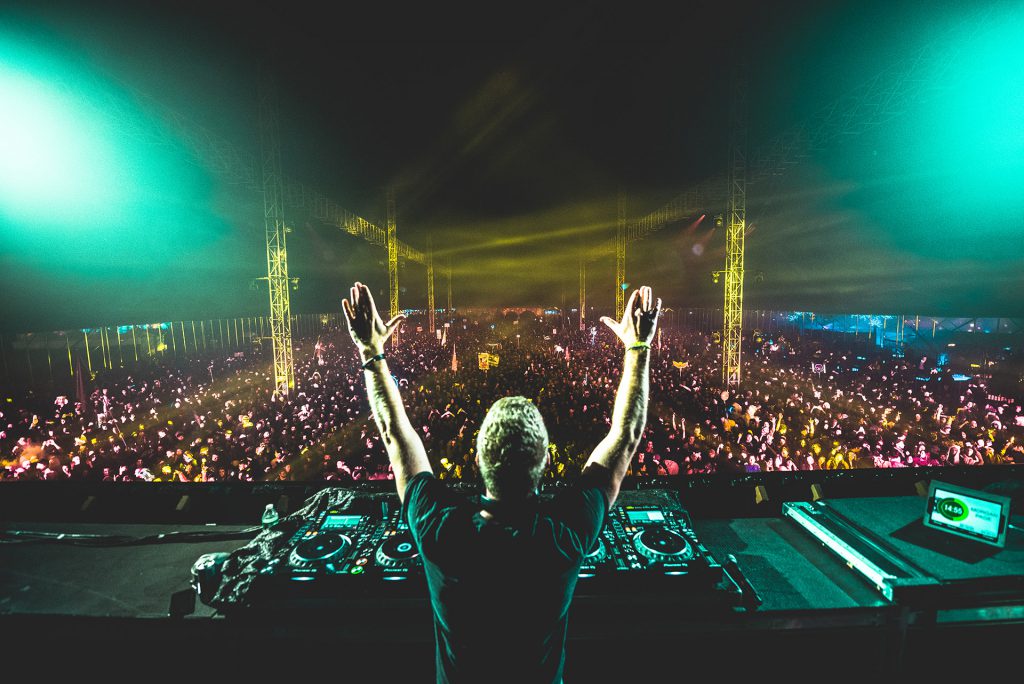 We are also about a week away from the 10-year anniversary of your album Elevate. Reflecting on the milestone, how have you handled pushing yourself to evolve over the years? What drives your creative spirit and maintains your motivation?
I think it's always going back and feeling like I'm always starting new, so I don't look at it like trying to add up the numbers and years, and I try to look at it like I'm starting from scratch each day. It's never like, "Oh, I made it." I got to this point cause the trick is sustaining a career, and I see a lot of talented guys drop off. It's crazy to see that. So I'm always trying to stay humble, you have got to stay hungry, you have got to want it, you can't be lazy, and you have to want it more than someone else.
But I think the big part for me is embracing collaboration and not getting stuck in the vacuum of just working in your studio, so you have to throw ego out the window and manage that, and be humble and work with people who have complementary sound and skills. The learning process never stops.
That's one reason why I do quick tips. It's to document this learning process and then my little community that builds around that. They push back and ask me questions like, "What you mean by this?" and, "What you are talking about?"
Your "quick tips" series shares some valuable life advice that goes beyond the traditional technical help you see from artists. Do you feel that artists have a greater obligation to give back their communities?
I always think that. So what happens is that a lot of people feel like they don't have to give back because they build themselves and they forget they watched so many YouTube tutorials by some guy. I'm guilty of that, too, where you think it's all you but it's really a team of managers, agents, industry people, talent buyers.
The success of these artists is a village of people and in terms of production, a lot of guys forget that someone else went through and spent a lot of long nights getting these tips together. I don't blame people for not remembering that, but I think it's an important obligation to give back.
It doesn't take that long to make the tutorial videos. I just started doing more videos with a little picture-in-picture, but once I have that routine down I'm going to start recording videos for every tip and there are 700 tips and I want to try to go through and do it.
On the subject of paving the way for tomorrow, you have worked with Tesla recently. Can we expect to hear any releases in the future like the fantastic Tesla inspired track "Into The Clear"?
Yes, probably under a different name too. Not sure if I'm supposed to talk about it yet, but it's a scoring alias I'm going to release. I did the semi-truck theme for the Tesla Van and did about seven music cues for their different announcement videos working on stuff for the Model 3 right now. I'm just a big fan of their mission of driving a bunch of cars. A while back when they got started, people would say, "You're into green stuff and sustainable things, and it's just for rich people–What can the average person do?"
Now, you can buy a car and that's the easiest thing you can do. You can get solar installed cheaply, but you can get a $30,000 Chevy Volt, a plug-in or a hybrid and it makes a huge difference.
Lastly, with today being St. Patrick's Day, what does luck mean to you?
Luck, well there's business podcasts I listen to and they ask, "Do you think your success is attributed to luck or skill or timing?" I think there's always luck involved and there's timing, but to me, luck is the result of hard work. It's where hard work and opportunity meet and to me that's important.
---
Follow Morgan Page on Social Media: