If you missed out on Excision's massive edition of The Paradox Tour last year, you're in luck because it is back for its 2018 installment!
---
In dance music, it takes a massive amount of time to grow your career and develop a dedicated fanbase. However, once you have that fan base, the sky is the limit – you really can do as you please. A great example of an artist who has accomplished so much is Excision, who just wrapped up his debut festival, Lost Lands. Now he's heading back on the tour circuit once more with the latest installment of The Paradox Tour. After the insanity that just ensued at Lost Lands, we are dying to hit this tour!
The Paradox Tour has been a huge hit with fans of Excision's music, but also those who love amazing production elements too. In the past, this tour has featured top-notch production and a sound system that blows fans away with 150,000 watts of pure bass. If you haven't seen the visuals featured on The Paradox Tour yet, check out the video below to see why you should be in the crowd during the 2018 edition.
While Excision may be the headliner, the supporting artists featured on The Paradox Tour have always been top-notch as well. The 2018 edition will be featuring supporting acts Liquid Stranger, Dion Timmer, and MONXX, so get ready for a night of serious bass in your city!
Tickets go on sale Oct 12, 2017, check his website for specific links for each date!
Watch Excision – "The Paradox" [Official Video] on YouTube:
---
Excision The Paradox Tour 2018 Flyer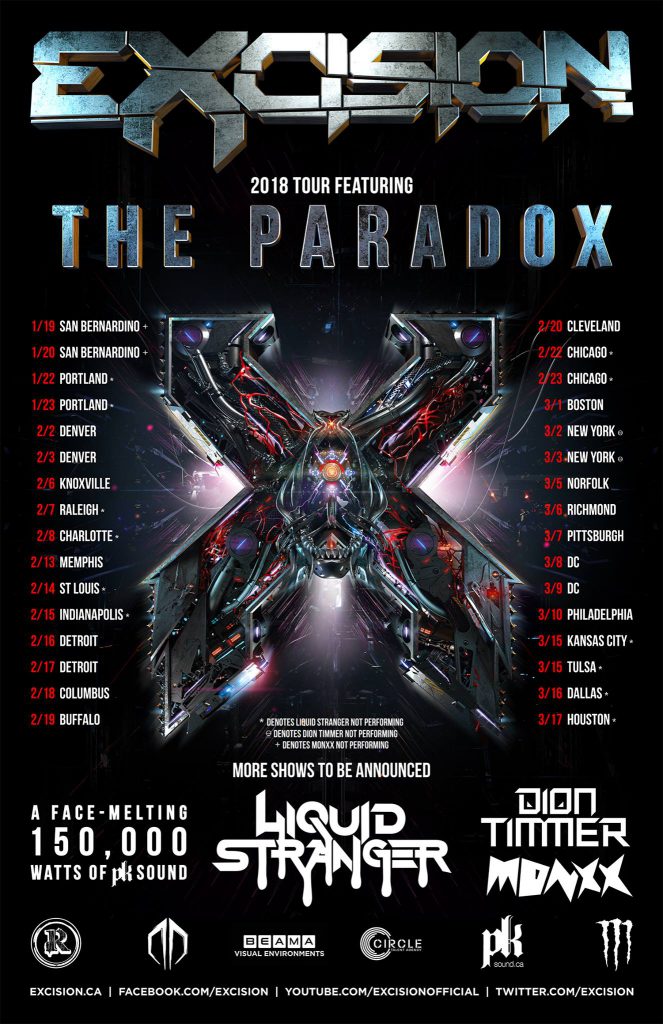 ---
Excision 2018 Paradox Tour Dates
1/19: Los Angeles
1/20: Los Angeles
1/22: Portland
1/23: Portland
2/2: Denver
2/3: Denver
2/6: Knoxville
2/7: Raleigh
2/8: Charlotte
2/13: Memphis
2/14: St. Louis
2/15: Indianapolis
2/16: Detroit
2/17: Detroit
2/18: Columbus
2/19: Buffalo
2/20: Cleveland
2/22: Chicago
2/23: Chicago
2/26: Madison
3/1: Boston
3/2: New York
3/3: New York
3/5: Norfolk
3/6: Richmond
3/7: Pittsburgh
3/8: DC
3/9: DC
3/10: Philadelphia
3/15: Kansas City
3/15: Tulsa
3/16: Dallas
3/17: Houston
---
Follow Excision on Social Media:
Website | Facebook | Twitter | Instagram | SoundCloud | YouTube