If you're into beautiful melodies that capture your heart and imagination, Australia's Marcus Santoro is a producer that you are going to want to get to know.
---
Hailing from Melbourne, Australia, Marcus Santoro is starting off 2018 with a bang. Fresh off the release of his newest track, "Savitar," and having just put out arguably the defining remix of Shapov & Trouze's "The Way" just a month ago, he's making his mark on the house and trance scene in a big way.
And that's not even talking about the major milestones he crossed in 2017, including a performance at Transmission in Australia and guest mixing duties on Above & Beyond's Group Therapy radio show, to name a few. With releases on Armada, Axtone, Enhanced, and more, he's got the support of the industry, too – and with a few listens, it's not hard to see why.
Santoro started producing music at the tender age of 12, and his mastery and creativity are immediately apparent when you begin to immerse yourself in his tunes. With a keen ear for beautiful melodies that resonate no matter what the genre, it's safe to say that he's got a big future ahead of him, and we're excited to see what else he has planned for the rest of the year.
Check out his newest single, "Savitar," and read on to learn more about one of the scene's incredibly exciting rising stars!
Stream Marcus Santoro – Savitar on SoundCloud:
---
Your brand new track, "Savitar," is a driving progressive stunner that I'm sure will be showing up in many sets across the globe. What was your inspiration in creating the tune?
Thanks heaps, I'm very happy with the overall vibe on this one! To be completely honest, I went into the studio and didn't exactly know what I wanted at the beginning but I did know I wanted something that was fun, energetic yet driving at the same time. It's a very simplistic yet effective record and I felt like it captures a good balance between the current Progressive Trance sound fused with some of the more Groovy / Funky big room house vibes.
Every producer has their own signature sound, and you are no exception. Can you tell us a little bit about what you strive to infuse into your music?

I always strive to make sure my music is full of melodic content. Melodies are why I love music and what inspires me the most to produce it. Having said that, I do enjoy moulding the more clubbier / rave sound in my music which is why I feel it gives it something a bit extra. I've always been inspired by a lot of the Swedish progressive sounds and I love my Trance as well so merging the two together is really cool and I'm glad that it's all worked out so far.
You recently remixed Shapov & Trouze's gorgeous track, "The Way," and your remix is easily as good as the original if not better. How did you approach remixing a track that was such a standout in its own right and giving it your own spin?
When Axtone approached me to remix this record at first I was a little nervous yet very excited. I initially wanted to work with the original melody and give it a more festival-style approach and direction but after listening to a few takes, it really didn't do anything for me because it sounded like a faster version with just a new chord progression so I ended up removing that and wrote the 'arp' style melody in the drop, which really gave it its own unique and original spin, and made it more emotive and uplifting.
You've released music on some of the biggest labels in trance and house, including Armada, Axtone Records, and Enhanced, among others. What has it been like to work with some of the biggest labels in the game?
It's an absolute dream come true as well as a privilege to release on labels you've always wanted to work with when starting out in the business. As originally a fan of these labels, I've listened to their releases for years before I even got the chance to work with them and it's truly been a surreal moment. It was always a main goal for me to work with Axtone for example, as Axwell was one of the key artists who inspired me to write music and become a DJ so when I look back on it, it definitely feels amazing and I hope to keep working alongside these labels for many more years to come.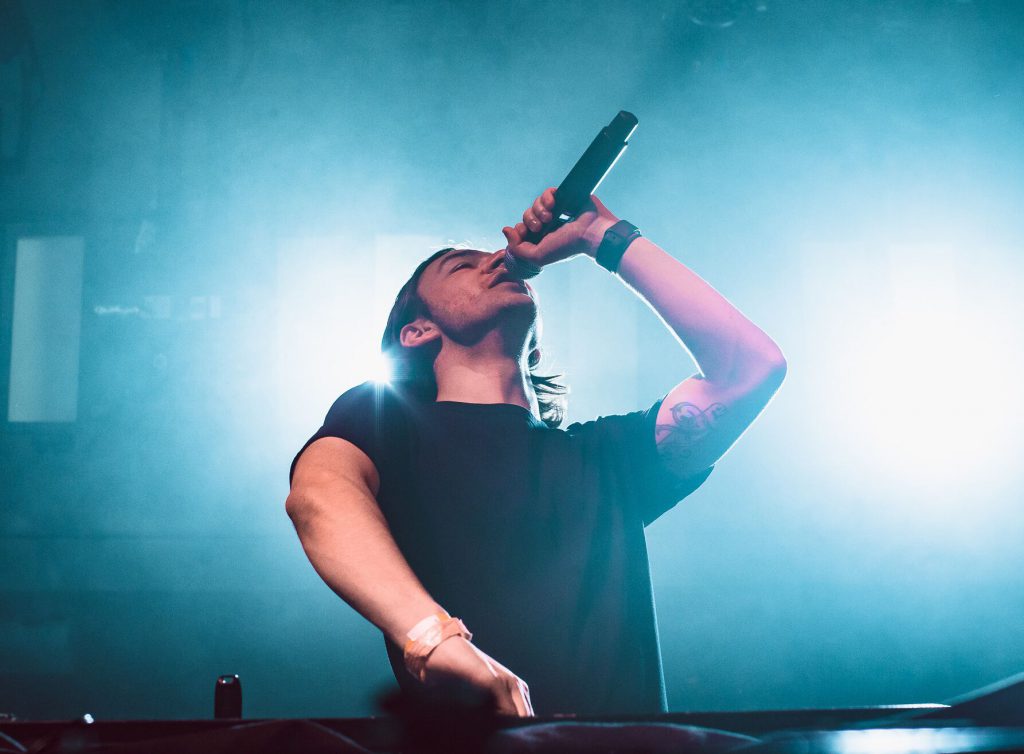 You started producing at the age of 12, which is undoubtedly a feat in and of itself and gives you automatic "wunderkind" status. Can you tell us a little bit more about the story of how you got your start and what inspired you to start making your own music at such a young age?
My father was a DJ back in the 70s/80s when disco was the main source of dance music. It was just a hobby for him when he was a teen but that style of music was very prominent and alive in the household when I was growing up. Around 2004, a few cousins of mine, who at the time were 16-17 and going to underage parties were listening to artists like Tiesto, Paul van Dyk, Cosmic Gate, Above & Beyond to name a few and I was immediately drawn this sound so I decided to start mixing songs together on computer software. In 2005-2006 I discovered Axwell and Dirty South and that's what really inspired me to start learning how to write/produce music. From there it became an addiction and I've truly become obsessed with what I do.
You come from Melbourne, Australia, originally. How does the scene there differ from what you've seen globally, and where do you like to play most?
Melbourne has been through a lot of changes within the club scene, to say the least. Obviously starting out at a young age I was unable to go to venues to watch my favourite DJs when they were in town, but as I grew older and started to perform myself, the scene started to undergo some changes with the "Melbourne Sound" that the world has since become accustomed to. Artists like Will Sparks, Orkestrated have their own unique sound that defines Melbourne's acquired taste whereas my music taste is more on the main-stream/trancier/progressive side of things. I feel like Sydney appreciates my sound a lot more, but Melbourne is home and always will be and it doesn't get much better than that.
Last fall, you took the decks at Transmission Festival in Melbourne at Etihad Stadium. What was it like putting on a performance of that scale, and how did you get yourself prepared for your set?
Transmission was an experience that I will never forget as it was the biggest show I'd done at the time. I was super nervous yet incredibly ready for it as I'd prepared myself for the months leading up to it. Since it was a warmup I couldn't exactly showcase my new music since I don't exactly produce that sound (although since then it's certainly inspired me to do so). Warm up sets are actually some of my favourites to play because you not only learn new things but you get to perform in a different way than you would normally do as a headliner for example. Being able to share the stage with some of my heroes like Ferry Corsten, Markus Schulz, Aly & Fila was amazing and I hope I get to do it more in the future.
Do you have any venue or festival that is your number one dream place to play in the future?
I'd go with the cliche response and say Tomorrowland or Ultra would be my dream places to play. Ideally, I'd love to perform at Ushuaia in Ibiza as well as Cafe Mambo (that would be AWESOME!). I also would love to experience performing at special events like A State Of Trance or Above & Beyond's ABGT shows… who knows, maybe one day!
You said that 2018 is going to be the year where you push yourself to your limits and make your dreams a reality. Can you share any of your big plans for the year ahead?
2018 has started off on a fantastic note so far… we've ticked off a few things already that I'm super proud of. At the moment I am working on lots of exciting music with some big labels, and also working on some special collaborations with various different vocalists and artists. There are also some big shows in the pipeline including some big international ones too which is a first for me this year. In all, there's no sign of me stopping or slowing down anytime soon!
Okay, fun question – as part of the upcoming DJ Olympics, you have been selected to field a team of DJs and producers to box 15 kangaroos. You get to pick any three DJs, dead or alive, to join you. Who do you pick, and why?
Since we're talking about the 'Olympics' I'd have to go for an all-out Aussie affair so my 3 choices would be: WILL K, Dirty South, and Jebu. Will and Jebu love hitting the gym so they'd make for the strength of the operation, Dirty South would be more of a coach since with all the mega experience he's had in his career and I'm not the fastest person alive, nor was I ever a decent athlete in my school days but I'd give it a go at running… would not end well haha
---
Follow Marcus Santoro on Social Media:
Facebook | Twitter | Instagram | SoundCloud | YouTube