There's no need to wing it! Set times, activities schedules, and maps for the inaugural edition of Dirtybird Campout East have arrived!
---
With only ten days to go before the kickoff to East Coast festival season, Dirtybird Campout East has released set times, activities schedules, and maps for the 2018 edition of the event! With the biggest lineup that Dirtybird Campout has ever seen and brand new activities and events at The Bunkhouse, the excitement has never been more real.
Tickets for Dirtybird Campout East are still on sale via Eventbrite! Still on the fence? Read our review of the 2017 West Coast Campout, and check out the new Dirtybird Campout East Coast Compilation for some sweet new tunes while you pack!
---
Dirtybird Campout East 2018 Essential Info:
Dates: February 2 at 12 PM to February 5 at 12 PM
Venue Address: Forever Florida – 4755 N Kenansville Rd, Saint Cloud, Florida 34773
Ages: 21+
Tickets: BUY HERE
Facebook Event Page: RSVP HERE
Gate and Box Office Hours
Thursday, February 1: 2 PM – 11 PM (Open only to early arrival pass holders)
Friday, February 2: 10 AM – 11 PM
Saturday, February 3: 10 AM – 10 PM
Sunday, February 4: 11 AM – 5 PM
You must bring your printed ticket or ticket PDF saved to your phone to the box office at the entrance to receive your festival wristband! Service may be spotty close to the festival, so make sure to download your tickets ahead of time.
Not finding what you need? Check the official Dirtybird Campout East website for every bit of information you need for the festival!
---
Dirtybird Campout East 2018 Set Times: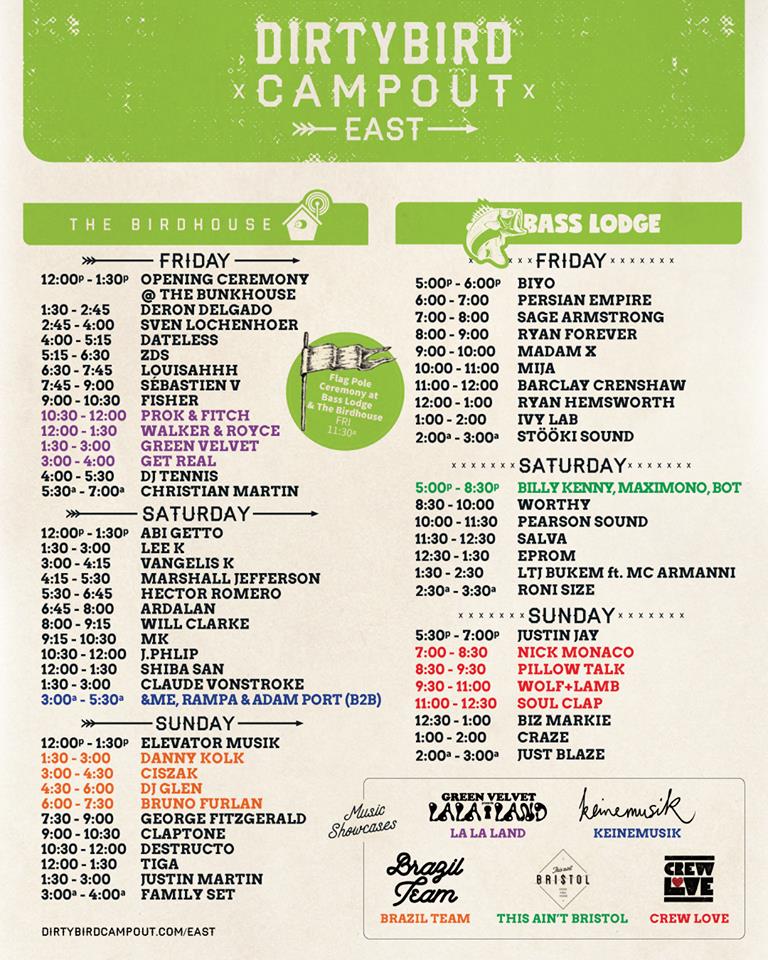 ---
Dirtybird Campout East 2018 Games & Activities Schedule:
---
Dirtybird Campout East 2018 The Bunkhouse Schedule: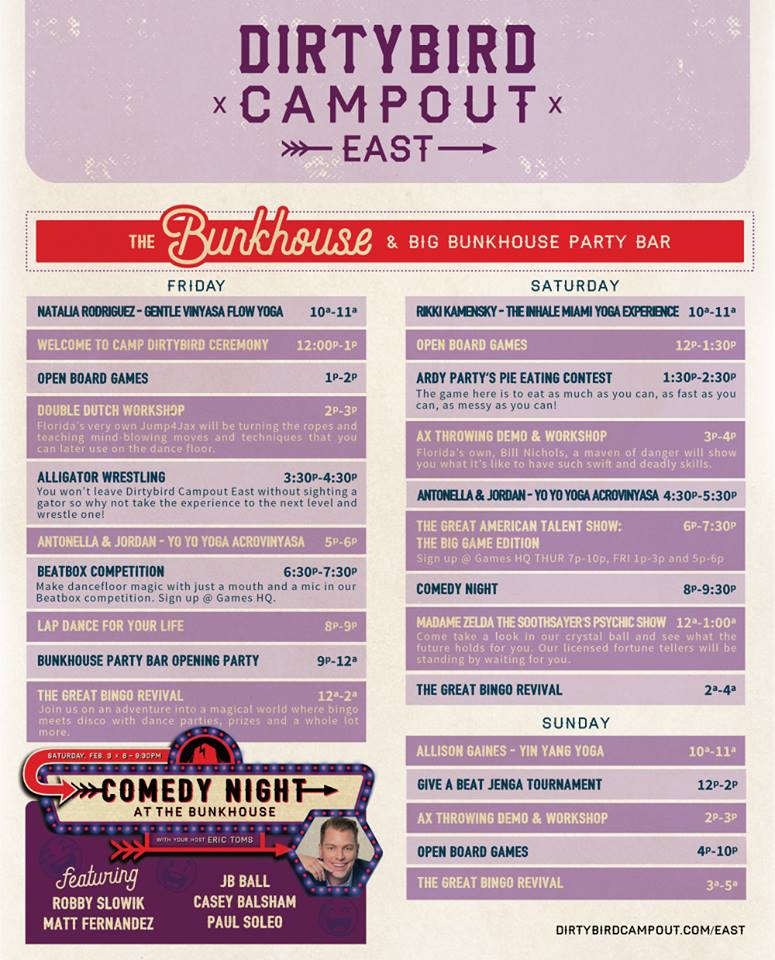 ---
Dirtybird Campout East 2018 Combined Set Times + Bunkhouse Schedule: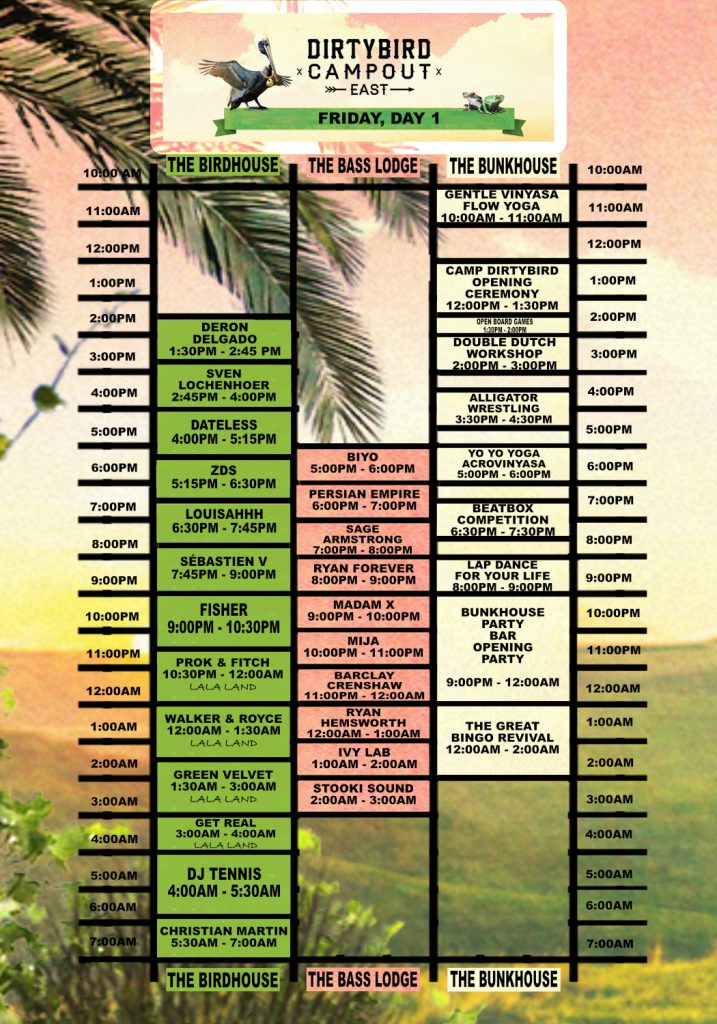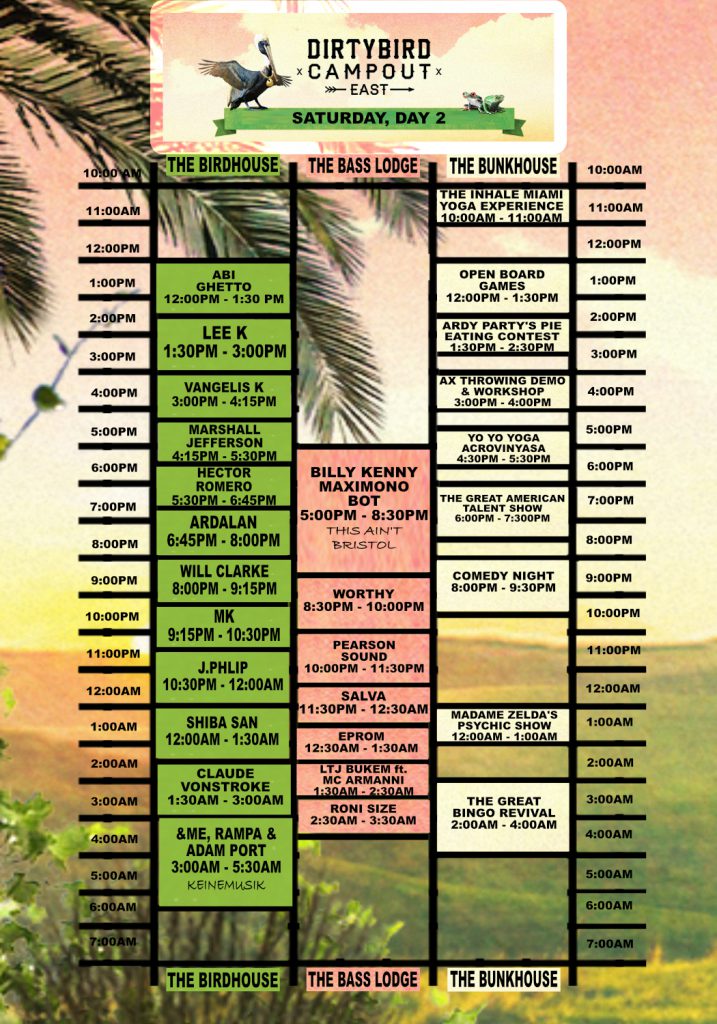 Thanks to Jhana Mari for the combined schedules!
---
Dirtybird Campout East 2018 Festival Map:
---
Dirtybird Campout East 2018 Campground Map: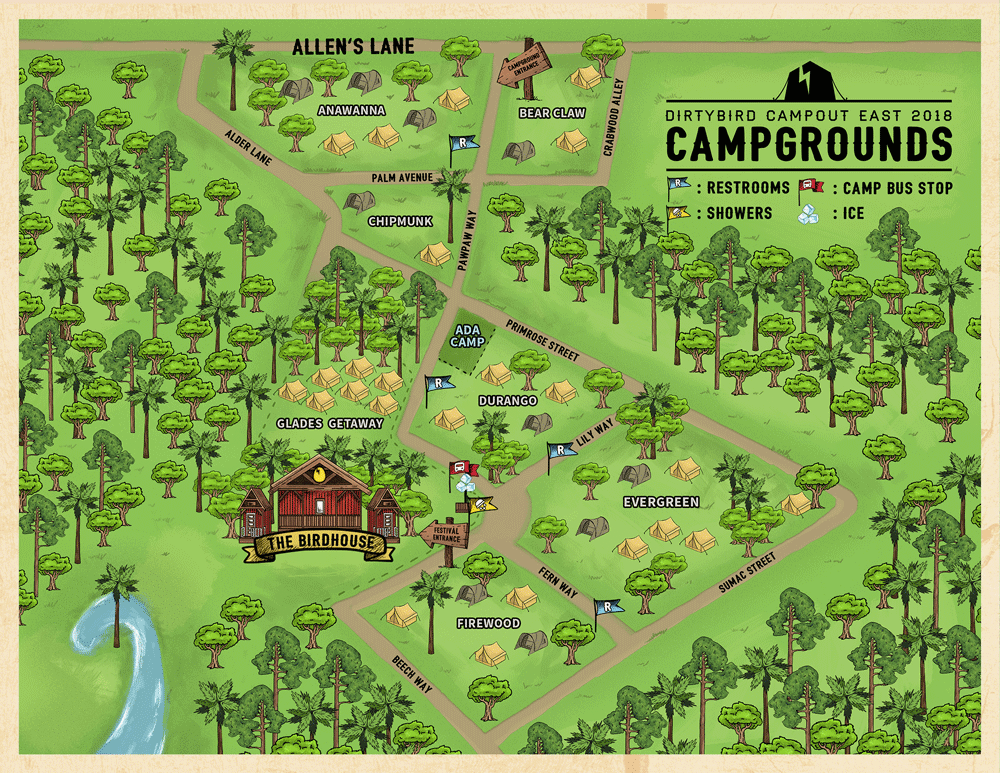 ---
Dirtybird Campout East 2018 Do's & Don'ts
Prohibited Items
NO Weapons
NO Sound Systems
NO Propane Stoves / Lanterns
NO Fireworks or fire tools
NO Kegs or large quantities of alcohol
NO Coolers in festival grounds
NO Glass bottles or glass containers outside of the campgrounds
NO Pets
NO Illegal drugs/substances
NO Nudity
Permitted Items
YES Good vibes, lots of friends, and fun times!
YES Backpacks
YES Cameras
YES Alcohol (a reasonable amount for personal consumption)
YES Coolers in campgrounds
YES Small, enclosed propane stoves
YES Following our simple rules to make this a better place
---
Code of Conduct – VonStroke's Words of Wisdom

---
Reminder To Mind Your Belongings
Unfortunately, many people have reported pickpockets, bag slashings, and theft of wallets, smartphones, and other valuables during festival season. While this small number of bad apples doesn't define an entire crowd, there are opportunistic people who come to these events to take advantage of unsuspecting partygoers and it's important to be mindful of your valuables while at Dirtybird Campout.
Pay attention to who's around you and what's going on around you. Keep your wallet and phone in your front pocket(s). Treat your phone the same way you would treat cash; don't set it down on a table or bar and look away. If a friend isn't standing behind you in a crowd be careful of your backpack or purse, and don't put valuables in a pocket that could easily be unzipped by someone behind in a crowded spot without you realizing.
---
Connect with Dirtybird Campout on Social Media:
Website | Facebook | Twitter | Instagram | SoundCloud