"The Bunkhouse is where you go to see the unexpected…"
---
Dirtybird Campout East is quickly shaping up to be a festival worthy of the Dirty South. With an artist lineup of over 50 of the best in new disco, tech house, drum and bass, and more, people are eagerly awaiting the first weekend of February to flock to St. Cloud, Florida, and it's just about to get better still with the announcement of activities for The Bunkhouse!
Claude VonStroke and the team at the DoLab have put together an event worthy of its very successful counterpart on the West Coast. Acts like Claude himself, Mija, Green Velvet and Claptone will be dropping the most awesome tunes all weekend for campers enjoyment (you can view the Phase 2 lineup here).
Besides the plethora of music we are about to immerse ourselves in, Papa Claude and his team have put together an array of activities and entertainment. No stone has been left unturned!
Dirtybird Campout East has been announcing all types of epic entertainment and game options during the campout and they have just announced the lineup for The Bunkhouse, an area for campers to gather and demonstrate how unique they are, show off their talents, eat some pie (yes there is a pie eating contest) and drop some dirty beatbox sounds. You can participate or simply be a spectator; whatever your fancy you will surely be filled with awe! Below are a list of Bunkhouse shenanigans and their times during the weekend.
---
Dirtybird Campout East 2018 Bunkhouse Events:
Welcome to Camp Dirtybird Ceremony: Friday @ Noon
Bunkhouse Bar Opening Party: Friday @ 9pm
The Great Bingo Revival: Nightly – Friday @ midnight, Saturday @ 2am, Sunday @ 3am
The Great American Talent Show: Saturday @ 6pm
Give a Beat Jenga Tournament: Sunday @ noon
Decorating will take place at Craftopia Saturday @ noon
Alligator Wrestling: Friday @ 4pm
Ax Throwing Demonstration and Workshop: Saturday @ 4pm & Sunday @ 2pm
Beatbox Competition: Friday @ 5:30pm
Madame Zelda the Soothsayer's Psychic Show: Saturday @ midnight
Lap Dance For Your Life: Friday @ 7pm
Pie Eating Contest: Saturday @ 2pm
Open Board Games: Friday @ 1pm, Saturday @ noon, Sunday @ 3pm
---
 Dirtybird Campout East Comedy Night: Saturday @ 8-9:30 PM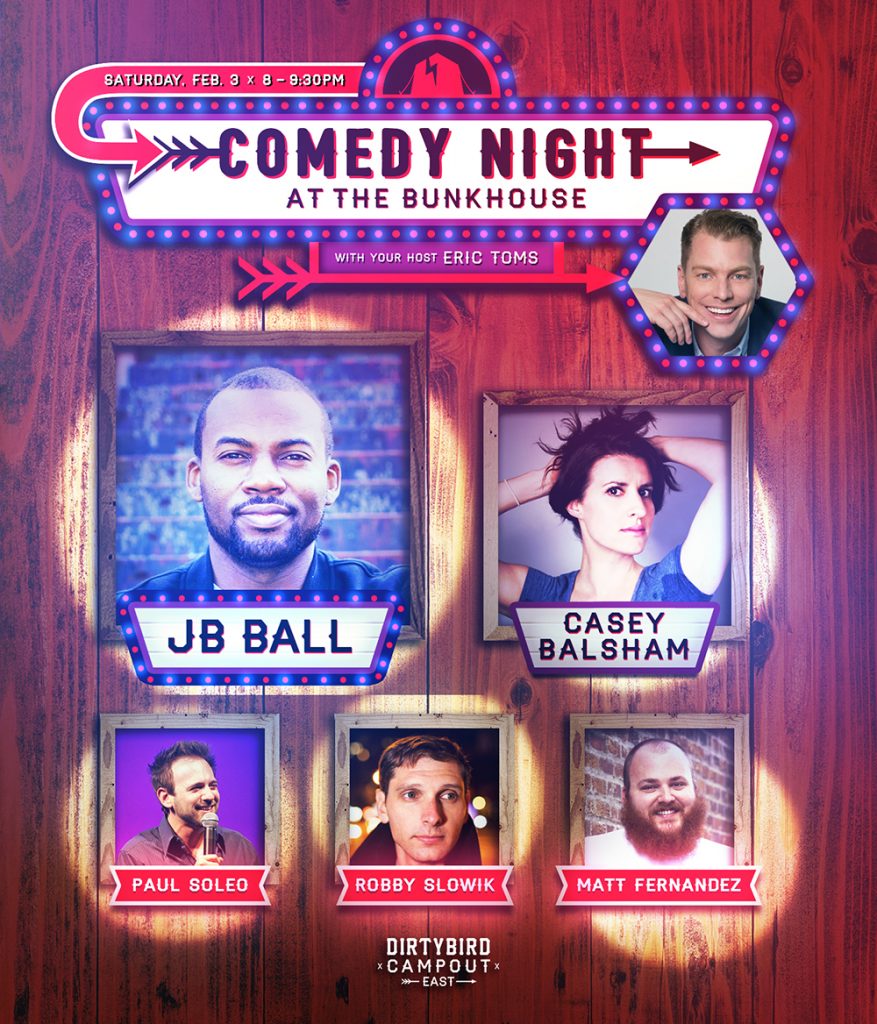 Dirtybird Campout East 2018 Comedy Lineup:
JB Ball
Casey Balsham
Paul Soled
Robby Slowik
Matt Fernandez
Hosted by Eric Toms
---
Connect with Dirtybird Campout on Social Media: 
Website | Facebook | Twitter | Instagram | YouTube | SoundCloud